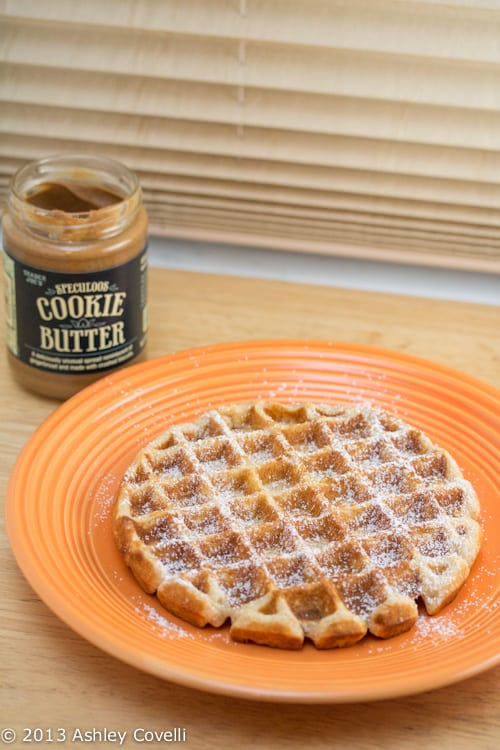 Belgian Waffles with Speculoos Cookie Butter
This post may contain affiliate links. Thank you for supporting the brands that keep me creative in my tiny kitchen!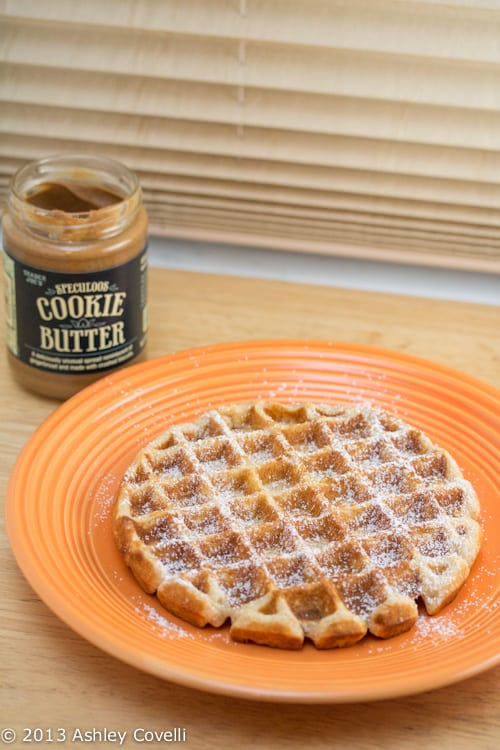 I have finally crossed over to the dark side. I found Speculoos Cookie Butter when I was at Trader Joe's, and I had to buy it to see if it lived up to all the hype. I decided to take a small taste straight out of the jar to see what it was like, and let me tell you – it is beyond amazing. It tastes like gingersnaps in butter form. Of course, I ate a quarter of the jar right then and there put it back in the cabinet until I knew what else to do with it. My husband took it upon himself to make a batch of our favorite Belgian waffles for breakfast, and we spread the Speculoos Cookie Butter on top of them. They didn't need anything else – they were divine! This could be a very dangerous discovery…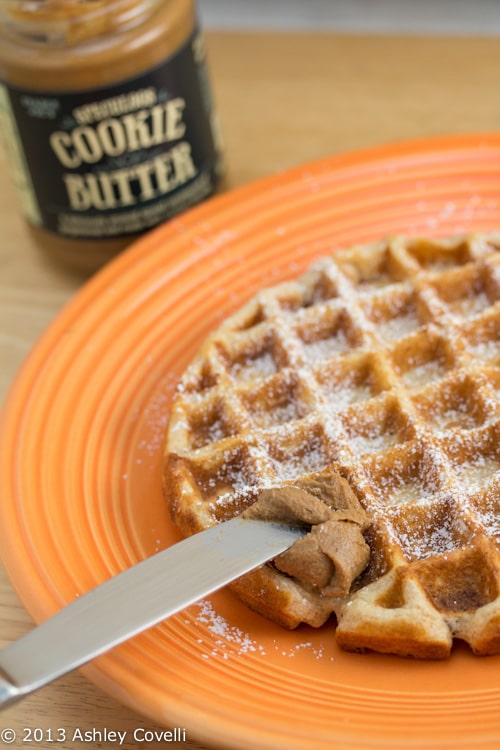 Belgian Waffles
Adapted From: allrecipes.com – Megan
"Simple waffles made with flour, egg, butter and sugar."
Prep Time: 20 Minutes
Cook Time: 15 Minutes
Servings: 5
Ingredients:
2 cups all-purpose flour
1 teaspoon salt
4 teaspoons baking powder
2 tablespoons white sugar
2 eggs
1 1/2 cups warm milk
1/3 cup butter, melted
1 teaspoon vanilla extract
1 can vegetable oil spray
1. In a large bowl, mix together flour, salt and baking powder; set aside.
2. In a separate bowl, beat the eggs and sugar. Stir in the milk, butter and vanilla. Pour the milk mixture into the flour mixture; beat just until barely blended. Let stand for 10-20 minutes.
3. Preheat waffle iron to desired temperature.
4. Fully coat the iron with cooking spray. Ladle the batter into a preheated waffle iron. Cook the waffles until golden and crisp. Serve immediately.
Big Flavors Rating: 5 Stars