This post may contain affiliate links, which won't change your price but will share some commission.
I just finished packing up cookies for a cookie swap tonight. I'm really excited because it's with people who are in a Supper Club that I'm going to join. We're going out to dinner and then exchanging cookies. So I decided to make these cookies, because they're one of the ones that I get requests for all the time. Dino's department even offered to pay me to make them more frequently for them! I use a small cookie scoop to make them all the same size, and I put the filling in a Ziploc, snip off the tip and pipe it onto the cookie halves to make is easier.
So here they are again - a definite "wow" cookie.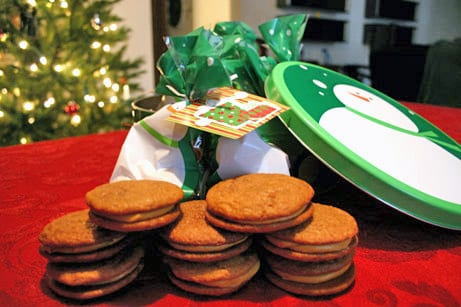 Molasses Sandwich Cookies
Everyday Food September 2006
Makes 30
Prep Time: 50 minutes
Total Time: 1 hour 30 minutes
1 ½ cups all-purpose flour (spooned and leveled)
½ teaspoon baking soda
1 teaspoon ground cinnamon
½ teaspoon salt
1 cup packed light-brown sugar
½ cup (1 stick) unsalted butter, room temperature
1 large egg
¼ cup light unsulfured molasses
Creamy Molasses Filling
1. Preheat oven to 350°. In a small bowl, whisk together flour, baking soda, cinnamon, and salt; set aside.
2. In a large bowl, with an electric mixer, beat sugar and butter until combined. Beat in egg, then molasses, until smooth. On low speed, gradually add flour mixture until a dough forms.
3. Drop rounded measuring teaspoonfuls of dough onto two ungreased (or parchment-lined) baking sheets.
4. Bake until centers are dry to the touch, 12 to 15 minutes; rotate pans from top to bottom and front to back halfway through. Cool 1 minute on baking sheets; then transfer to a rack to cool completely.
5. Spread a rounded measuring teaspoonful of Creamy Molasses Filling on the flat side f a cookie; place another cookie on top, and gently press. Repeat until all cookies are filled. Store in an airtight container at room temperature up to l day, or refrigerate up to 3 days (cookies may soften during refrigeration).
Forming Cookies: Use a round, not oval, measuring teaspoon for scooping dough. Before scooping, dip spoon in water to make sure dough doesn't stick.
Creamy Molasses Filling: Whisk 12 tablespoons (1 ½ sticks) softened unsalted butter with 3 tablespoons light unsulfured molasses until smooth. Gradually whisk in 2 cups confectioners' sugar; whisk until smooth and spreadable. Makes 1 ½ cups.
MacGourmet Rating: 5 Stars