This post may contain affiliate links, which won't change your price but will share some commission.
Preserving fresh herbs is a great way to cut down on food waste, as well as providing you with fresh herbs that are ready to cook with all year round!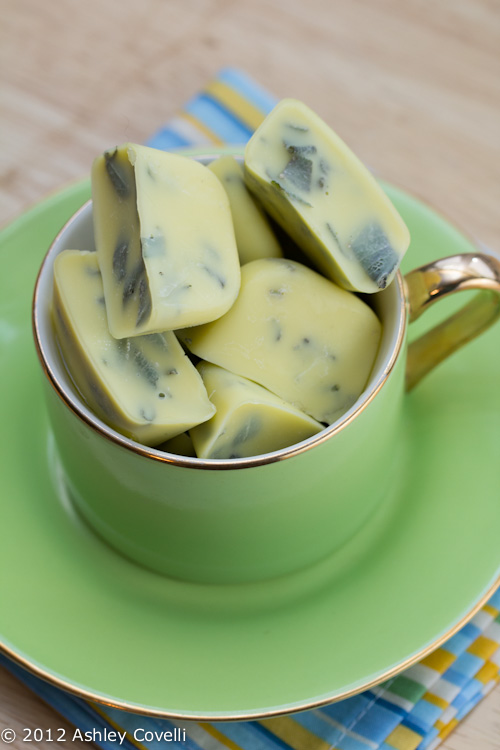 I got a bunch of sage from the CSA, and I didn't know what to do with it. It's so delicate and I wanted to make sure it stayed fresh until I was ready to use it.
I remembered seeing something on Pinterest a while back about freezing fresh herbs in olive oil in an ice cube tray, so I tried it out. I simply chopped the sage and sprinkled a bit in each section of the ice cube tray, topped with olive oil and popped it in the freezer.
The whole process only took about 2 minutes, and I now have fresh herbs at the ready. And since they're in olive oil, all I need to is pop one of the cubes into a skillet and turn on the heat. Boom - fresh herb-infused olive oil, ready for frying up something delicious!
I transferred my herb-oil cubes into a freezer bag after they had fully frozen to prevent any freezer burn.
This process would work great with all sorts of fresh herbs! I think things like rosemary, chives, tarragon, and parsley would hold up well. You could even do an herb mix with a few different herbs. Just be sure to label your freezer bags so you know which herbs are which.
You could really pack the compartments full of herbs with just a small amount of oil if you prefer, or go all out and measure the amounts of herbs/oil and make note of it with permanent marker on your freezer bag. There are loads of options!
I plan to do this as a way to stretch the end of my herb garden harvest at the end of each summer, too.
Have you had luck preserving herbs in oil? I'd love to hear about it in the comments section below!