This post may contain affiliate links, which won't change your price but will share some commission.
This post has been compensated as part of my partnership with Mountain Rose Herbs and may contain affiliate links. As always, all opinions are 100% my own.
Growing sprouts at home is easy! Whether you sprout seeds in a jar, in a sprout bag, or in a vertical sprouting canister kit, this post has you covered!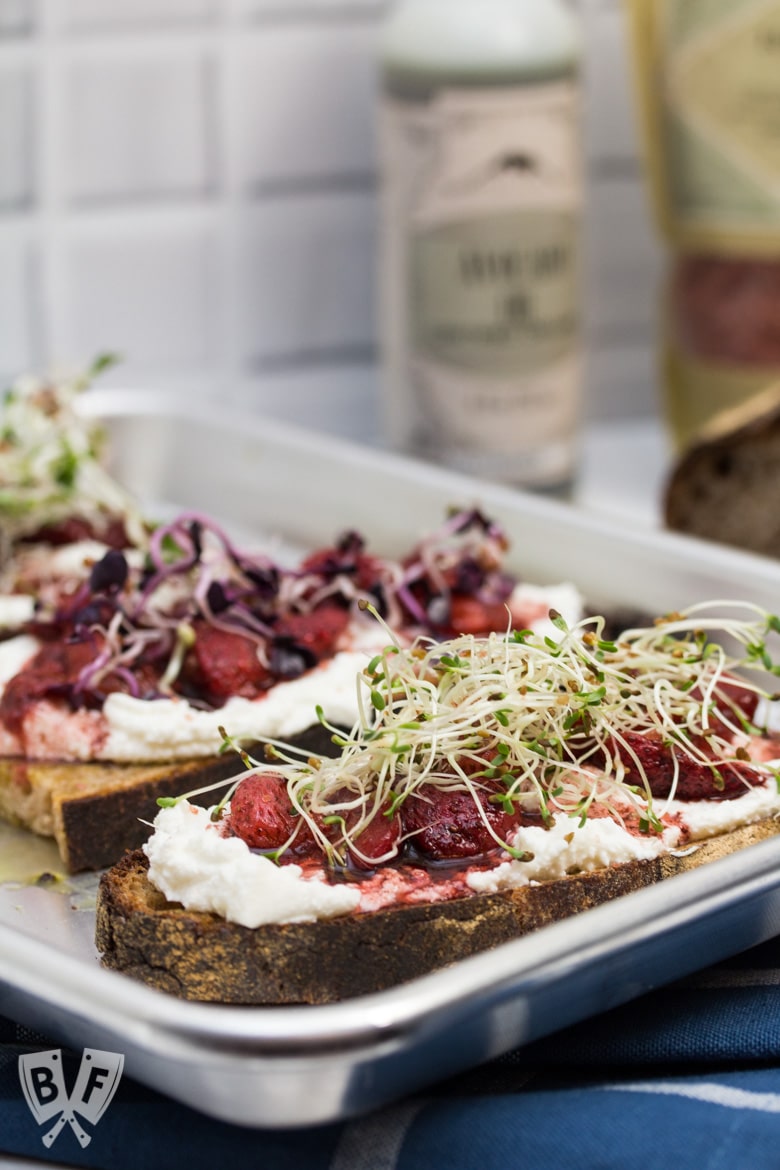 I love sprouts. I don't buy them too often, because they tend to carry a pretty hefty price tag. But they're so good for you, and my family really does enjoy eating them, so they're worth the occasional splurge.
I decided to look into growing my own sprouts at home, and luckily, my friends at Mountain Rose Herbs have a ton of information and supplies that helped me kick off my home sprouting obsession. I didn't realize that there were so many different types of sprouts out there, or that there was more than one way to grow them easily at home.
There's a lot of information here - click on one of the below links to jump to a specific section of this post:
(Psst - stay tuned at the end of this post, because they've agreed to give one of my readers a FABULOUS sprouting prize pack of items that I've handpicked so you can find your favorite home sprouting method, too!)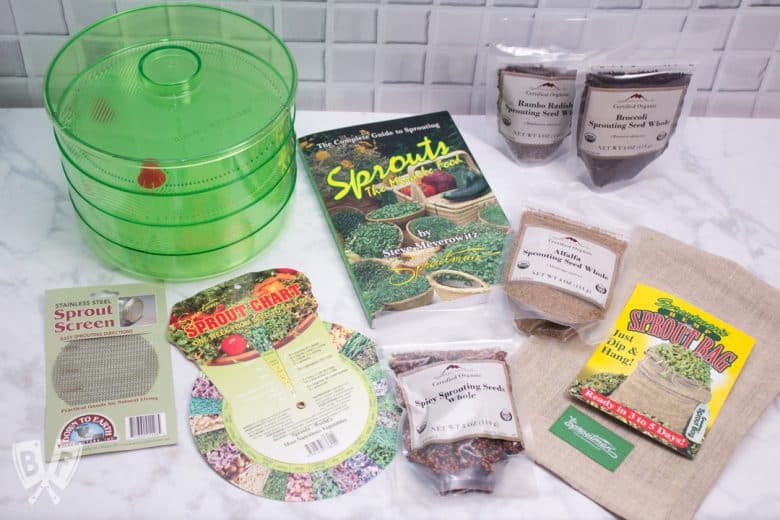 I had heard of people growing their own sprouts at home - usually alfalfa sprouts in a jar on the counter. But I had no idea that there were other methods besides the mason jar one. Once I started doing some research, kicked off by reading Sprouts: The Miracle Food by Steve Meyerowitz, I was excited to try out a few different methods at home.
This book is absolutely jam-packed with information, and I read it cover-to-cover before I started any of my own sprouting experiments at home.
My intention with this post is to give you a bit of background on sprouting as well as the pros/cons I found with each of the 3 methods I that tried for growing sprouts at home: in a jar, in a seed bag, and in a vertical sprouting canister kit.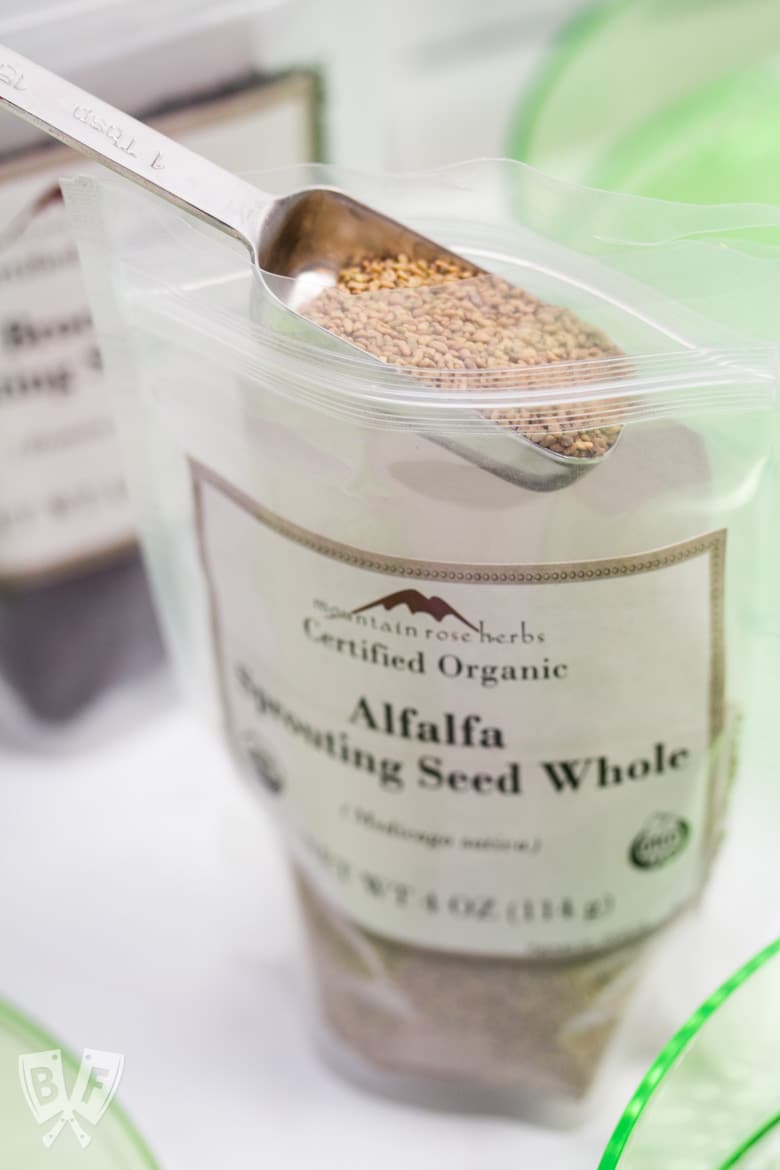 Benefits of Growing Your Own Sprouts
Affordability! Seeds can multiply 7-15 times their weight - a single package of sprouting seeds can provide you with so many batches of fresh sprouts. A comparable amount of store-bought sprouts would cost much, much more.
Growing is quick! Most sprouts will be ready in just 5-8 days!
Quality! You can grow your own organic sprouts - no chemicals, soil, bugs, or questionable ingredients, or growing practices involved.
Freshness! Picking your sprouts the day you want to eat them means there's no loss of nutrients.
Year-round availability! Since you're growing indoors, you can enjoy fresh sprouts at any time of year - even in the dead of winter!
Minimal space required! As someone with limited space, I like that none of these growing options require too much countertop real estate.
Portability! You can bring your sprouting gear on vacation with you and enjoy fresh sprouts anytime, anywhere!
Variety! No need to rely on what the store has in stock. You can keep a variety of sprouting seeds at home and grow one or several any time you want!
Family fun! My 6-year-old got really into watching the process of how sprouts grow and helping to take care of the sprouts at every stage. It's a fun kind of edible experiment!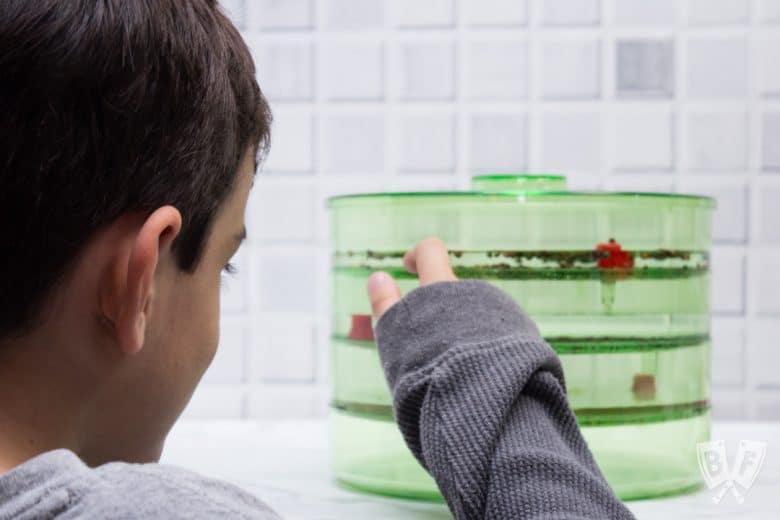 Sprouting Basics
Regardless of what method you use, there are a few things that your spouts will need.
While growing sprouts at home isn't very labor intensive, you do need to make sure you're around twice a day to rinse them. You don't have to be exact with doing it every 12 hours - I like to give mine a rinse in the morning (usually while my coffee is brewing) and then again after dinner.
Rinsing your sprouts is a critical step in the sprouting process. Rinsing the seeds and their container with strong water pressure helps keep any fungi from forming. Most seeds send out roots after 2-3 days in an attempt to anchor down. Wash them for about 10 seconds, twice a day, trying to shower the seeds evenly so you don't dislodge them during their effort to root. If you have a sprayer hose attachment on your sink, use that.
Water temperature should vary by season. In hot weather, use cold or cool water to cool the sprouts down. Lukewarm or tepid water is best during cold weather but never use hot water.
Indirect sunlight is best for your sprouts. Greens need sunlight, especially during the last few days of growing. Try to choose a window that doesn't get more than 2 hours of direct sunlight per day to avoid overheating your sprouts, especially in the summertime.
Sprouts can be stored in the refrigerator once ready, but be sure to keep them away from the freezer, as they're very delicate and susceptible to frost. You can also rinse them every other day or so while they're stored in the fridge, being sure to let them drain, to help prolong their life a bit.
Mature sprouts can be refrigerated part-time, allowing them to be out in the afternoon for a few hours to get more green from the sun. In winter or cooler weather, you can often leave them out all day and just refrigerate overnight.
Some sprouts are heartier than others and will last longer once harvested. Meyerowitz says that alfalfa, fenugreek, and turnip sprouts will last longest and that red clover, cabbage, mustard, and radish are weaker and need more attention and care.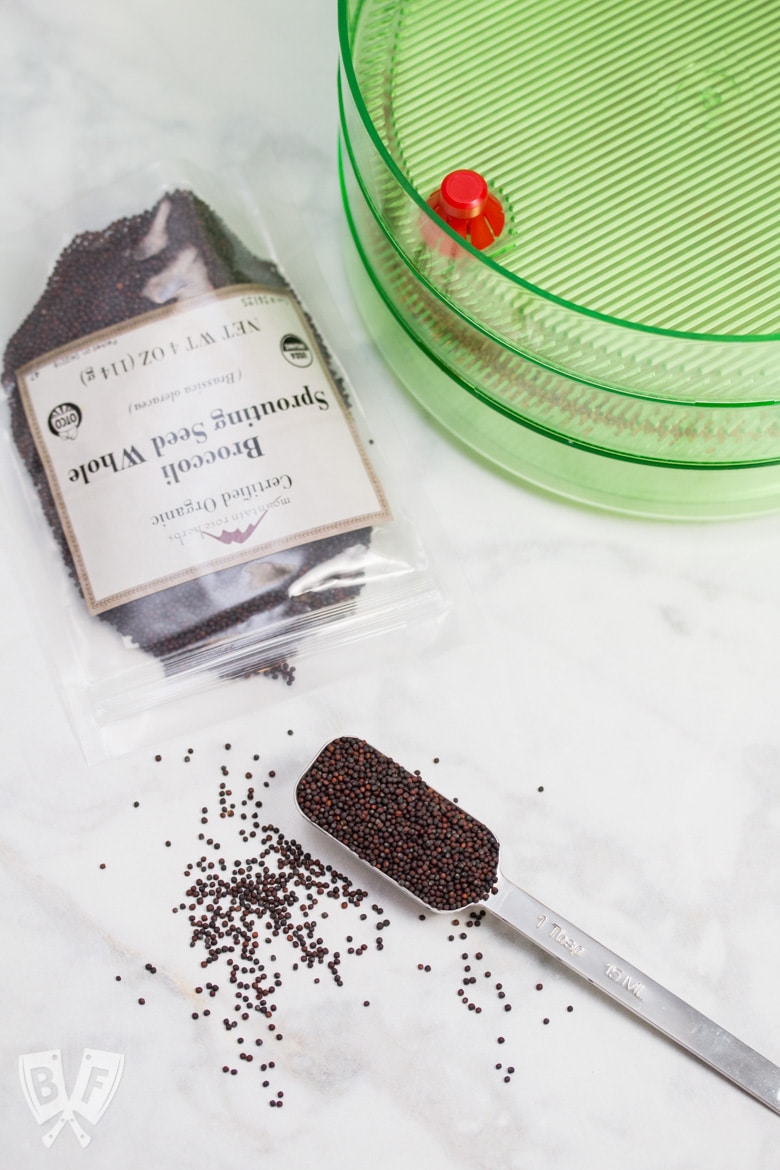 What Kind of Seeds Are Good to Sprout?
Prior to my sprouting adventure, I was under the impression that any ol' seed or bean could be sprouted.
That is not the case! You need to look for sprouting grade seeds. According to Meyerowitz:
The first step of any sprouting process is to purchase high quality sprouting seeds, ideally from a company that proclaims its devotion to sprouting right on the package. At the least, you should find a germination count and an expiration date. Seeds purchased from health food store bulk bins are frequently not sprouting grade and can cause more sprouting headaches than anything else. The vast majority of sprouting problems are traced to the seed, not the sprouting device.
Sprouting seeds are more highly selective than standard garden seeds. Sprouting seeds have a higher germination rate - as much as 90-98%, meaning that out of 100 seeds, only 2-10 will fail to germinate. Store-bought seeds that aren't specifically intended for sprouting can have a germination rate of just 60%.
Mountain Rose Herbs has a wide variety of organic sprouting seeds. They even have a handy magnetic spinning sprouting chart that helps you determine the growing method, difficulty level, taste profile, and more for your sprouts of choice.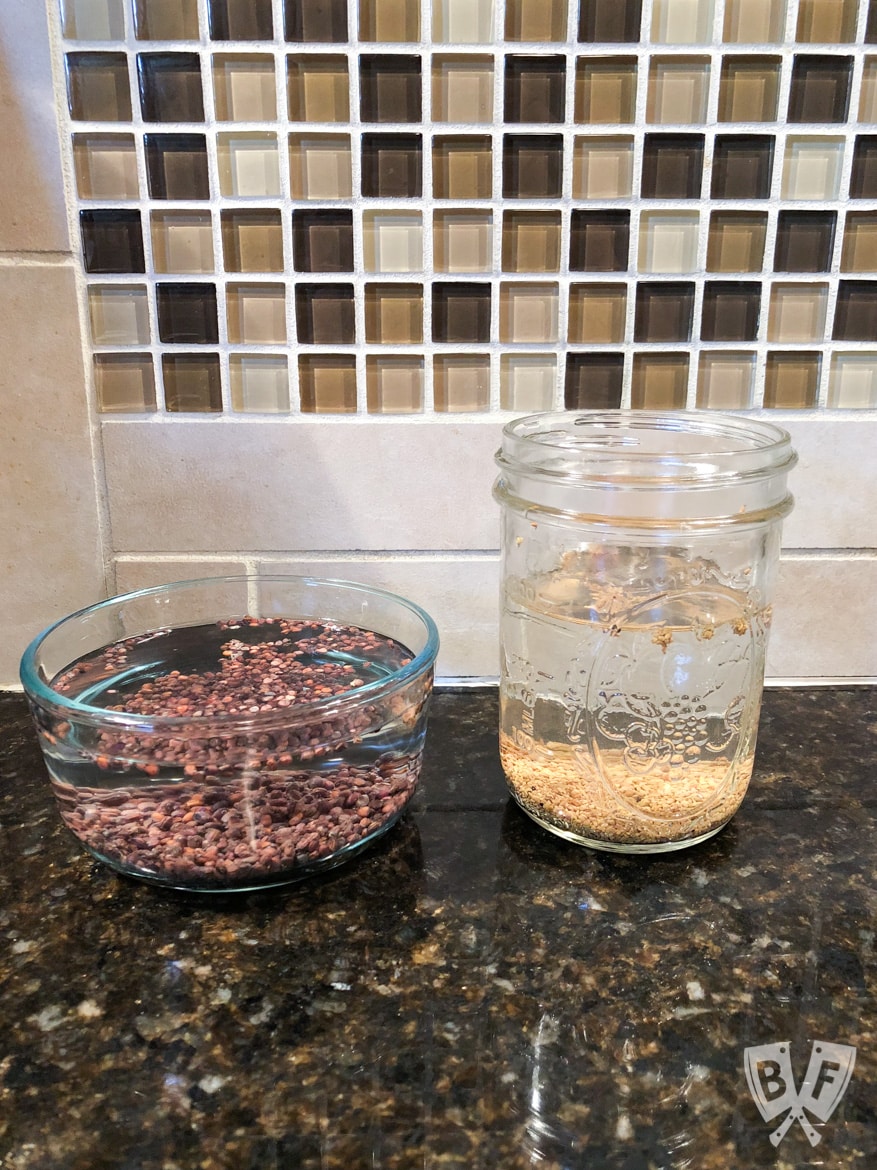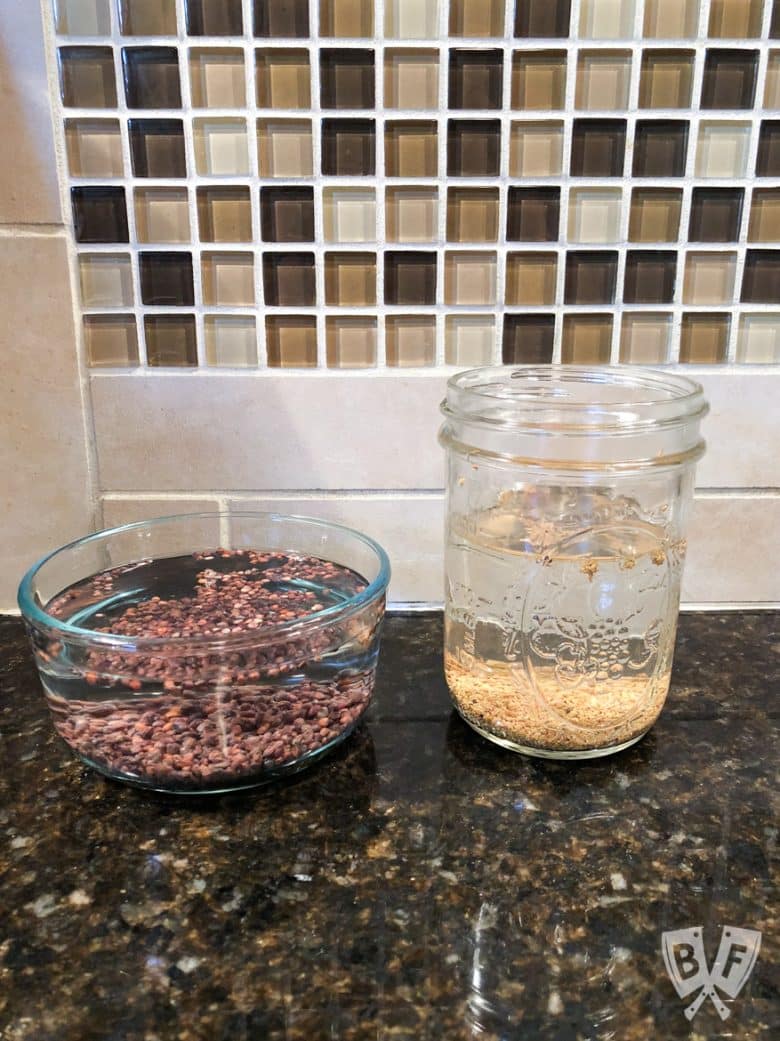 I started with the following types of seeds, and had success with each!
Cleaning Seed Hulls
The hull of the seed is the exterior "jacket" that splits open and falls off once the sprout grows.
Once the leaves form a division (that little split/dip in the middle of the leaf), the sprouts throw off their softened hulls. Sometimes they fall away, but often they cling to the seeds. They aren't bothersome on sprouts like alfalfa, in my opinion, but some of the larger seed hulls could be annoying or unpleasant when you go to eat them, so you may want to remove them.
If you want to remove the hulls, the best time to do so is after the first harvest. You can place your sprouts in a container filled with water. Swish the container around a bit from side to side. The hulls will float to the top of the water and you can skim them off before draining and enjoying your sprouts. You can give them a final spray with your sink sprayer if you need to remove any extras.
Honestly, I've eaten plenty of seed hulls, and they don't often bother me, but it's totally a personal preference.
How to Know When Sprouts Are Unhealthy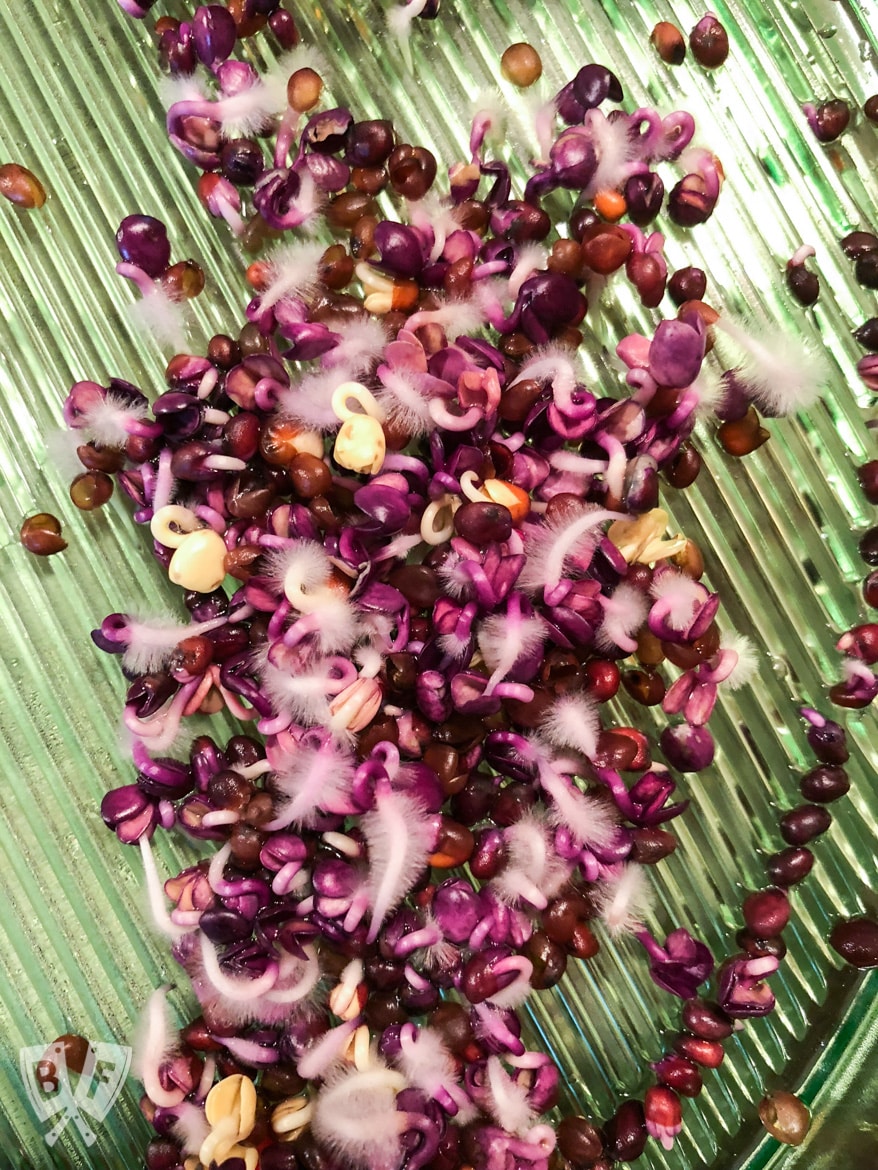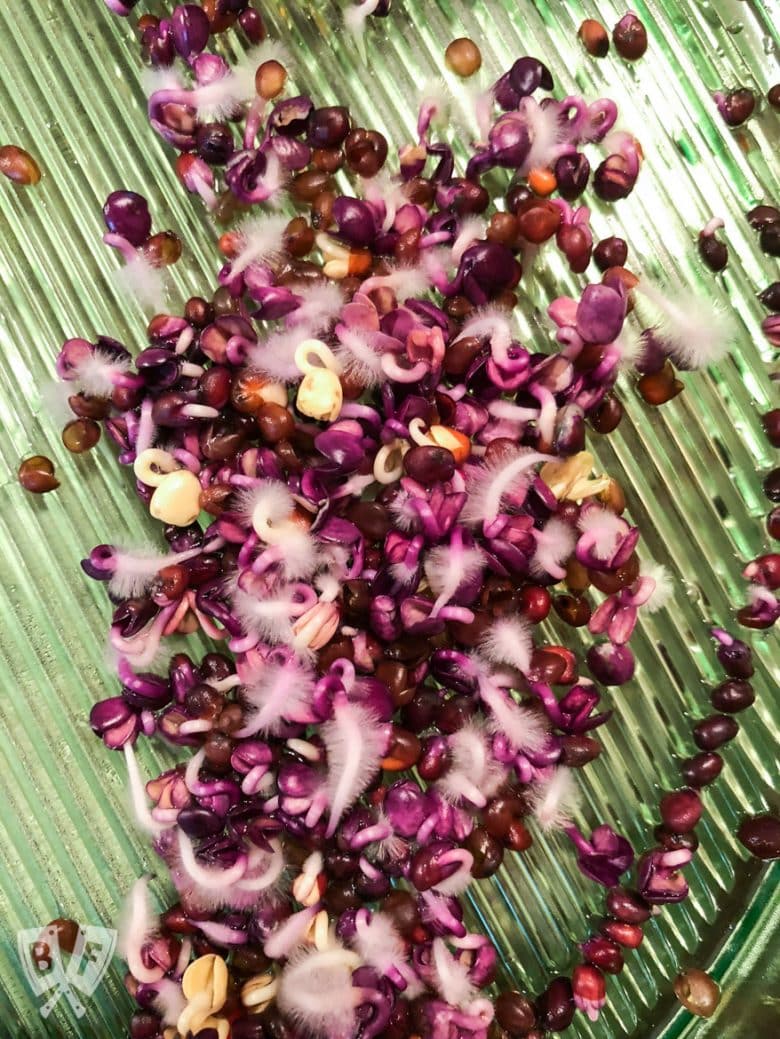 Some seeds, especially radish, get a fuzzy white tail that looks like mold while during the early days of sprouting. It's not mold. You can tell that it isn't mold because there's no foul odor, and the fuzz is contained on just the tail portion of each sprout. Just be sure to continue rinsing regularly and it will clear up in a few days.
Signs that your sprouts are aging include bad odor, soft or soggy spots, drying and/or darkening of roots, and darkening or loss of color.
You can look at the root system on the underside of your sprouts - the roots will show discoloration and deterioration long before the tops. If you see any of these signs, get them into the fridge to help prolong their life.
How to Grow Sprouts in a Jar
Add 1-2 tablespoons of sprouting seeds to a wide-mouthed mason jar. (I used 1 tablespoon for a smaller jar, but if you have a large jar, go for 2 tablespoons). Cover with cool water and let soak for 8 hours.
Affix sprouting screen to the top of your jar and pour soaking water out. Fill jar with enough cool water to cover the seeds by a few inches (pour it right through the screen). Swish the water around a few times and dump the water out. Repeat several times until the water is clear and not cloudy.
Drain the water as well as you can, and then invert the jar at an angle into a kitchen strainer for 15 minutes.
Lay the jar on its side on your counter. If the ring of your jar isn't stainless steel, be sure to remove it to prevent any rust from forming. I like to tap the top of my screen to get the seeds away from it before removing it. I also shake the seeds around a bit to try to encourage them to spread out a bit during the first few days. I set all of the components of my jar on a kitchen towel on the counter. If your ring is stainless steel, you can leave it on the jar during the entire process.
Repeat the process of rinsing and draining your sprouts twice a day until the sprouts are fully mature.
Make sure your sprouts get some sunlight, especially during the last day or 2 of growing. This encourages them to turn nice and green during their final growth spurt.
Pros of Growing Sprouts in a Jar
No need for soil!
Inexpensive.
Easy to find materials! If you don't have a sprouting screen, you can use some cheesecloth and a rubber band for draining.
Easily transportable.
Cons of Growing Sprouts in a Jar
Seeds tend to get overcrowded.
Only the top layer of seeds get sunlight.
If your lid isn't stainless steel, it can rust if left on the jar.
Jars easily retain water and lack air, making it possible for mold to grow.
Seeds need to be soaked before they can be sprouted.
Mature sprouts aren't as "pretty" - they tend to get tangled and twisted.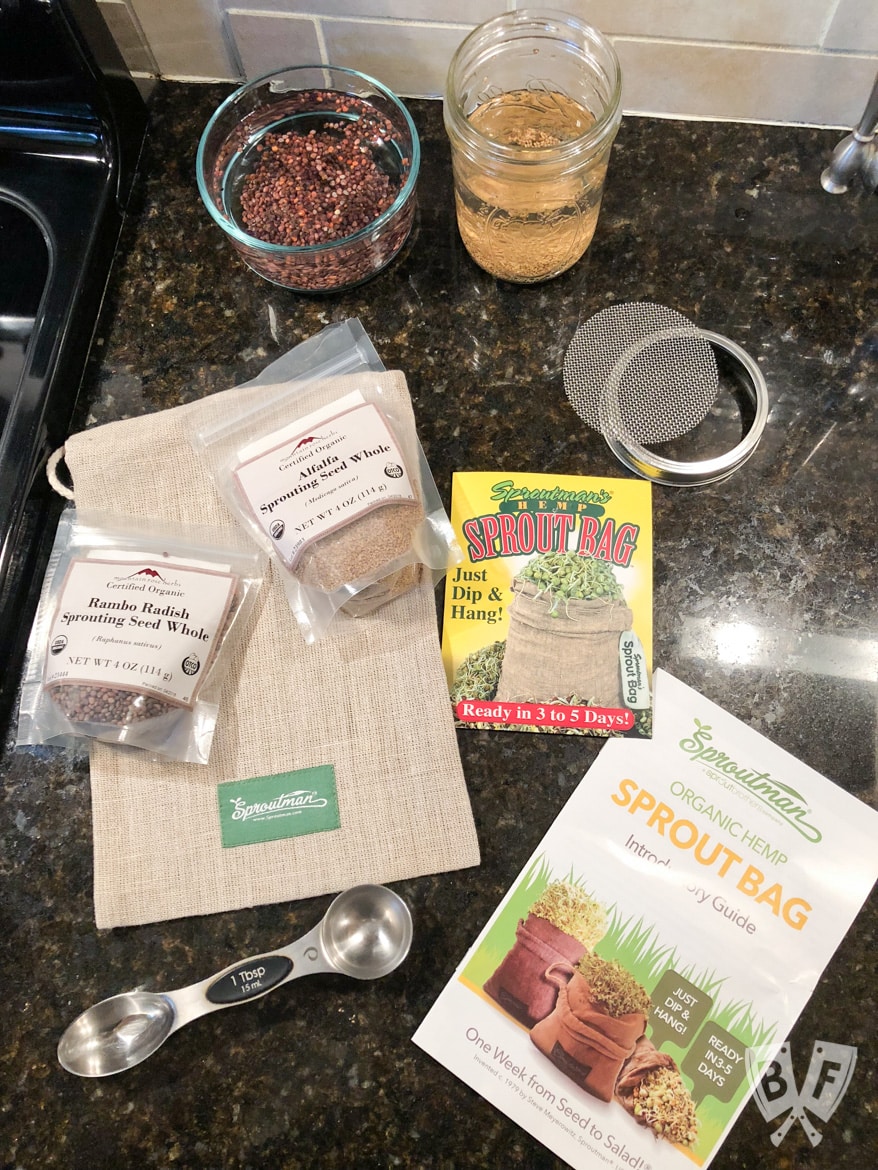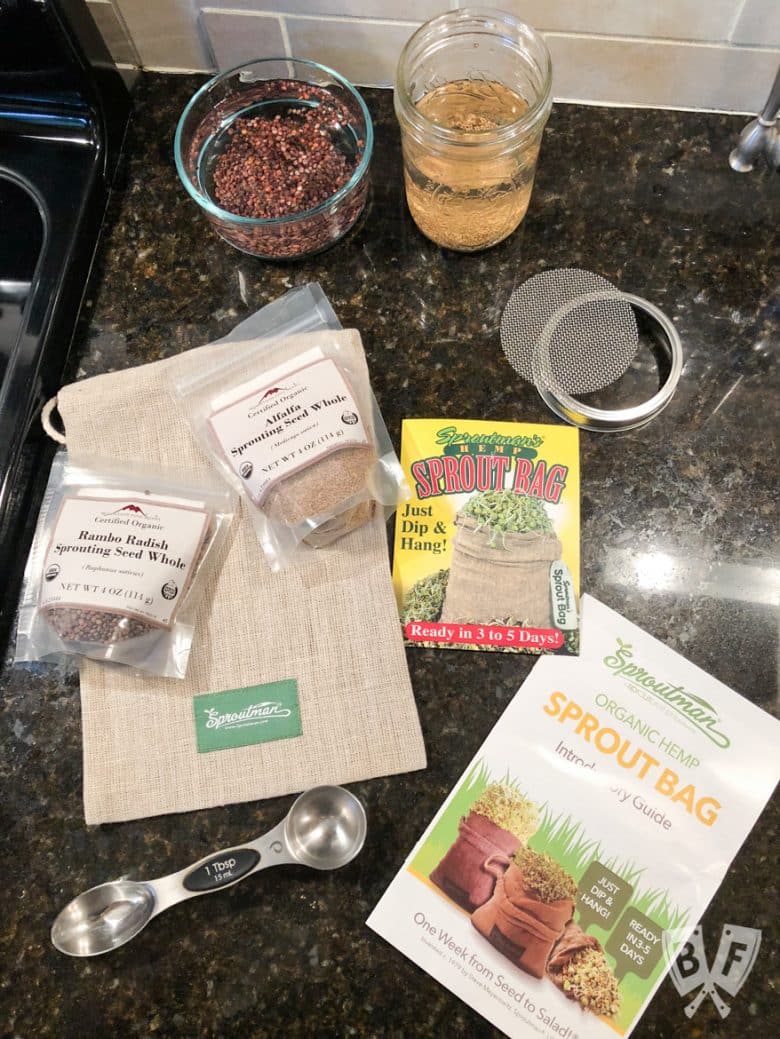 How to Grow Sprouts in a Sprout Bag
Add 2 tablespoons of sprouting seeds to a bowl or jar. Cover with cool water and let soak for 8 hours.
Before the first use, turn your sprout bag inside out and place it in boiling water for 5 minutes. Let cool and invert the bag back to its original position.
Pour soaked seeds into the wet, prepared sprout bag. Pull the drawstring closed. Rinse with fresh water (or set in a bowl of cool water) for 60 seconds. If soaking in a bowl, massage the bag a bit to help prevent clumping and roots from growing into the sidewall.
Drain excess water from the bag before hanging it for 15 minutes, or until it stops dripping.
Place sprout bag in a bowl after the water has drained to protect it from drying out.
Repeat the process of rinsing and draining your sprouts twice a day until the sprouts are fully mature.
If growing greens, for the last 2 days, gently roll back the collar of the bag to reveal the sprouts. Instead of dipping the bag to rinse it, water from the top using a sink sprayer.
Pros of Growing Sprouts in a Sprout Bag
No need for soil!
Ideal for growing grains and beans.
Greens such as alfalfa, clover, radish, cabbage, broccoli, and fenugreek work best in a sprout bag.
Hemp bags drain well, maintain their coolness, and are resistant to tearing.
Draining is easy - just hang the bag to drain for 15 minutes, or until it stops dripping.
Easily transportable.
No sunlight needed unless you're growing greens, and those only need light for the last 2 days or so.
Bags can also be used to make nut milk and "seed cheese" recipes. (I can't wait to try this!)
Cons of Growing Sprouts in a Sprout Bag
Roots can get hooked around the walls of the bag, which can be a bit tedious to clean.
Bags need to be sterilized in boiling water before being used.
Can't use soap or detergent to clean the sprout bag - it will dry out the natural oils in the hemp fiber.
Need to be careful when manipulating the bag while it's dry and brittle.
Seeds need to be soaked before being transferred to the bag for sprouting.
Bag needs to stay in a bowl after it has drained to make sure it doesn't dry out, and you need to be sure that it's drained well first to avoid stagnant water.
Mature sprouts aren't as "pretty" - they tend to get tangled and twisted.
How to Grow Sprouts in a Vertical Sprouting Canister Kit

Clean your kit before the first use. Use mild soap and warm water.
Place the red drainage spout caps on the 3 levels of your vertical grower.
Sprinkle 1 tablespoon of sprouting seeds onto each growing tray. Stack the 3 growing trays on top of the bucket-style bottom tray. This is the tray that will collect all of the water that drains through your 3 layers of sprouts.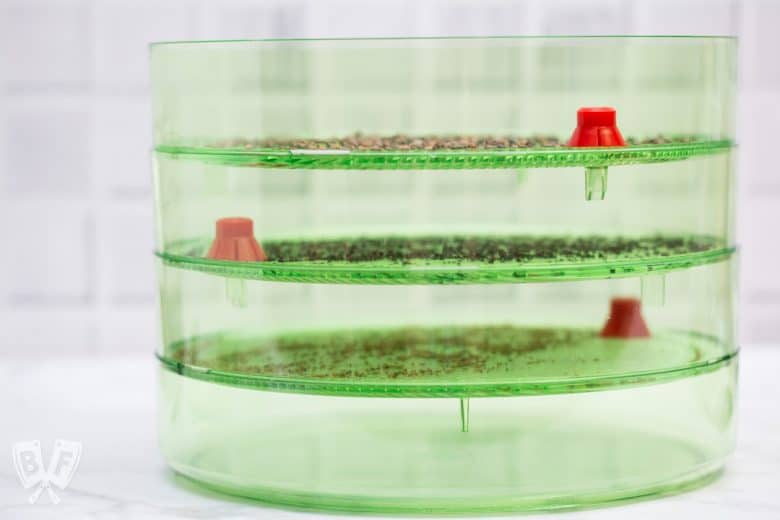 Be sure to offset the placement of the red drainage sprouts so they're in a different position on each level. This helps ensure that the water doesn't drain too quickly.
Fill the top compartment almost to the top with water. Put the lid on and allow the water to fully drain through each section.
Dump the water (or, preferably, reuse it to water houseplants or your outdoor garden), place it back on the bottom of your vertical grower, and place the grower in indirect sunlight.
Repeat the process of rinsing and draining your sprouts twice a day until the sprouts are fully mature.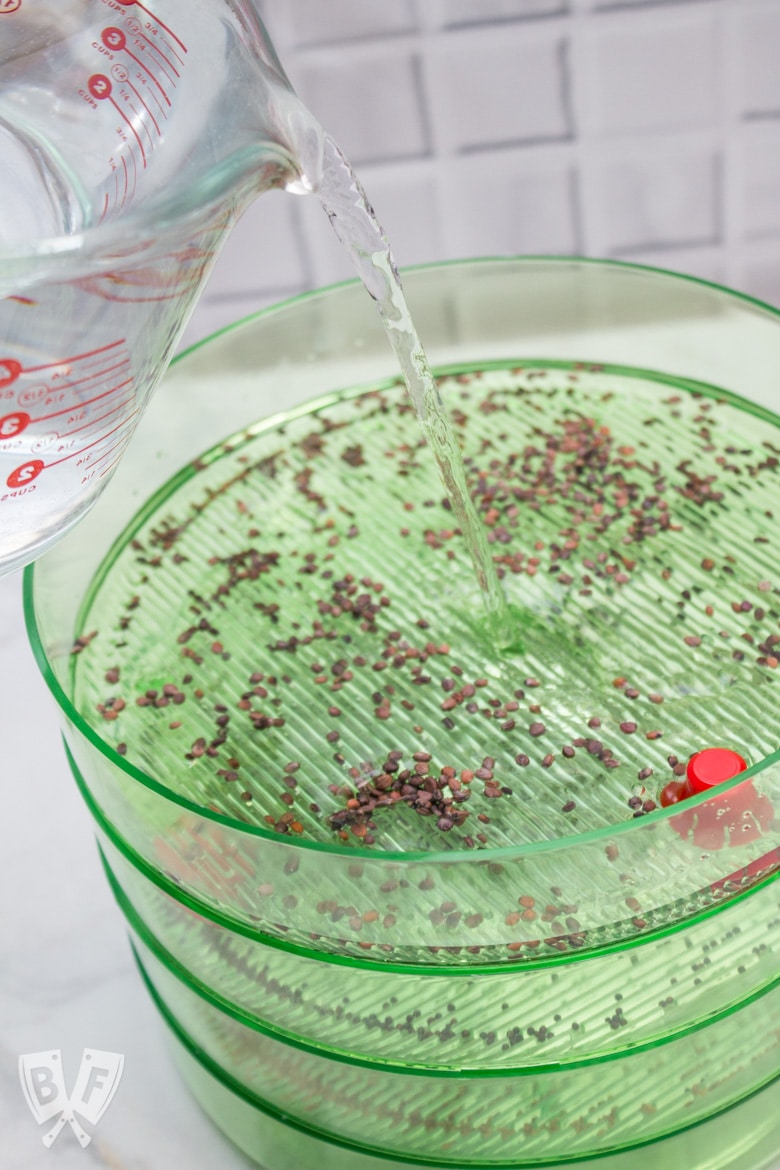 Pros of Growing Sprouts in a Vertical Sprouting Canister Kit
No need for soil!
No need to soak seeds.
Provides a larger surface area, which exposes more of the sprouts to the sunlight compared to other methods.
The drainage system is built in - no need for screens, cheesecloth, rubber bands, strainers, etc.
Can stack multiple layers with different types of seeds.
Rinsing is much faster - can use the same water to rinse several layers of seeds. The water is then collected in the base, which you can use to water houseplants or your outdoor garden.
Easily transportable.
You don't need to be at the sink to rinse the sprouts since the bottom of your vertical grower collects the drained water
Can use 1, 2, or all 3 layers for a variety of sprouts at the same time.
Can start seeds on different days so you constantly have a rotation of ready to eat sprouts as well as some that are still growing.
Since the layers are so even and spread out, sprouts form consistently beautiful layers that grow nice and tall.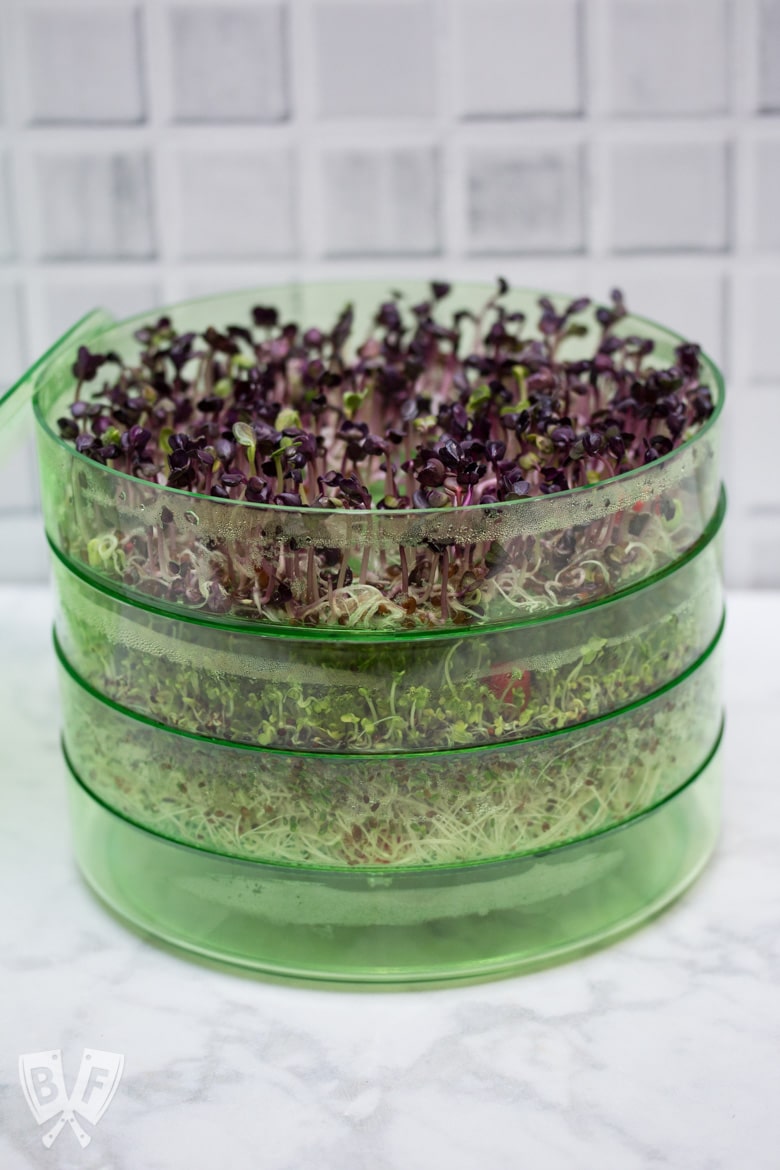 Cons of Growing Sprouts in a Vertical Sprouting Canister Kit
Limited height for each sprouting tray - taller sprouts need to remain uncovered to continue to grow.
Roots can get tangled in the drainage sprouts, causing blockages that prevent proper water drainage.
Costs more than other methods.
Ways to Use Sprouts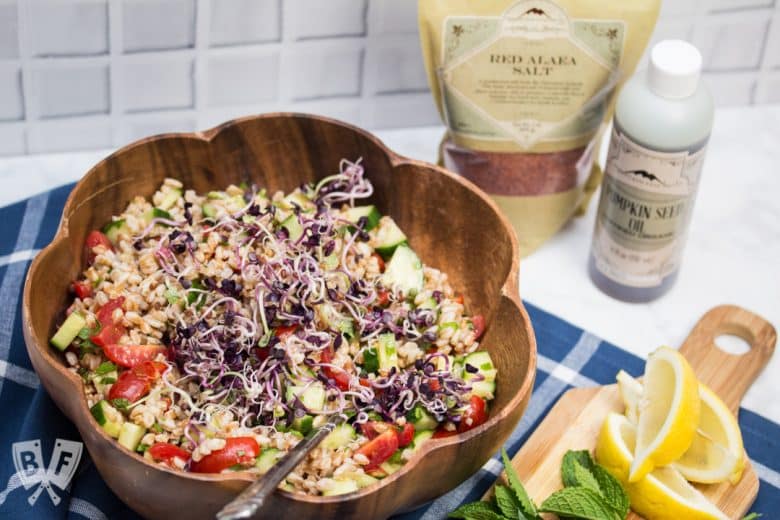 Sprouts are more than just a garnish (though they make fantastic garnishes)! They're super versatile.
My husband loves stuffing them into sandwiches. He especially loves alfalfa sprouts in wraps. Fresh sprouts are also a beautiful addition to tea sandwiches.
Sprouts are great on any type of salad greens. They also work really well with grain salads! I used radish sprouts in the a farro salad last week, and they were a big hit! We also love radish sprouts on tacos. It's a great way to get that spicy radish flavor without having to buy the sad looking radishes that I often find at the supermarket.
Sprouts are great as a topper for toast! Avocado toast, scrambled egg toast, or balsamic-roasted strawberry toast with ricotta (the first picture in this post - a recipe I'm working on perfecting right now). You name it, it's probably even better with sprouts! I bet they'd be fabulous on my Goat Cheese Toast with Honeyed Citrus Fruit, too!
Bowls are really great meals, and they're even better with piles of various toppings scattered about. Sprouts would make a great addition to these Toasted Farro Grain Bowls with Roasted Winter Veggies, or on one of these Roasted Veggie Bowls with Lemon-Flaxseed Vinaigrette.
Sprouts can even be made into a salad all by themselves. They're great with a light vinaigrette made of pumpkin seed oil and fresh citrus juice.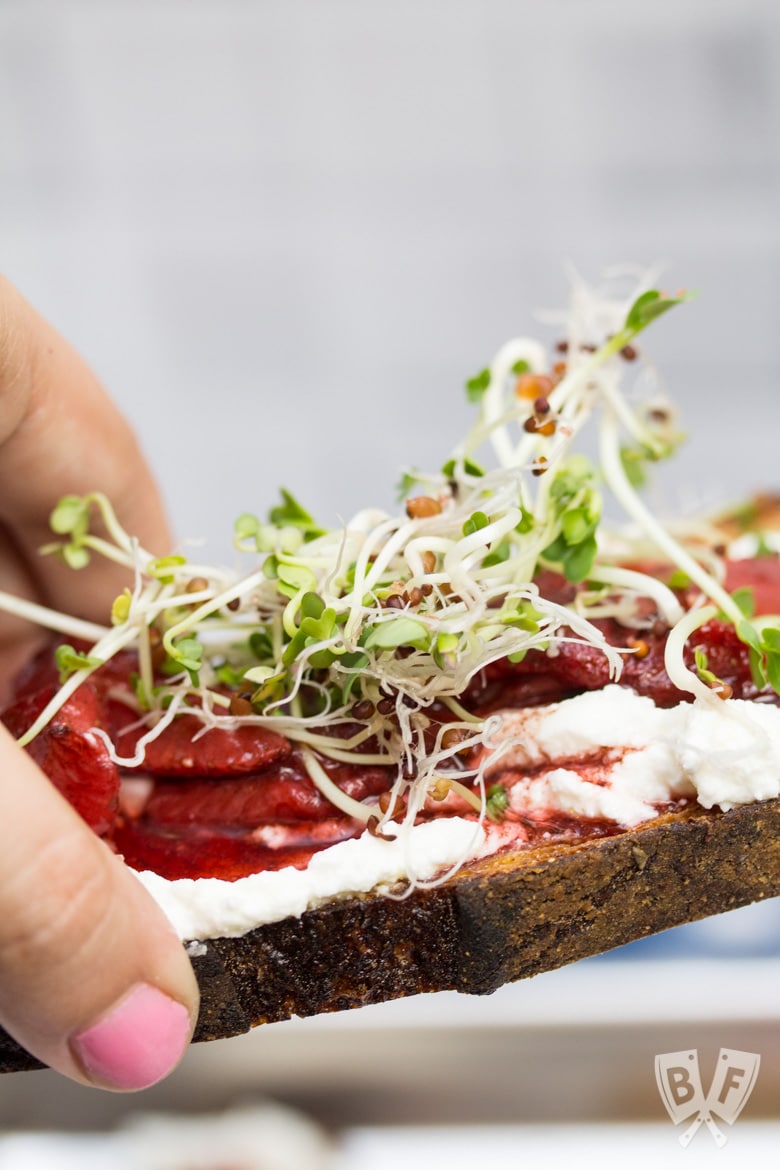 Home Sprouting Kit Giveaway
PHEW.
That was a lot of information. If you stuck with me through the whole post - WOOHOO!! You now have all the tools to start on your own epic home sprout growing adventure. Allow me to reward you with a phenomenal giveaway of sprouting items that I selected to get you started using each method!
One person will win ALL of these goodies:
-1 Sprout Bag
-1 Vertical Sprouting Canister Kit
-1 Sprouting Screen
-1-ounce bag of Alfalfa Sprouting Seed
-1-ounce bag of Broccoli Sprouting Seed
-1-ounce bag of Rambo Radish Sprouting Seed
-1-ounce bag of Leafy Sprouting Seed Blend
-1-ounce bag of Spicy Sprouting Seed Blend
I've set it up so there are ways to earn multiple entries. Good luck, everyone!