This post was created in partnership with Stonyfield and High Mowing Organic Seeds. As always, all opinions are 100% my own.
For the past several years, my modest patio container garden has grown a lot of the fresh herbs that I cook with during the warmer months, along with a few vegetables and oodles of tiny tomatoes.
I usually buy seedlings from my favorite local garden center, but last year I branched out into planting my own seeds, too. Some of my veggies ended up being a bit small, but it was really rewarding to grow them from seeds. My toddler loves helping me plant and care for our tiny garden, so I like to make sure he's involved in the whole process from planning to planting to care-taking and finally harvesting.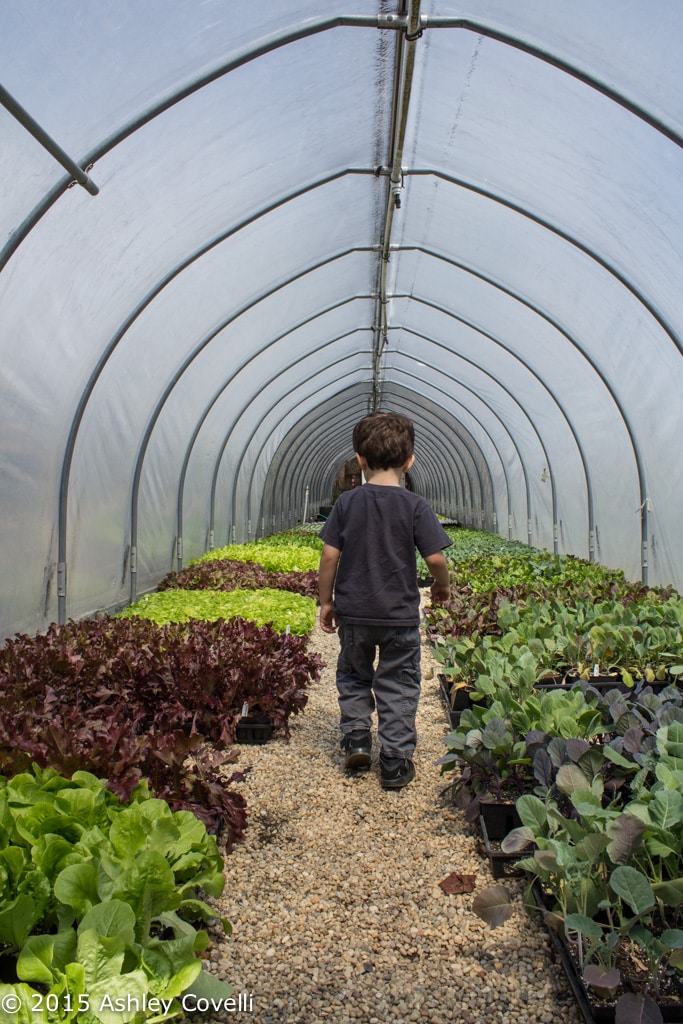 (Side note: I can't even handle how much bigger my little guy got since I took this same shot a year ago!)
This year, High Mowing sent me an awesome assortment of their organic seeds to kickstart my garden for 2015. I'll admit - I was a little intimidated, but I figure that with a mix of these seeds and some seedlings that I picked up from the garden center, my garden will be up running in no time!
And I love that their company is so committed to quality, organic seeds and involving local famers in seed production. They have over 600 heirloom, open-pollinated and hybrid varieties of vegetable, fruit, herb and flower seed. Wow!!
So to celebrate Earth Day this year, we took a family trip to the garden center to pick up some herbs, seedlings, organic soil and a few other goodies for our garden.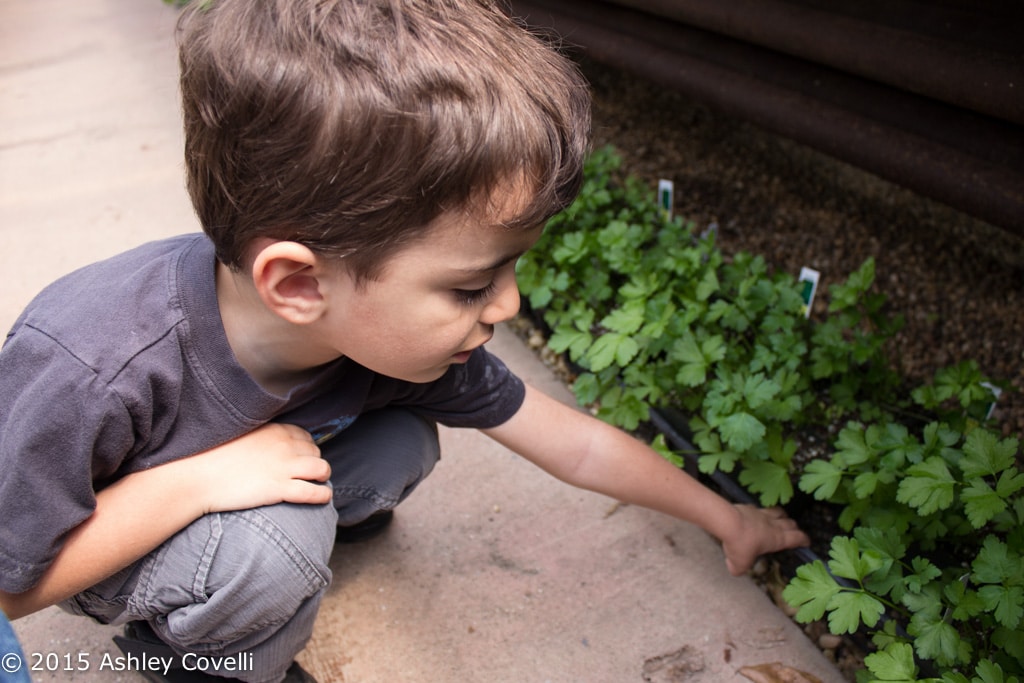 We always use a lot of Italian parsley in my tiny kitchen, so this year I decided to double the amount we've got in previous years. My son was THRILLED to be in charge of picking out each plant and putting it onto our cart.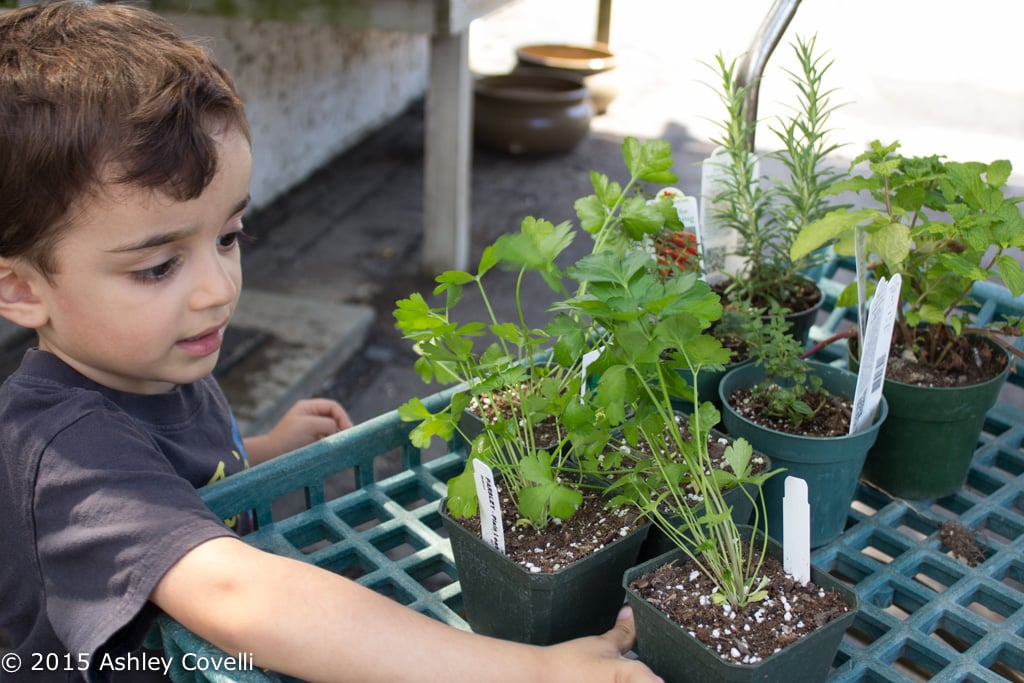 I also have one long planter that I like to put 4 small tomato plants in each year. Because space is limited, I stick to cherry/grape/pear type tomatoes.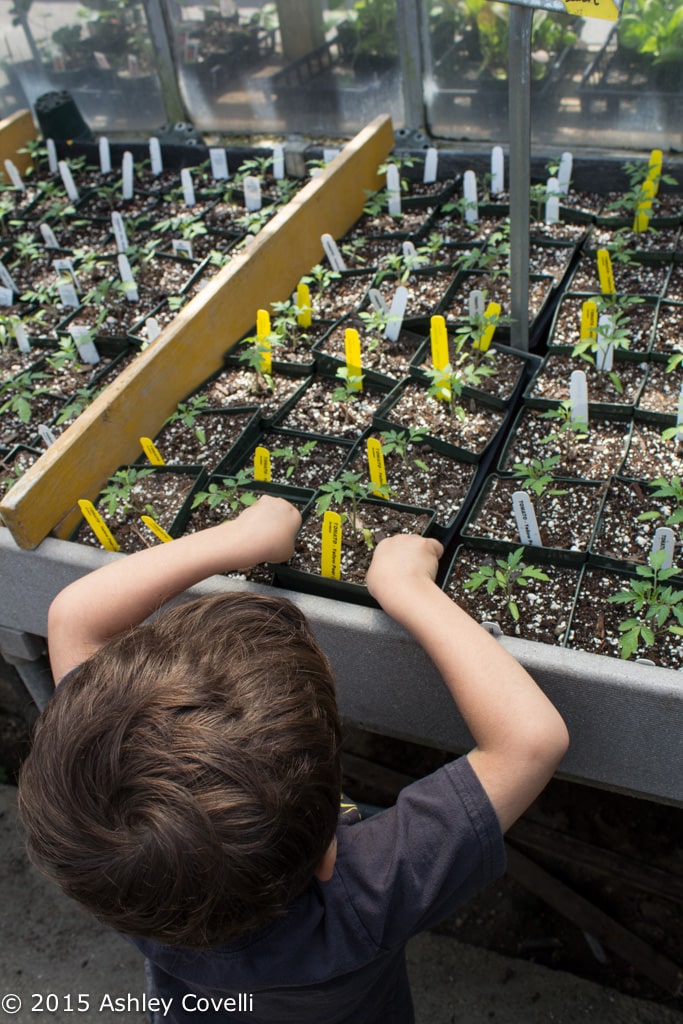 Barely any of our tomatoes ever make it into our house, because they're the perfect straight-from-the-vine snack. I used to eat almost all of them, but now I have a son who shares my love for all things tomato, and I'm supposed to teach him about sharing. Luckily, my husband isn't into eating tomatoes whole like we are, so we end up splitting the ripe ones between the 2 of us.
And I only occasionally sneak outside after he's in bed to get a few all for myself.
Ahem.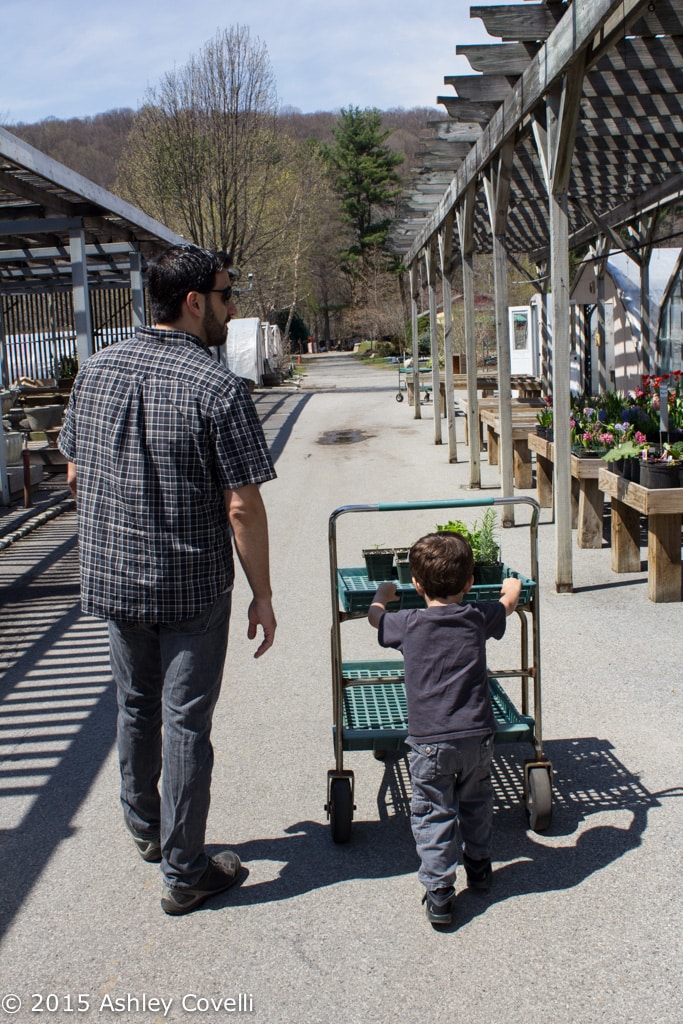 We picked out a lot of goodies at the garden center. Some of the planters that I put off to the side of the patio last year didn't get enough sun to grow well. Lesson learned. So we ended up buying a big shepherd hook to hang 2 extra baskets of herbs without taking up any additional patio space.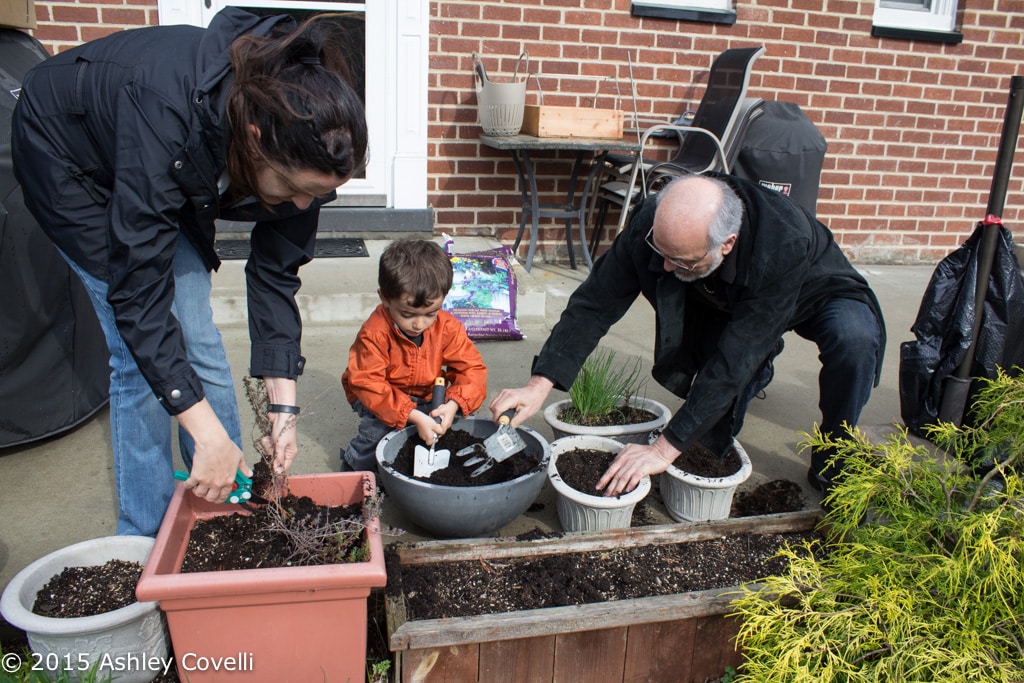 My father-in-law came over to help us get the soil prepped and plant our garden. There was a crazy rainstorm on our way home from the garden center, so we waited until it cleared up and then got to work before the next storm came about an hour later.
My son's favorite part of prepping the soil was throwing shovelfuls between containers. It's fun for him AND he gets to see bugs. Plus it gives me time to rip out the old remnants of herbs from last year and get things done. Toddlers are good at sucking out your productivity sometimes, so this was a win/win.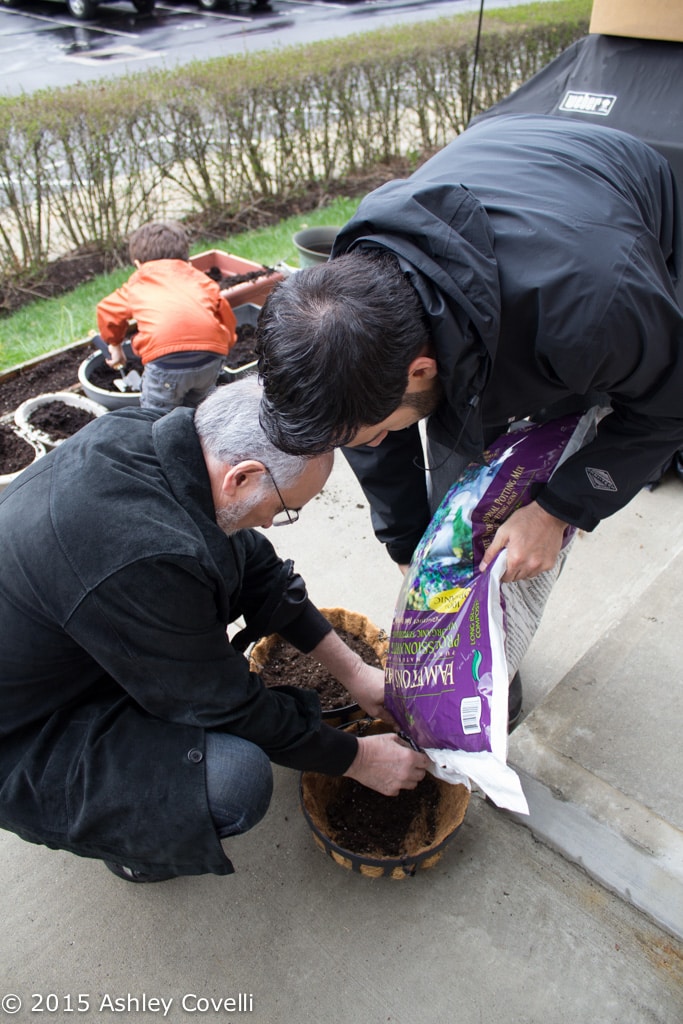 The soil that was leftover from last season has been really good to me. It was great to see how many critters were working their magic when we started tilling the soil. I've had the same soil in my planters since we moved in almost a decade ago. I just top it off with more organic soil each spring and it's good to go.
I also use my breakfast scraps to help add nutrients to my soil. I add a little more every few weeks. And I like to sprinkle chili flakes on top of the soil to help keep the animals that wander onto our property from munching on our plants.
I used some Stonyfield YoBaby & Oh My Yog! cups to get the seeds started this year. I love that the Oh My Yog! labels come off nice and clean for a clear container, and the YoBaby cups are nice and small. I figure I'll plant what I can as we polish off my stash of yogurt cups. Anything I don't end up having room to transplant, I plan to give to friends and family for their own gardens. The cups make them super easy to transport!
My father-in-law built a great little planter for me to house my seed cups until they're ready to be transplanted. He put a metal rack on top to hold a piece of plastic for when the cups need to be covered. He poked drainage holes in the bottom of each of the cups for me. Once they've sprouted and been transplanted, I can fill that planter with soil and plant more goodies in it. Woohoo!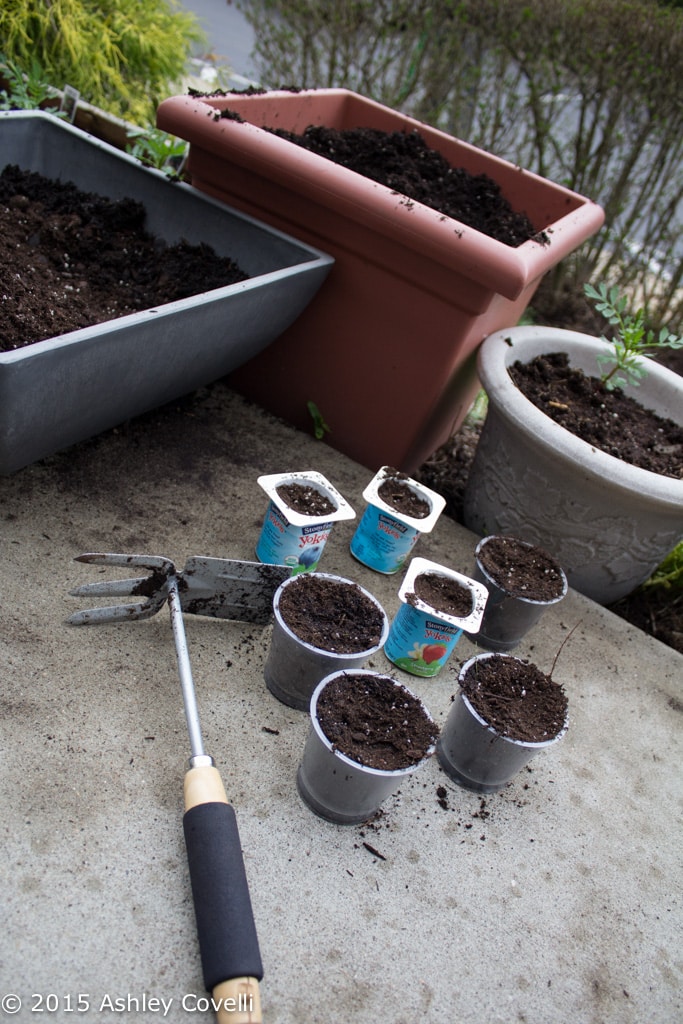 After filling the cups with soil, I popped them into the planter box and added a few seeds to each cup. I put 3 seeds (of the same type) per cup, in case some seeds take better than others.
I planted Sweetie Tomatoes in the 4 large cups, Corno di Toro Sweet Peppers in one of the small cups and Ping Tung Long Eggplant in the other 2.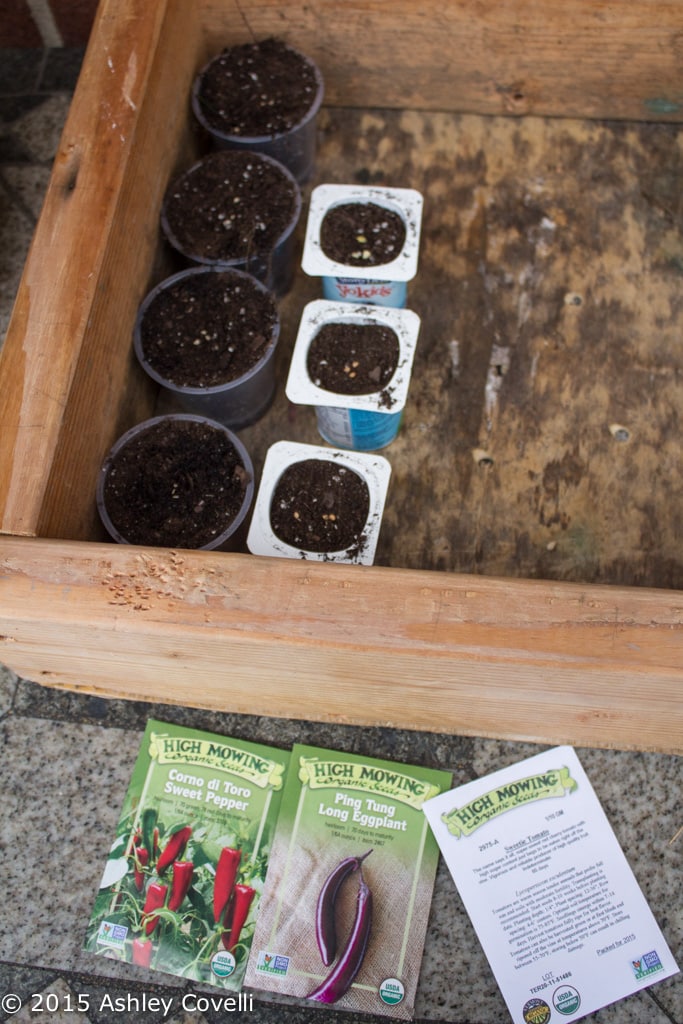 I planted Ruby Red Chard seeds directly into the soil in one of my big planters, and in a few weeks, I'm going to plant the Bennings Green Tint Summer Squash into another.
So for this year, in addition to the seeds, I have:
-Chives (the same ones that pop up every year - I planted them many years ago!)
-Rosemary
-Thyme
-Green Basil (3)
-Italian Parsley (4)
-Spearamint
-Peppermint
-Purple Basil
-Buttercrunch Lettuce (6)
-Patio Tomatoes
-Yellow Pear Tomatoes
-Tumbling Tom Tomatoes
-Tiny Tim Tomatoes
-Marigolds (6 - in between the tomatoes and mixed in with the herbs)
-Garlic (we planted 6 last fall, so far 4 have sprouted up already... we'll see how many we end up with)
I also have Ruby (yes, I named my rhubarb plant) going strong over at my in-laws' house. She's basically the source for all of the Rhubarb Custard Pies that I make throughout the summer.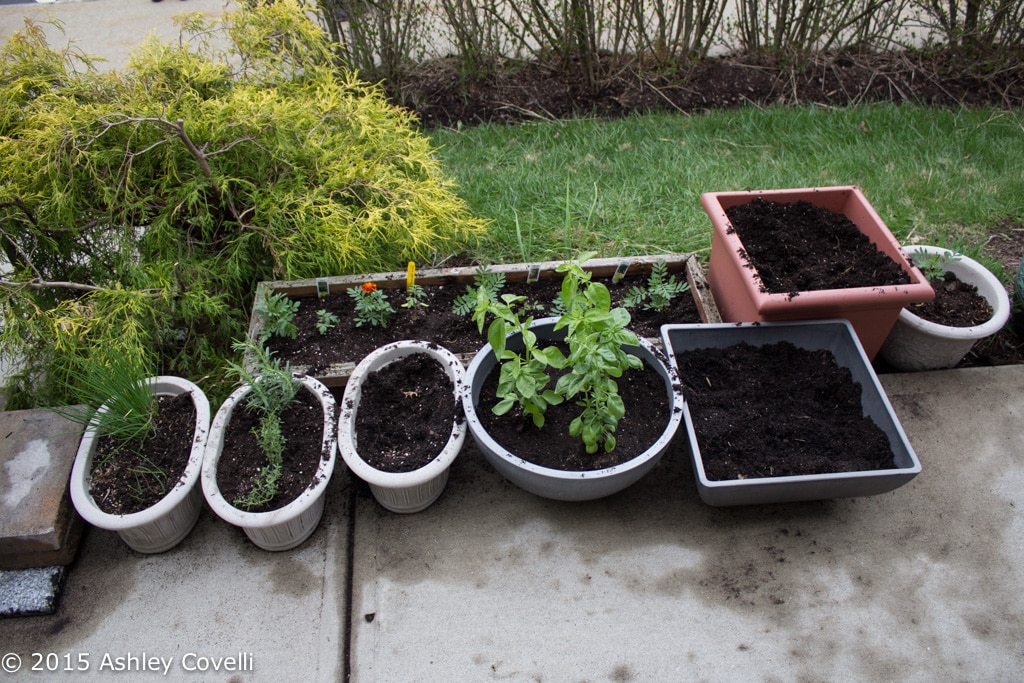 We got a lot done in a short amount of time this year. And I'm loving how the new shepherd hooks look outside our house!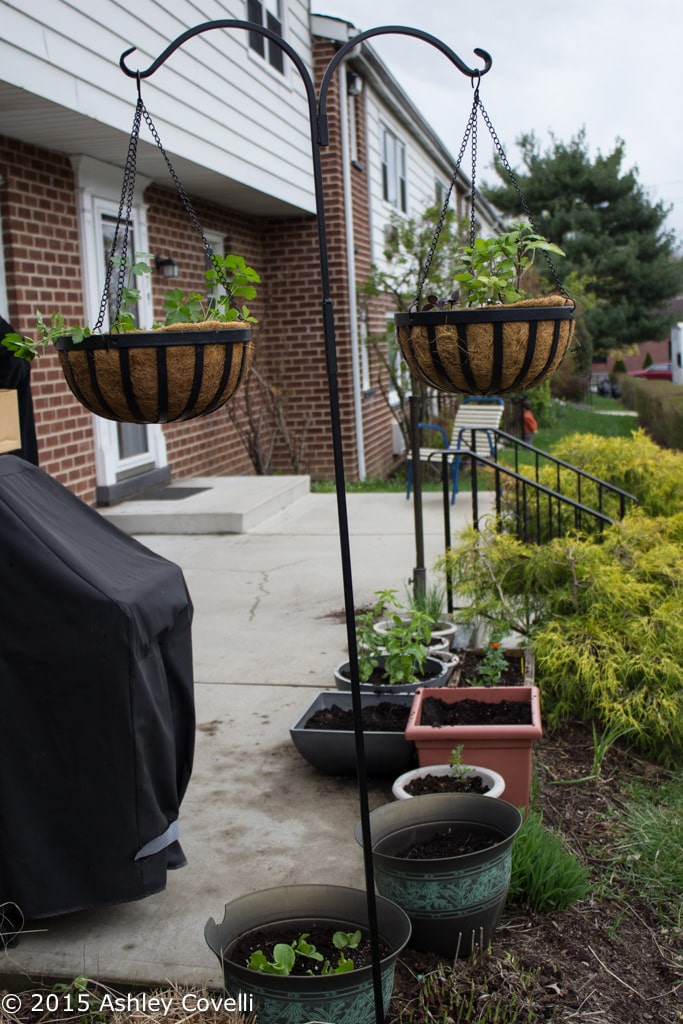 After everything was in the ground, we gave it all a quick watering and called it a day!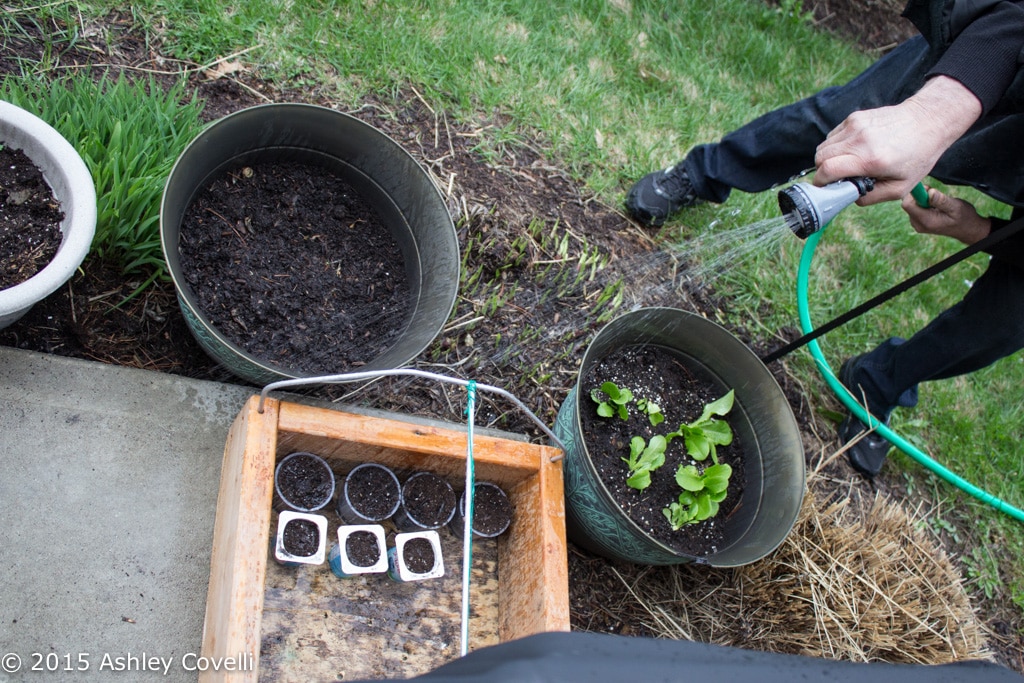 Do you have a garden? What are you planting this year? I'd love to hear about it in the comments!