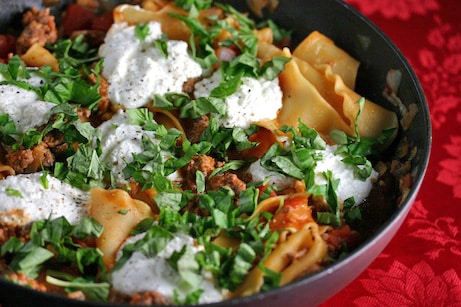 This post may contain affiliate links. Thank you for supporting the brands that keep me creative in my tiny kitchen!
This is one of our favorite recipes. It's really easy and tastes amazing. This is the first time I made it with meatloaf mix – I usually use all ground beef. I drained the meat a little after it browned before putting the noodles on top.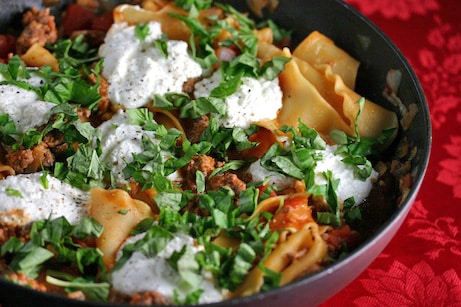 Skillet Lasagna
Cooks Illustrated
4-6 servings
1 (28 ounce) can diced tomatoes
1 tablespoon olive oil
1 onion, minced
salt
3 garlic cloves, minced
1/8 teaspoon red pepper flakes
1 lb meatloaf mixture (8 ounces ground beef, and 8 ounces ground pork – 1lb
ground turkey will also work too)
8 ounces curly-edged lasagna noodles, broken into 2-inch lengths (10)
1 (8 ounce) can tomato sauce
1 ounce parmesan cheese, grated (1/2 cup) (make sure you use the really good
stuff since there's not a lot of other flavors going on here)
pepper
8 ounces whole milk ricotta cheese (about 1 cup) (I used part skim)
1/4 cup minced fresh basil
1. Pour the tomatoes with their juice into a quart measuring cup. Add enough
water to the tomatoes to measure 4 cups.
2. Heat the oil in a 12-inch nonstick skillet over medium heat until
shimmering. Add the onion and 1/2 teaspoon salt and cook until softened,
about 5 minutes.
3. Stir in the garlic and red pepper flakes and cook until fragrant, about
15 seconds. Add the meatloaf mix and cook, breaking up the meat into small
pieces with a wooden spoon, until no longer pink, about 5 minutes.
4. Sprinkle the noodle pieces evenly over the meat. Pour the diced tomatoes
and tomato sauce over the pasta – don't stir. Cover and bring to a simmer.
Reduce the heat to medium-low and continue to simmer, stirring occasionally,
until the pasta is tender, about 20 minutes.
5. Remove the skillet from the heat and stir in 1/2 cup Parmesan. Season
with salt and pepper to taste. Dot heaping tablespoons of the ricotta over
the noodles. Cover the skillet and let stand off the heat for 5 minutes.
6. Sprinkle with the basil and serve, passing the extra Parmesan separately.
MacGourmet Rating: 5 Stars