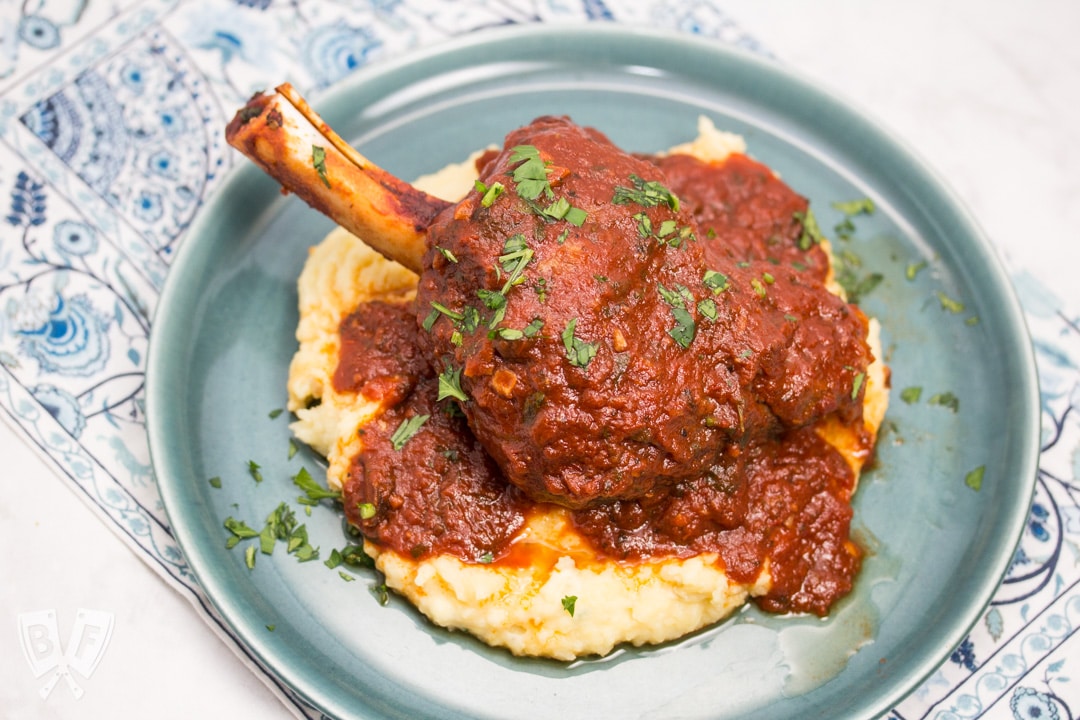 Instant Pot Braised Lamb Shanks with Tomato
This post may contain affiliate links. Thank you for supporting the brands that keep me creative in my tiny kitchen!
Beautifully tender, fall-off-the-bone lamb shanks are possible in a fraction of the time thanks to an electric pressure cooker!
This Instant Pot Braised Lamb Shanks with Tomato recipe takes just a few ingredients and minimal effort. Serve it over mashed potatoes or polenta for a perfect comfort food dinner.
This post may contain affiliate links.
Today is Valentine's Day and I.am.not.ready.
Not that we had any big plans for today, but the last few weeks have been eventful, to say the least.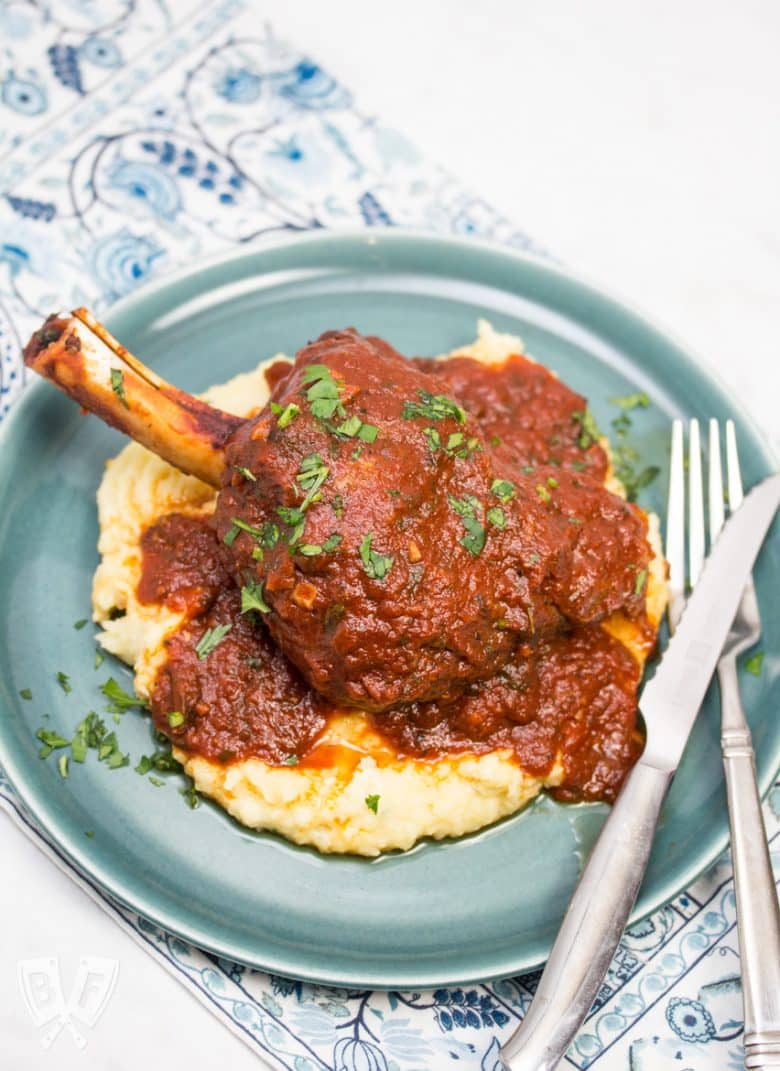 I was out in California for a conference (and it was AWESOME!!), and had some unexpected travel hiccups on my way home.
Let's just say that now I can check "spend Super Bowl Sunday on a cot at O'Hare airport" off of my bucket list of things I never knew I'd get to experience. If you follow me on Instagram, you may have caught some of that fun in my IG story.
After recovering from the jet lag and trying to get back into the swing of things, I wound up in the emergency room for a severe allergic reaction that had me one step away from anaphylaxis.
As someone with no known allergies, this was terrifying, and I'm still fairly worked up about it. I'm pretty sure I know what caused it, but I need to see an allergist to get some solid answers so I can hopefully avoid ever being in that situation again.
Then, to top it off, my kiddo got sent home from school yesterday for conjunctivitis. Ugh.
So with the bevy of doctor visits, Benadryl, steroids, and worrying, Valentine's Day hasn't really been on my radar.
But I couldn't NOT share this recipe in time for you to make it for your Valentine! And, in fact, if I can make it to the grocery store this afternoon, I may just make it again!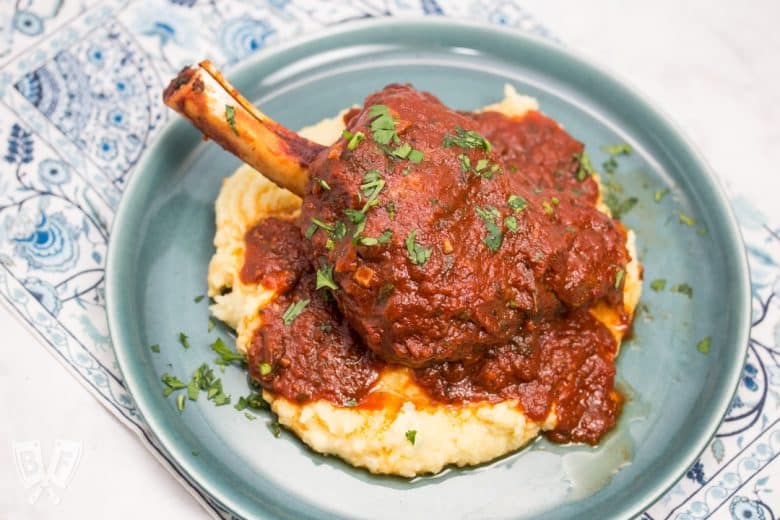 Lamb shanks are definitely a labor of love. To get that gorgeously melting off the bone meat takes time. And it's so worth it!
But what if you're short on time? Or, say, you'd just like this whole process to take a lot less of it?
It's time to break out the electric pressure cooker. I love my Instant Pot – I've been using it a LOT lately. In fact, I served these lamb shanks over the Instant Pot Mashed Potatoes that I had made a few days earlier.
I'm not saying that this should justify me getting a second one, but I am saying I'd definitely use them both!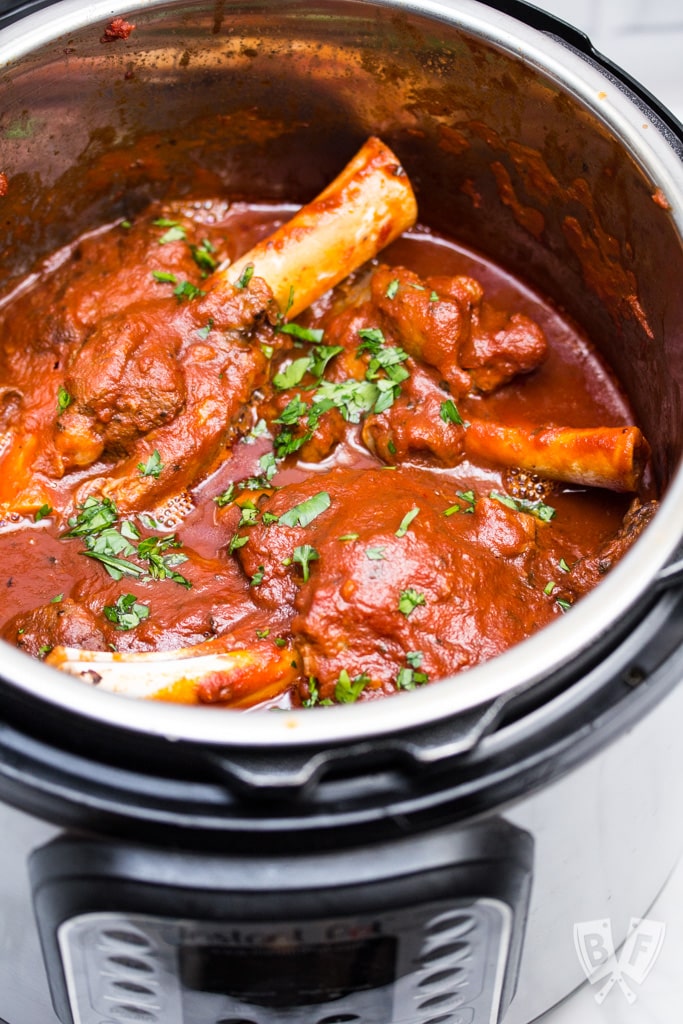 While this is a perfect meal for 2, I decided to buy 4 lamb shanks so we could have leftovers, and wrote the recipe to serve 4. Dishes like this hold up so well in the fridge, that it's perfect to eat again later in the week. And I'm all about utilizing leftovers!
The sauciness from the crushed tomatoes makes this dish great to serve with something to soak it up. Aside from mashed potatoes, it would be fantastic over polenta, or even shredded and tossed with some pasta.
I served our leftovers alongside some macaroni and cheese that I made in the Instant Pot (recipe coming soon!), and it was great together, too.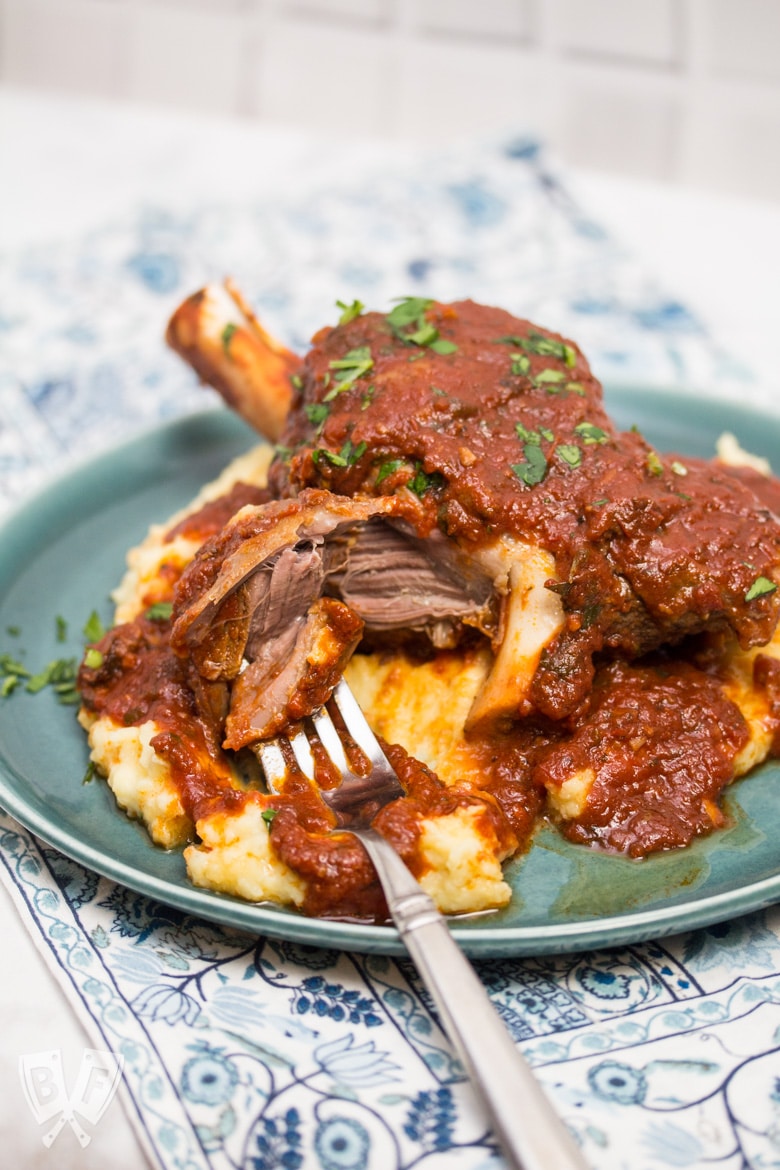 Depending on the size of your Instant Pot, you'll need to sear your lamb in batches. I did mine 2 at a time to make sure they got enough contact with the heated pot to brown all over.
After you have them seared, you pop a few more ingredients into the pot, cover it, and leave it alone for an hour.
If for some reason your meat isn't tender enough, you can always close the lid again and cook it for another 10-15 minutes.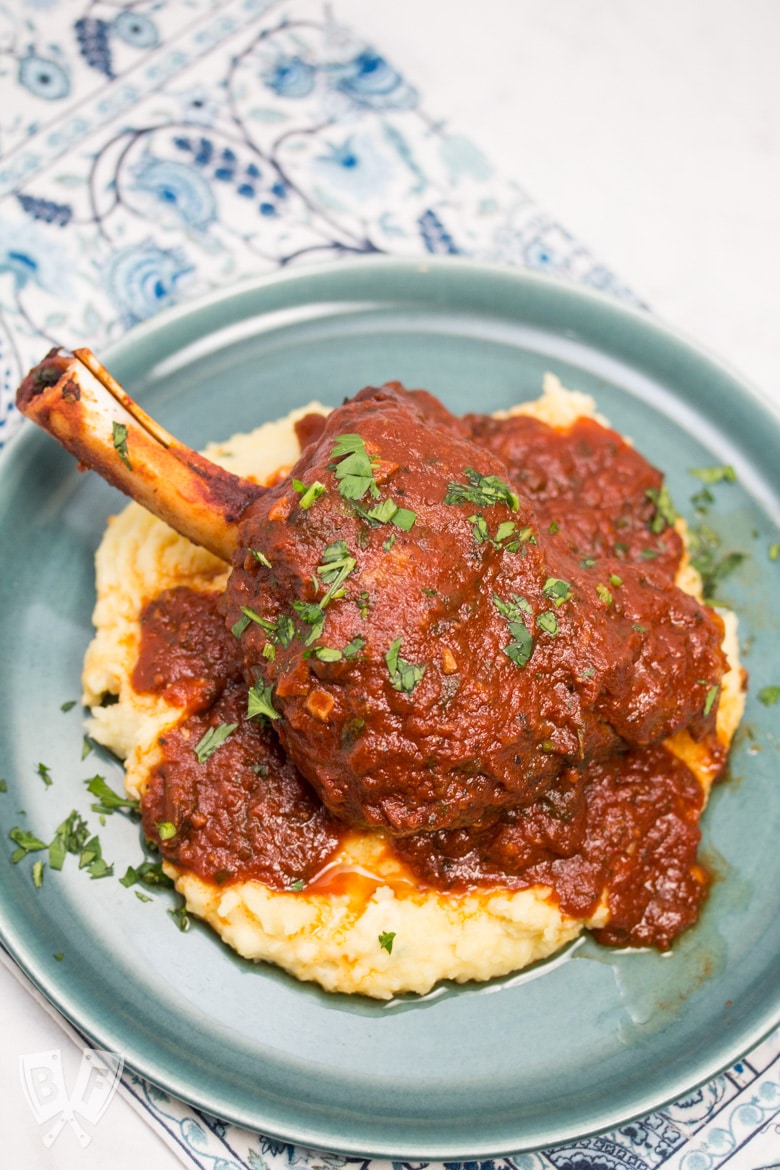 When I've done lamb like this on the stovetop, I've reduced the sauce at the end, which can be nice. I didn't bother here, but if you want a thicker sauce, you can certainly remove the lamb and tent it with foil to keep it warm while you reduce the sauce.
Just set your Instant Pot to Sauté and be sure to stir it so the sauce doesn't burn onto the bottom of the pot.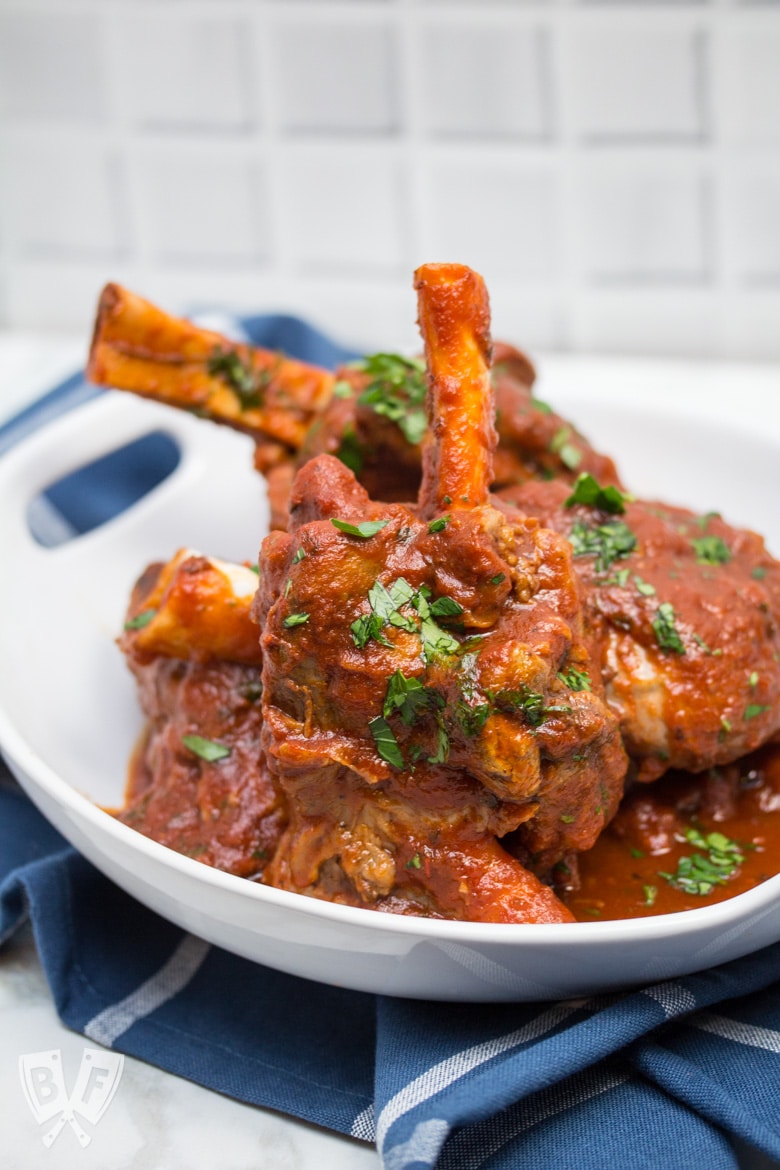 One of my husband's favorite parts of lamb (or beef) shank is the marrow. This cooking method allows the marrow to get nice and gelatinous, so it's perfect for marrow lovers.
This recipe is guaranteed to be a big hit for your next romantic dinner. It's a great way to have a comforting meal that has that cooked all day flavor in a fraction of the time.
What are your favorite romantic recipes? I'd love to hear about them in the comments section below!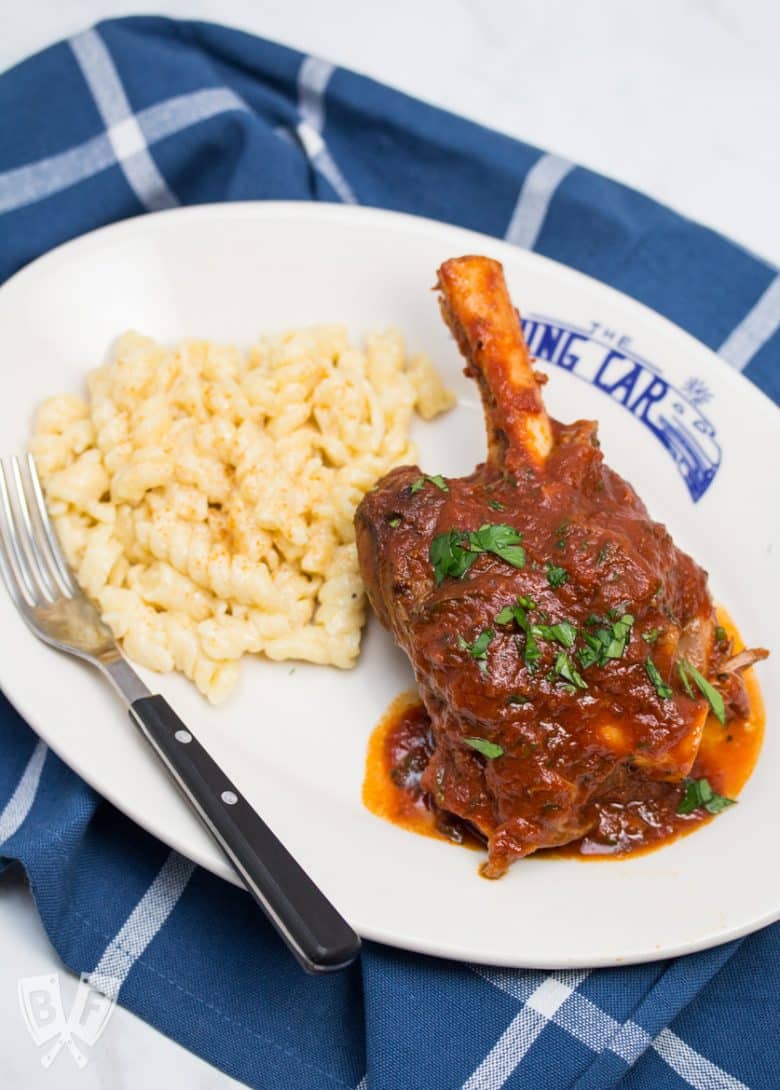 Looking for more ways to use lamb? Check out some of our favorite recipes:
Want more Instant Pot recipes? Here are some of our favorites:
Print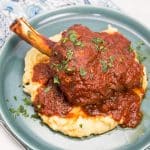 Instant Pot Braised Lamb Shanks with Tomato
Author:

Prep Time:

15 minutes

Cook Time:

1 hour 15 minutes

Total Time:

1 hour 30 minutes

Yield:

4

Servings

1

x

Category:

Entrées, Lamb

Method:

Instant Pot
---
---
---
---
Recipe Card powered by
Note: This post includes affiliate links for items that I genuinely enjoy. Big Flavors will receive a tiny commission from purchases made through affiliate links on this site at no added cost to you. This allows us to cover site-related expenses and helps to keep us cooking up a storm!