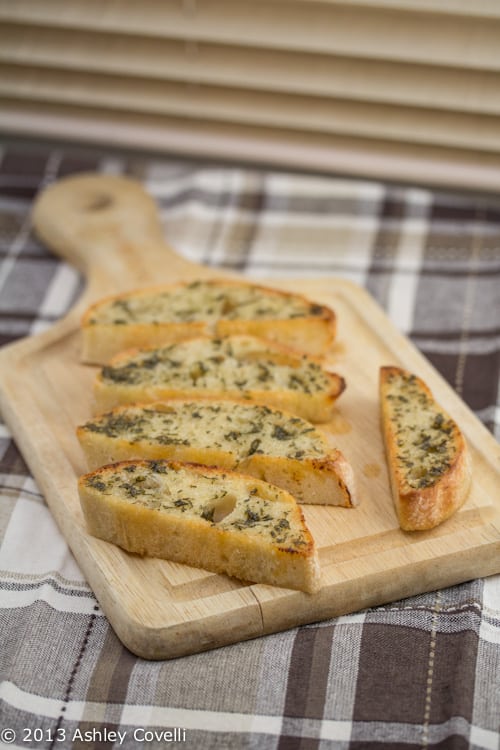 This post may contain affiliate links, which won't change your price but will share some commission.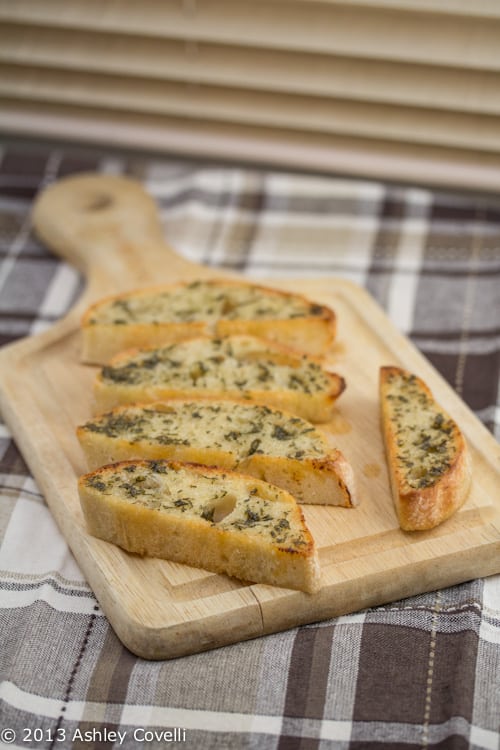 When I made Spaghetti con Polpette di Carne (Spaghetti and Meatballs), I decided to make a batch of my favorite garlic bread to go alongside.
Garlic bread is perfect for sopping up the luscious pasta sauce in that dish, and homemade is so easy!
All you need is a small loaf of bread (I used one of the loaves of No-Knead Crusty White Bread that I froze a while back, which worked wonderfully), some butter (or butter substitute if you want to keep it diary-free), garlic powder and dried parsley.
This was the first time I made it with homemade bread, and wow!! This is great on any kind of bread though – I even like making it with hot dog buns sometimes – they're nice and fluffy and just melt when you bite into them.
Yum. Anyhow, my loaf of bread was on the smaller side, so I took 1/4 cup of butter and let it soften in a small bowl. I stirred in 1/2 teaspoon of garlic powder and 2 teaspoons of dried parsley.
You can cut your bread in half horizontally if it's on the thicker side, or into slices like I did here. Put it on a baking sheet, cut side up, and slather the garlic butter all over the tops. I usually broil them for a few minutes, until they're nice and golden around the edges.
This is definitely something for garlic lovers, so if you aren't super into garlic, feel free to go with a little less garlic powder.
If you're using a full baguette or a larger loaf of bread, you can double this to make sure you have plenty of garlicky goodness to go around.
Big Flavors Rating: 5 Stars