This post may contain affiliate links, which won't change your price but will share some commission.
When I made the Lamb Stir-Fry with Pomegranate and Yogurt, I bought a bigger piece of lamb than I needed, so I ended up coming up with this beauty to use up the last 1/2 pound.
Since it wasn't a ton of meat, I stretched it with lots of onions and peppers and an awesome blend of herbs and spices. I cooked it all up in a cast iron skillet to give it an extra smokiness that was just perfect.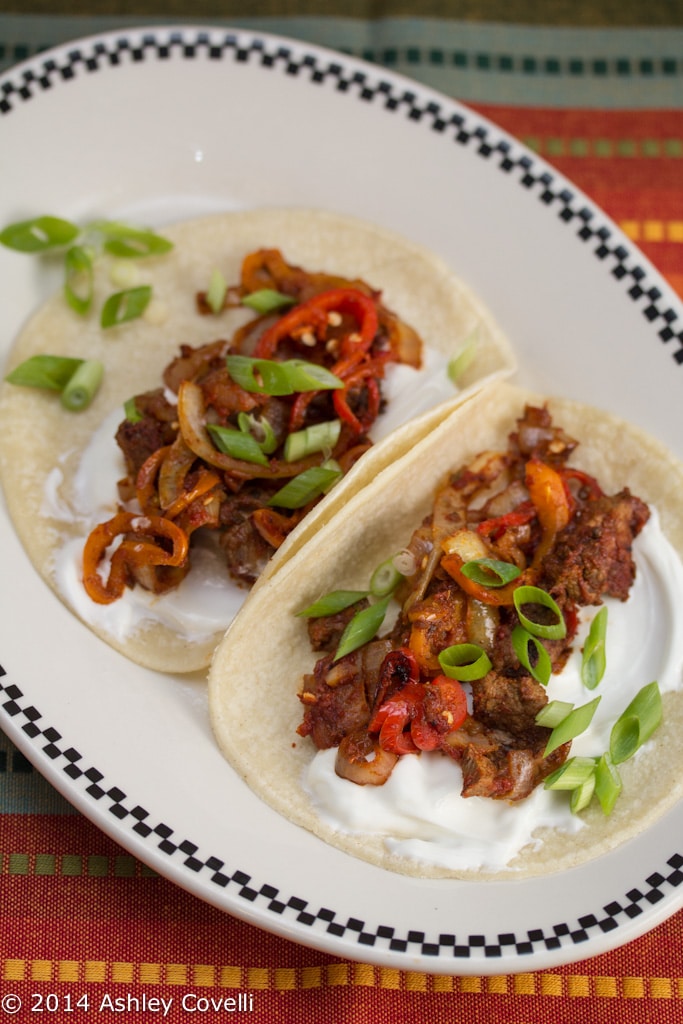 I used mini bell peppers, because that's what I had on hand, but this would also work with 1-2 regular bell peppers, very thinly sliced.
This was a H-U-G-E hit at the dinner table. And the whole thing came together in about 20 minutes. Perfect for a busy weeknight.
Lamb Fajitas
Big Flavors from a Tiny Kitchen – Ashley Covelli
Makes about 6 fajitas
1 tablespoon vegetable oil
1/2 pound boneless leg of lamb, cut thinly against the grain
2 cloves garlic, minced
1 large yellow onion, halved and sliced
1 teaspoon smoked Spanish paprika
1 teaspoon chili powder
1 teaspoon dried oregano
1 teaspoon ground cumin
1/2 teaspoon ground coriander
Kosher salt and freshly cracked black pepper, to taste
6 mini bell peppers, sliced thinly into rings
2 tablespoons tomato paste
Corn tortillas, warmed
Sour cream
Green onions, thinly sliced, for garnish (optional, but encouraged!)
In a large skillet, preferably cast iron, heat oil over medium-high heat. Add lamb, garlic and onion and let it all start to brown. Add paprika, chili powder, oregano, cumin, coriander, salt and pepper and stir well to combine. Once the onions have melted down and the lamb is nice and brown, add sliced peppers and tomato paste. Continue cooking, stirring to coat the mixture with tomato paste. Keep stirring until the peppers start to melt down into the mixture, and everything is heated through.
To serve, pile some of the lamb/onion/pepper mixture into warmed tortillas. Add a dollop of sour cream and a sprinkling of green onions over top and dig in. Enjoy!
Big Flavors Rating: 5 Stars