This post may contain affiliate links, which won't change your price but will share some commission.
Thanks to The Valley Table for inviting me to be part of their Hudson Valley Restaurant Week Grazer program this year and reimbursing part of my meal. As always, all opinions are 100% my own.
There are so many things that I love about living in the Hudson Valley, and Restaurant Week is definitely one of them!
I've been participating in the delicious festivities each spring and fall for several years now. It's such a great way to find new local restaurants to try out without breaking the bank. A 3 course lunch is $20.95, and 3 course dinner is $29.95. This season's HVRW runs from November 1-13, 2016.
This year, I was invited to the kickoff up at the Culinary Institute of America, and it was a crazy delicious evening.
There were many local chefs and restauranteurs there talking up their plans for restaurant week menus, as well as purveyors that showcased their delicious wares.
There was also a wonderful panel on supporting local craft beverages right here in New York.
This event got me super stoked about local cheeses - I got to sample quite a few offerings. I was particularly fond of this St. Stephen triple cream cheese from Four Fat Fowl. It was truly luscious.
My favorite bites of the night were this Trio of Duck Toast by Chef Jenny Chamberlain from Hudson Valley Foie Gras: Duck Ham Reuben (applewood smoked duck ham, powdered foie gras Russian dressing, Swiss Mornay, homemade sour kraut, rye toast), FAB [BLT] (duck bacon, heirloom tomato fondue, arugula, foie gras mayo, white toast) and Sweet Whisky Liver (torchon of duck foie gras, whisky foie gras, caramel cinnamon pear mustarda toast).
Have. Mercy.
After a jam-packed evening of deliciousness, I was pretty amped up for restaurant week to finally arrive.
I made lunch and dinner reservations to dine at a few restaurants that have been on my to try list for quite some time now. I also recommended a few that are participating in HVRW that I love (I'm looking at you, Pax Romana!) to some friends.
First up was lunch at Purdy's Farmer and the Fish. I met up with my friend and fellow Supper Club member, Nancy, who blogs over at NY Foodie Family. This place has been on my list forever, but it's a bit of a drive from me. I actually met the chef of the soon to open Hudson location (in Sleepy Hollow) at the HVRW kickoff party and was thrilled to learn that it would soon be much more convenient to dine there.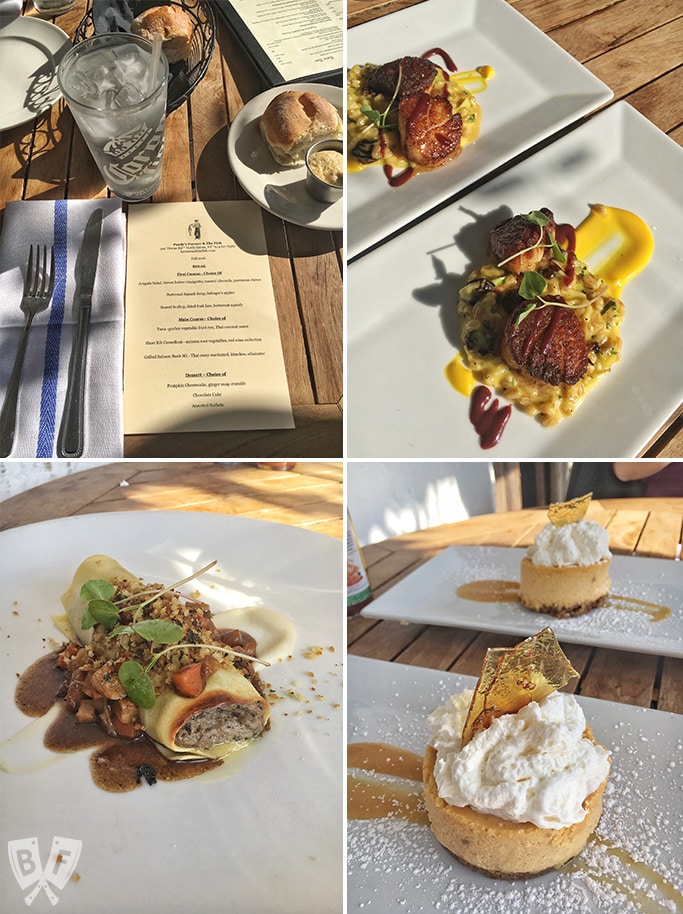 It was a beautiful day, so we sat out on the porch for lunch. I ordered the seared scallop with dried fruit farro and butternut squash to start. It was the perfect way to kick off this fall menu. The scallops were expertly cooked, and I loved the pops of sweetness from the dried fruit. I'm also very fond of farro, so this dish was a total home run for me.
I chose the short rib cannelloni with autumn root vegetables and red wine reduction as my main course. It was succulent and tender, and just the right size for lunch. The toasted bread crumb topping added a very welcome crunch.
Finally, I had the pumpkin cheesecake with ginger snap crumble. It was silky smooth, and drop dead gorgeous. The flavors worked so well together.
All in all, this was a fabulous meal, and I'd definitely recommend this restaurant to anyone looking for a dining out option. I'm really excited for the new location to open, although it will be about 5 minutes from my house, so it could get dangerous!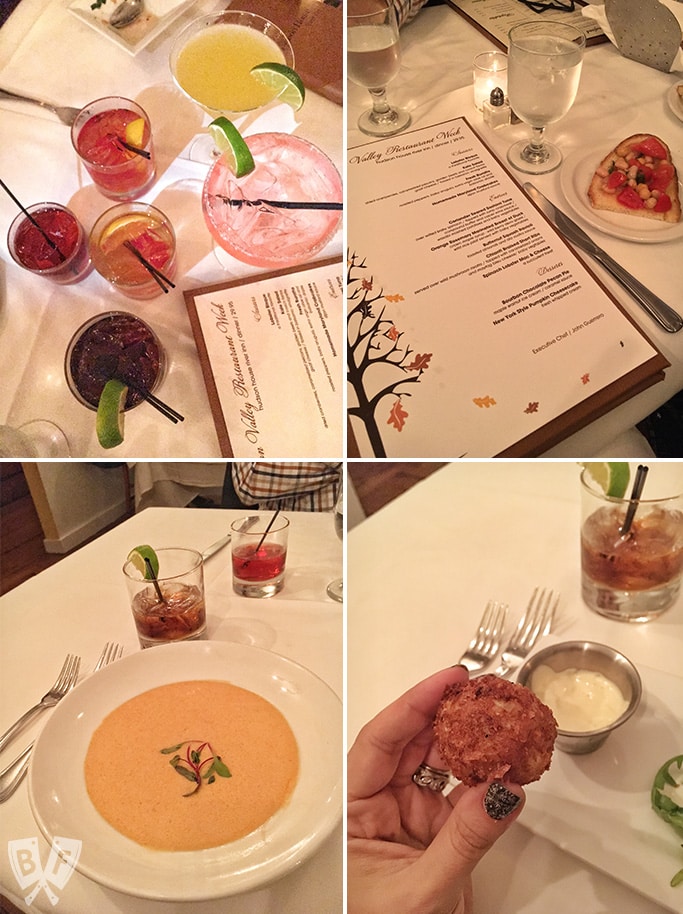 Our second meal out was dinner at Hudson House River Inn with all 6 members of our Supper Club. This restaurant is in Cold Spring, which is a very quaint little town that I enjoy quite a bit. The Inn was built in 1832, is just 100 feet from the river, and is on the National Register of Historic Places.
We had some pretty fantastic cocktails to start - their bar menu is impressive! I had the lobster bisque as my appetizer, and I could have had 3 more bowls and been happy for the night. It was rich and velvety and totally delicious.
I also snagged one of my husband's homemade Maryland crabcakes with dijon mustard sauce, and it totally took me back to our annual summer vacation. Definitely a quality crabcake!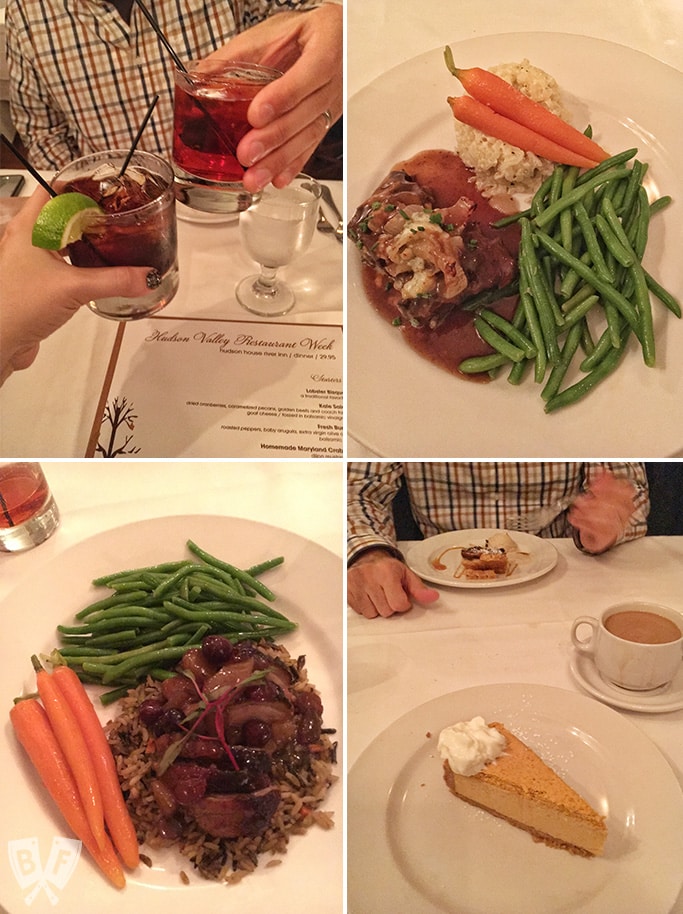 I went with the Chainti braised short ribs served over wild mushroom risotto, topped with caramelized onions and Maytag bleu cheese with baby vegetables as my main course. The beef was rich and tender. My husband went with the orange rosemary breast of duck with crown maple syrup, wild berry demi glaze, wild rice pilaf served with baby vegetables. He really enjoyed it.
For dessert, we ordered one of each - the New York style pumpkin cheesecake with fresh whipped cream and the bourbon chocolate pecan pie with maple walnut ice cream and caramel sauce. We both preferred the pie - it was really great with the ice cream!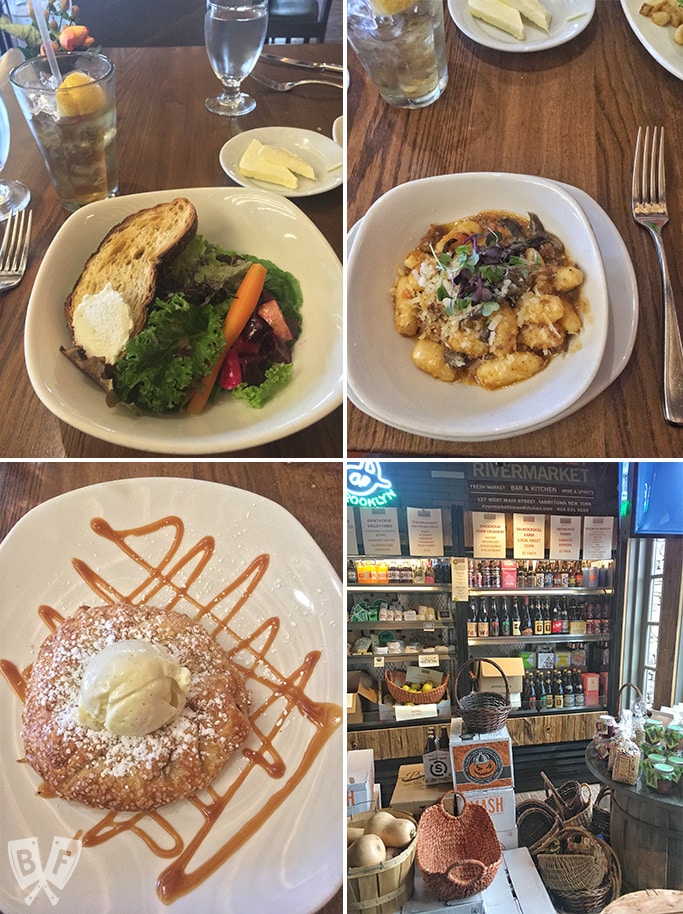 Finally, I planned a last minute lunch date on Wednesday with my husband. I wanted to pick somewhere close, and when I saw RiverMarket Bar & Kitchen in Tarrytown on the list, I was stoked! This is right near a playground that we frequent with our son, and I had no idea it was there!
This meal was absolutely fantastic! I had the salad to start - local lettuces & roasted vegetables with whipped Hudson Valley ricotta crostini and Chardonnay vinaigrette. I liked the variety of greens, and the roasted veggies were a great compliment and different than most salads I've had. And I'm always a fan of ricotta. Always.
For my main course, I went with the homemade gnocchi made with Hemlock Hill Farm grass-fed beef bolognese, roasted hen of the woods mushrooms and Parmesan. The gnocchi totally rocked my world! So pillowy soft and light, even with a meat sauce on top. It was a great portion size for lunch, and I practically licked my plate clean.
For dessert, I chose the warm apple galette made with Wright's Farm apples, butter pastry crust and their own vanilla bean ice cream. It was absolutely scrumptious!
This meal was a surprise hit for me - I just had no idea the restaurant was so close to home, and that they carried so many local, farm fresh ingredients. There's even a small retail store up front that carries products made, raised, and grown naturally and sustainably right here in the Hudson Valley. They had several of my favorite cheeses there, as well as some great local beers, produce and pantry items.
I'm looking forward to the next installment of Hudson Valley Restaurant Week - the list of restaurants keeps growing every year, and it's always a lot of fun to dine out and support local businesses!