This post may contain affiliate links, which won't change your price but will share some commission.
For our Supper Club's Ingredient Grab Bag, I picked gelatin. I needed to make something other than a dessert with it, so I chose a recipe for homemade salt-cured fish with a cucumber-dill jelly.
I couldn't find Arctic char like the recipe called for, so I subbed salmon which worked out beautifully! I was able to slice the cured fish paper thin with a fillet knife, which was perfect.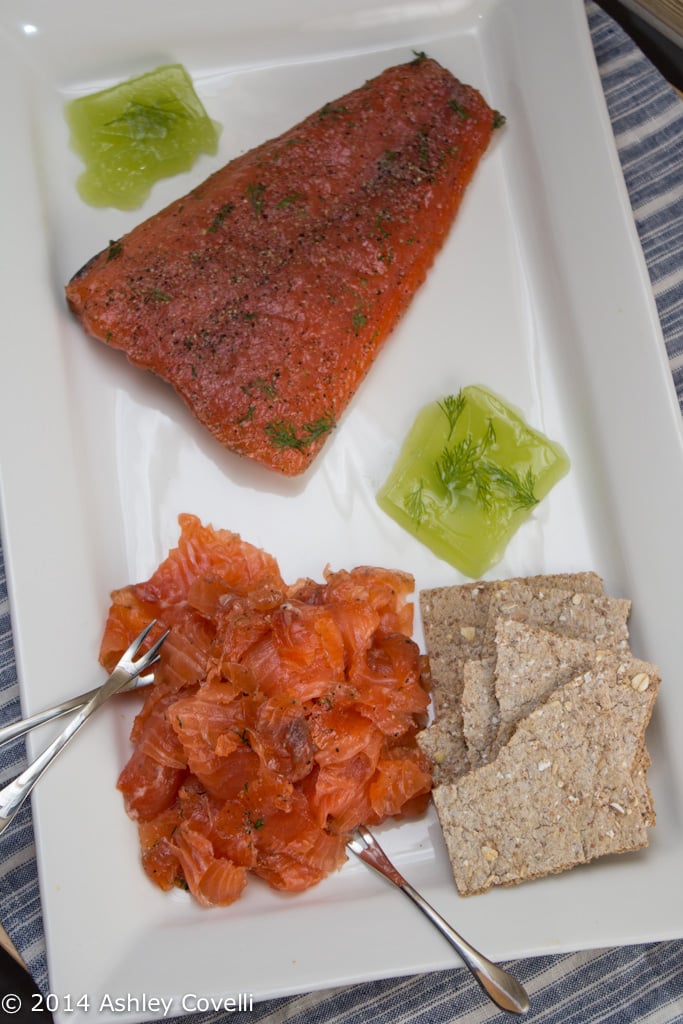 But the jelly. Oh, the jelly. It didn't set for me. My ingredient challenge kinda fell short. It tasted great, but it pretty much ended up being a bowl of cucumber flavored jiggly mush. The two pieces in the photo were the only bits I could get to hold any shape at all. I had much better luck with agar-agar when I made Coconut Jelly a while back.
All in all, this tasted great, and I love the idea of the jelly, but it just didn't work out. I'd totally make just the gravlaks part on its own again though - it was fantastic!
Arctic Char Gravlaks with Cucumber Jelly
Gourmet August 2005
Yield: Makes 6 first-course servings
Active time: 30 min
Total time: 1 ½ days (includes curing fish)
Gravlaks — fish cured with salt, sugar, and dill — is usually made with salmon, but we like the milder flavor of arctic char for this particular dish.
Keep in mind before starting to cure your fish that you will need to turn it every 12 hours for a total of 36 hours.
ingredients
For gravlaks
1 (1 ¼-lb) center-cut piece arctic char fillet with skin, pin bones removed
½ cup sugar
¼ cup kosher salt
1 tablespoon coarsely ground black pepper
3 cups coarsely chopped fresh dill (from 2 large bunches)
For cucumber jelly
3 seedless cucumbers (usually plastic-wrapped; 3 lb total)
¾ teaspoon table salt
2 teaspoons unflavored gelatin (from 1 envelope)
1 tablespoon distilled white vinegar
1 tablespoon tiny fresh dill fronds
Accompaniment: thin Scandinavian crispbread such as Kavli
Make gravlaks:
Pat fish dry, then transfer, skin side up, to a large sheet of plastic wrap. Stir together sugar, salt, and pepper, then rub 3 tablespoons of mixture onto skin of fish. Turn fish over and thickly coat with remaining sugar mixture, then pack dill on top.
Wrap fish tightly in 2 or 3 layers of plastic wrap (to prevent leakage; salt mixture will liquefy as fish cures) and transfer to a large shallow baking pan. Put another baking pan or a cutting board on top of fish and weight down with 3 or 4 full cans (about 3 lb total). Let fish cure, chilled, turning wrapped fillet over roughly every 12 hours and then replacing weight, for 36 hours total.
Make jelly while fish is curing:
Peel cucumbers, making sure to remove all green (for a clearer jelly), then halve lengthwise and core. Coarsely chop cucumbers and purée in a food processor until smooth, then drain in a large fine-mesh sieve set over a bowl, pressing hard on solids to extract 2 cups liquid. Discard solids.
Stir together salt and ½ cup cucumber liquid in a small saucepan and sprinkle with gelatin. Let stand 1 minute to soften, then heat over moderate heat, stirring, just until gelatin is dissolved, about 2 minutes. Cool mixture to room temperature, then stir into remaining 1 ½ cups cucumber liquid along with vinegar. Pour mixture into an 8-inch square glass baking dish and sprinkle with dill fronds, pressing gently to submerge. Chill, covered, until set, at least 8 hours.
To serve:
Unwrap gravlaks, discarding liquid, and gently scrape off dill. Transfer gravlaks, skin side down, to a cutting board. Holding a very sharp long thin-bladed knife at a 30-degree angle, cut gravlaks across the grain into very thin slices, being careful not to cut through skin. Discard skin.
Cut jelly into 6 pieces and divide among 6 plates with a metal spatula. Serve with several slices of gravlaks.
Cooks' notes:
• Cured gravlaks can be drained, scraped, and wrapped in clean plastic wrap, then chilled up to 5 days.
• Jelly can be chilled up to 4 days
Big Flavors Rating: 4 Stars