This post may contain affiliate links, which won't change your price but will share some commission.
I had a bunch of M&Ms left from when I made Leprechaun Hugs a little while back, so I decided to look up a recipe for M&M cookies. These were wonderful! They're best straight out of the oven, so I recommend gently reheating them either in the oven or super quickly in the microwave when you go to enjoy the leftovers. This makes a lot of cookies, which was perfect, because I sent some in to work with Dino, and saved a bunch for some friends that were coming over for dinner on Friday.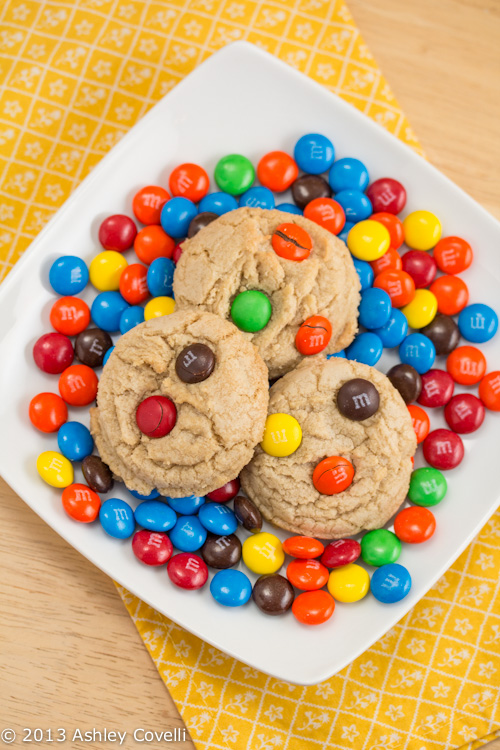 Robbi's M&M Cookies
Allrecipes - Robbi Schultze
"Cookies using M&M candies, any variety. Old recipe-but ALWAYS a favorite!!"
Original recipe makes 5 - 6 dozen
1 cup packed brown sugar
½ cup white sugar
1 cup shortening
2 eggs
1 ½ teaspoons vanilla extract
2 ½ cups all-purpose flour
1 teaspoon baking soda
1 teaspoon salt
1 ½ cups candy-coated milk chocolate pieces
In a large bowl, mix sugar, eggs, shortening, and vanilla thoroughly. Add flour, salt, and baking soda to creamed mixture. Blend well. Add ¾ cup of M&M candies.
Drop dough by teaspoonful onto cookie sheet. Slightly push a few candies on top of each dough ball with remaining candies.
Bake at 350 degrees F (175 degrees C) for 9 to 11 minutes, to your liking.
Big Flavors Rating: 5 Stars