Thank you to American Dairy Association North East for taking me on this incredible adventure. As always, all opinions are 100% my own.
If you follow me on social media, you may have seen my behind-the-scenes look at the most epic dairy tour imaginable.
That's right - I got to experience 3 solid days of Undeniably Dairy goodness up in the Finger Lakes region of New York.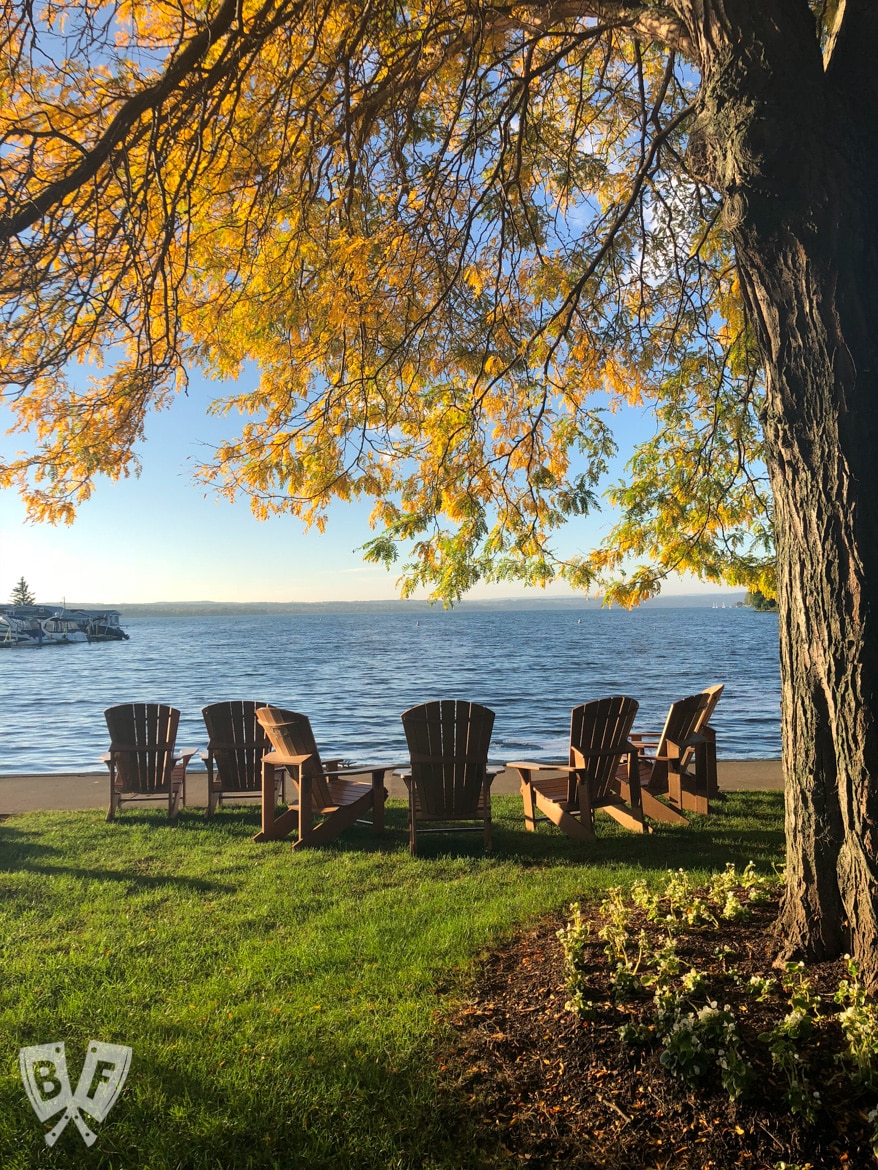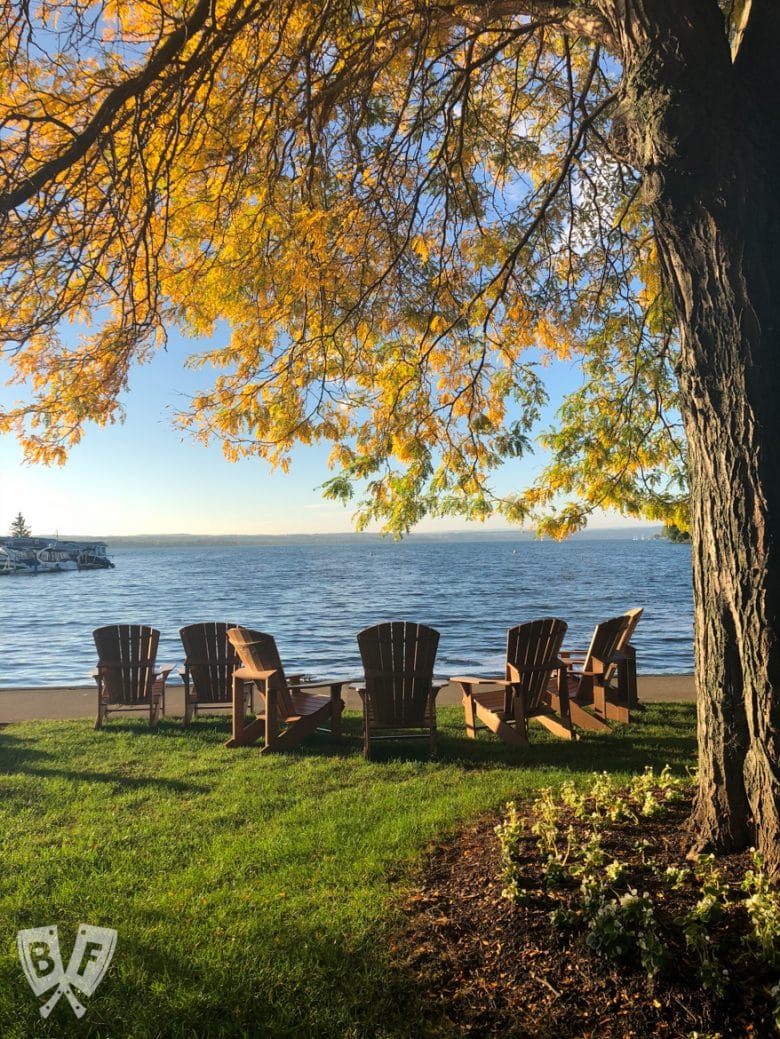 This post may contain affiliate links.
This post will serve as an overview of those 3 glorious, cheese-filled days. You can also check out the Instagram Story highlight that I pinned to my profile page to see the clips that I shot while I was knee-deep in pure dairy heaven.
I'm no stranger to farm tours. I'm a big proponent of supporting family farms. I even have a whole section of the Big Flavors website dedicated to all things farm-tastic.
So this trip was a wonderful opportunity for me to branch out and learn about some new (to me) farms and enjoy a whole lot of cheese!
Day 1 of the trip consisted of a long, solo road trip from my home in Westchester County to Canandaigua Lake. It was the second week of October, and the drive was ridiculously gorgeous. If you've never experienced fall in New York, you're seriously missing out. It really is a thing of beauty.
Once I arrived at the Inn on the Lake, I quickly got settled and headed to a presentation from ADANE that prepared us for what was to come during the following days. We learned some really interesting dairy facts, got to know the process of how dairy goes from the farm to processing and finally ends up in your very own kitchen.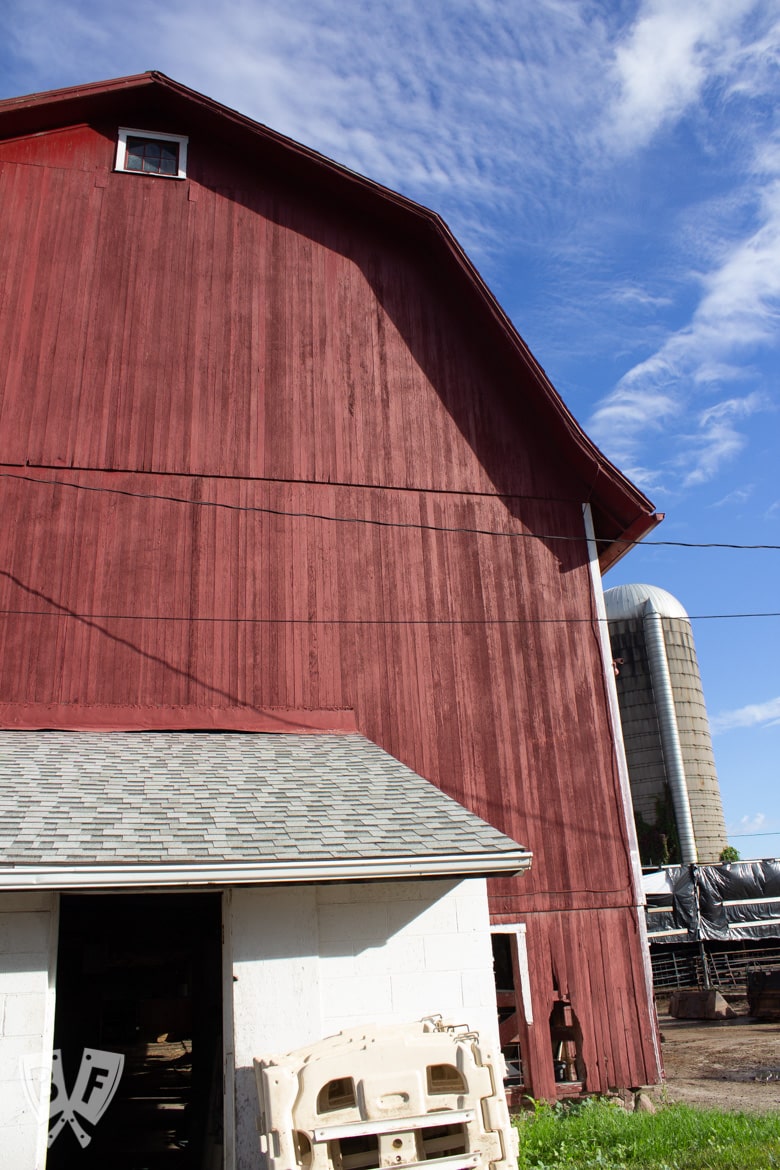 ADANE represents over 12,000 dairy farm families in just 5 states: New Jersey, New York, Maryland, Delaware, and Virginia. There are 22 state and regional groups across the country, and all of them are members of the national association.
We learned about the passion and care that goes into dairy production and armed ourselves with lots of nutritional information to help us understand what makes dairy such an important part of our daily diet.
When the welcome presentation wrapped up, we loaded onto a big tour bus and headed to F.L.X. Table in Geneva, NY for a farm-to-fork dinner that was truly unforgettable.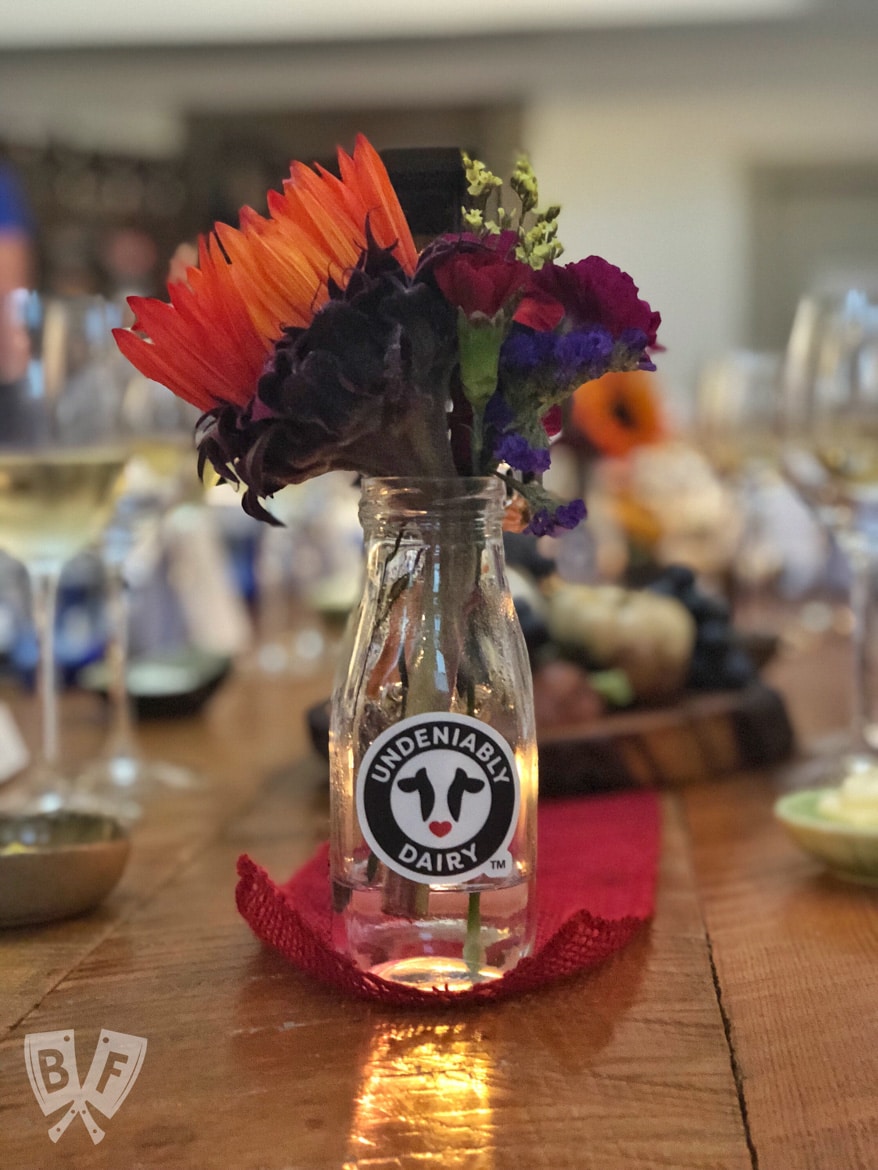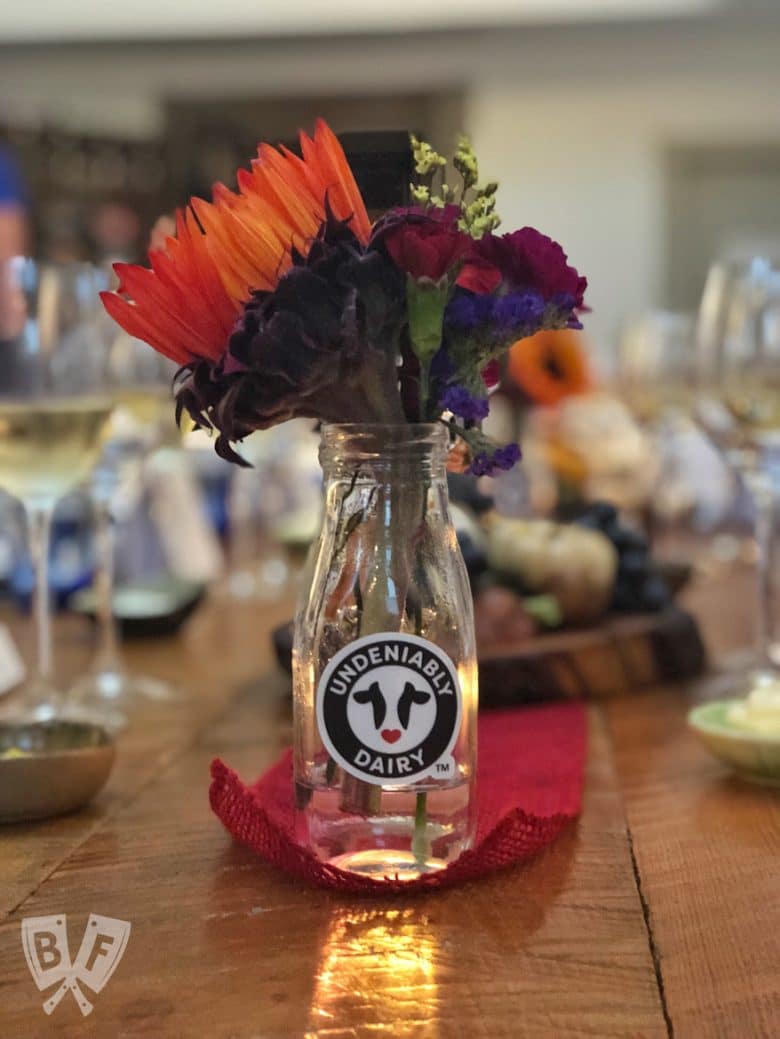 Dinner was a real treat. Amongst the traveling crew of food bloggers and recipe developers there were also several Registered Dietician Nutritionists, ADANE employees, and a handful of dairy farmers.
I had the pleasure of sitting next to Hannah from Will-O-Crest Farm and across from Renee of Eat Farm Love.
It was such a cool experience to have a mixed crowd who all specialized in different areas of the farm-to-plate arena.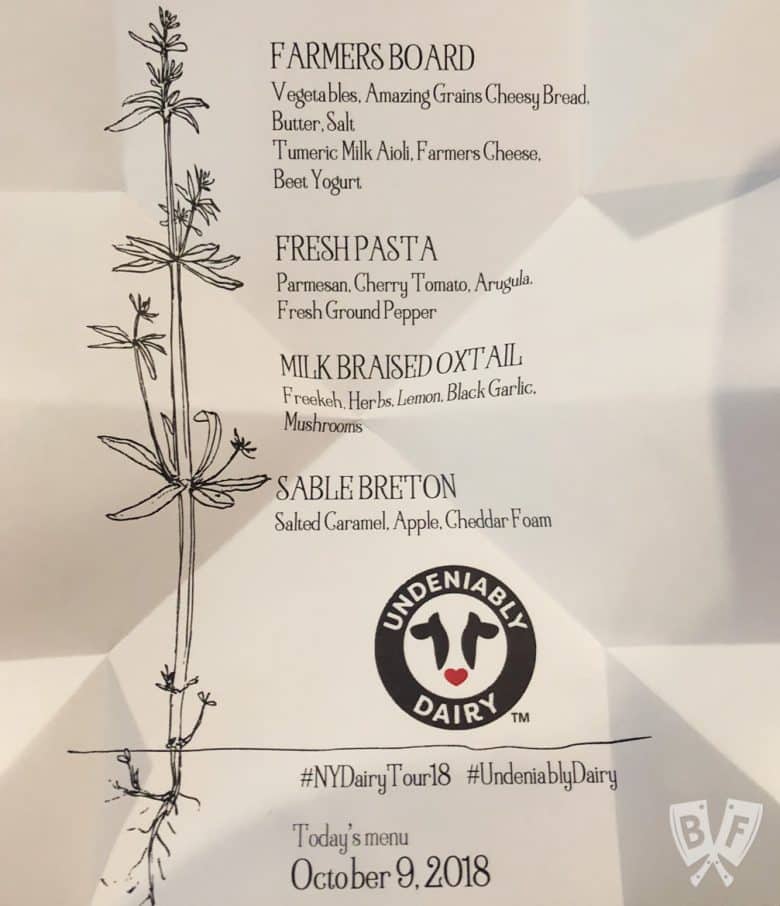 During our multi-course meal at the award-winning restaurant, we enjoyed dishes made from ingredients sourced from the Finger Lakes region.
It was nice to be able to enjoy all of the dairy-filled dishes while chatting with my tablemates about all things farm- and food-related.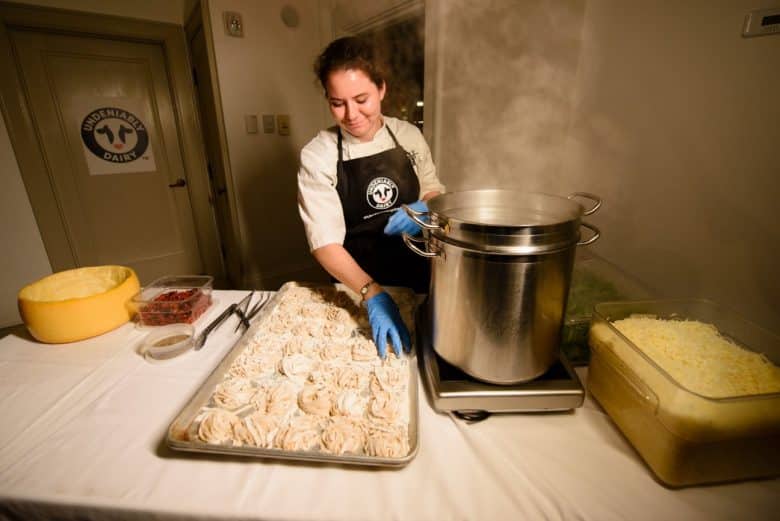 The menu was absolutely delicious and really incorporated dairy in a lot of fun and unique ways.
Ummm helloooo, cheddar foam on my dessert plate!
One of the biggest hits of the evening was a fresh pasta dish that was made to order. The chef tossed the piping hot pasta in one of the cheese wheels while to create a luscious sauce, along with cherry tomatoes and arugula.
That cheese wheel was one that we'd end up seeing in the cheese caves at Muranda Cheese Company in Waterloo, NY the following day.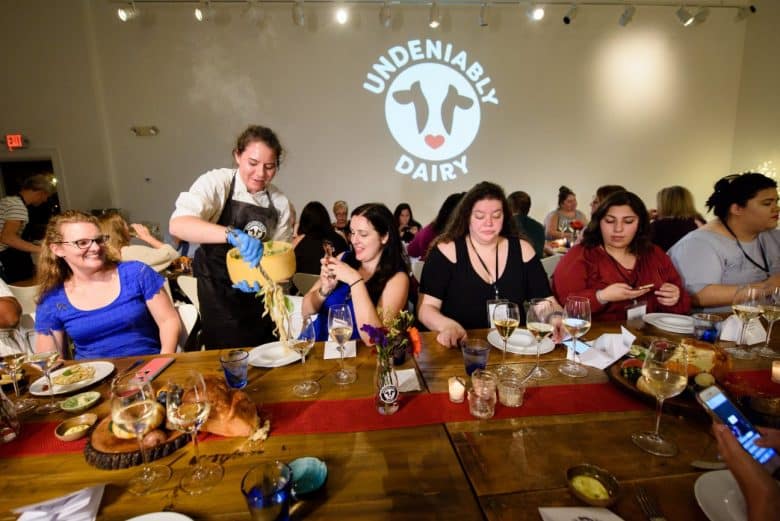 After dinner, we piled back onto our tour bus so we could rest up for the next day's jam-packed schedule.
Day 2 consisted of more dairy in one day than I've ever experienced. And coming from a cheese-lover like me, that's saying quite a lot!
We started the day with a beautiful breakfast right on the lake, and I had to take a few moments to really soak in the view. The lake is so beautiful - this area is definitely somewhere that I need to go back to visit with my family someday.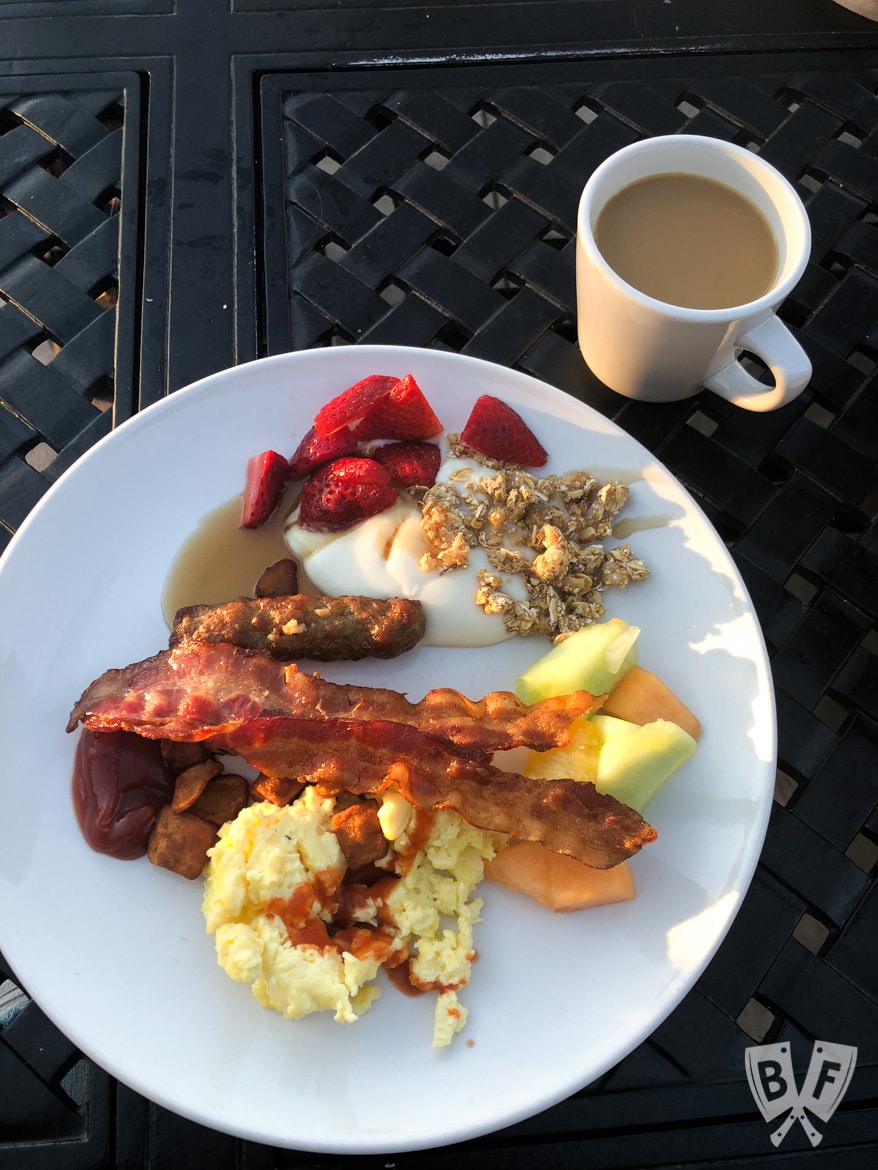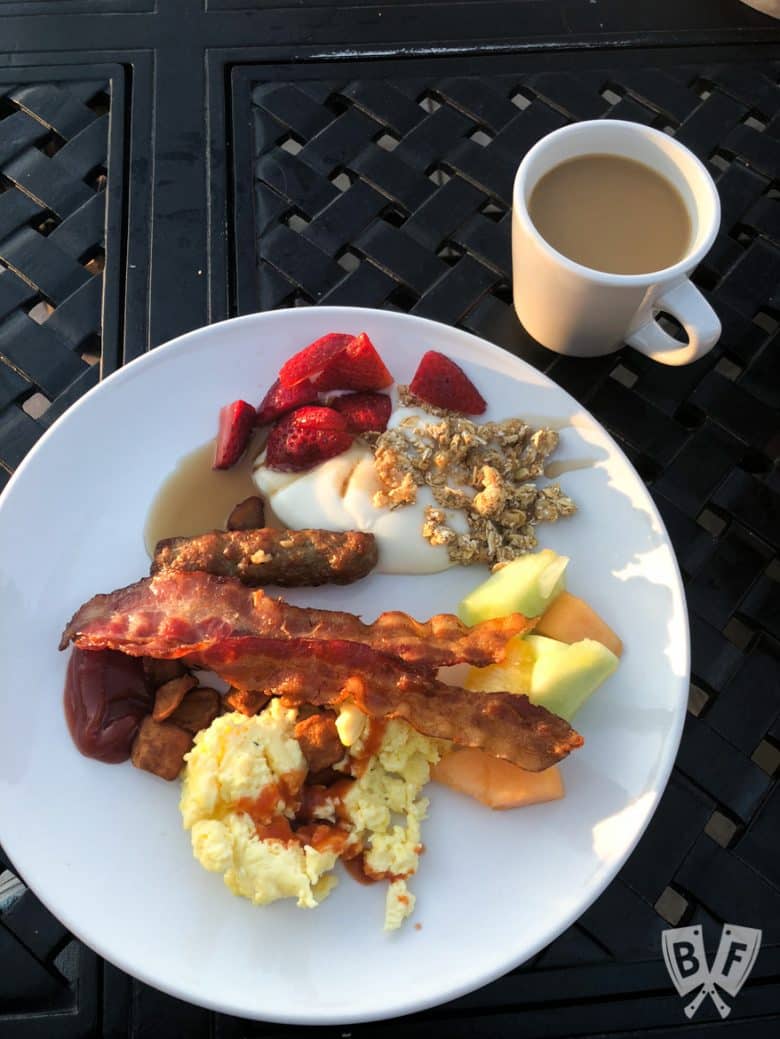 After getting adequately caffeinated (my typical coffee with a few splashes of whole milk, of course!), we boarded the bus for the drive to stop #1: Ivy Lakes Farm in Stanley, NY.
Ivy Lakes Farm is run by 4th generation farmers - though they're the first generation on this particular farm.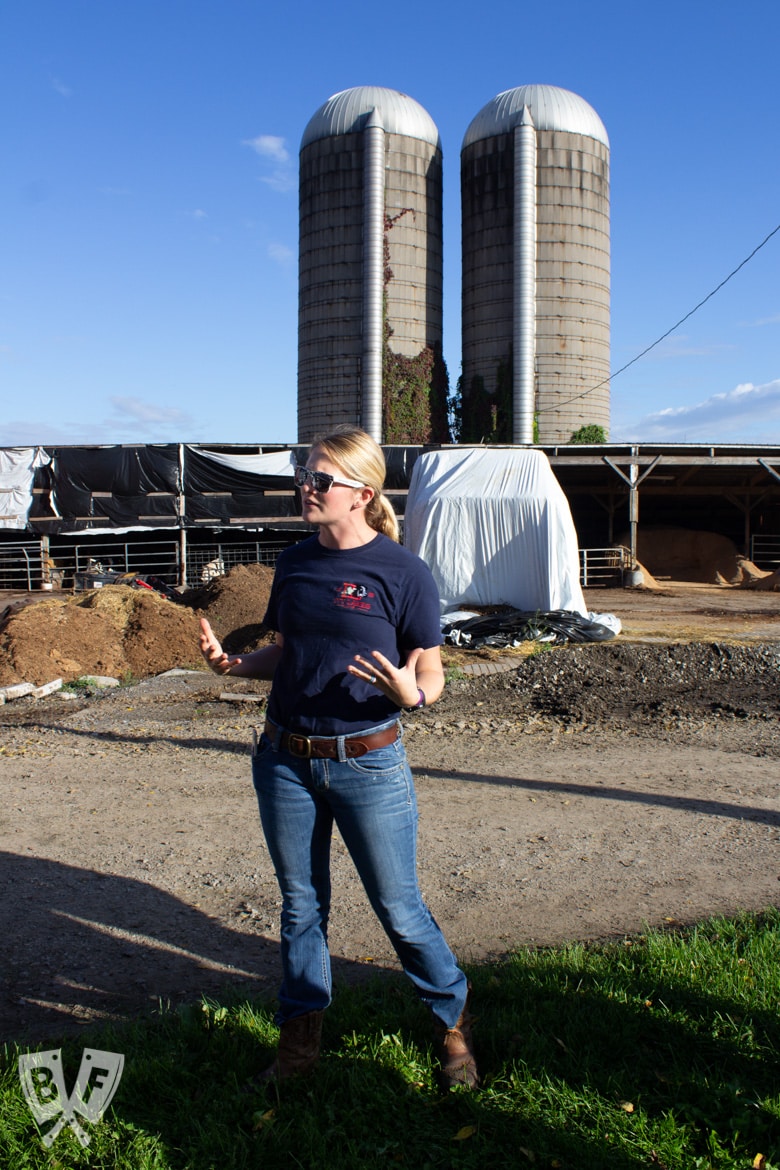 Six college friends from Cornell University (Garrett & Libby Eiholzer, Clayton & Katie Wood, and Austin & Abbey Copenhaver) joined forces in 2003 to bring their vision of modern dairy farming to life.
Farmer Abby gave us the lowdown on Ivy Lakes' passion for quality milk and cow care. She talked about how she considers a farm a "family farm" even if there's more than one family running and working on the farm, as is the case with the multiple farm families at Ivy Lakes.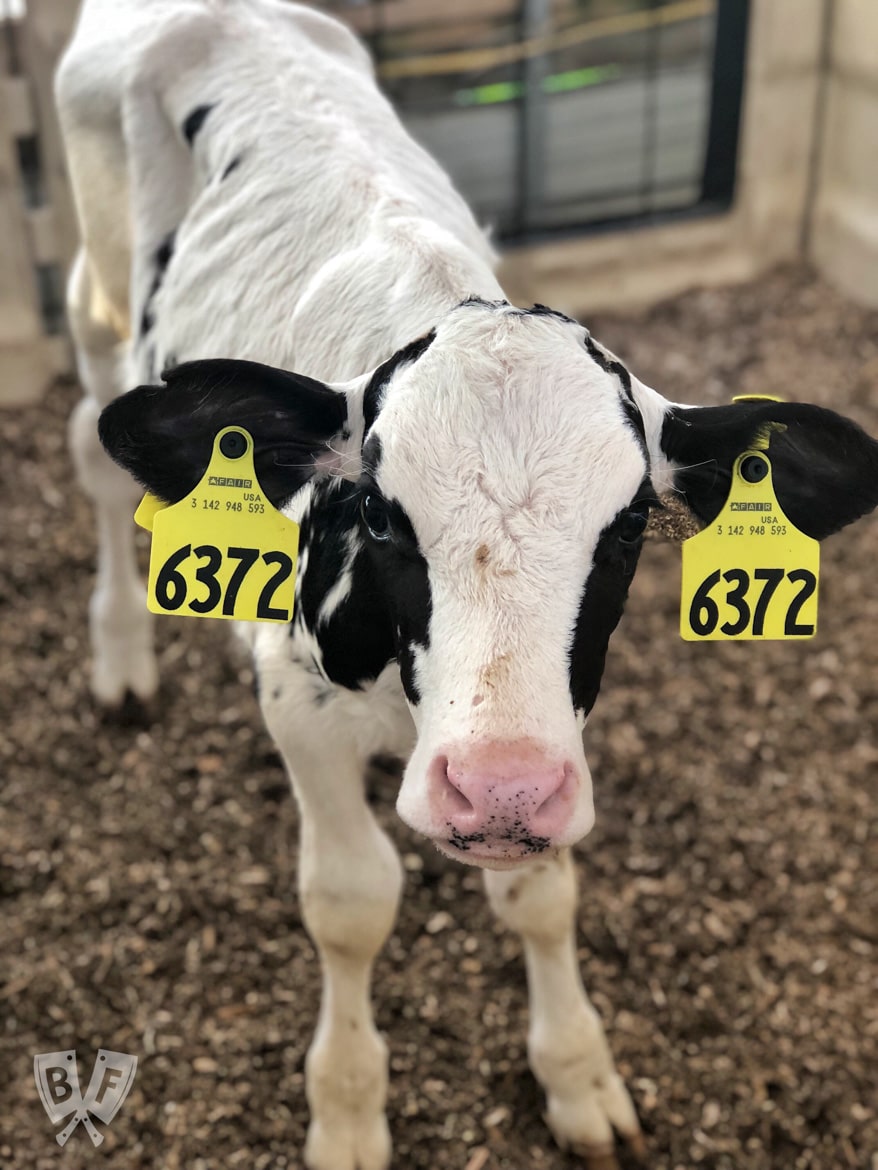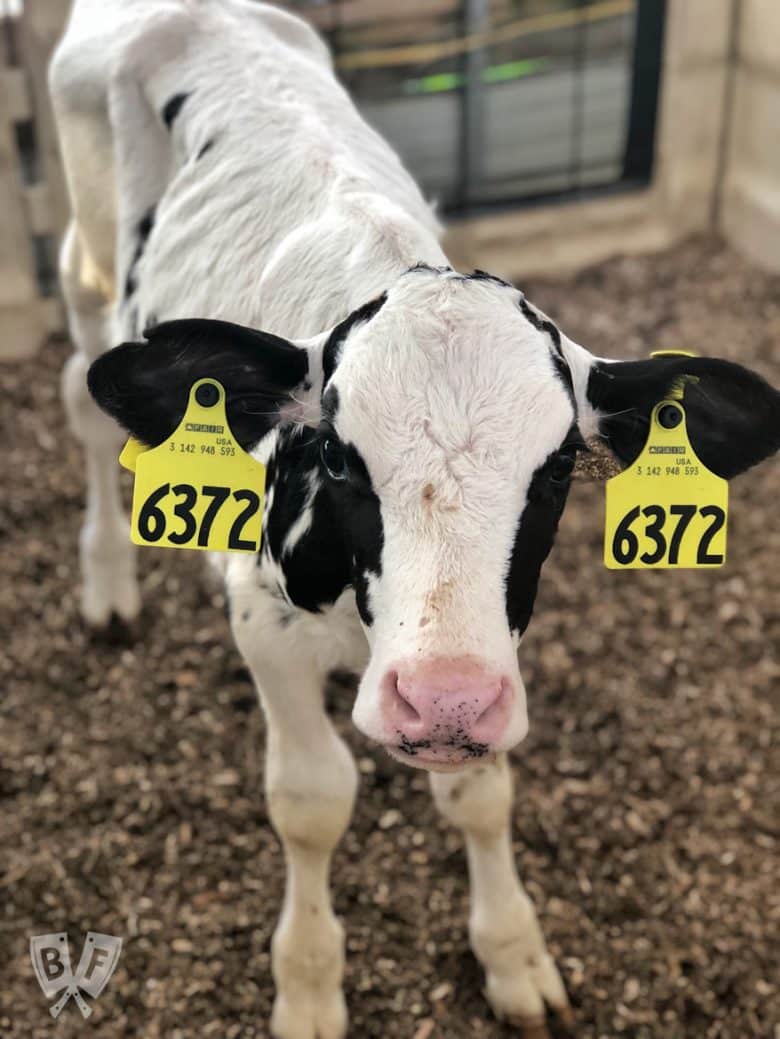 Abby explained to us how every decision made at Ivy Lakes Farm effects the past, present, and future of the farm. They make the happiness of their cows top priority - and you can taste the difference in their products!
And the baby cows were just soooo adorable! They were super curious about us, and I'm pretty sure some of them could impress even Tyra Banks with their smize-ing skills!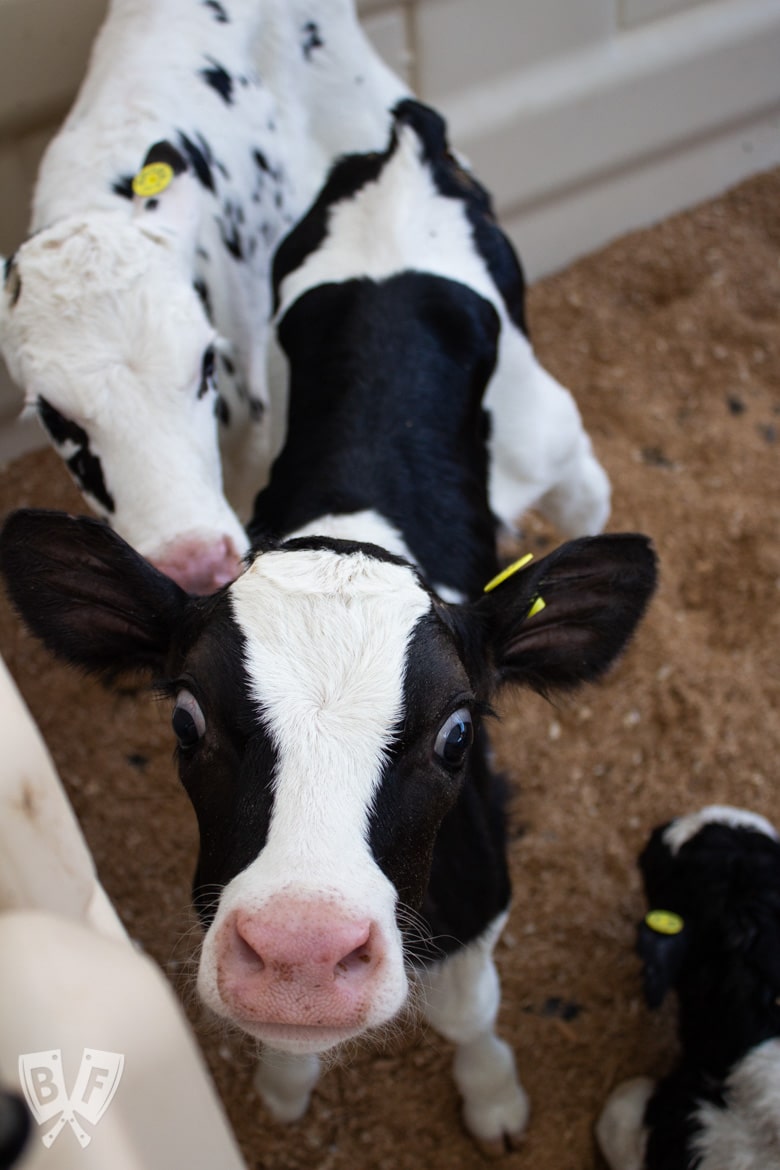 The cows at Ivy Lakes Farm have plenty of space, wear pedometers to make sure they're getting enough exercise, and even have their very own cow nutritionist to ensure they're getting a perfectly balanced diet in each bite.
One of their feed blends even includes chocolate! We learned that cows are creatures of habits, and they really enjoy schedules to keep stress to a minimum.
Sounds a bit like me!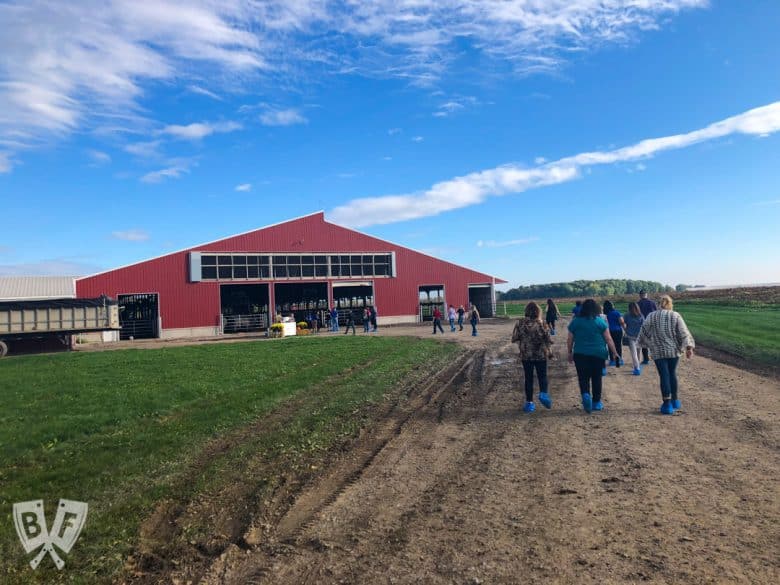 After roaming the farm for a while and enjoying some delicious coffee and parfaits right next to the cows who made the milk, we headed back to the bus for stop #2: Shtayburne Farm in Rock Stream, NY.
Let me just start by saying that cheese curds are my love language.
I lived in Wisconsin for about 10 years, and the cheese curds flowed like water out there. Since moving to New York, I don't see them as often, so I'm like a kid on Christmas morning any time I encounter them.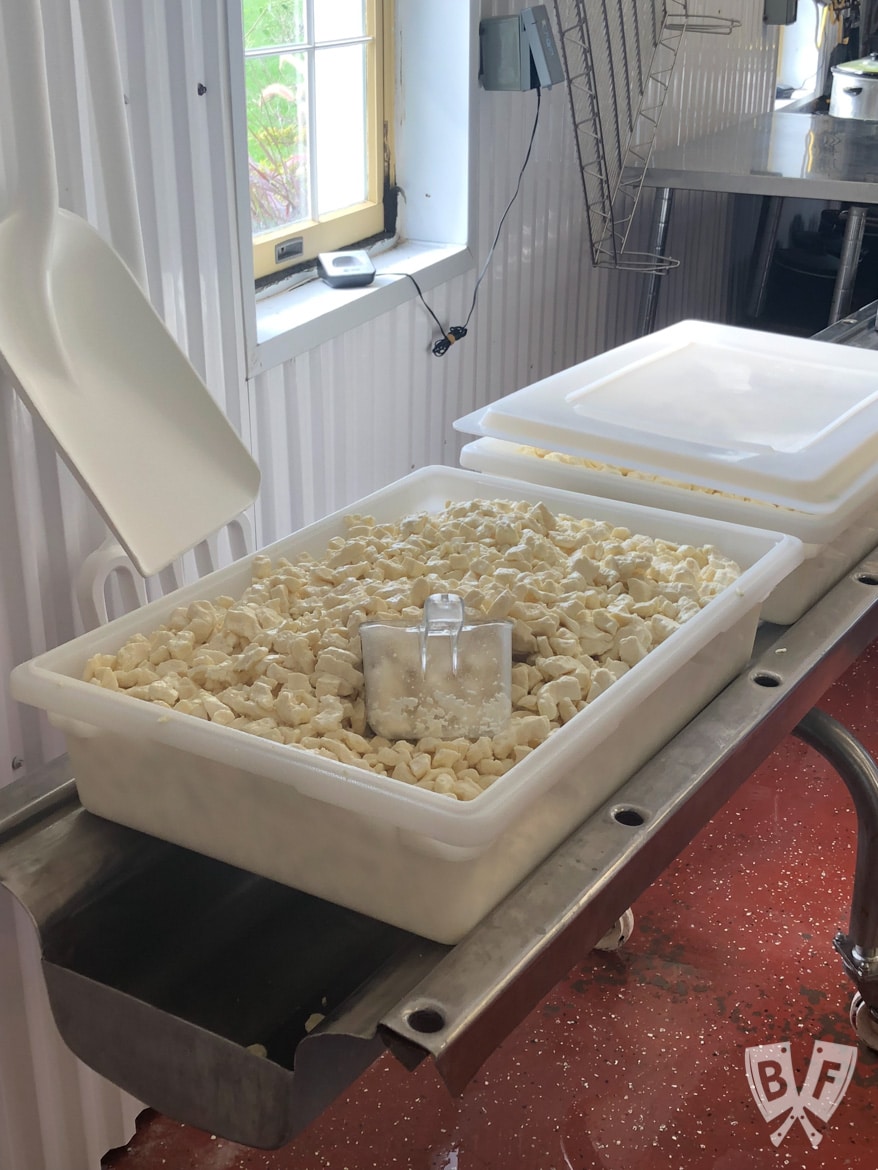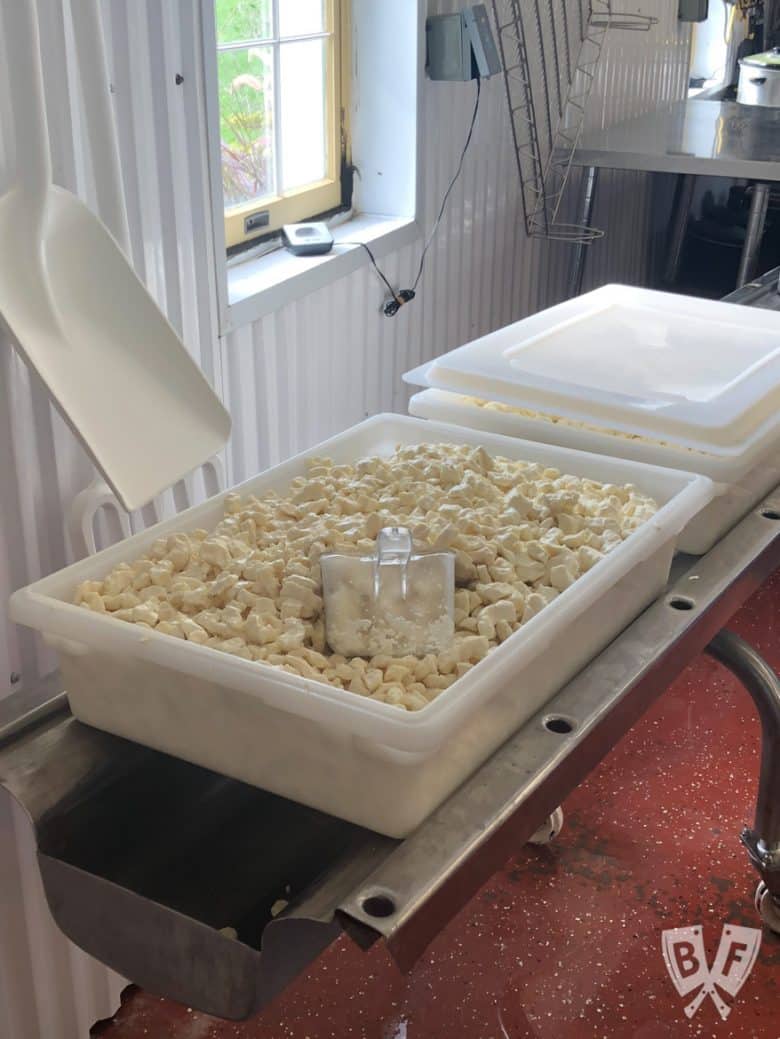 Needless to say, I was beyond smitten when we got to watch fresh cheese curds in the making, as well as a sampling of all of the delicious cheese options that Shtayburne produces.
They have a shop right on the farm where you can buy their cheeses as well as some meats, cheeses, and artisan pantry staples from other local businesses.
There's a window in the shop where you can watch the cheesemaking process (and, if it's of interest to you, Tuesday is "curd day").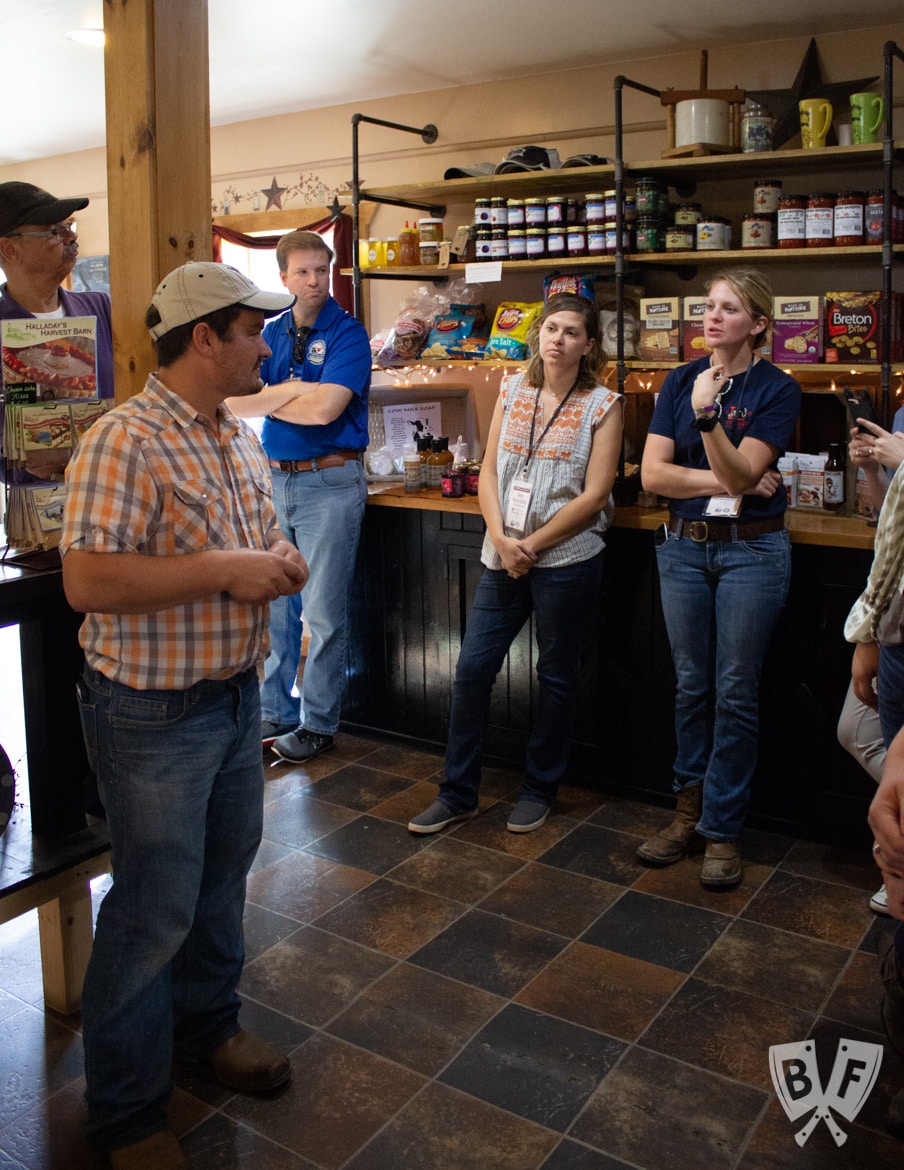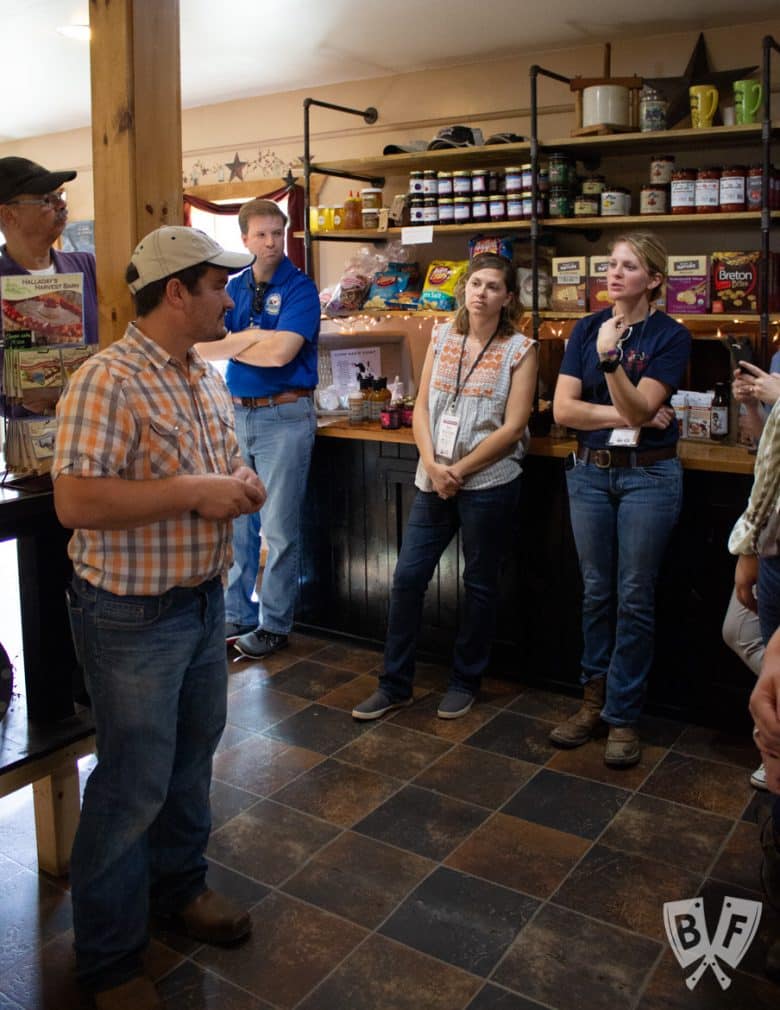 The cool thing about Shtayburne Farm is that the cheese is produced just 50 yards away from where the cows roam on the farm. You can watch the whole cheesemaking process in that one location!
We learned that cheesemaking is the process of drying milk, that soft cheeses have more moisture, and that each cheese is a reflection of the region that it comes from.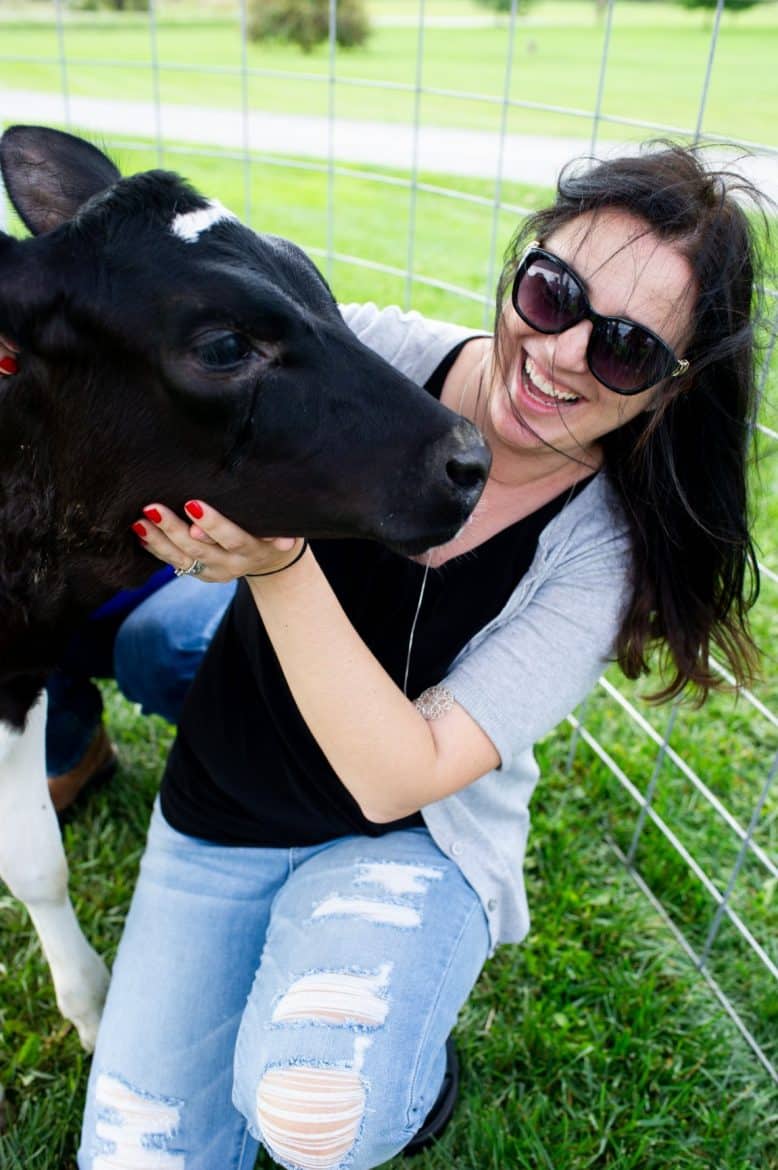 99% of NY state dairy farms are family-owned & operated, and this one uses milk that's produced on premesis to make 15 varieties of delicious cheese.
After our cheese lesson, we headed over for a photo opp with a sweet baby cow, named Cheddar, while the farmer showed us some super fresh cheese curds and answered more of our dairy-fueled questions.
View this post on Instagram
I bought plenty of cheese and a few types of meats to take home with me, and my family seriously enjoyed them all!
Stop #3 that day was Finger Lakes Distilling.
This was a very tasty stop, and it was really interesting to see all of the fun and unique ways that there are to incorporate dairy into cocktails!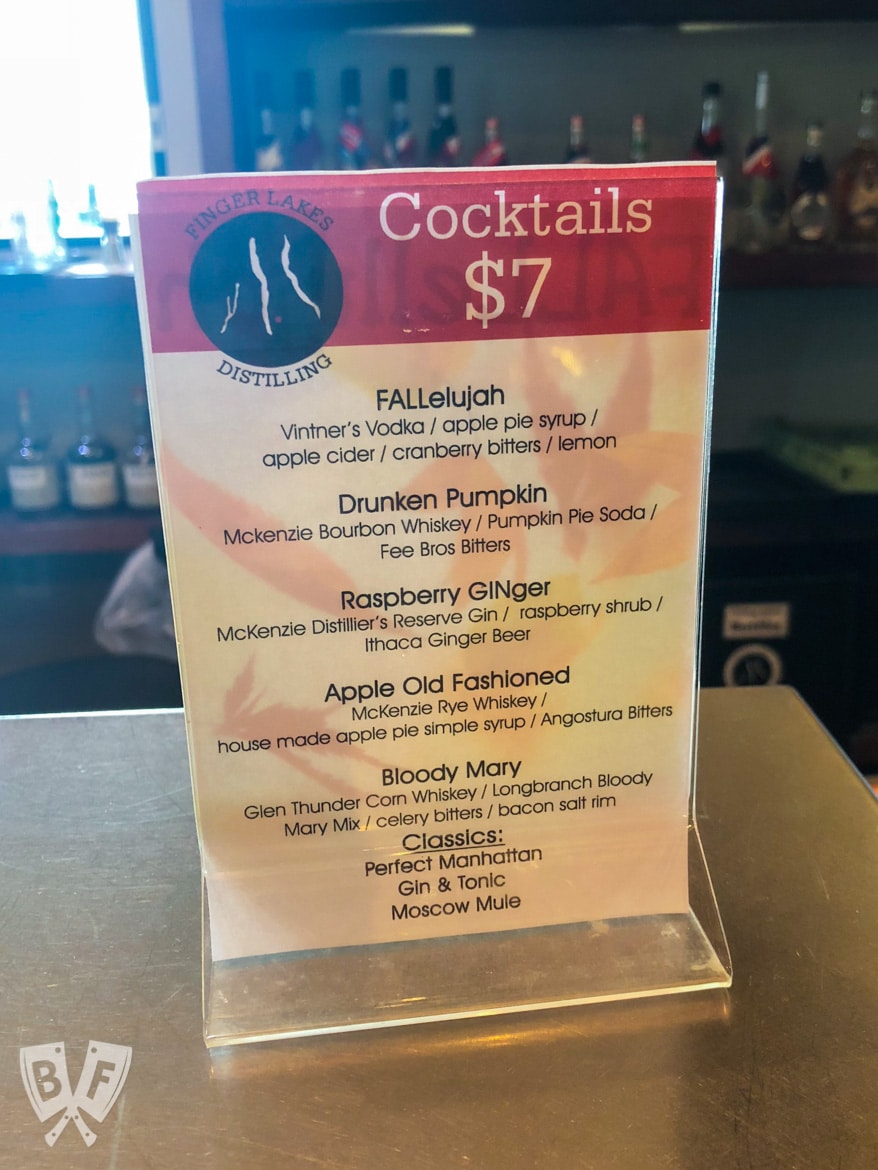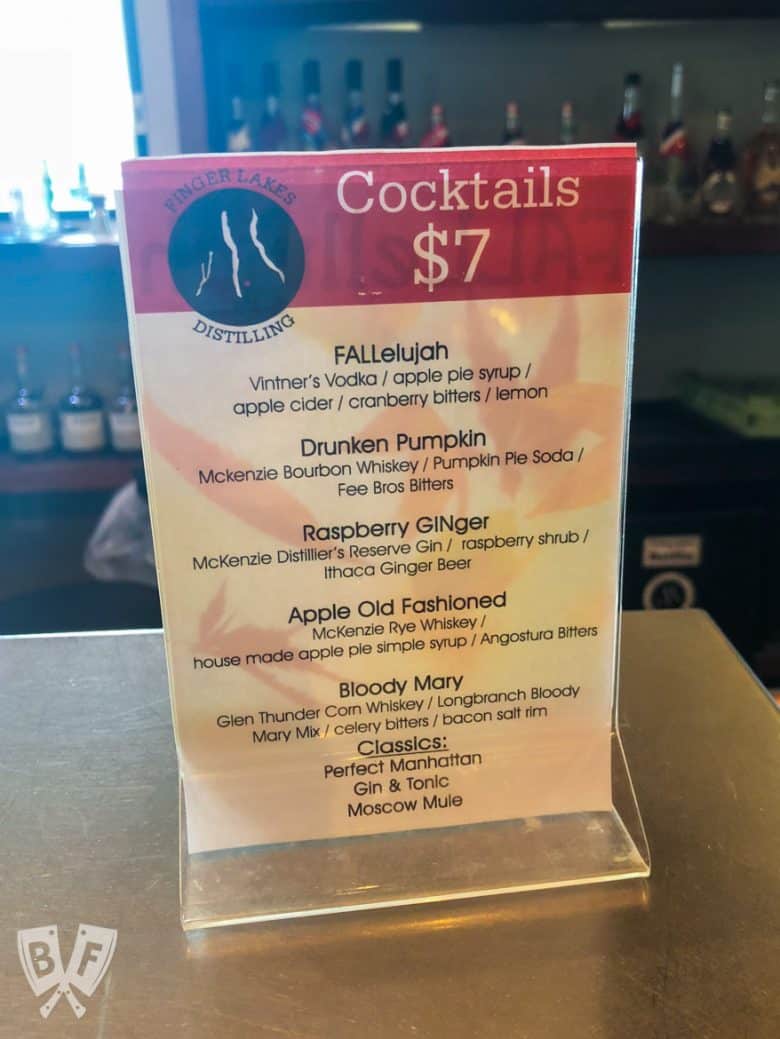 Finger Lakes Distilling is a family business that started 10 years ago. They're pioneers in the New York State distilling industry.
They source ingredients, including grains, apples, pears, and grapes, locally and then send their spent grains to local farmers for cattle feed. Talk about sustainability!
Finger Lakes Distilling was the second farm distillery licensed in NY state, and they have some SERIOUS cocktail-making skills!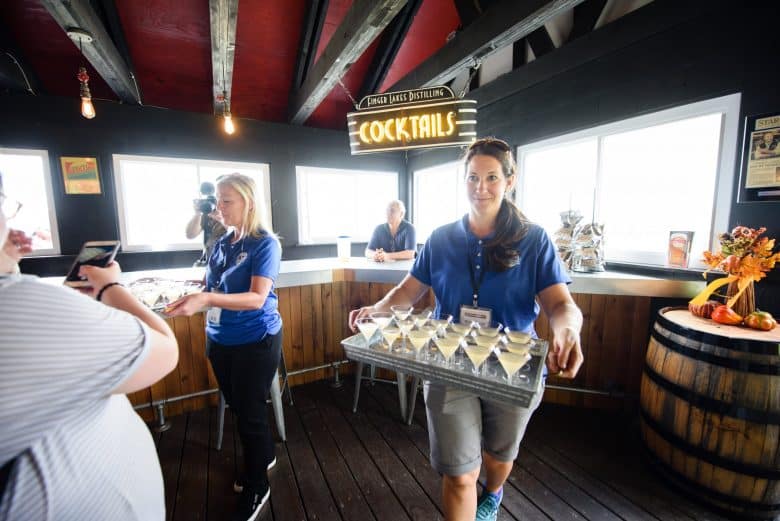 In addition to seeing the actual distilling process, we got to taste several different dairy-infused libations.
First up was a clarified milk punch, which uses an old-time technique as a way to soften the cocktail. The process utilizes lots of citrus, tea, spices, and butter before chilling and adding hot milk. The milk curdles at first, then the milk solids are strained out.
What's left is a smoother cocktail than you'd expect from whiskey. The milk strips out the tannins, making each sip go down quite swiftly!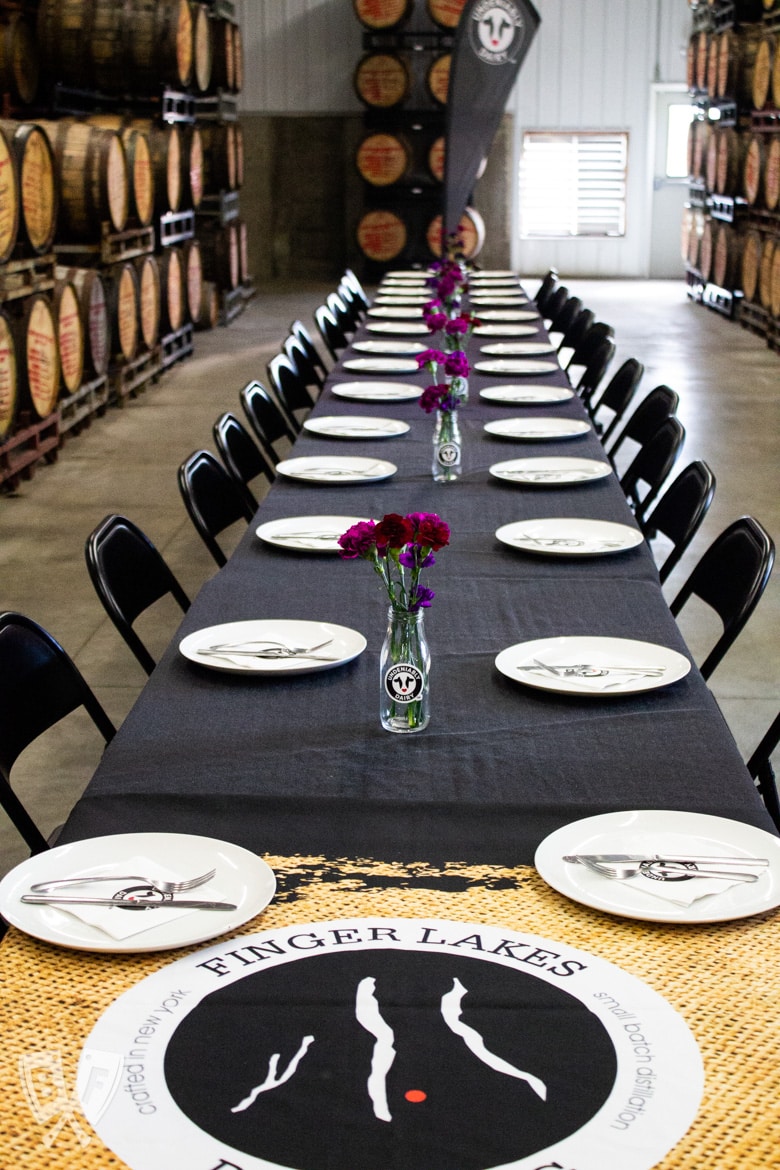 During the whiskey-making process, 2000 pounds of grain are used per day to make a mash.
When we visited, they had pears and grapes fermenting. The grapes were for grappa that would be distilling the following week.
After our first cocktail and distillery tour, we headed down into the barrel room for lunch with even more cocktail pairings.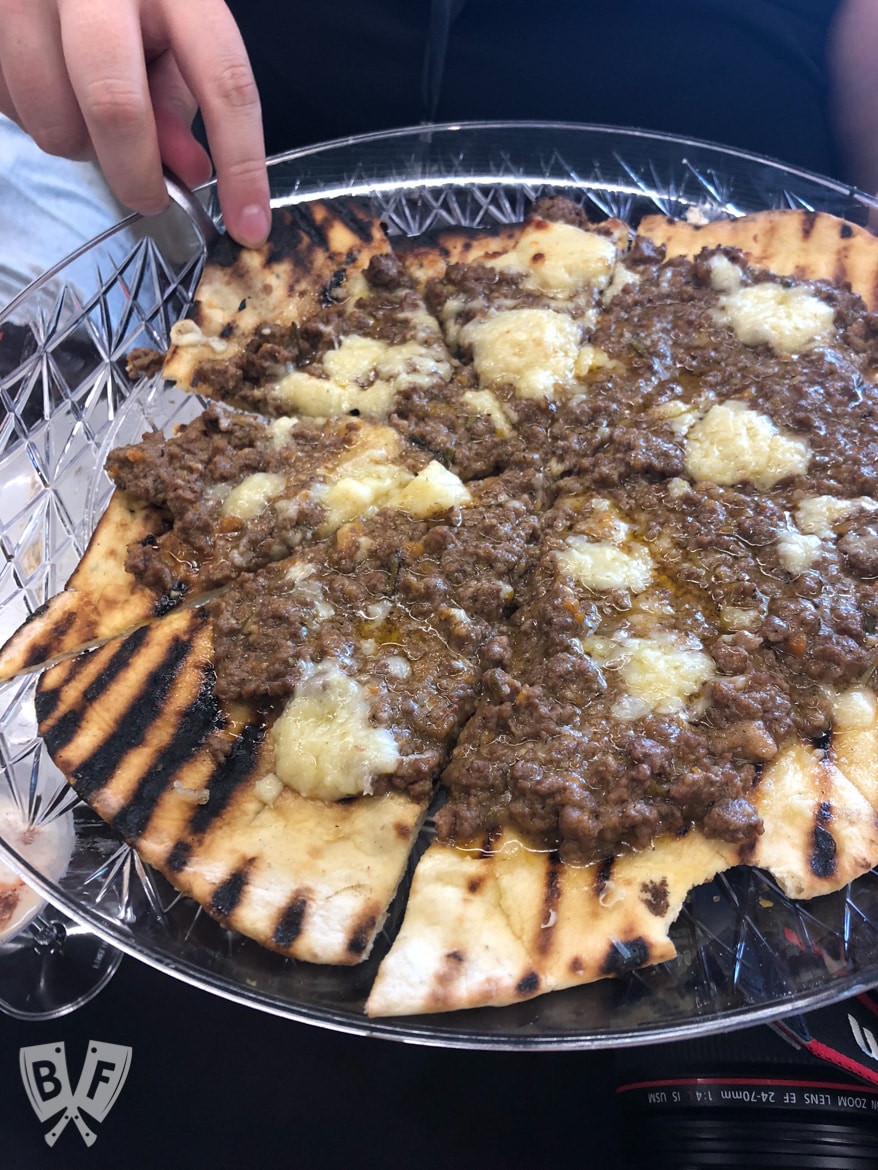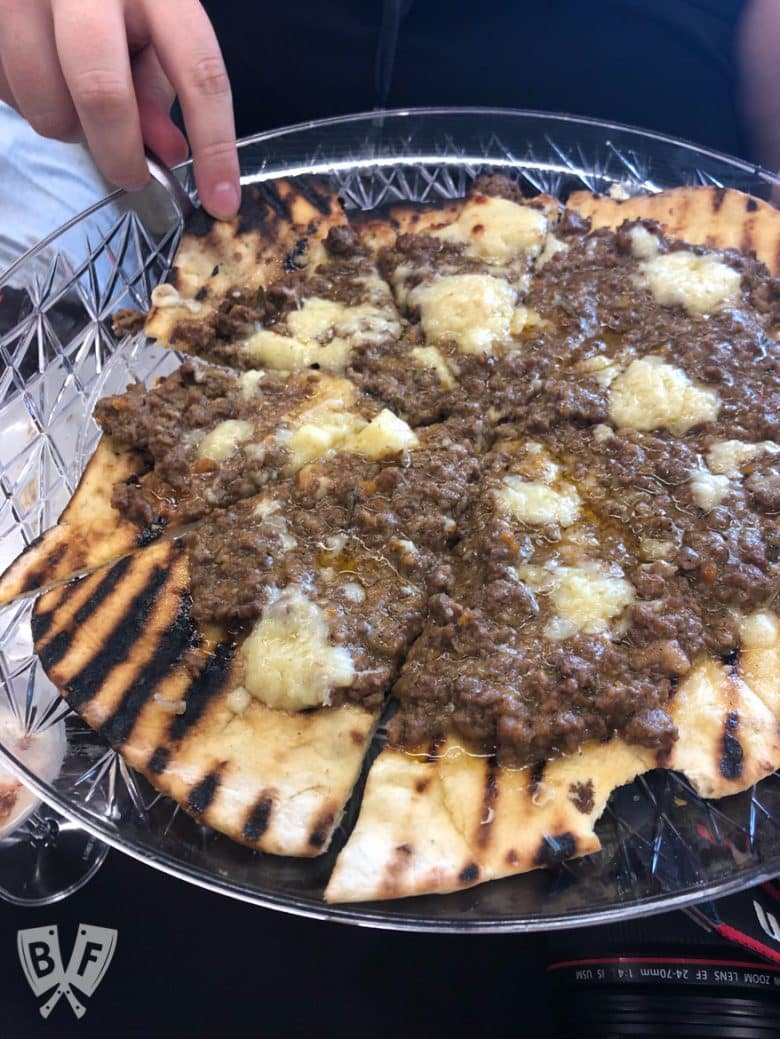 The (non-boozy) highlight of the meal for me was the beef bolognese pizza. I'm going to see if I can get my hands on that recipe because WOW. I may or may not have had several slices of that bad boy.
There were many more fun cocktails, lots of conversation, and plenty of dairy consumed before we headed back up to the main area and gift shop.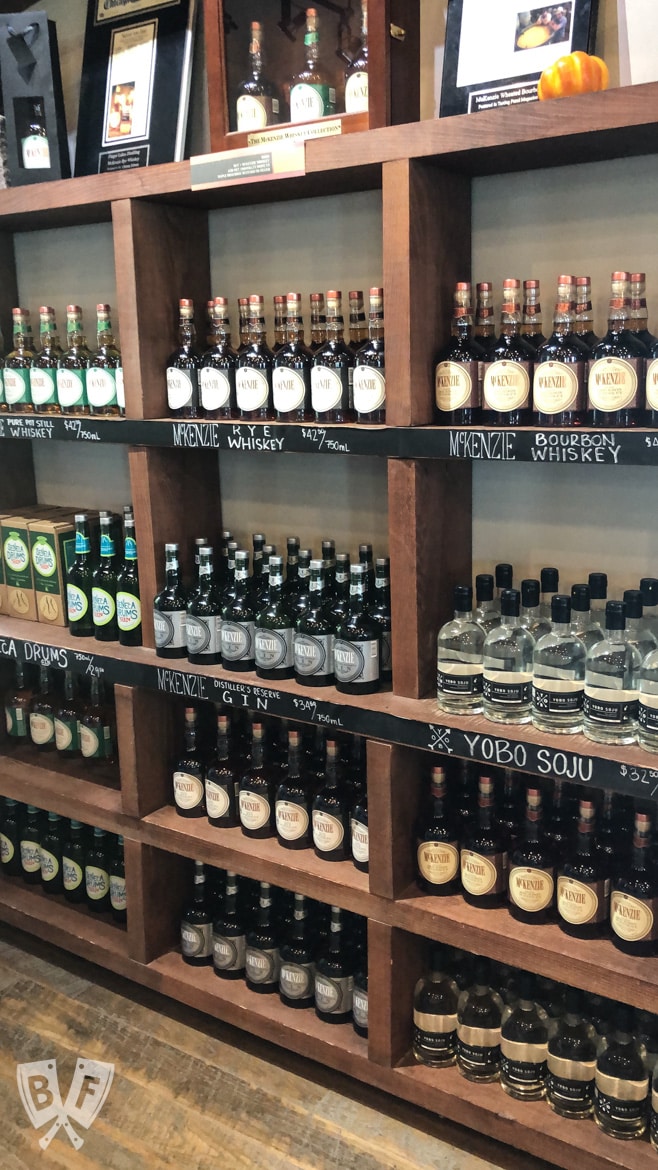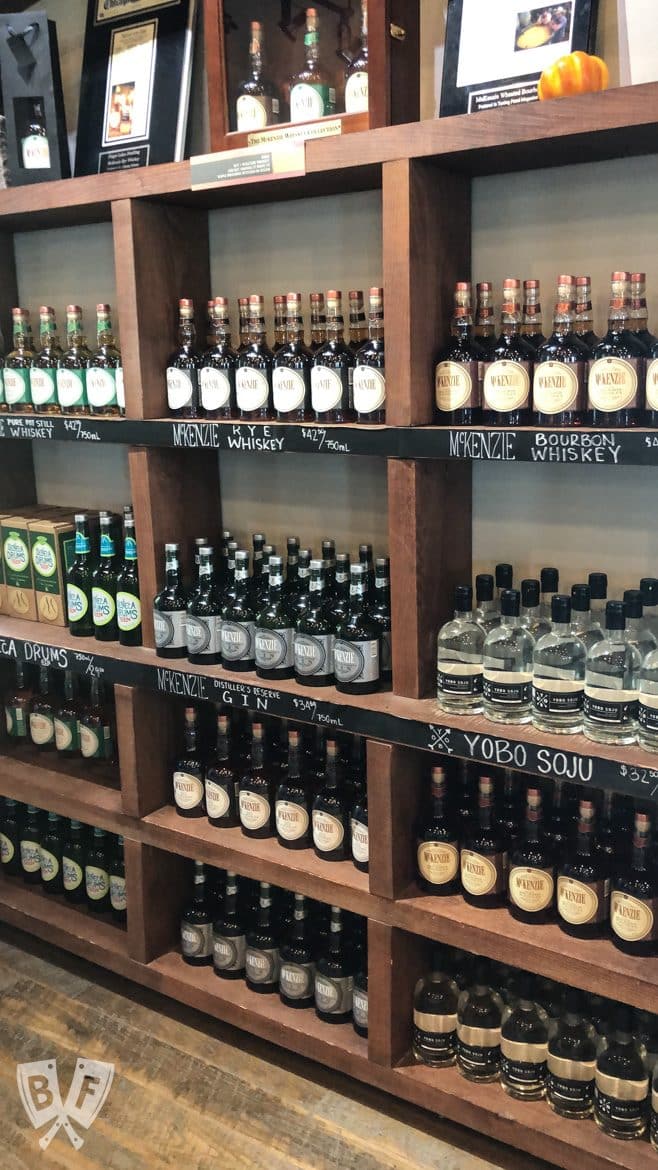 This stop definitely required a call to my husband before leaving to see which things I needed to purchase for our home bar.
They have a ton of options, and I can't wait to go back there someday when I'm not on such a tight schedule.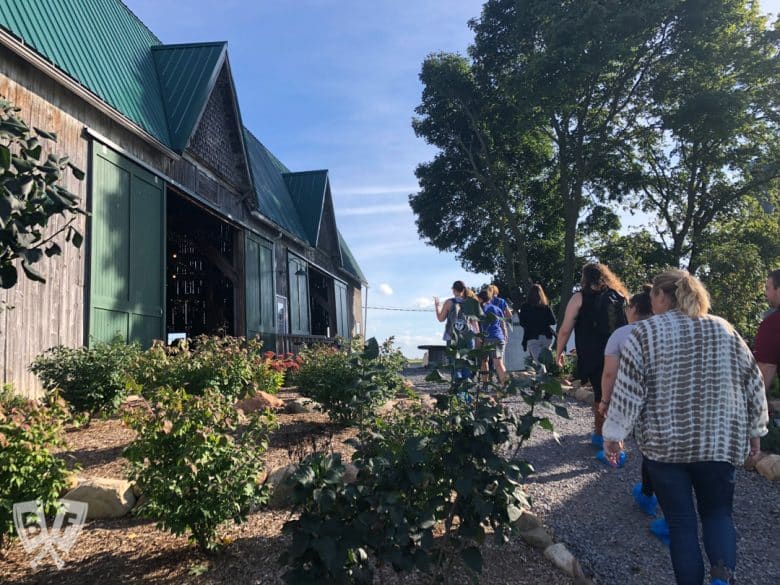 Our final stop of the day (phew!!) was Muranda Cheese Company & Dairy Farm in Waterloo, NY.
I was particularly excited about this stop for one reason: THE CHEESE CAVE.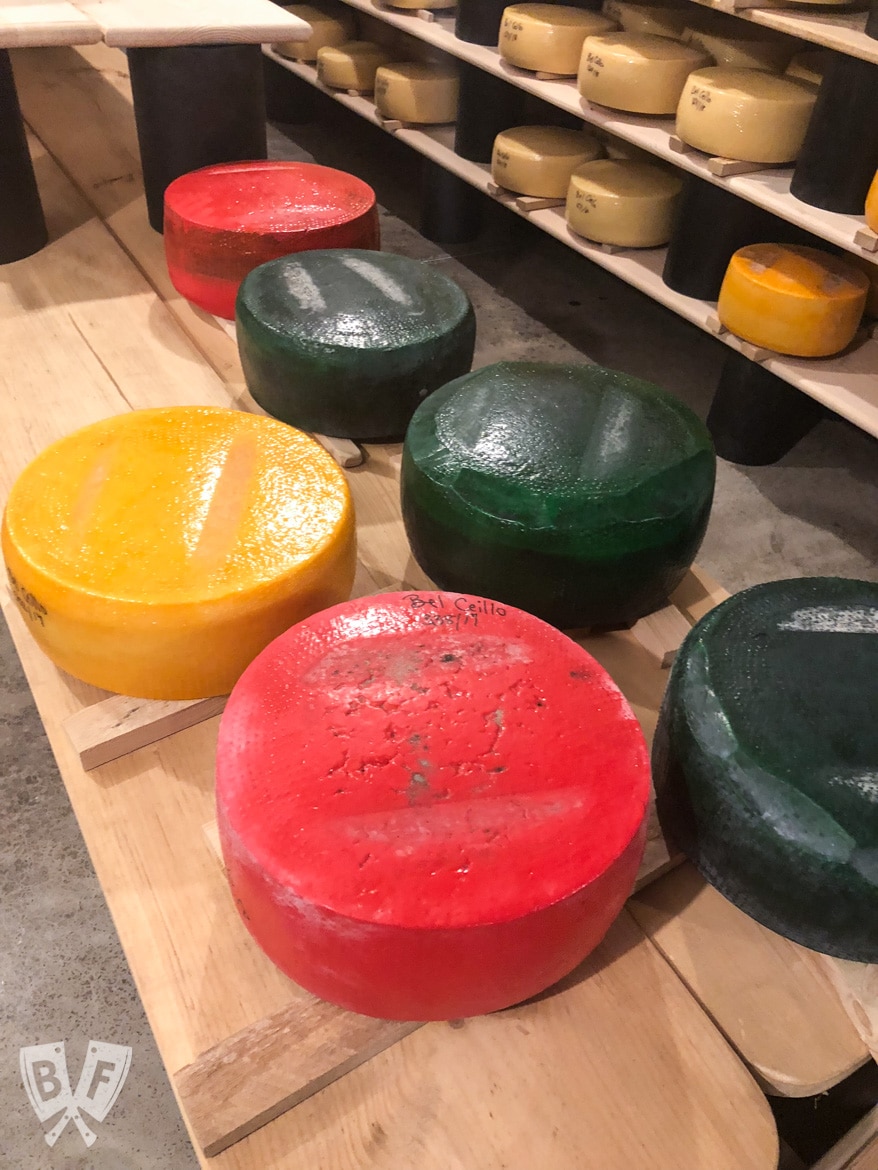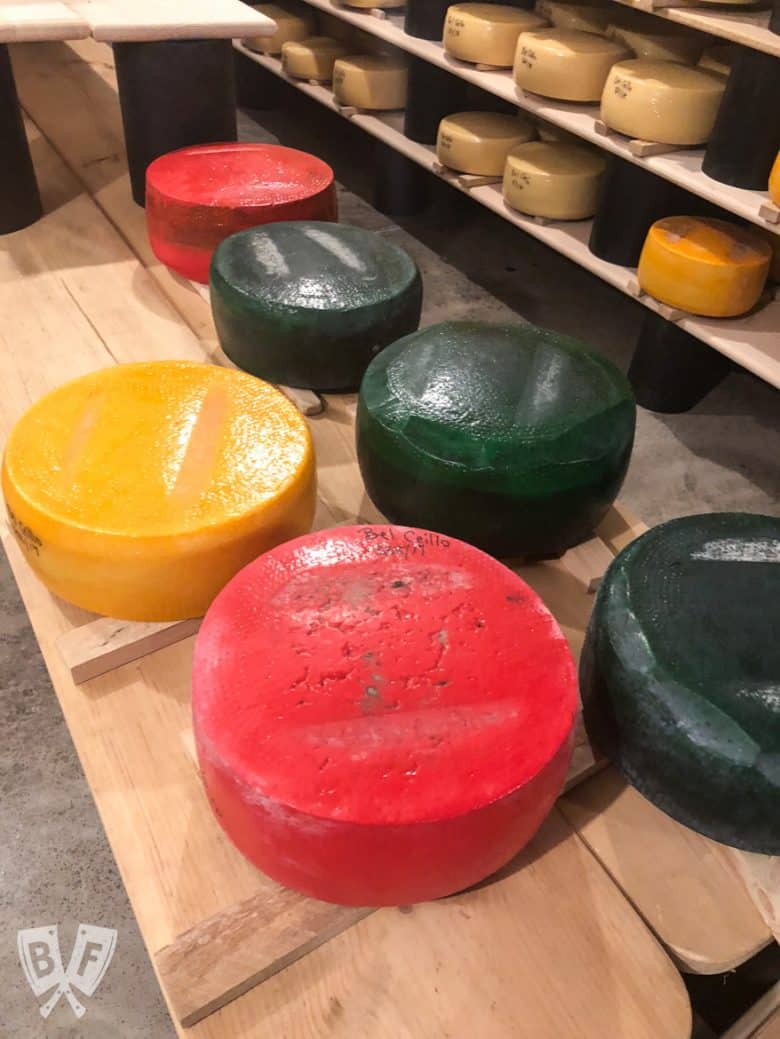 Do you see that Bel Ceillo cheese? That's the same type that our pasta was tossed in the night before. Giggidy.
The barn at the farm was built in 1861. The basement was later converted into a cheese cave with 3 separate aging rooms for Cheddar, Gouda, and Colby.
And Muranda Cheese Company certainly knows their way around quality cheesemaking.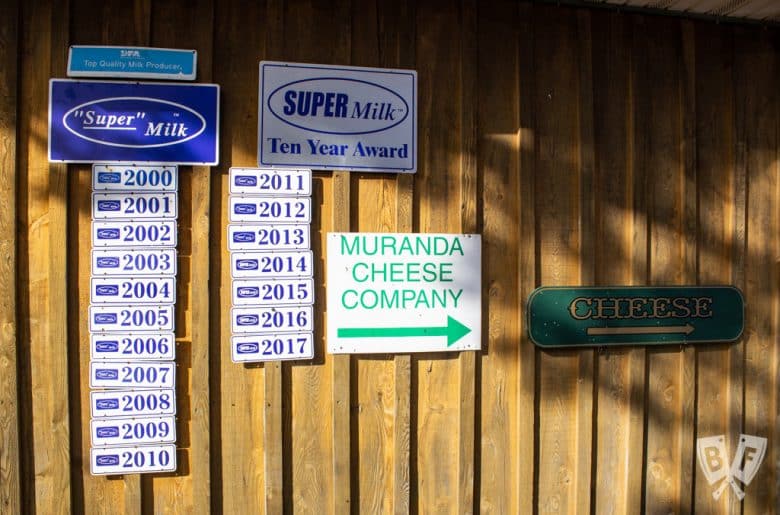 Since refrigeration removes humidity, there are dehumidifiers in each room to help keep excess moisture out of each aging room. As new cheeses are added, the moisture that escapes during the aging process is collected in the dehumidifiers.
I was so excited that I did my first ever Facebook LIVE to share this glorious cheese cave goodness with the world:
Muranda Cheese Company is currently under capacity because they're selling their cheeses faster than they can make them.
The aging process can take years, so I look forward to seeig what they produce in the future (or maybe going back to revisit these same cheeses once they're a bit older).
If you need me, I'll be relocating from my home in Ossining, NY to the Gouda Cave at Muranda Cheese Company. It was that good.
Please forward my mail, and feel free to send crackers.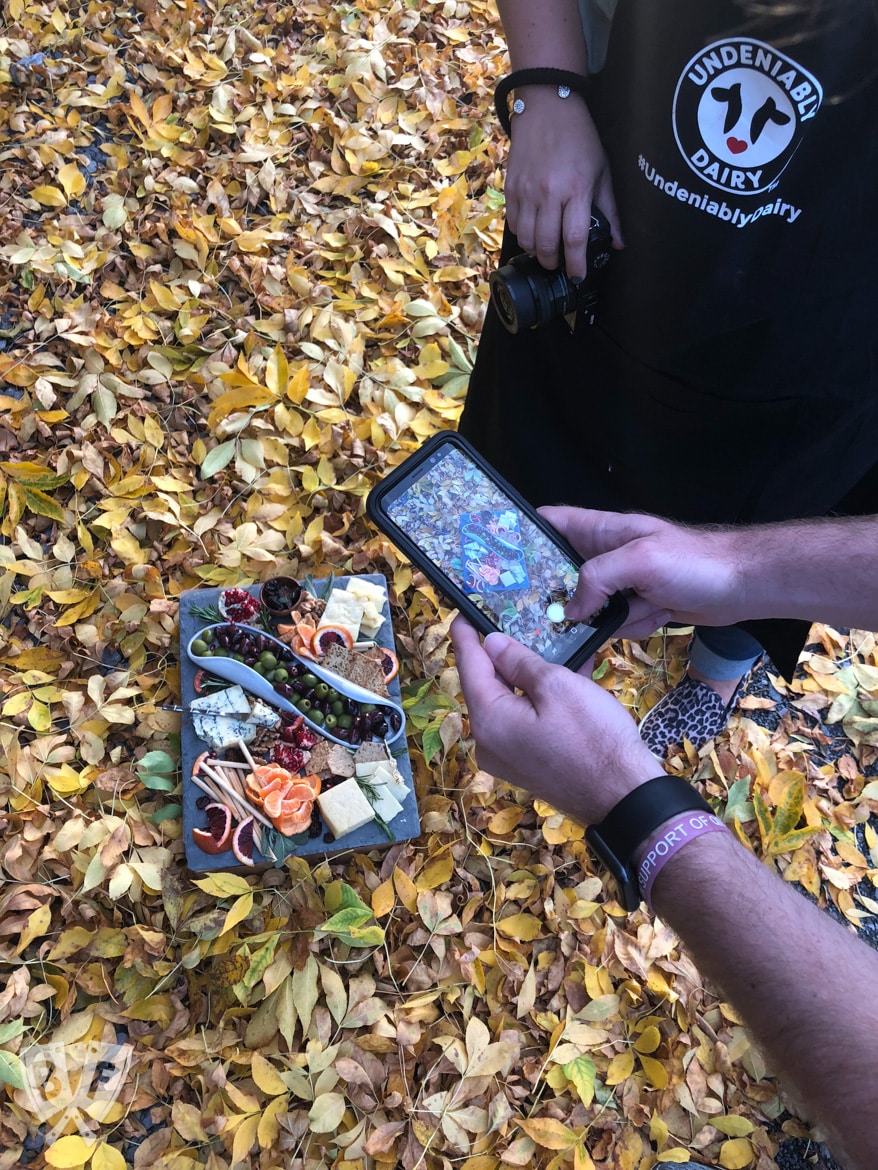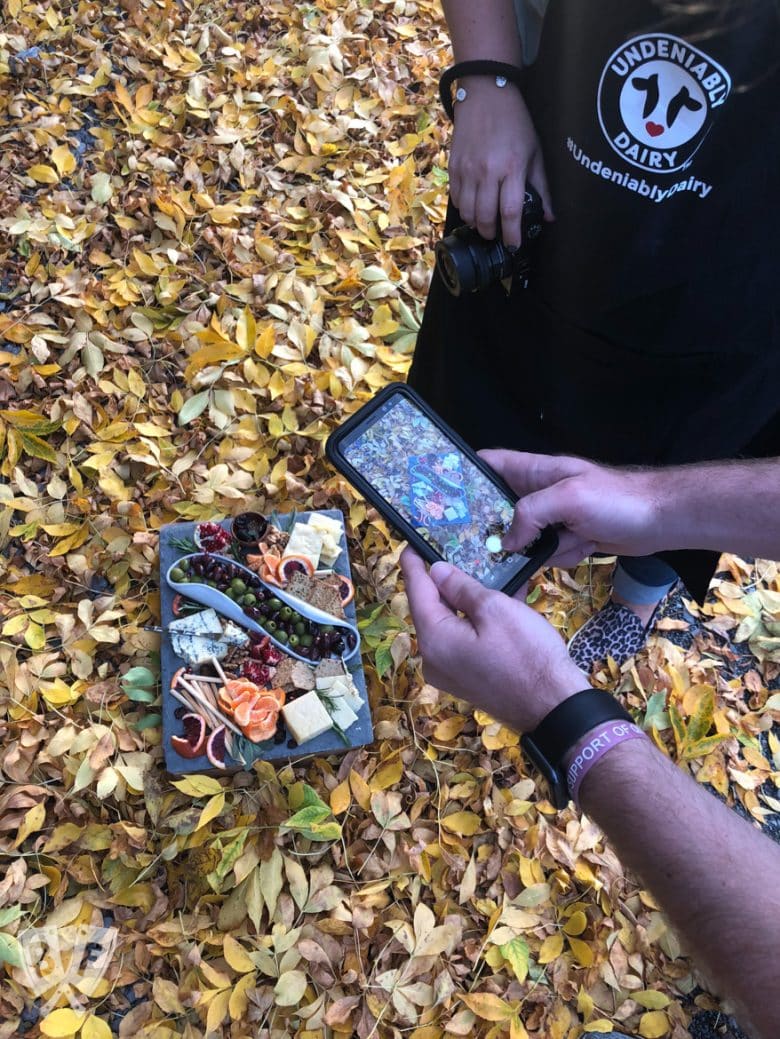 After our tour, we got a lesson in "Cheeseboard 101" from the lovely Claire of A Cheesemonger's Daughter. We then teamed up in pairs to create beautiful cheese boards with all of the lovely cheeses from Muranda Cheese Company.
I was paired up with Steph from A Grande Life and, although we didn't win the competition, I think we knocked it out of the park, creativity-wise.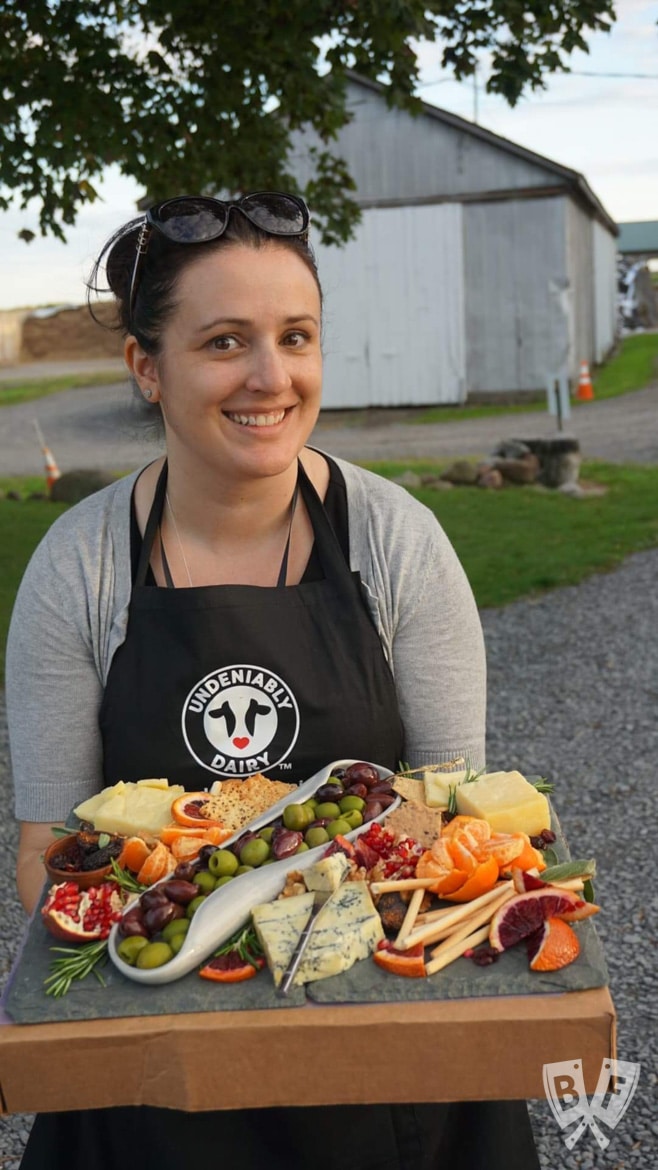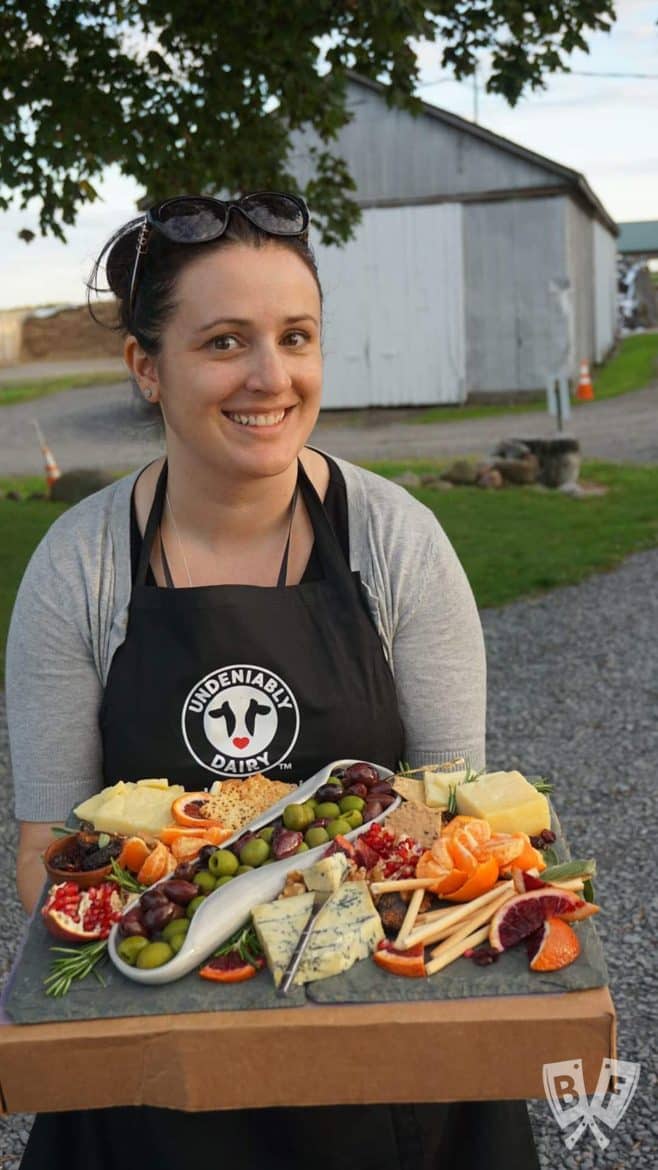 When the competition was over, we all got to enjoy snacking on each others' cheese boards while drinking local Finger Lakes wines.
Next up was a pretty fantastic dinner catered by Dinosaur Bar-B-Que.
There was also live acoustic music performed by John Lamanna, and as the wife of a musician, I felt right at home.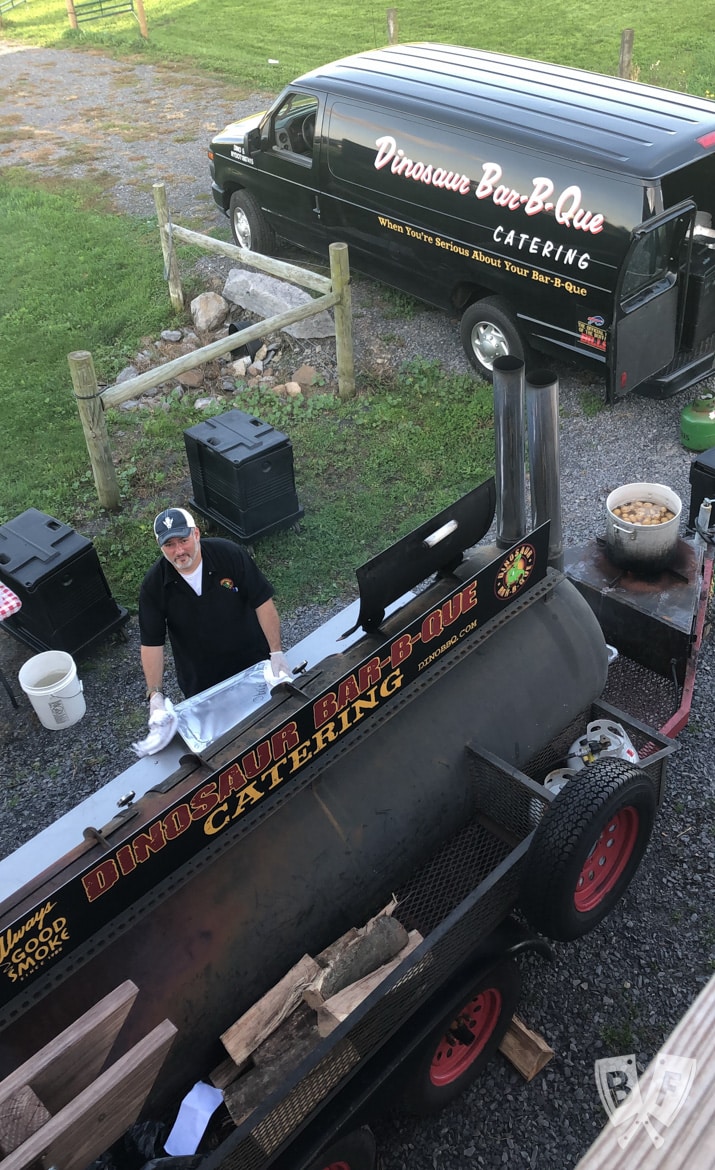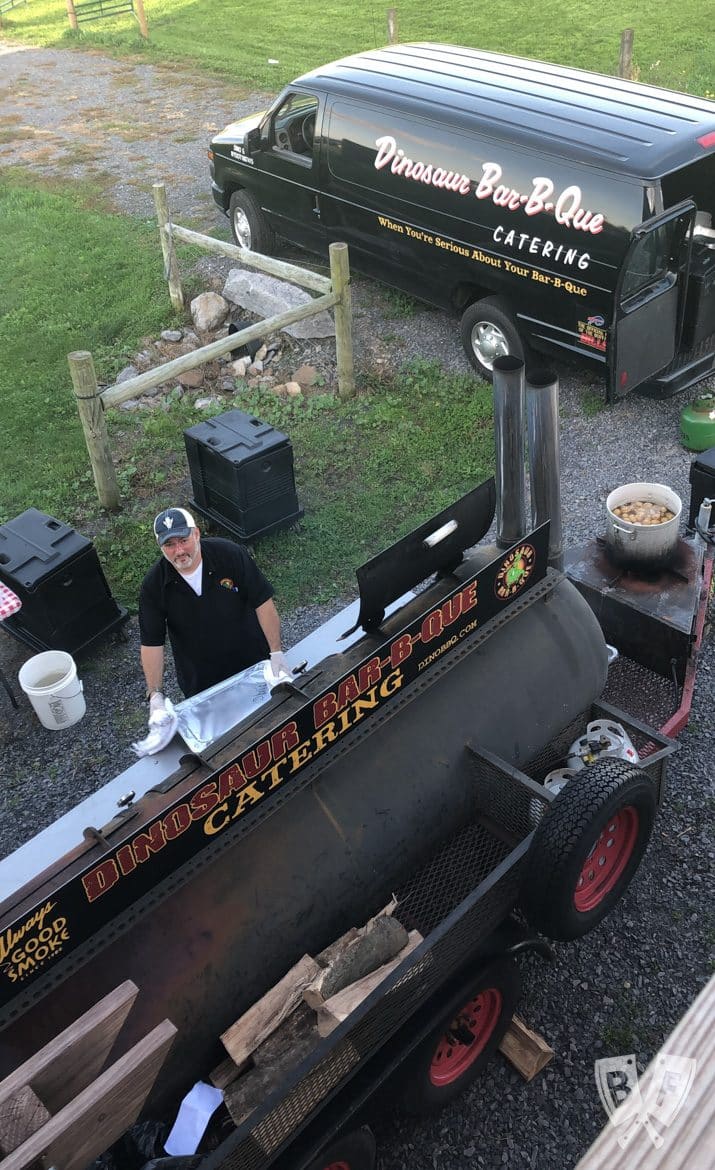 This farm is ridiculously charming. It'd be a great wedding venue, and the tasting room accompanied by the stunning views alone are worth the road trip!
One of my favorite cheeses from Muranda was a 125-day award winning blue cheese. It was different than most blue cheeses because it's made from cows milk and is rich, creamy, and spreadable.
Get. In. My. Belly.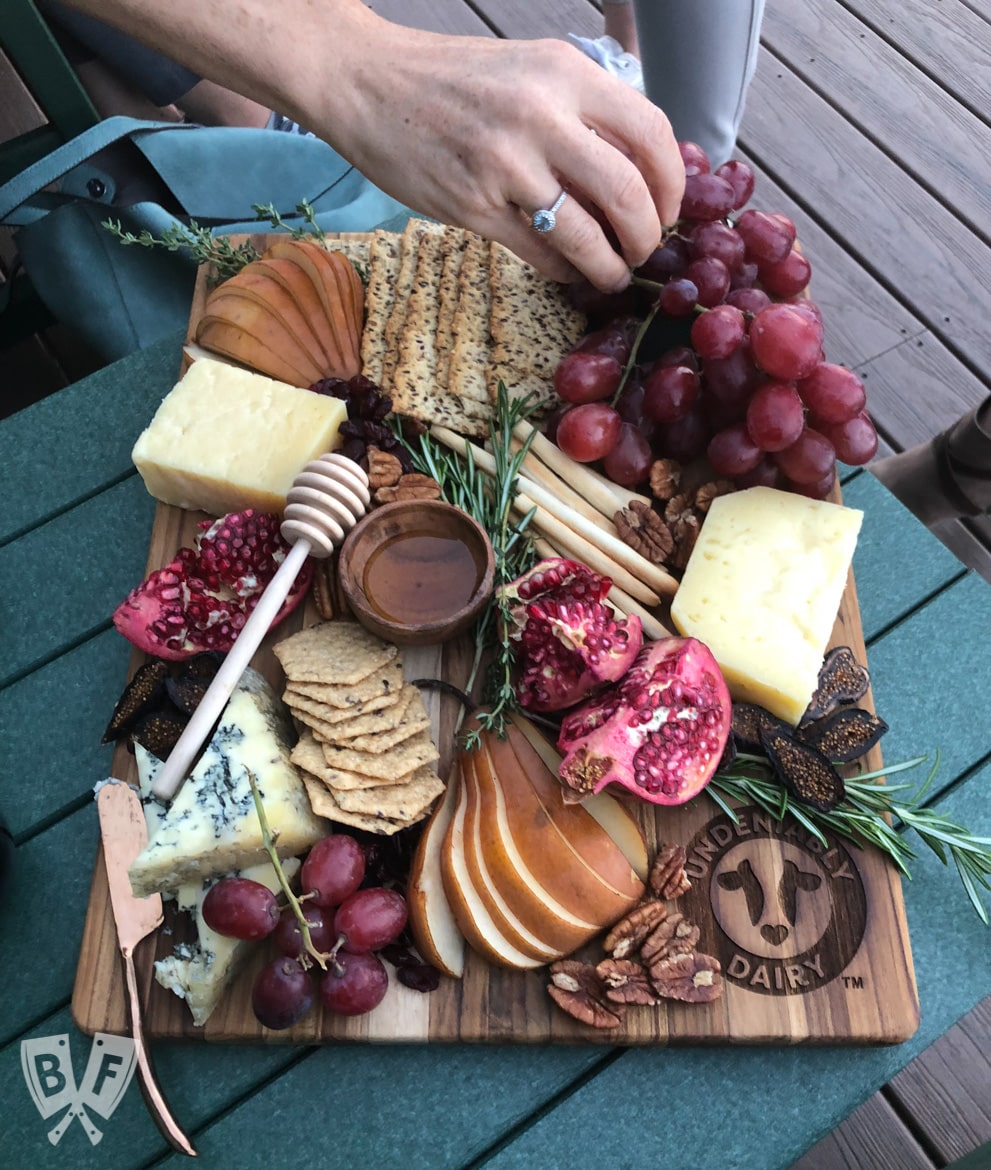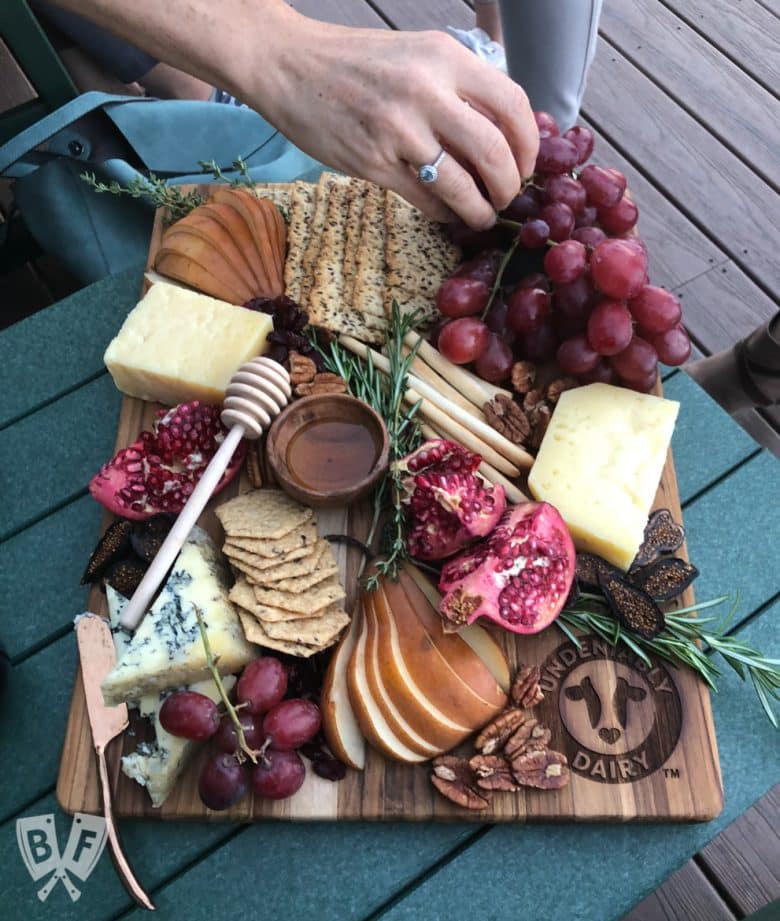 On the final day of the NY Dairy Tour, we all participated in a hands-on fresh mozzarella-making session at the beautiful New York Kitchen.
Local artisan cheesemaker Trystan Sandvoss of First Light Farm & Creamery gave us a demo on how to make perfectly soft, stretchy mozzarella cheese, then set us loose to make some for ourselves!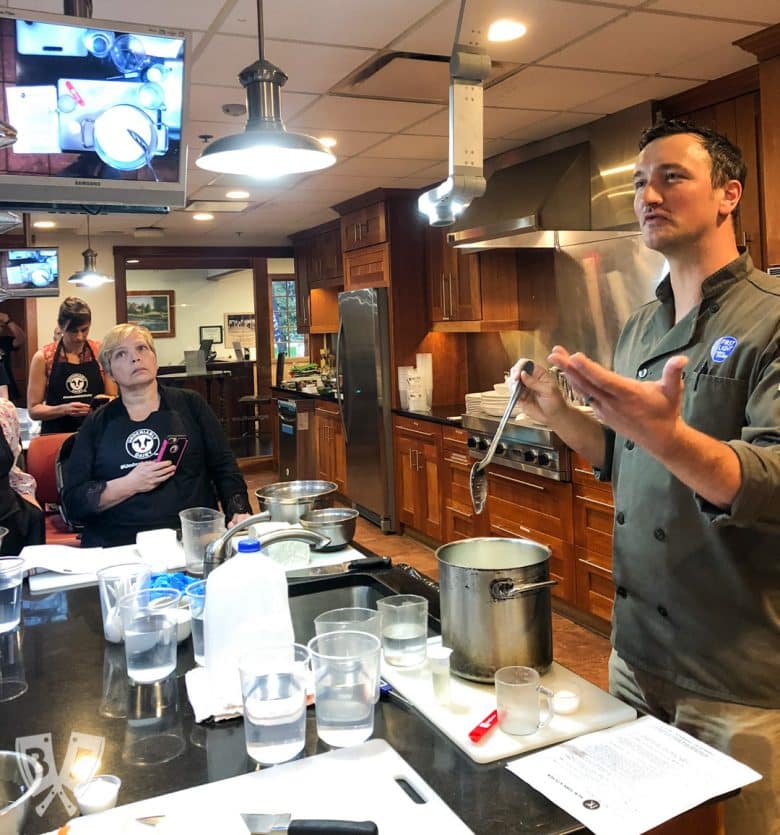 We learned that "mozz" means "to cut", and that if you have a pot at home that you use for cheesemaking, you can heretofore refer to it as a "cheese vat".
Making the mozzarella was easier than I thought it would be, even though my partner and I had a bit of a hard time getting the water hot enough to make it stretchy.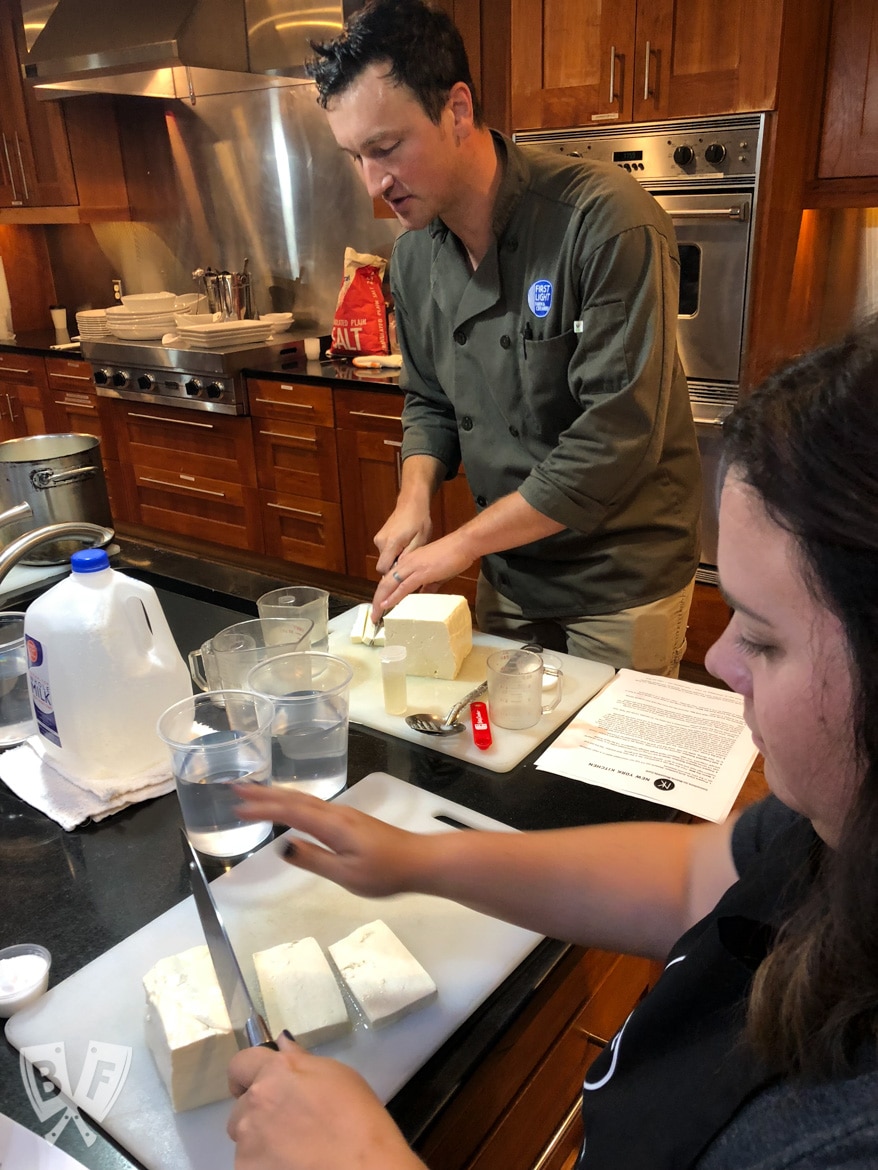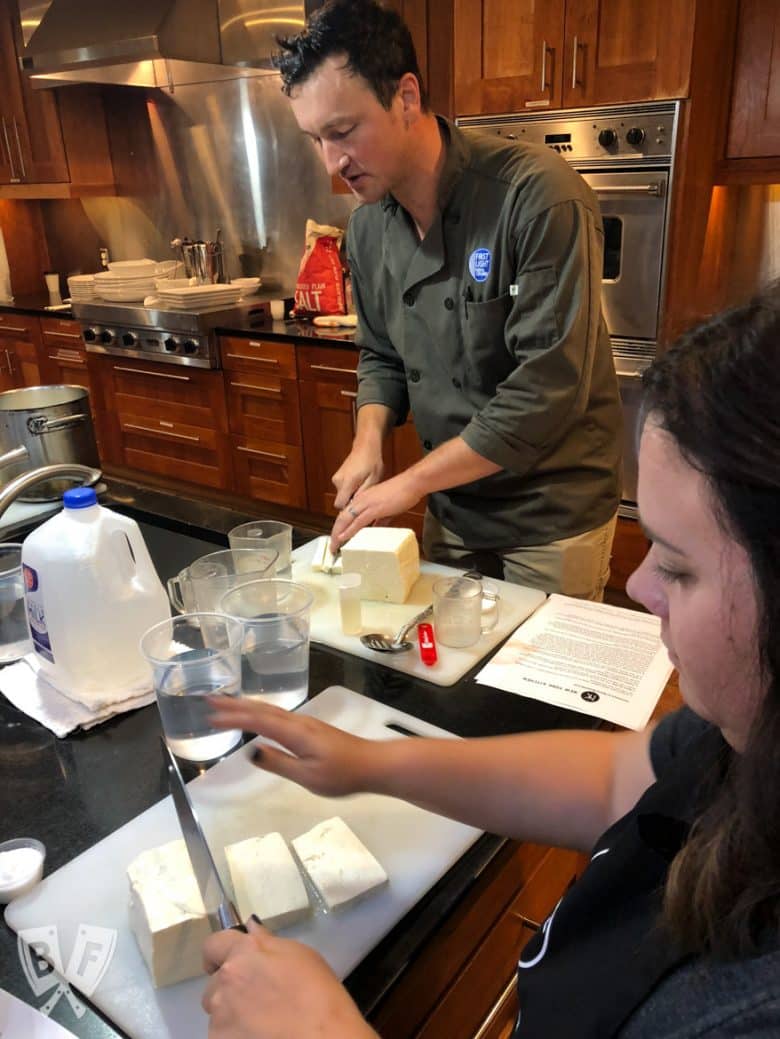 What can I say? I have sensitive hands.
We got to see lots of different cheeses from First Light Farm & Creamery and got the inside scoop on how they are now working with Old Chatham to bring even more types of cheese to consumers in the future.
First Light will continue to represent goat milk cheeses, and Old Chatham will continue with their sheep milk cheeses.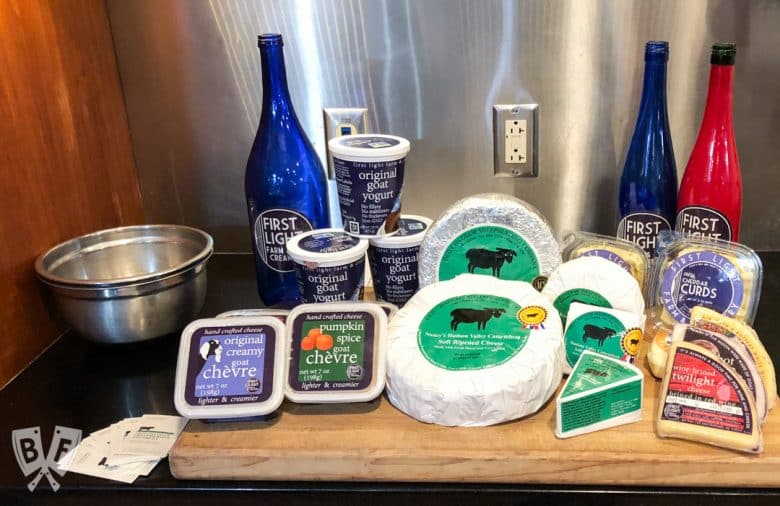 After we packaged up our homemade mozzarella, we moved on to the final event of the week - the Undeniably Dairy Cooking Competition.
This was my first time competing in something like this, and it was an absolute blast. There were 3 different recipe categories: milk/cream, cheese, and yogurt.
We found out our assigned category a few weeks before the trip and had 2 weeks to submit a recipe to ADANE. Our final recipes and photos are slated to be part of a digital cookbook, and I'll share the details once they're available.
I was assigned cheese, and I couldn't have been happier.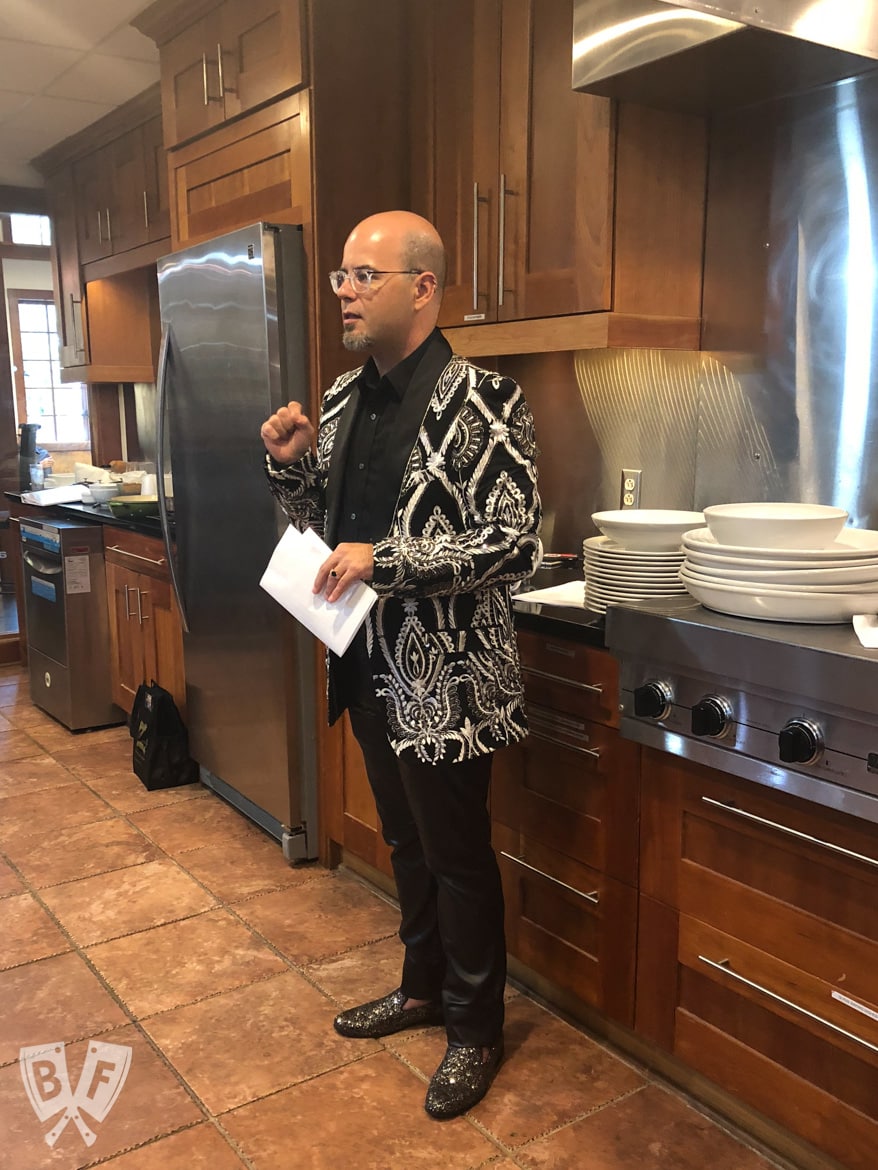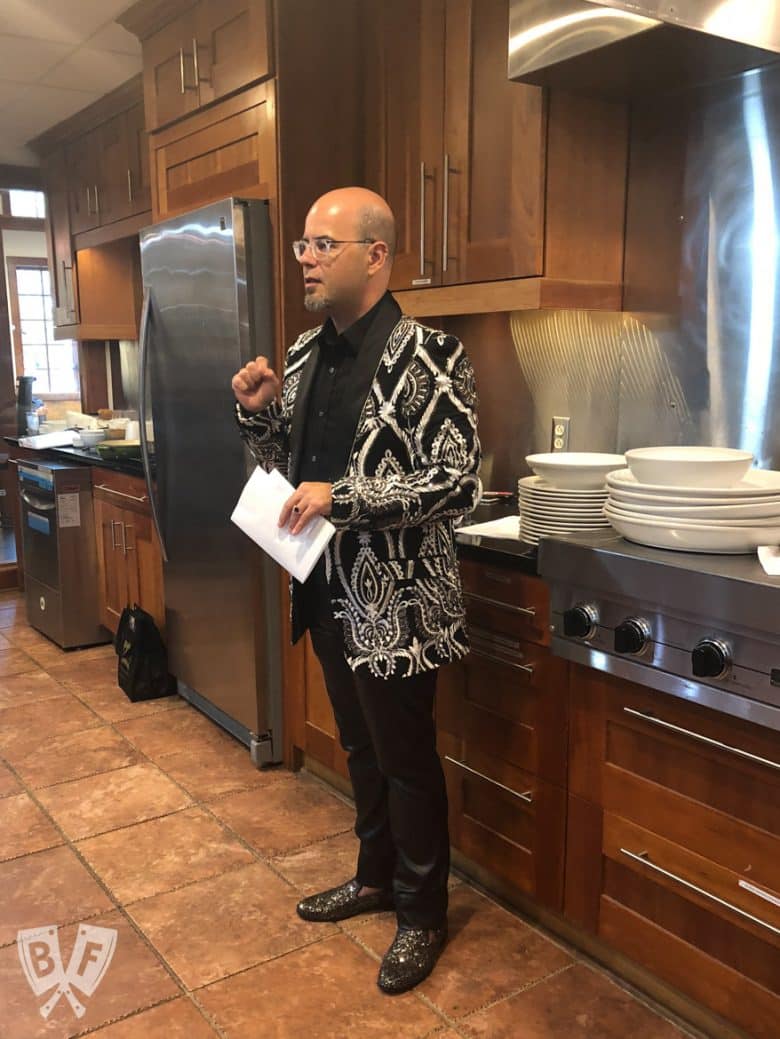 To make the competition even more exciting, we had a special guest judge to taste our culinary creations.
Food Network Star Jason Smith joined us in our mozzarella-making earlier in the day in all his bedazzled glory, then walked around the kitchen while we were preparing our competition recipes.
ADANE posted a fun video of him interviewing us during the cooking portion of the competition. You can see my part around the 4:30 mark, and again around the 22-minute mark.
My recipe was a Burrata Pizza with Prosciutto and Pickled Grapes, and it was a big hit with everyone who tried it!
Chef Jason and I had fun chatting about fresh tarragon - the (always a bridesmaid, never a bride) herb that we both thoroughly enjoy.
It was my first time cooking in a professional kitchen, and I swear it was just like it looks on TV - the film crew came over just as I was getting my bearings and getting my game plan ready.
I ended up doing a few things out of order, but I caught it before it went into the oven and it turned out better than ever!
I'll be posting the recipe here soon. It's SO good and surprisingly simple to put together!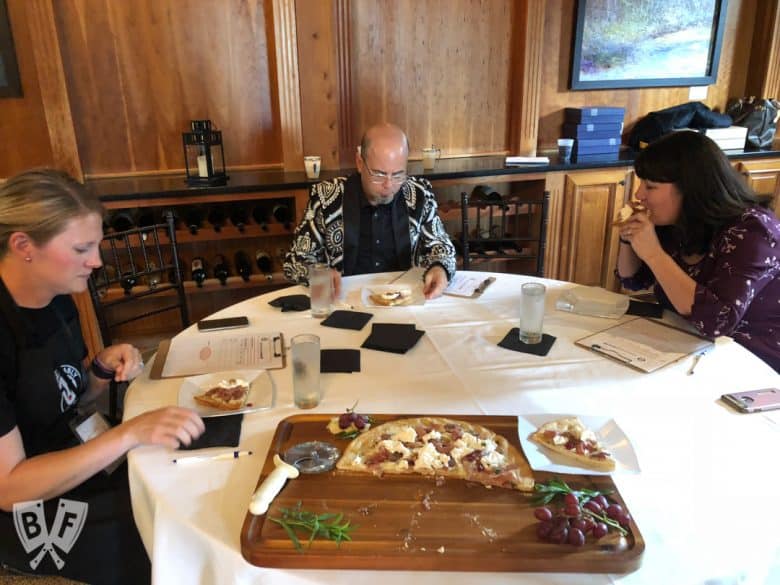 It was quite an experience being able to cook for a room full of strangers and to tell my story and explain why I'm as obsessed with food as I am.
Not to mention having the opportunity to hang out and cook with a bunch of people that I know and respect. I especially liked the part where we all got to sample each others' recipes. It was a pretty epic lunch!.
It was also fun getting to be part of a quick photo shoot with the ADANE photographer for the digital cookbook!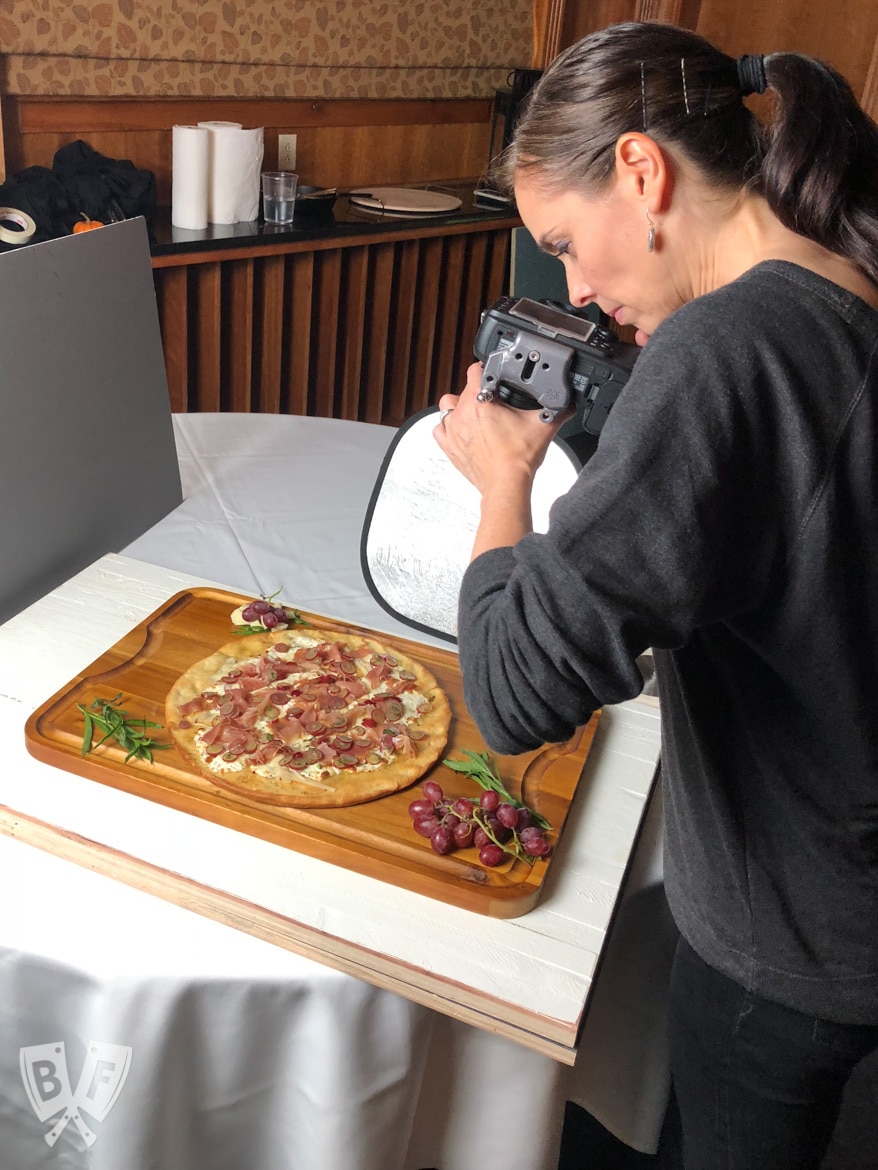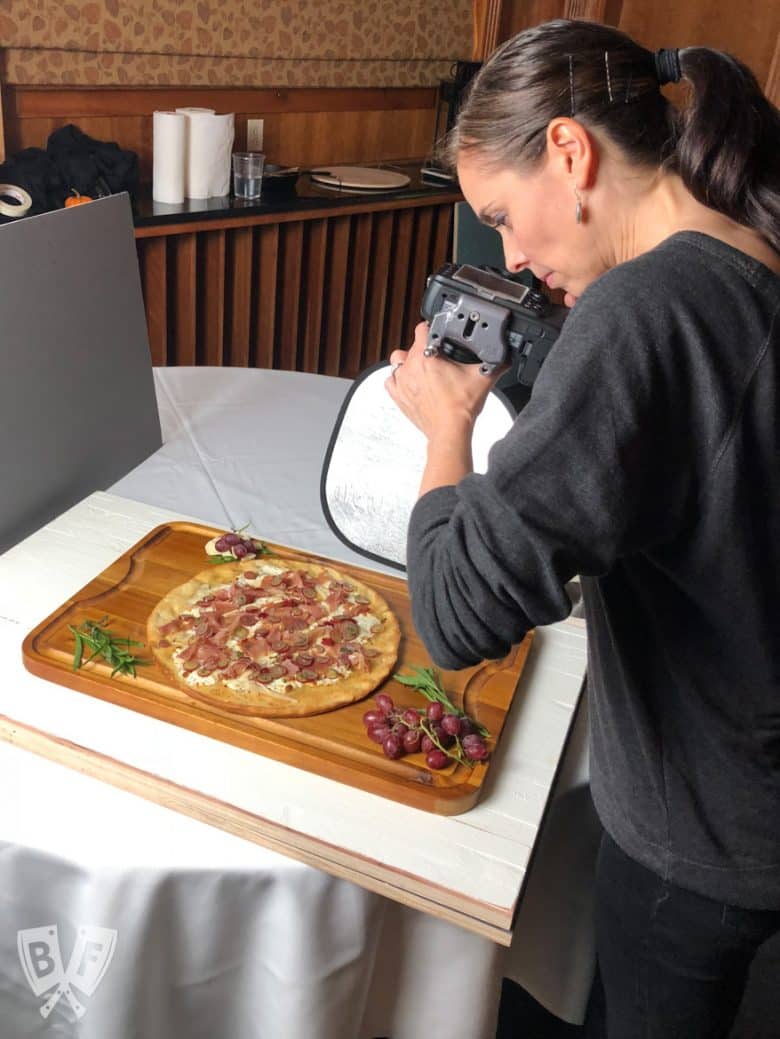 All in all, this was a fabulous trip. It was an experience I'll never forget, and I can't wait to share even more dairy goodness with you in the coming months.
Here's the photo that I took of my final competition recipe. I was very proud of it, and now that it's been a few weeks since I've eaten it (R&D was delicious but I got kind of pizza'd out) I'm anxious to make it at home again.
I've already promised the people who helped QC the first test round of this recipe that they'll get to come over to try it in its final form.
Pretty stoked about that, to say the least.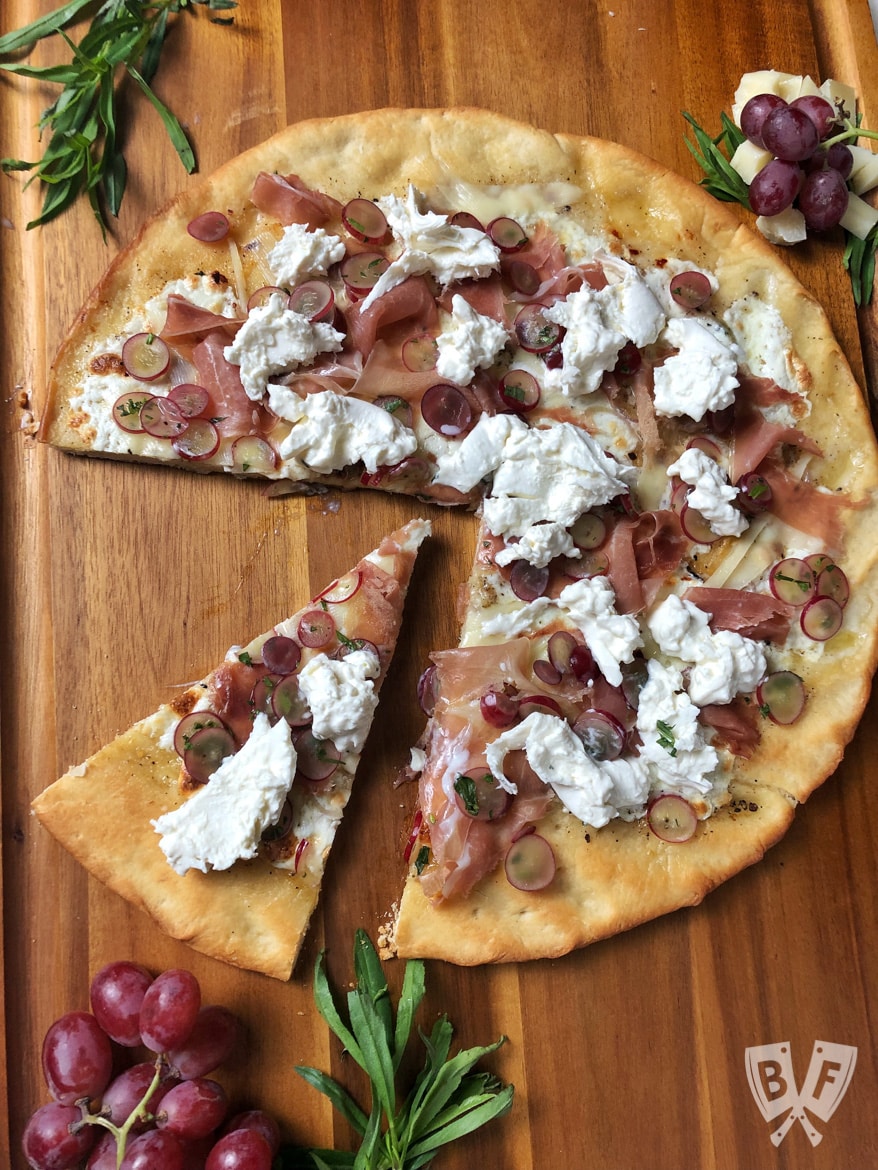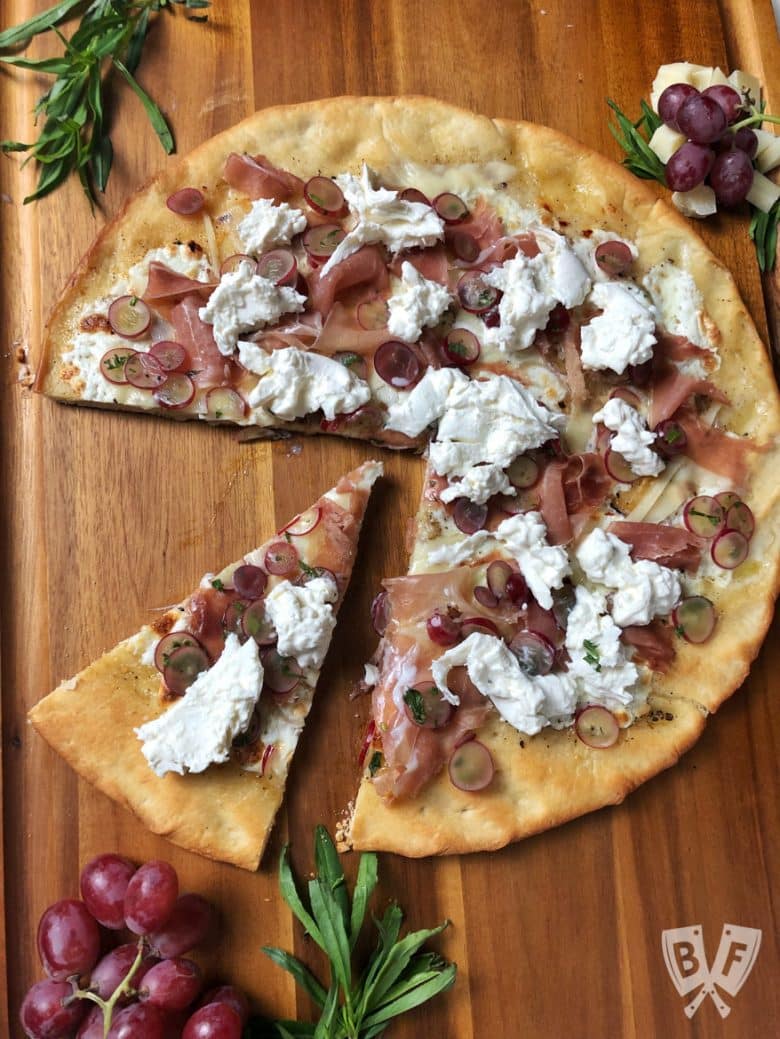 Thanks again to ADANE for including me in this fantastic tour.
Here's to more dairy-filled posts in the future!
Looking to do some online shopping? Check out my Amazon Shop page for recommendations!