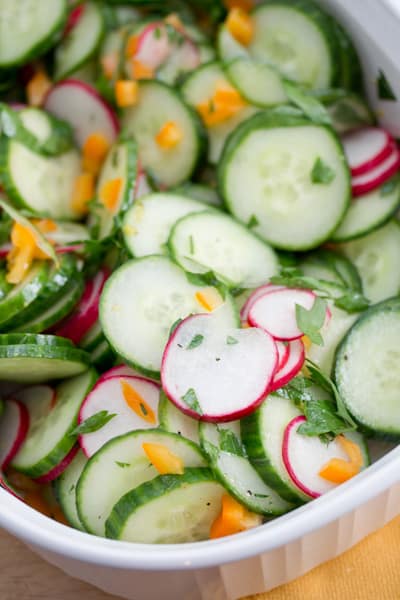 This post may contain affiliate links, which won't change your price but will share some commission.
This salad was easy to put together, and tasted very fresh, but it was nothing special. I probably wouldn't make it again.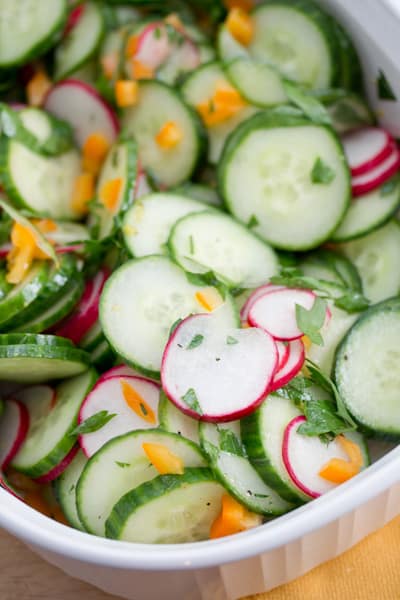 Lemony Cucumber Salad
Cooking Light July 2011
Total Time: 22 Minutes
1 cup thinly sliced radishes
1/2 cup finely chopped orange bell pepper
1/4 cup chopped fresh flat-leaf parsley
2 English cucumbers, thinly sliced (about 6 cups)
1 teaspoon finely grated lemon rind
2 tablespoons fresh lemon juice
1 tablespoon extra-virgin olive oil
1 1/2 teaspoons white wine vinegar
1/2 teaspoon salt
1/4 teaspoon freshly ground black pepper
1. Combine first 4 ingredients in a large bowl.
2. Combine lemon rind and remaining ingredients in a small bowl, stirring with a whisk. Pour over cucumber mixture; toss well to coat. Serve at room temperature or chilled.
Amount per serving
Calories: 33
Fat: 1.8g
Saturated fat: 0.3g
Monounsaturated fat: 1.2g
Polyunsaturated fat: 0.2g
Protein: 0.8g
Carbohydrate: 4.3g
Fiber: 0.9g
Cholesterol: 0.0mg
Iron: 0.4mg
Sodium: 156mg
Calcium: 20mg
Big Flavors Rating: 3 Stars