This post may contain affiliate links, which won't change your price but will share some commission.
I wanted to make some rice to go with our New Year's Eve Taco Tuesday fiesta, but I didn't want just plain ol' rice. And I didn't want to spend a ton of time on it. I reached out to some cooking buddies, and my friend Terri over at A Girl in the South came through with this beauty.
This rice is prepared in the standard fashion, and when it's finished, you mix in a cilantro-lime purée.
Next time, I think I'll add more garlic and salt to this to really make it pop. Although mixing some of the pico de gallo that I made in with the rice most certainly did the trick. Delicious!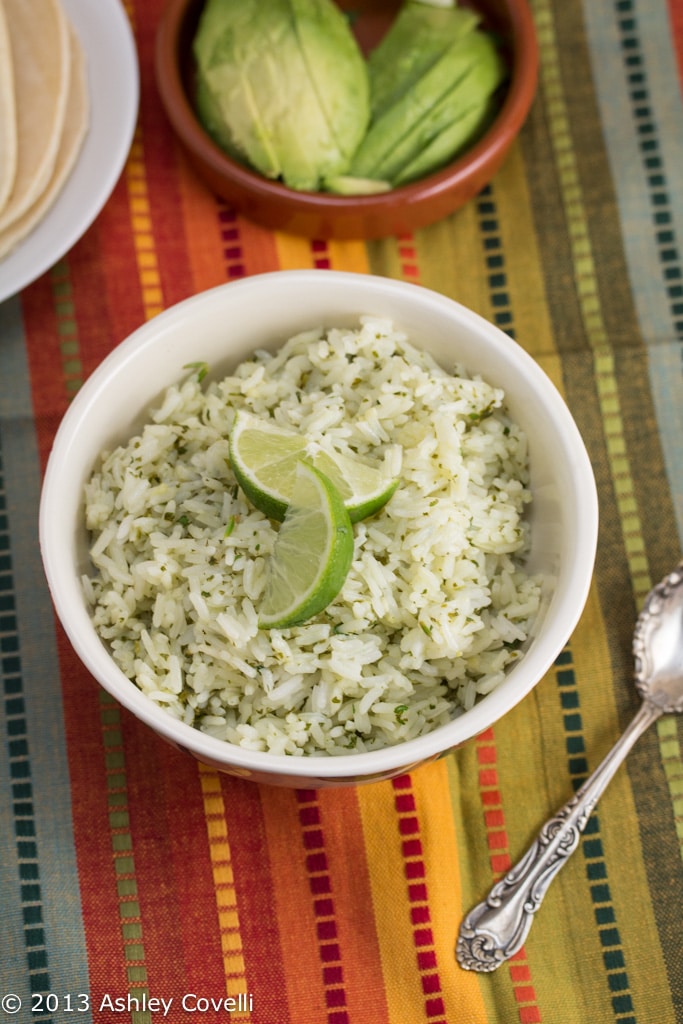 Between this rice, the Cilantro and Lime Fish Tacos with Cilantro and Lime Crema and the Tomatillo Pico de Gallo, I don't think I've ever used so much cilantro in one meal in my life. That is most definitely not a complaint!
Cilantro-Lime Rice
Martha Stewart
Prep: 5 minutes
Cook: 25 minutes
4 servings
1 cup long-grain white rice
Coarse salt
1/2 cup fresh cilantro
2 tablespoons fresh lime juice
1 tablespoon olive oil
1 garlic clove
Step 1 In a medium saucepan, bring 1 1/2 cups water to a boil. Add rice and 1/4 teaspoon salt; cover, and reduce to a simmer. Cook until water is absorbed and rice is just tender, 16 to 18 minutes.
Step 2 Meanwhile, in a blender, combine cilantro, lime juice, oil, garlic, and 2 tablespoons water; blend until smooth. Stir into cooked rice, and fluff with a fork.
Big Flavors Rating: 4 Stars