This post may contain affiliate links, which won't change your price but will share some commission.
Infuse the flavors of fall into this no sugar added homemade applesauce recipe. Quick & easy to make in the Instant Pot or slow cooker!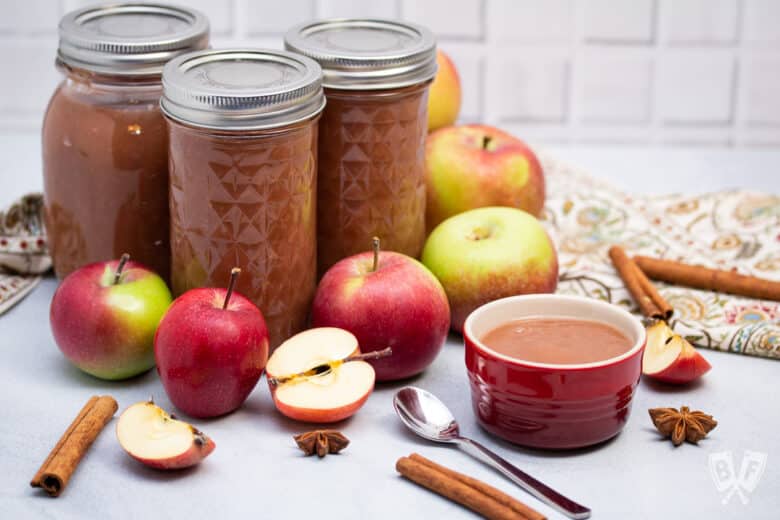 Apple picking season is upon us, and here in New York, there are so many great orchards to choose from.
One of the fun, albeit sometimes stressful, parts of apple picking is figuring out what to do with all.those.apples.
I have lots of go-to apple recipes here on Big Flavors, like this Classic Dutch Apple Pie, these Cheesy Bacon + Apple Croissants, this Bacon and Caramelized Onion Jam Naan Pizza with Gorgonzola and Apples, and Sherry B's Apple Crisp for Two.
But when it comes to one of our favorite ways to use fresh apples, it doesn't get much easier and more delicious than homemade applesauce.
And while you can absolutely make applesauce on the stovetop, I much prefer the speed and ease of making applesauce in either the Instant Pot or the slow cooker.
There's a great post on Bon Appétit all about common mistakes to avoid when making applesauce.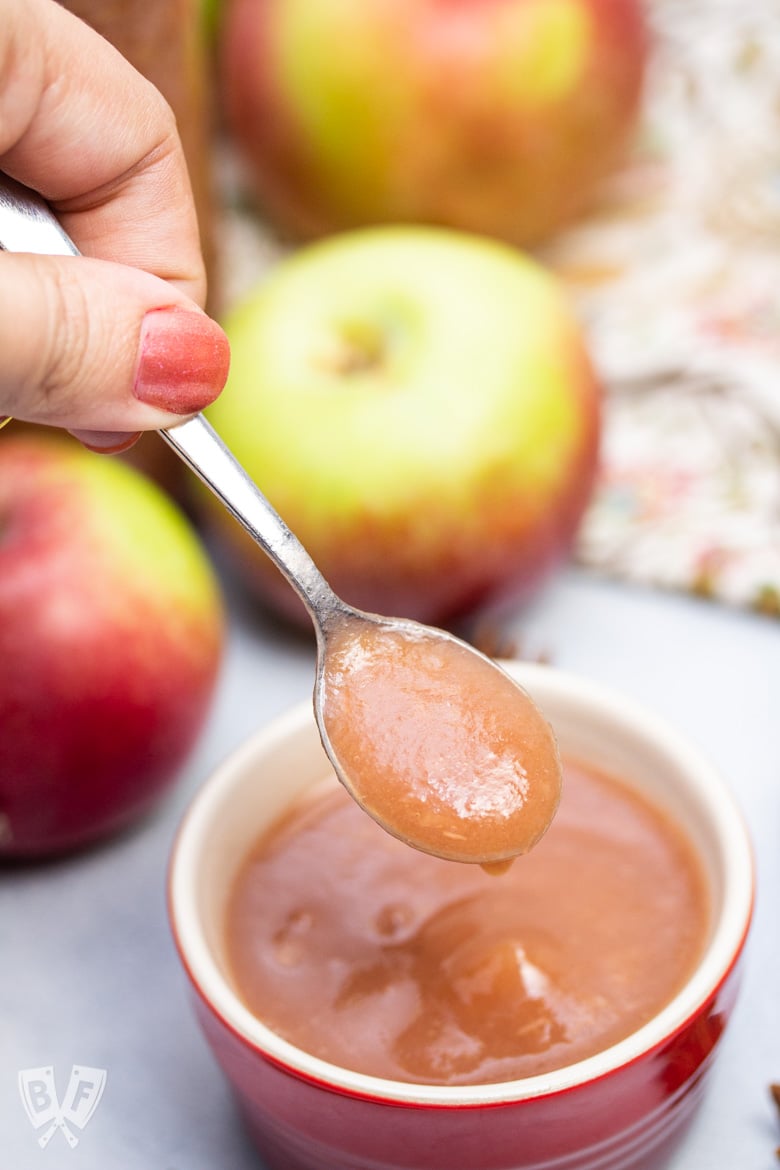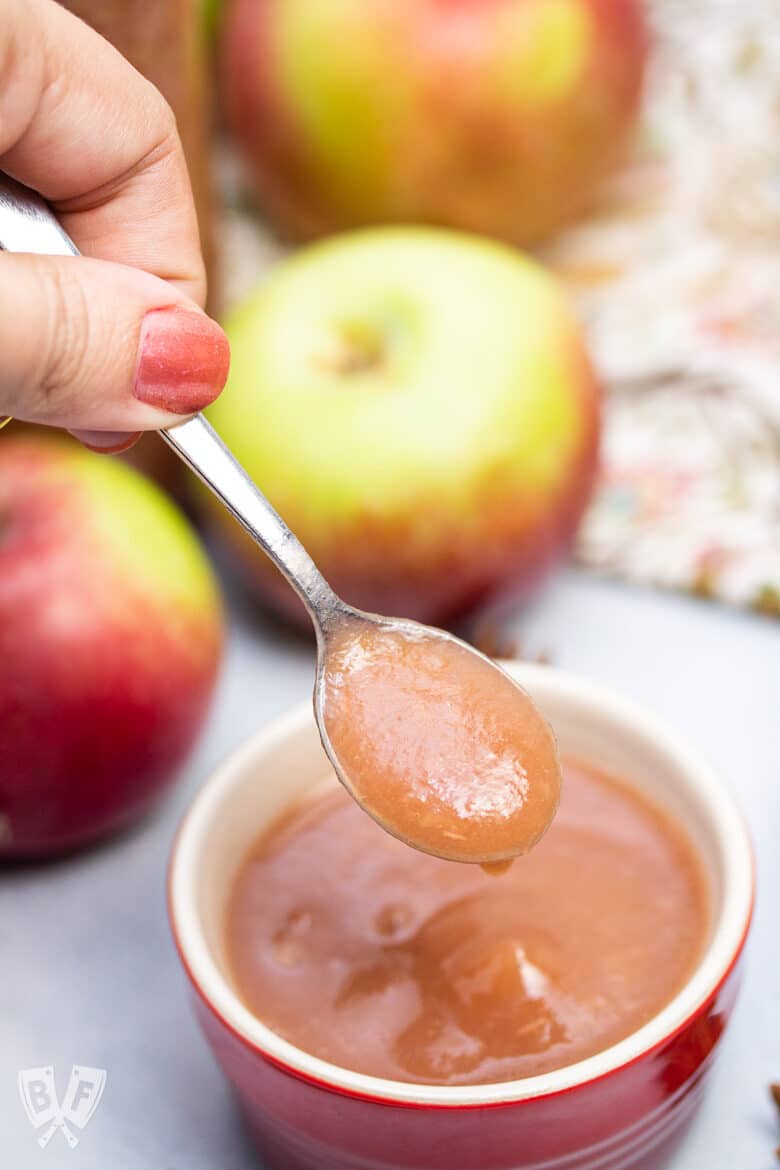 What apples are best to use for applesauce?
I prefer to use a mix of apples when making applesauce from scratch. It's the same thing I tend to do when I'm making apple pie. The final product has a much richer flavor.
Some apples are more tart than others. Since this applesauce recipe doesn't have any added sugar or sweetener, balancing the flavor by using both tart and sweet apples works really nicely.
So, for example, a mix of Granny Smith apples (tart) and Gala apples (sweet) would result in well-balanced, sweet applesauce with a fair amount of tartness.
The Food Editor over at Southern Living also agrees that a mix of apples is best for making your own applesauce.
If you want to use just one type of apple in your homemade applesauce, I'd recommend going with sweeter apples such as Fuji, Golden Delicious, Cortland, or Honeycrisp.
This article over on Food52 talks about the 11 best apples for applesauce. Whether you're looking for sweet, tangy, tart, or crisp, there's something on this list for everyone.
Do you need to peel apples for homemade applesauce?
Many recipes call for peeling apples, and you certainly can, but I don't bother. Everything gets softened from the cooking process and gets blended together at the end.
If you're working with red apples, the color from the apple skins will get blended into the final applesauce, giving it a lovely rosy color.
Another benefit of leaving the skins on your apples when making applesauce is the added fiber.
If you absolutely don't want the skins in your applesauce, you can peel them in advance of cooking the apples or run your finished applesauce through a food mill to remove the skins afterward.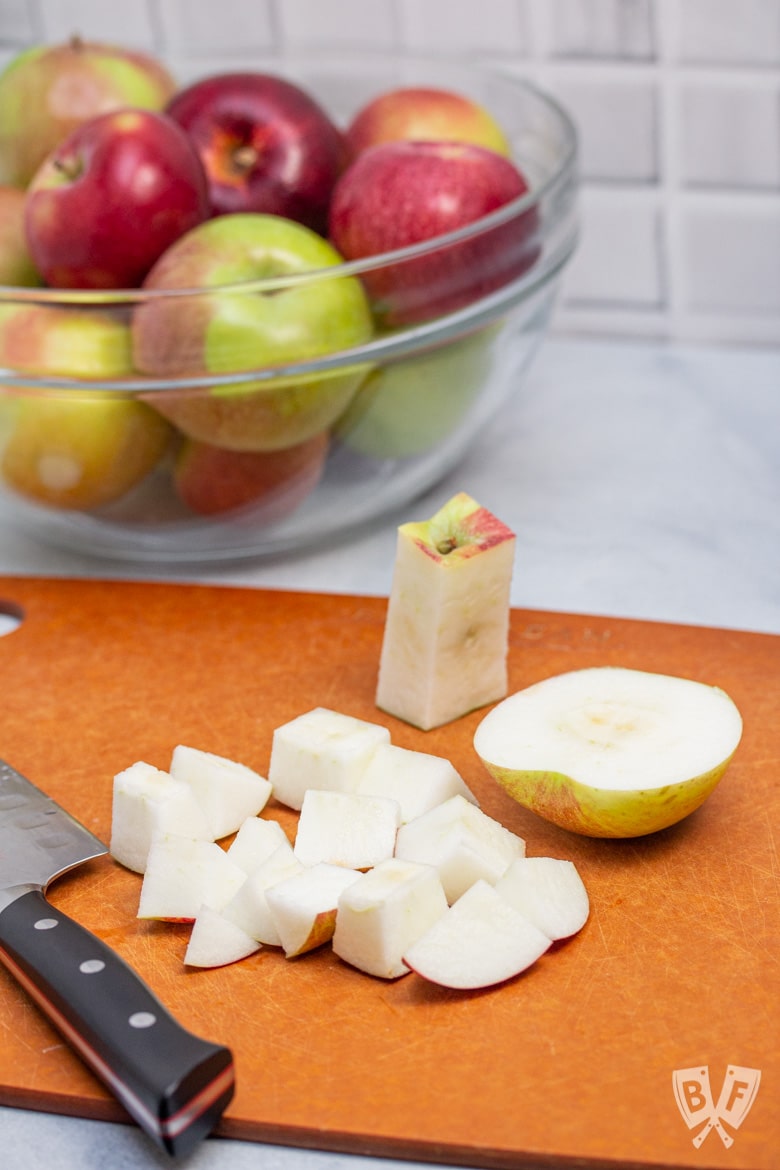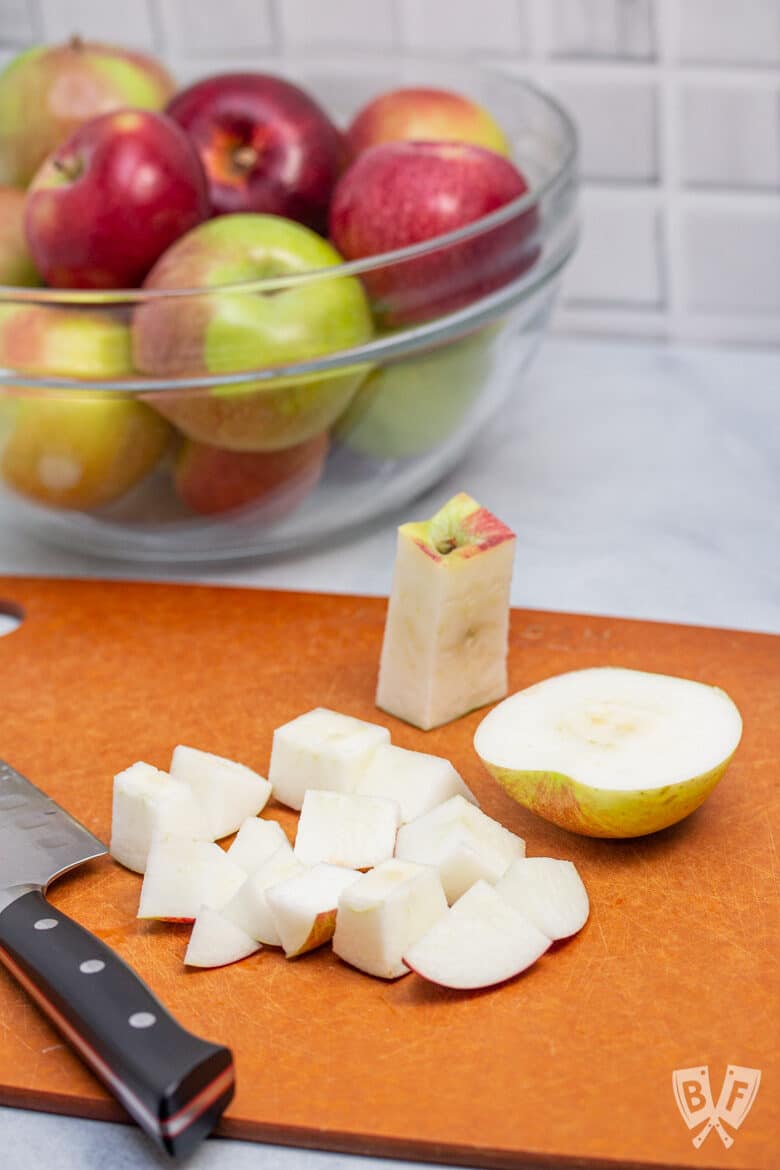 How to cut apples when making applesauce
As with most things in the kitchen, consistency of size is important. If you can make all of your pieces of apple roughly the same size, they'll cook at the same rate.
For pressure cooking with the Instant Pot, I find that big chunks work just fine. I usually end cutting my apples into roughly a 2-inch dice.
When cooking with the slow cooker the heat doesn't get as intense, so I prefer to thinly slice the apples to ensure that they cook fully.
Our favorite way to thinly slice apples is with an apple machine that we bought many years ago when we first went apple picking. I thought it looked kind of ridiculous, but my husband said it was going to make life way easier when dealing with an entire bushel of apples.
Boy was he right - you can peel, slice, and/or core apples very easily by cranking the handle of the machine. The slices are perfectly even, and it makes quick work of a potentially daunting task.
And my son loves using it, too! I'm a fan of anything that encourages kids to help out in the kitchen. I came across a photo of him using it (back in 2015!) over on Instagram so you can see the apple machine in action:
Removing the core of an apple is easy, and there are a lot of ways you can go about it. Many people use an apple corer tool. An apple slicer is another way to core an apple, and it also slices it at the same time.
I tend to just use a chef's knife to cut around each side of the apple, leaving a rectangular piece of apple core on my cutting board. I then cut the pieces of apple into chunks or slices, depending on which method I plan to use to make my applesauce.
Instant Pot applesauce comes together so quickly that it's my go-to method.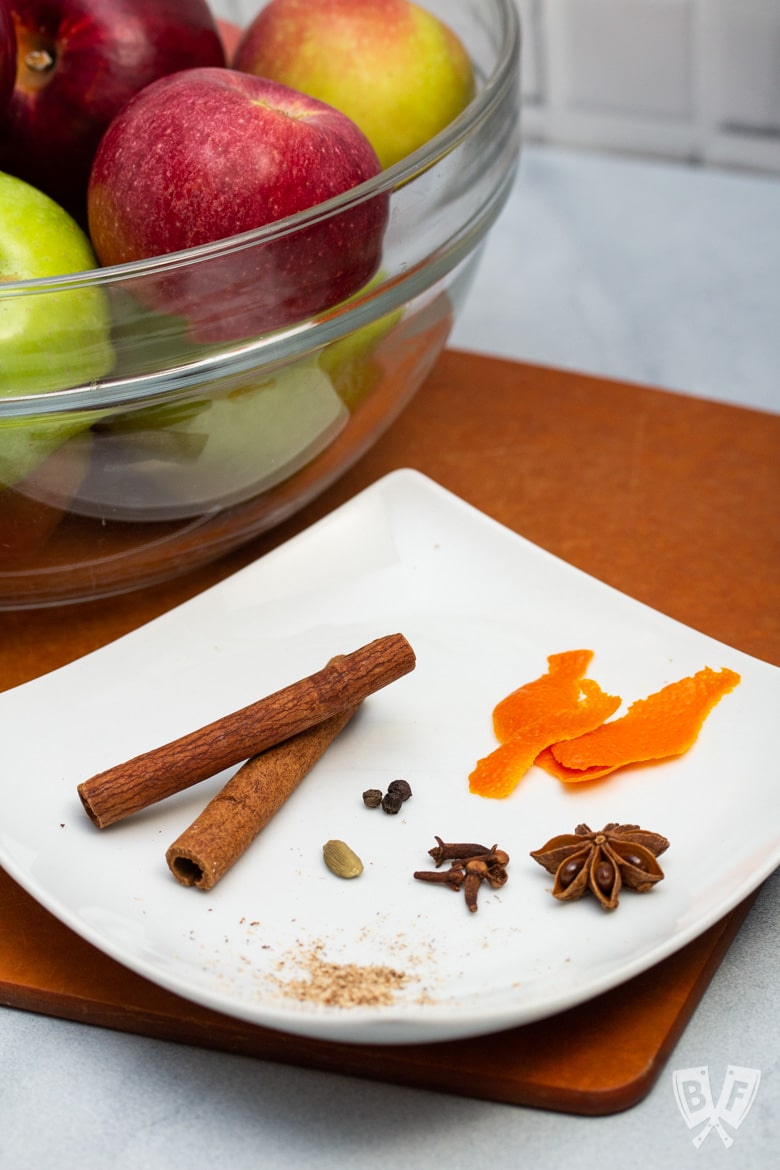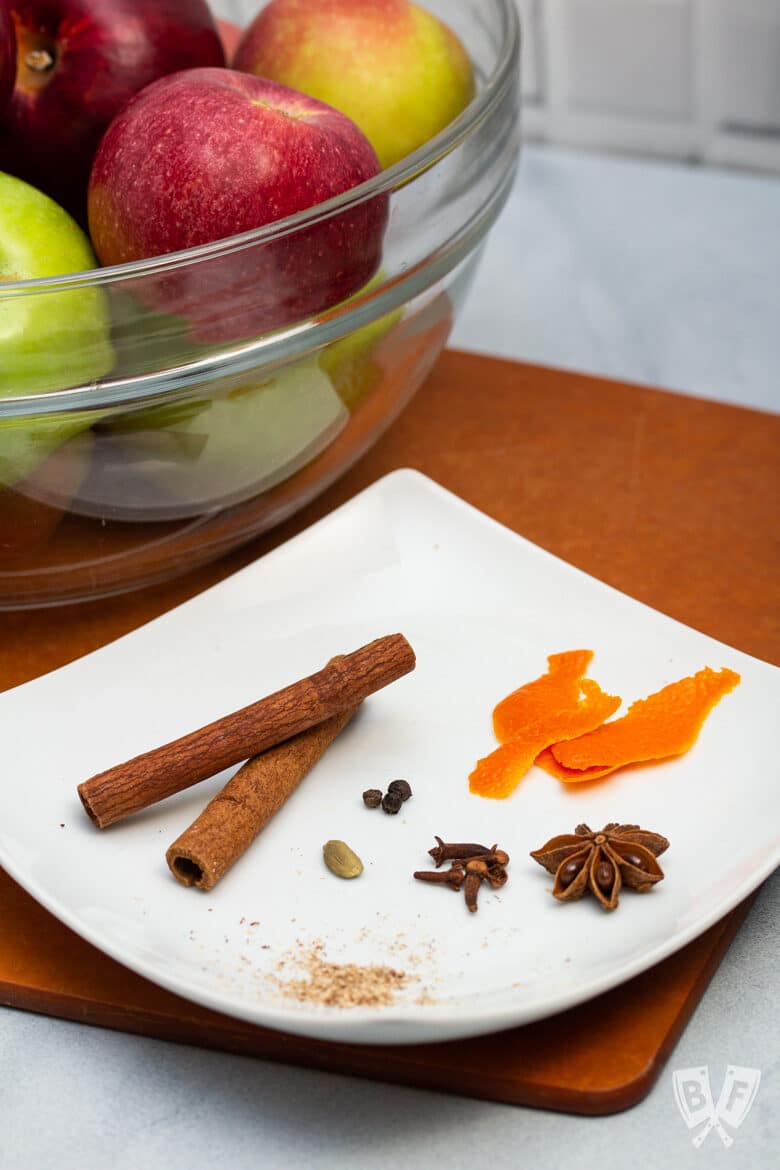 Why you should use a sachet
A sachet is really just a fancy way of saying a bundle of ingredients. The reason it can be helpful to put these ingredients together in a sachet is that it can be easily removed later on.
So, for instance, with this recipe, there are some small (but potent!) spices that need to cook in with the apples. They need to be removed before blending everything together.
I tend to use a sachet for small herbs, spices, and aromatics that may be tricky to find and "fish out" later on.
In this applesauce recipe, I leave the cinnamon sticks with the apples since they're easy to spot and remove after cooking. If I was using a large enough sachet, I'd put the cinnamon sticks in there, too.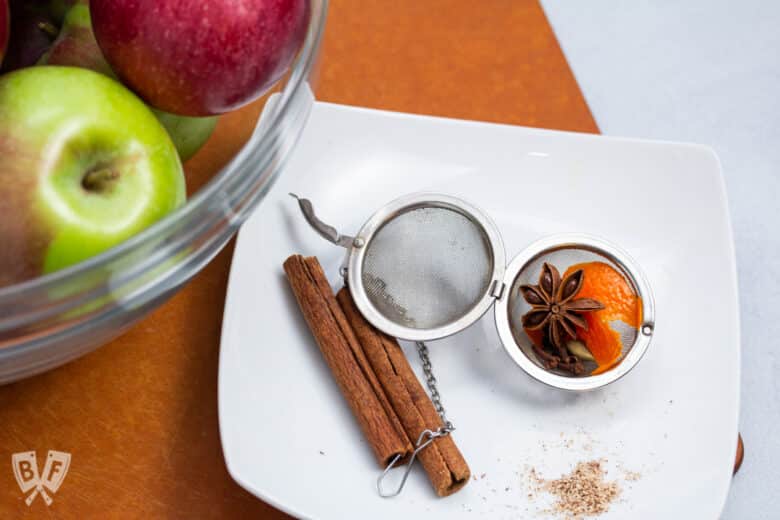 I place the other whole mulling spices (in this case that's the whole cloves, black peppercorns, star anise, green cardamom pod, and orange zest.
I like using a metal tea ball for making herb and spice sachets. The fact that it's reusable is a huge plus for me. I'm always looking for ways to reduce kitchen waste.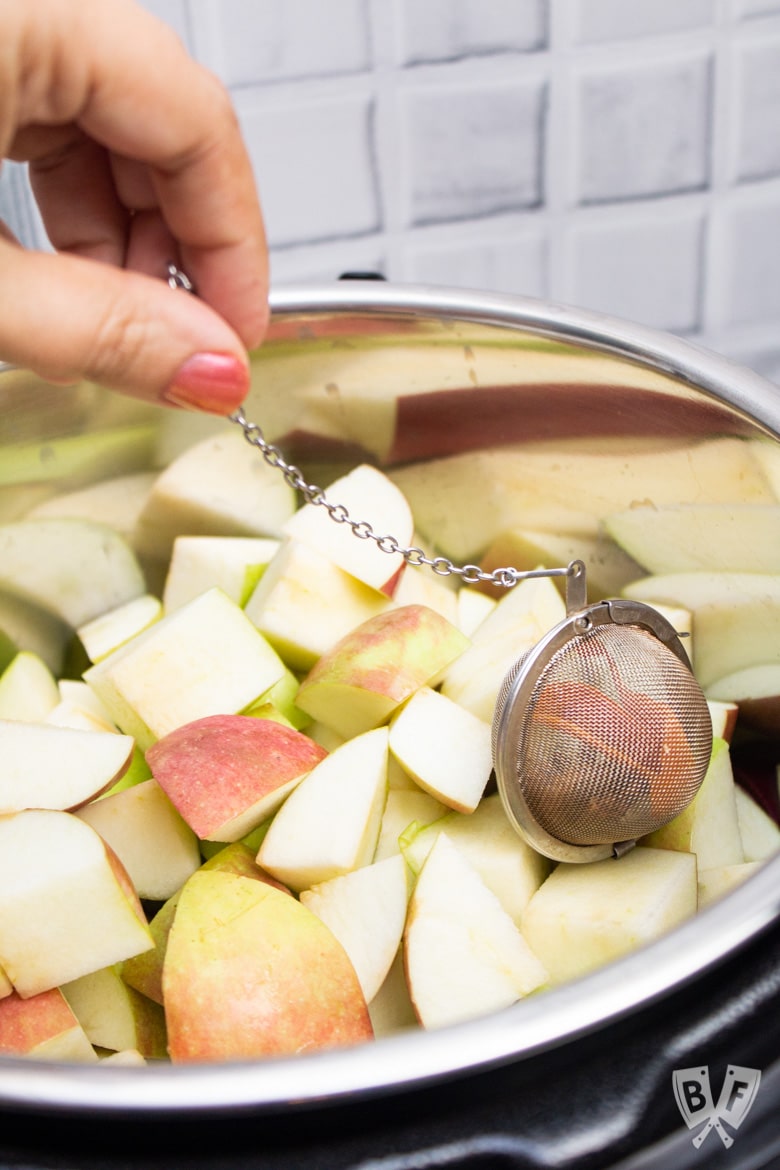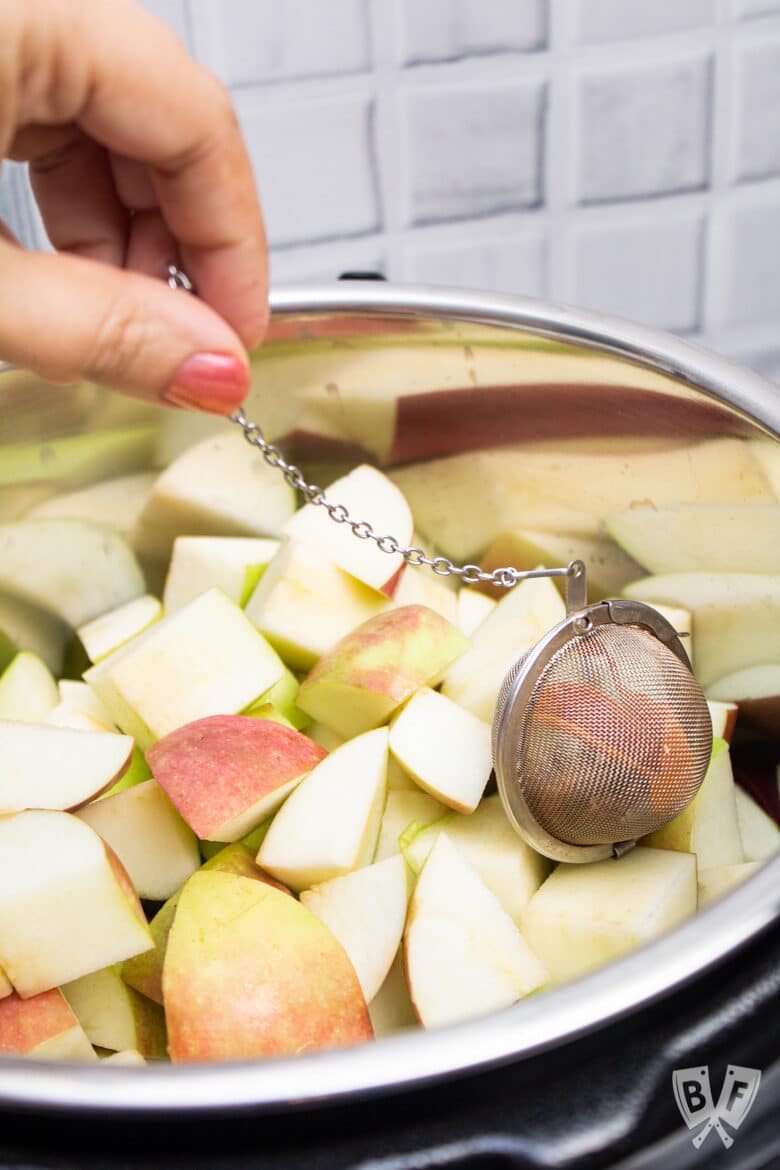 I like this particular tea ball because it doesn't take up a lot of room. It opens easily and has a fine mesh.
And when I'm using it for making tea, the little hook/chain makes it super easy to retrieve.
You can also use cheesecloth and kitchen twine to make your own sachet. There's a great tutorial for how to make a sachet over on Culinary Hill.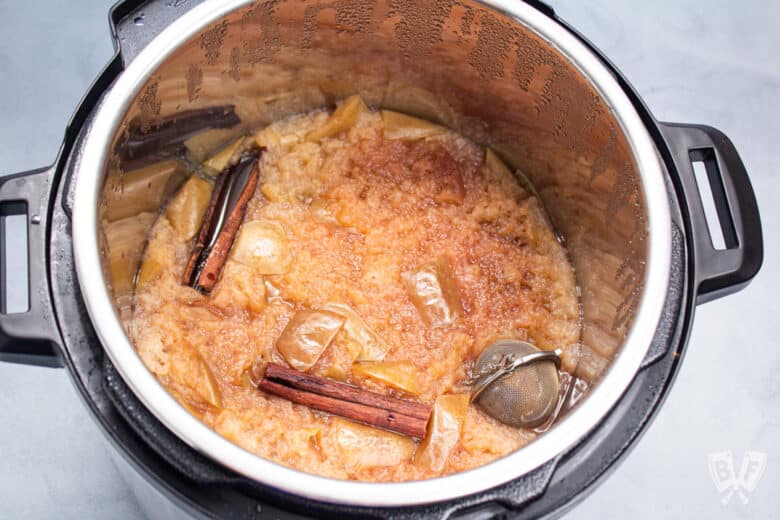 If you're not up for making your own, there are also reusable drawstring cotton bags available. They can be used for herb sachets, tea, and more.
Once your apples are done cooking, simply remove your sachet and blend to your desired texture.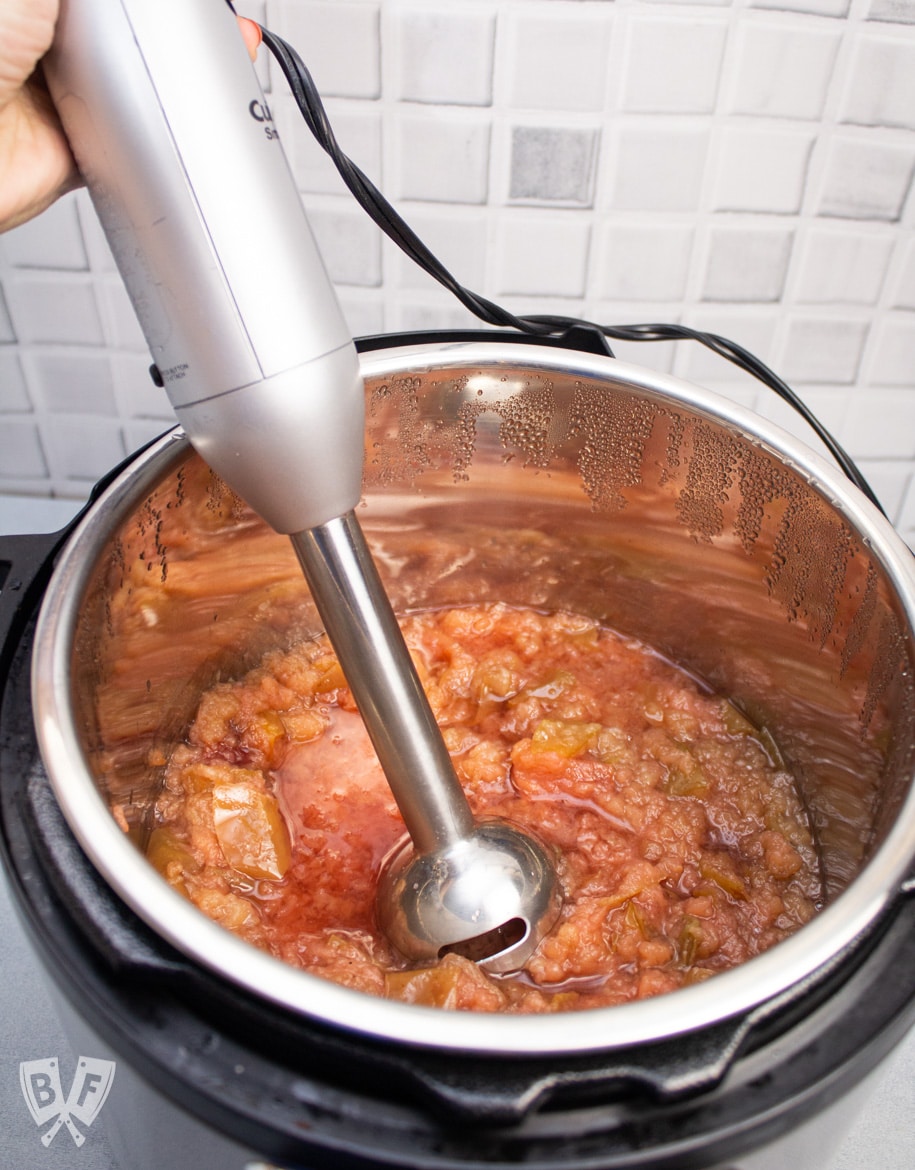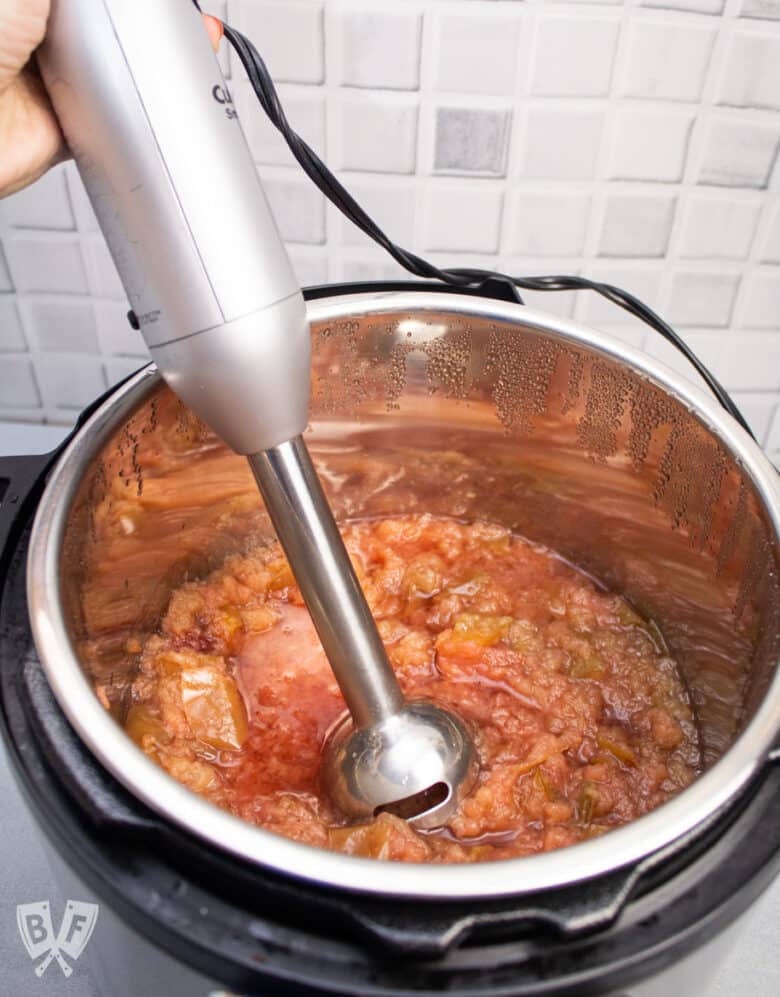 How to adjust the texture of your applesauce
My favorite method for making homemade applesauce is to throw everything into my Instant Pot. I'll then use my immersion blender to purée it all together right in the insert.
You can also use a regular blender or food processor to purée everything together.
And if you'd rather go the manual route, you can simply whisk everything together with a balloon whisk. Or mash it up with a potato masher, or even a fork.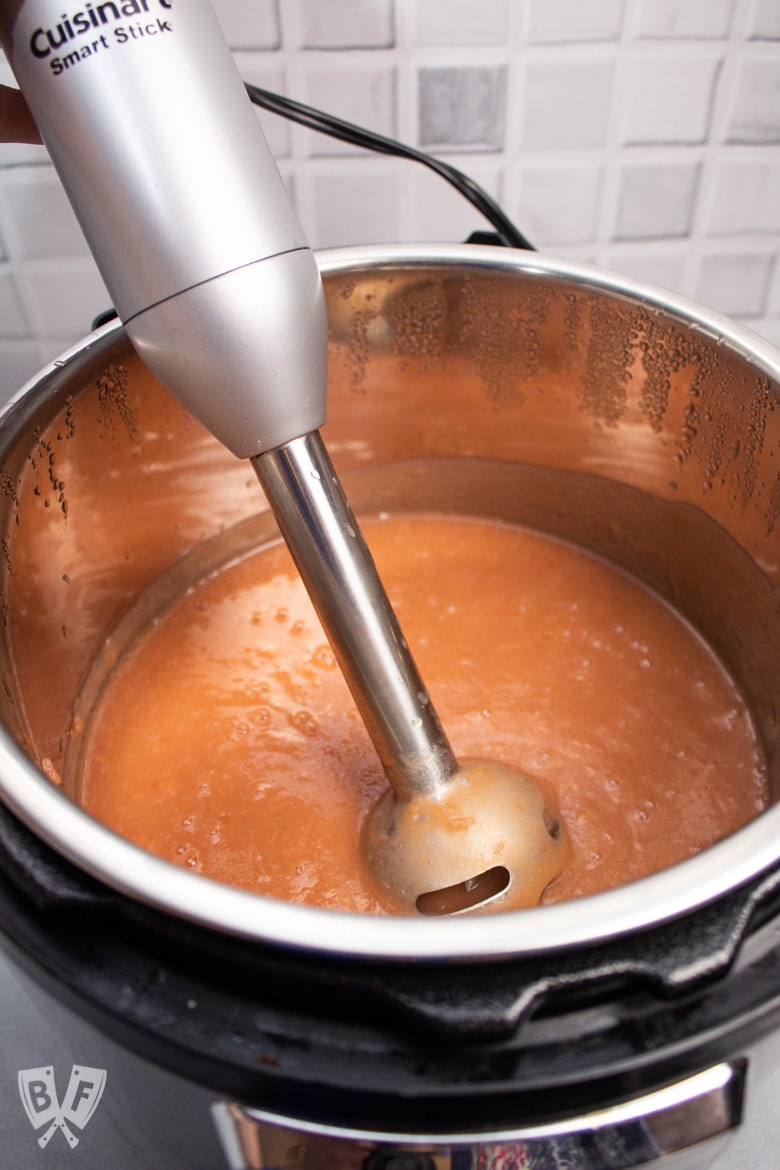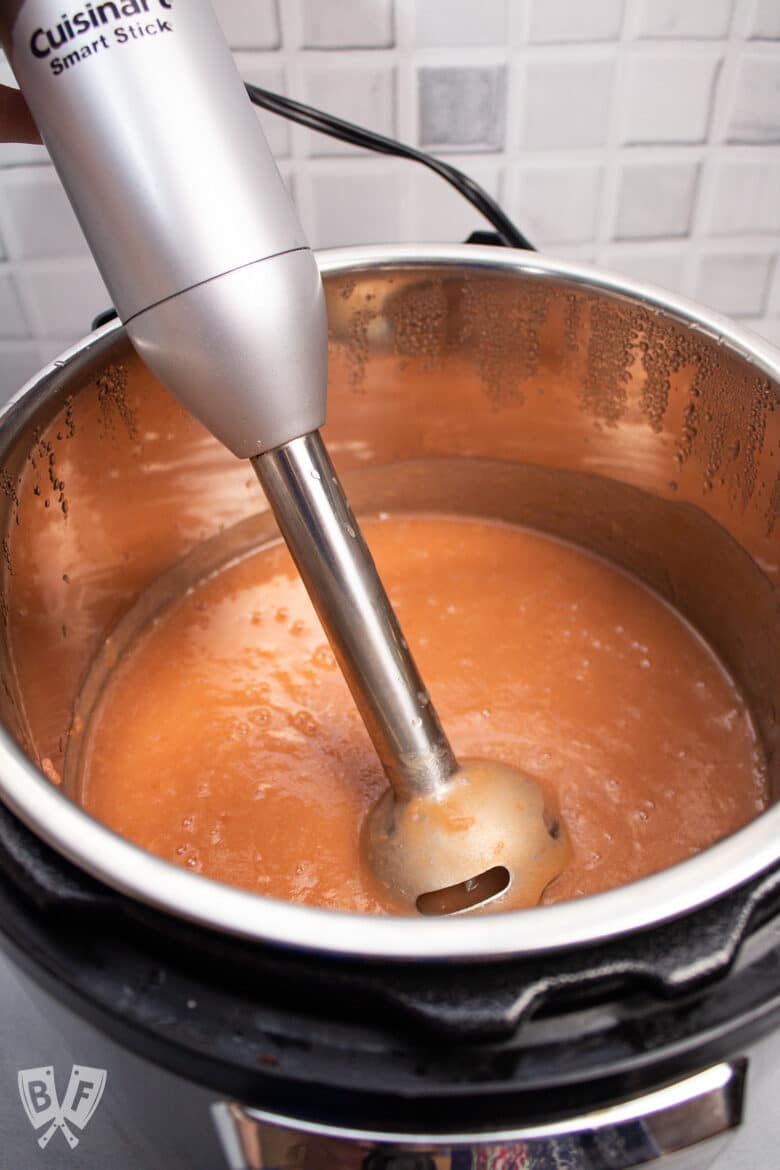 When it comes to the texture of your final applesauce, remember that you can always purée it more. You can't un-purée it if you've blended it too much.
There are some tricks for thickening it up if you've gone too far but I prefer slowly puréeing instead.
I like to start slow and pulse the immersion blender instead of running it constantly. This allows me to achieve a chunkier texture when desired. The longer you purée, the smoother your Instant Pot applesauce will be.
You can also split the applesauce into two containers. Purée some of it until it's really smooth and then mash up the remainder to a chunkier texture. Those two can even be mixed together!
Or divide it and have both types from your single batch of applesauce. This recipe makes enough for several servings of both!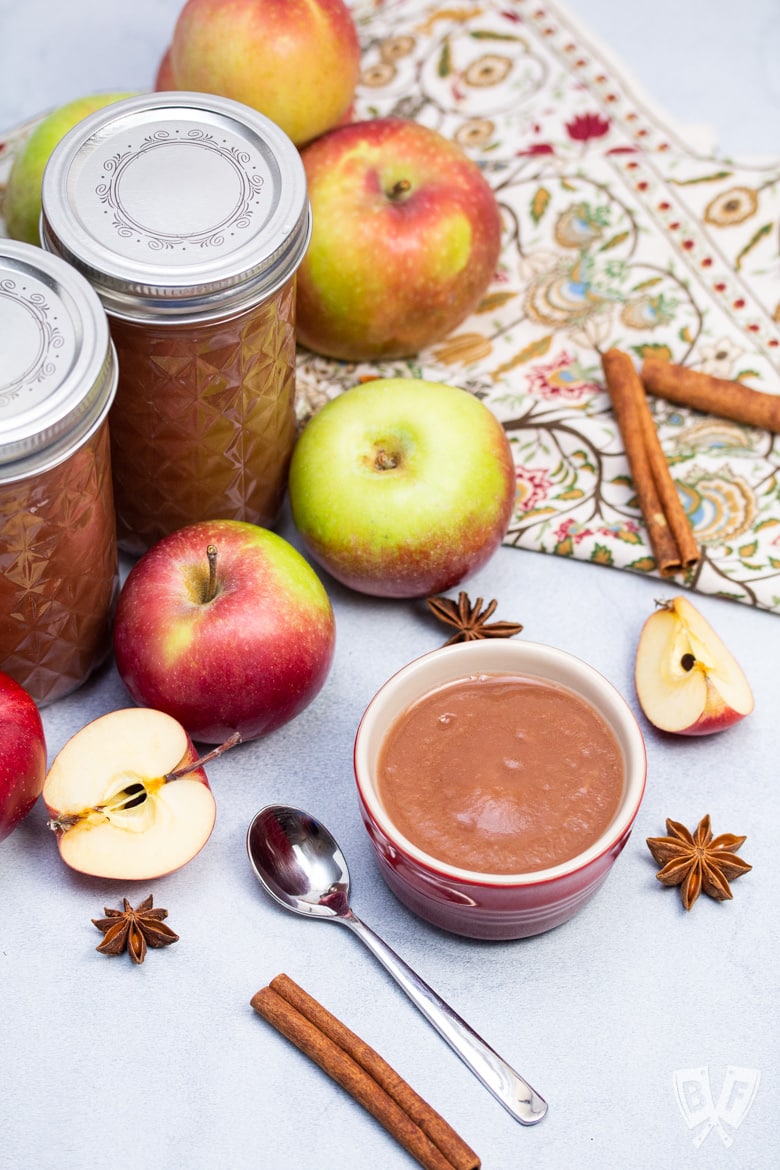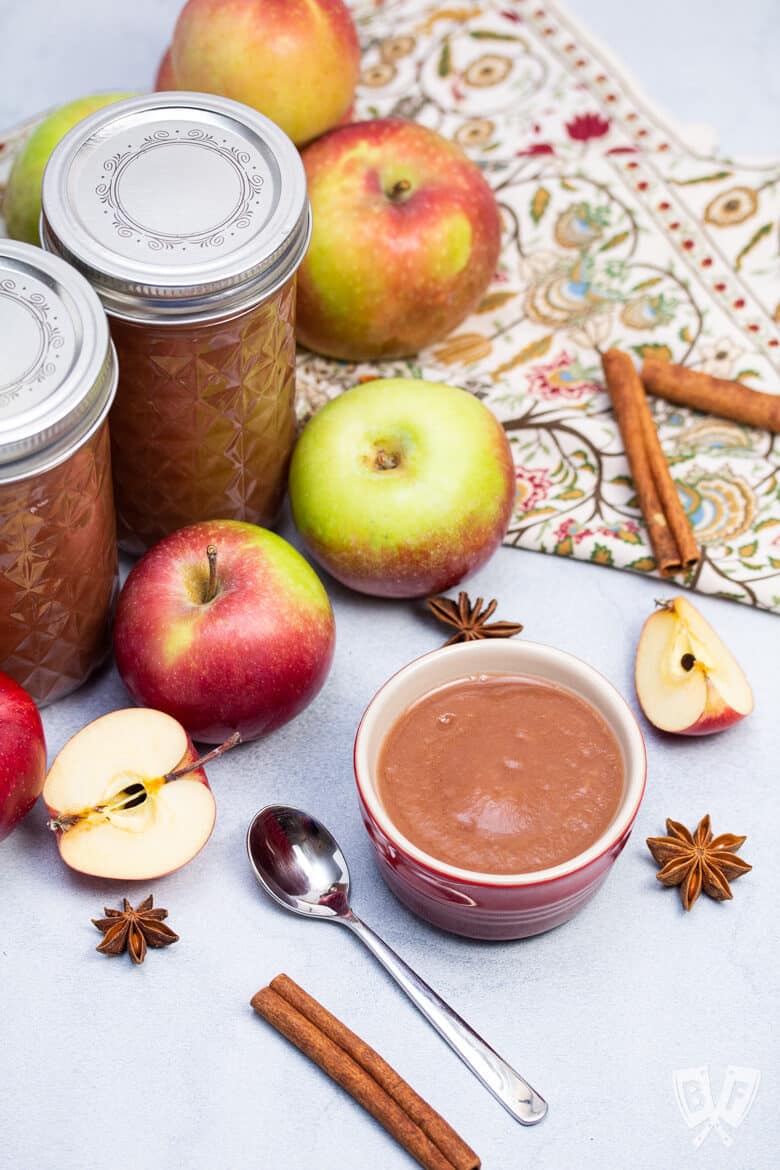 Doing some online shopping? Check out my Amazon Shop page for recommendations!
Recipe for Easy Mulled Cider Applesauce (Instant Pot or Slow Cooker)
If you try out this recipe, please come back and give it a star rating and comment below. It helps other people find my recipes, and I'd love to know what you think of it!
Print
📖 Recipe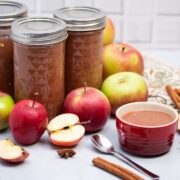 Easy Mulled Cider Applesauce (Instant Pot or Slow Cooker)
Author:

Prep Time:

10 minutes

Cook Time:

12 minutes (plus time to come to pressure) for Instant Pot, 4 hours for slow cooker

Total Time:

30 minutes for Instant Pot, 4 hours 30 minutes for slow cooker

Yield:

16

Servings

1

x

Category:

Side Dish

Method:

Instant Pot

Cuisine:

American
---
Description
Infuse the flavors of fall into this no sugar added homemade applesauce recipe. Quick & easy to make in the Instant Pot or slow cooker!
---
---
Instructions
For Instant Pot: core and cut apples into 2-inch chunks. For slow cooker: core and thinly slice apples.
Add apples and water to the insert of your Instant Pot or slow cooker. Add cinnamon sticks and sprinkle nutmeg on top. Add whole cloves, black peppercorns, star anise, cardamom pod, and orange zest to a sachet (see notes in post above) for easy retrieval.
For Instant Pot: cook on high pressure for 12 minutes, then do a quick release. For slow cooker: cook on high until apples are soft, about 4 to 5 hours.
Once apples are cooked, remove cinnamon sticks and sachet from your Instant Pot or slow cooker insert. Purée apples to your desired consistency. You can do this with a blender, immersion blender, or food processor for smooth applesauce, or use a potato masher or whisk vigorously if you prefer chunky-style applesauce.
Store applesauce in an airtight container in the refrigerator. Can also be frozen.
---
Equipment
---
Nutrition
Serving Size:
Calories:

63

Sugar:

11.6 g

Sodium:

3.1 mg

Fat:

0.3 g

Saturated Fat:

0.1 g

Carbohydrates:

16.7 g

Fiber:

3.3 g

Protein:

0.4 g

Cholesterol:

0 mg
Keywords: fall recipe, mulling spices, no sugar added applesauce
Recipe Card powered by