Waffle Pulled Pork Eggs Benedict
This post may contain affiliate links. Thank you for supporting the brands that keep me creative in my tiny kitchen!
This shop has been compensated by Collective Bias, Inc. and its advertiser. All opinions are mine alone. #LeggoMyEggo #HearTheNews #CollectiveBias – Thank you for supporting the brands that keep me creative in my tiny kitchen!
Thick, fluffy waffles are the perfect base for this sweet-and-salty BBQ pulled pork eggs Benedict topped with blender hollandaise sauce.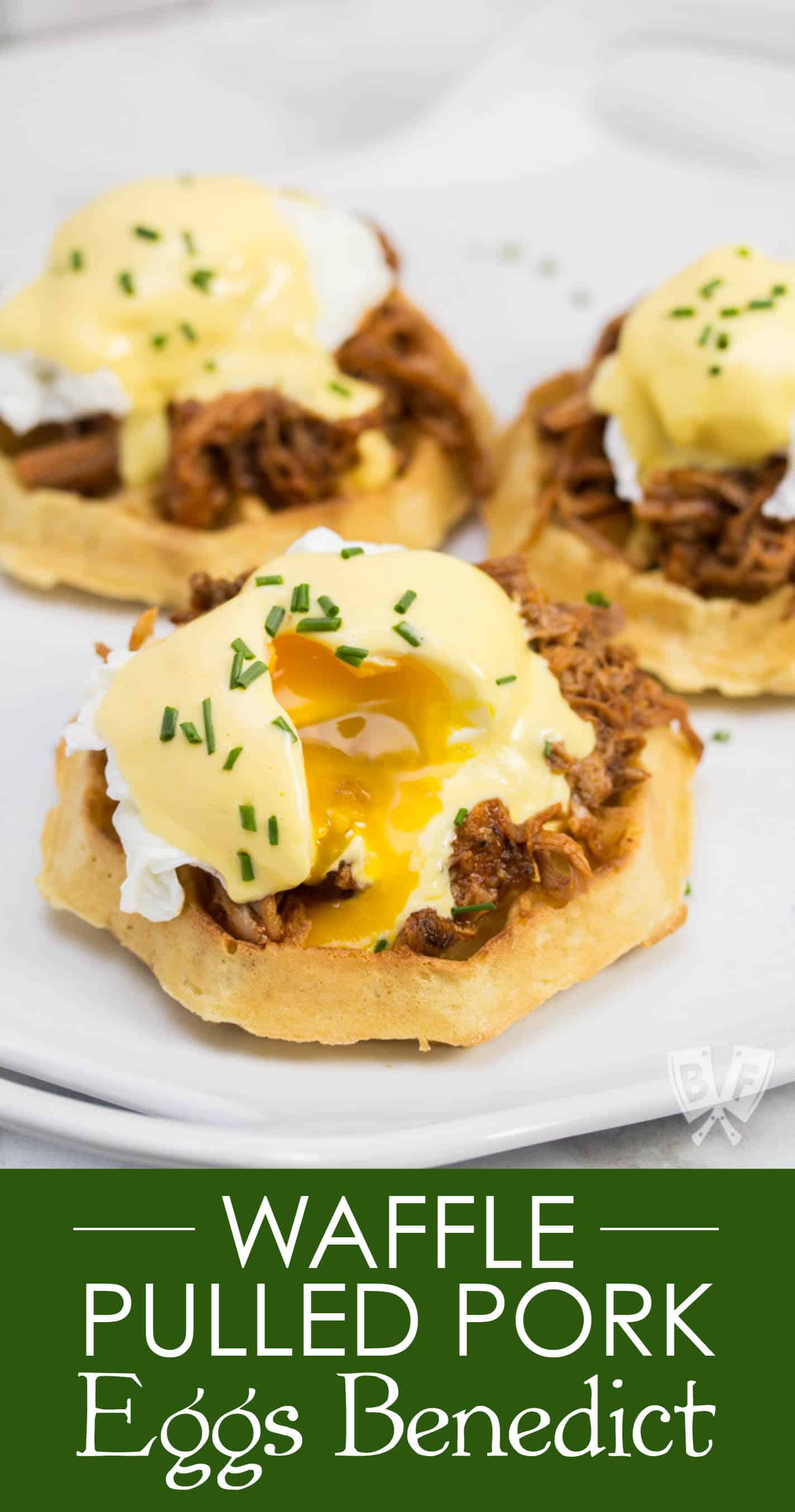 I am always game for breakfast food. Morning, noon, or night – any time of day is fair game in my house!
My family especially likes having more elaborate breakfast and brunch dishes on weekends when we have a little more time to spend prepping them. And waffles are one of our favorite items to dress up.
We always keep waffles on hand in our freezer – a mix of homemade and store-bought. We love 'em all!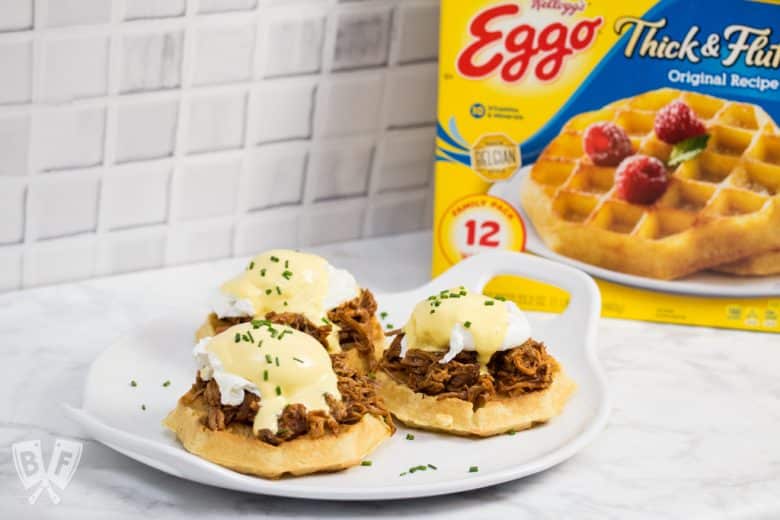 I'm always thrilled to learn that the brands that I grew up with are changing with the times to use better, more wholesome, natural ingredients. It really makes a difference when I'm out shopping for my family.
When I found out that Eggo Waffles now have colors and flavors from natural sources, I just had to get in on that action! I grew up with Eggo Homestyle Waffles, and I was excited to learn that they revamped the entire line of Eggo Waffles that are available at Walmart.
So I headed out to the store with brunch on my mind, and walked straight to the frozen food section to peruse my options over in the waffle aisle.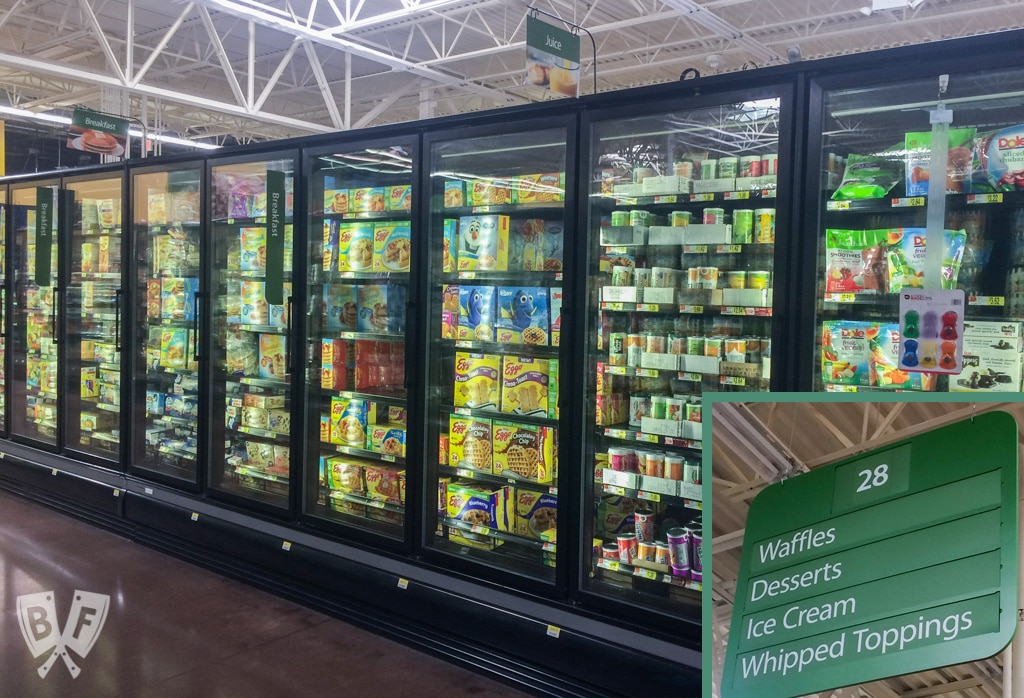 I had my mind set on upgrading one of our favorite brunch dishes, Eggs Benedict, by swapping out the English muffins for Eggo Thick & Fluffy Original Waffles and piling them high with homemade pulled pork.
Just the thought of runny egg yolks mixing with the hollandaise and BBQ sauces and collecting down in the deep pockets of the waffles had me drooooooling in the store.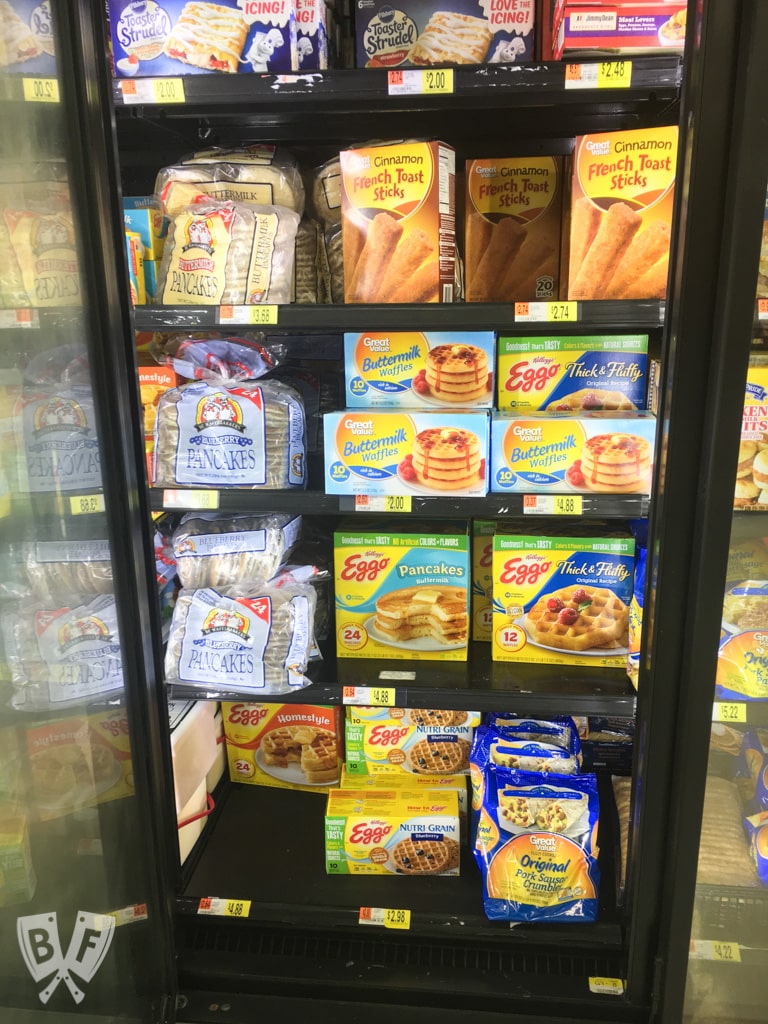 So now, onto the pulled pork. A homemade spice rub adds so much flavor to this meat. I've included instructions for making this in an Instant Pot or a slow cooker – whichever one is easier or more convenient for you. I'm in love with my Instant Pot, so I opted for that method. Plus, it's quicker!
I wasn't able to find a single piece of bone-in pork shoulder that was large enough, so I ended up buying 4 smaller boneless ones instead. I actually made a double batch so I'd have leftover pulled pork, and only added barbecue sauce to the half that I was using for this recipe.
Because leftover pulled pork is always a good thing to have on hand.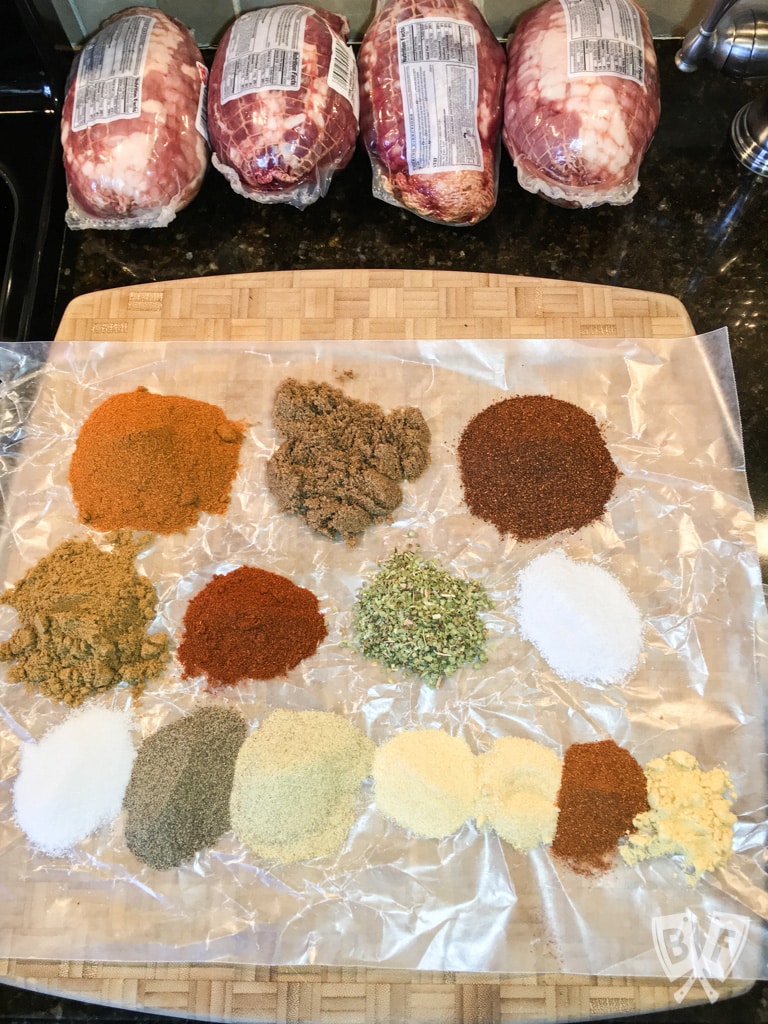 The spice rub packs a ton of flavor. I didn't put a ton of brown sugar in it because my favorite barbecue sauce is fairly sweet, but feel free to add a little more brown sugar to yours if you like it on the sweeter side.
One of the best parts of this recipe is that if you have leftover pork, you can have this meal again for leftovers later in the week and you don't need to spend much time cooking – just pop the waffles in the toaster, cook up a few eggs while you reheat the pork, and you're good to go!
I actually had my husband poach the eggs for me while I was setting the table. The pork and hollandaise sauce were both on standby, and the waffles were in the toaster.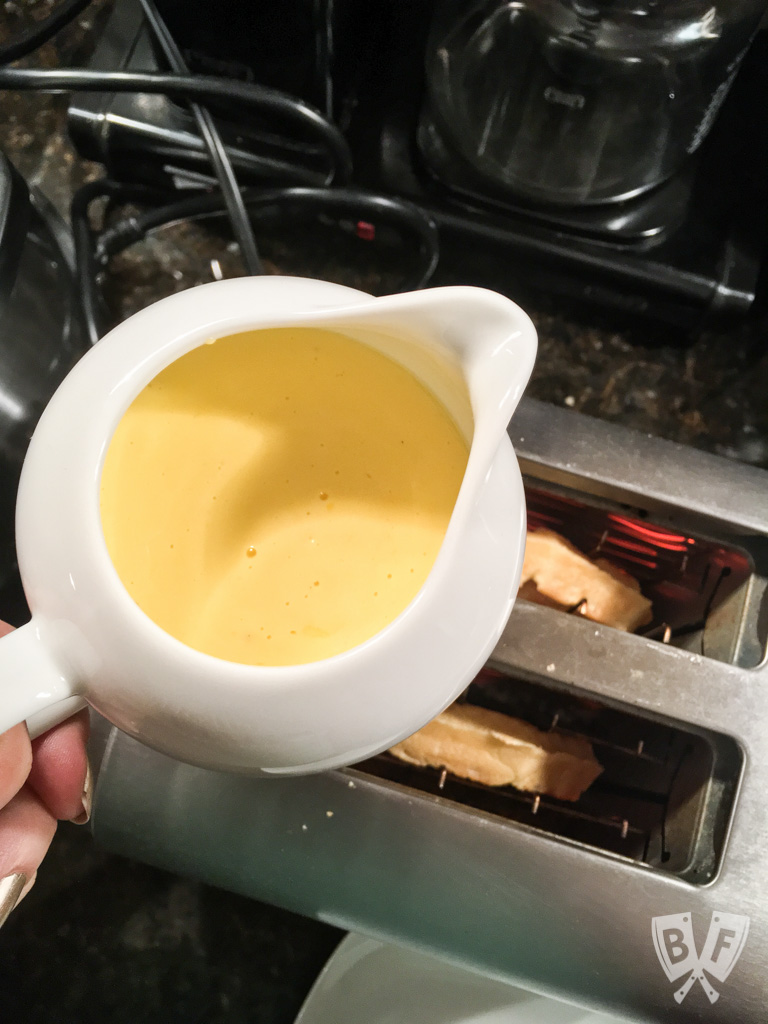 I tried out making the hollandaise sauce in my blender and it worked out beautifully! Make sure you drizzle the melted butter in slowly, and if you have a high-speed blender, you may need to keep it around medium speed vs. a higher speed with a standard blender to keep the sauce from breaking.
One other thing that I got a kick out of while making this recipe – I decided to hold my little pitcher of hollandaise sauce over the toaster while the waffles were cooking to keep it nice and warm right at the end. It was Multitasking at its best!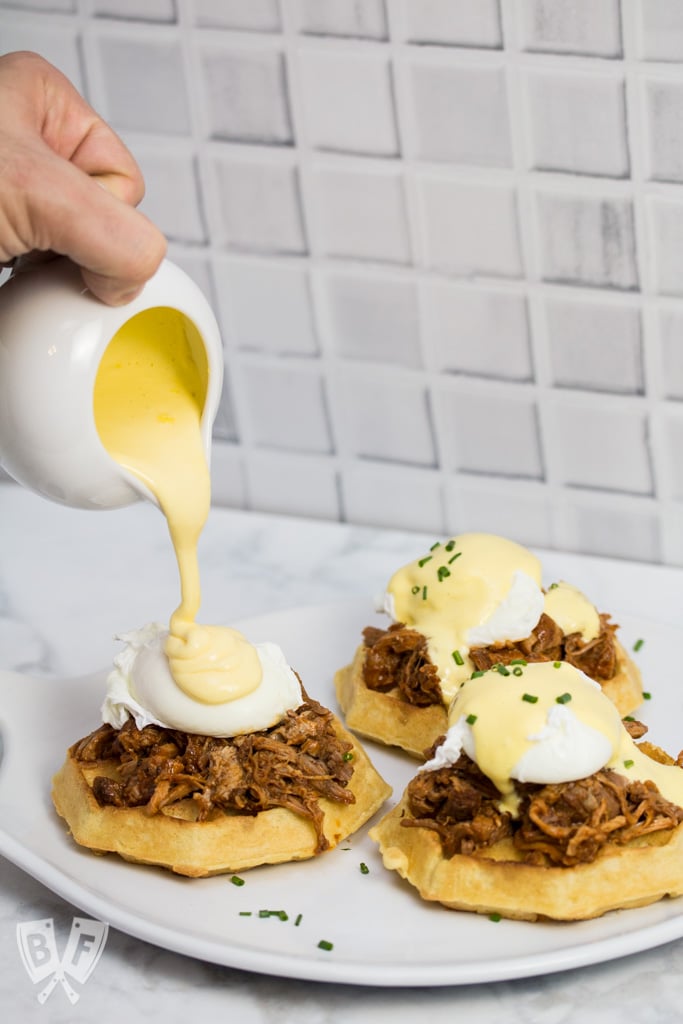 Some fresh snipped chives from my garden were the perfect finish for this dish. It seriously wowed my family at dinner last week. And since I doubled the recipe, we had plenty for leftovers.
We were all really impressed with the flavor of these waffles, too. They were sooo buttery and delicious – better than many homemade waffles we've tried. And super simple to prepare – just pop 'em in the toaster!
This pulled pork is great on Eggo Homestyle waffles, too, and since they're smaller, it's ever so slightly less filling. So you can totally have seconds!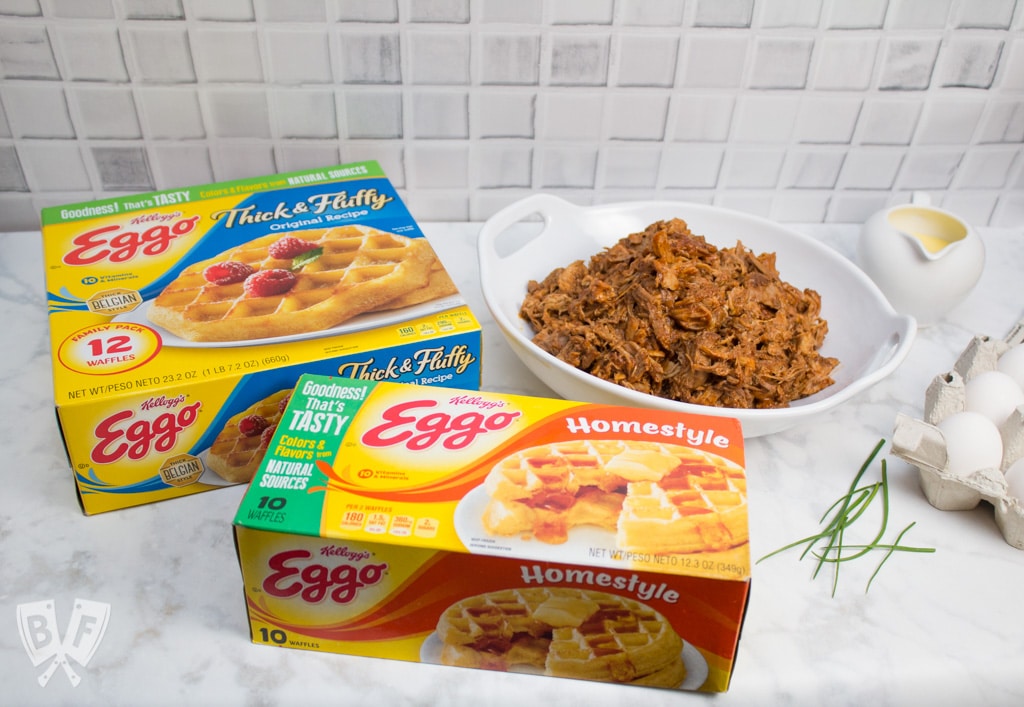 Print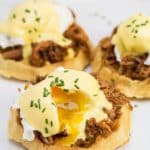 Waffle Pulled Pork Eggs Benedict
---
---
---
---
Recipe Card powered by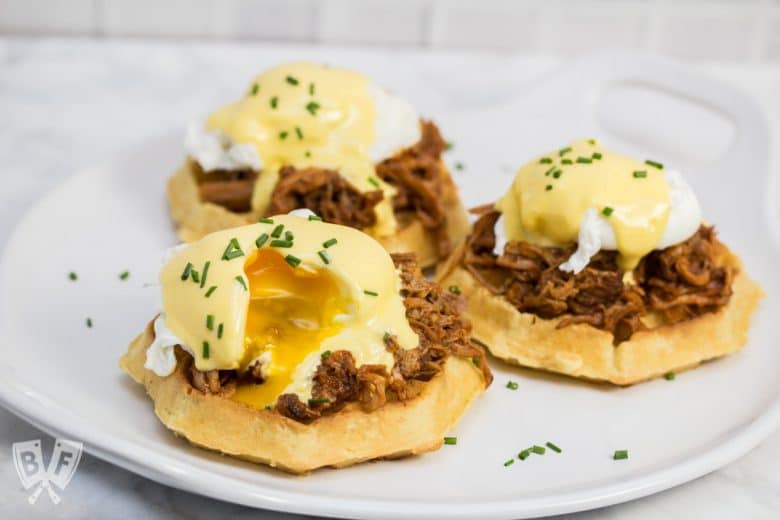 Earn $0.50 when you purchase any ONE Eggo Thick & Fluffy Waffles variety, 6 ct. pack only at Walmart. Available while supplies last.
You can also follow Eggo on Facebook, Pinterest and Twitter.