This post may contain affiliate links, which won't change your price but will share some commission.
Whether you're looking for some indulgent baked goods, homemade ice cream, a custom cake for a private event or an incredible cup of Japanese cold brew, sherry b dessert studio in Chappaqua, New York has you covered.
I spent some time with Chef and owner Sherry Blockinger to learn a bit more about how she got into baking, took a tour of her gorgeous studio space and got her to share some baking tips and tricks that will come in handy with the upcoming holiday season.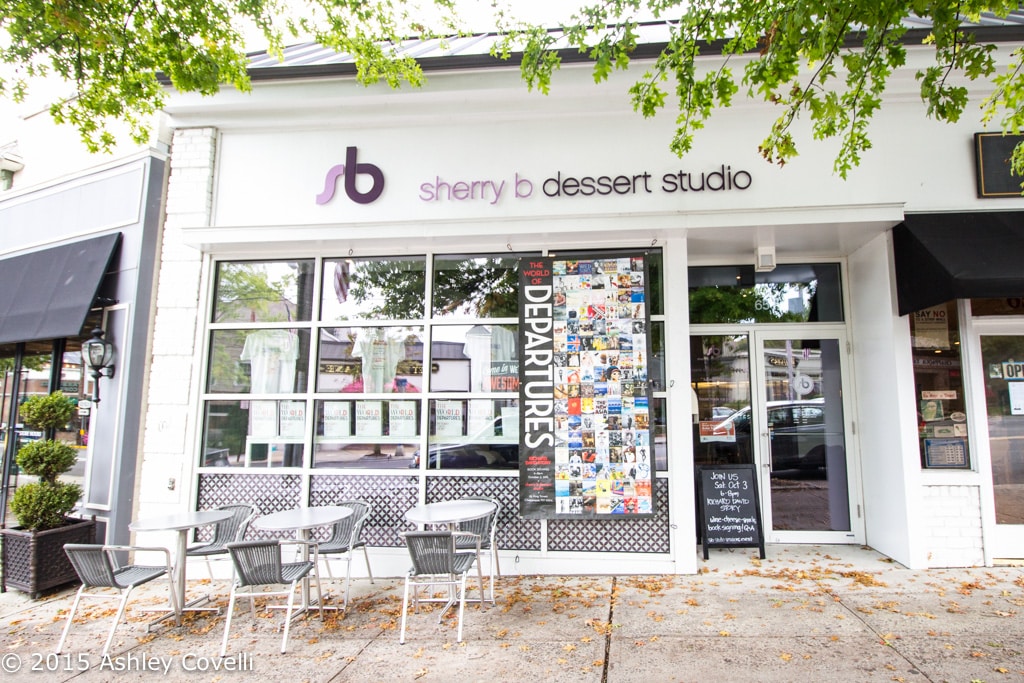 The studio opened its doors in 2012 and has been raising the bar on dessert ever since.
It's easy to get overwhelmed with choices when you first walk in - there are cupcakes, cookies, ice creams, whoopie pies and more. Not to mention an incredible coffee bar, which crafts beverages with Counter Culture Coffee beans.
Everything in the studio is made from scratch from marshmallows and graham crackers down to the flavorings for their sodas.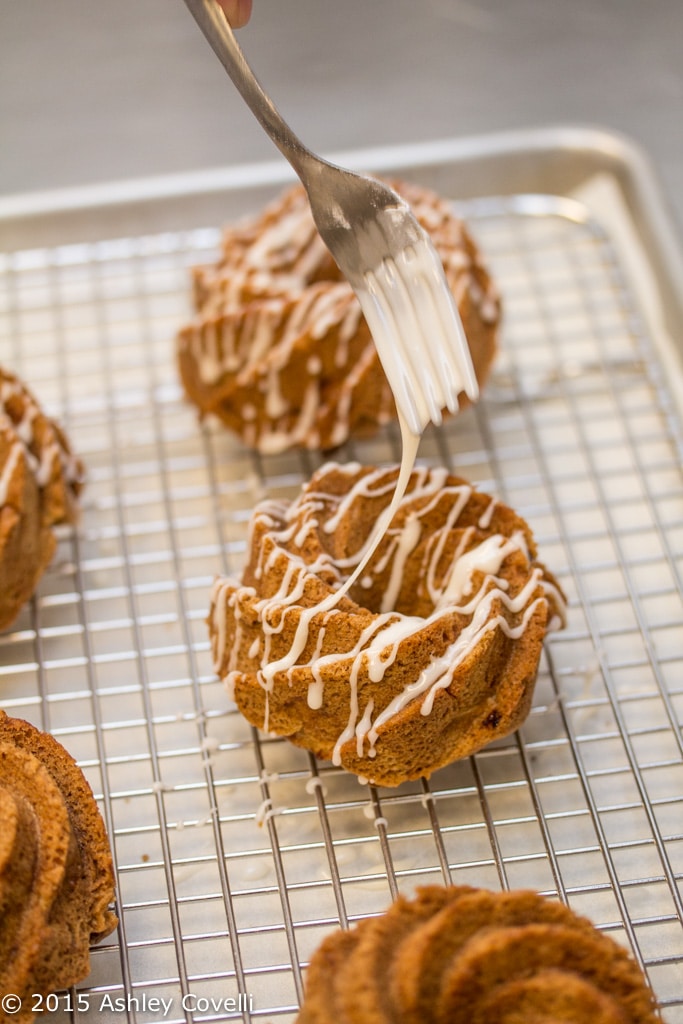 The studio uses the freshest ingredients, and they really take pride in the way the shop is set up. There are also private and public events hosted in the space, as well as cooking classes. It feels clean and modern, and has a very relaxed-yet-upscale vibe. There's a bit of whimsy, too - if you look up while you're inside, you'll see rows and rows of cupcake tins lining the ceiling.
One of the things I found incredibly fun was their line of stuffed brownies. The "blondie ate a brownie" is one of the studio's most popular items, and you can't help but giggle at the name.
I guess if I ate one, it would be "brunette ate a blondie ate a brownie", right?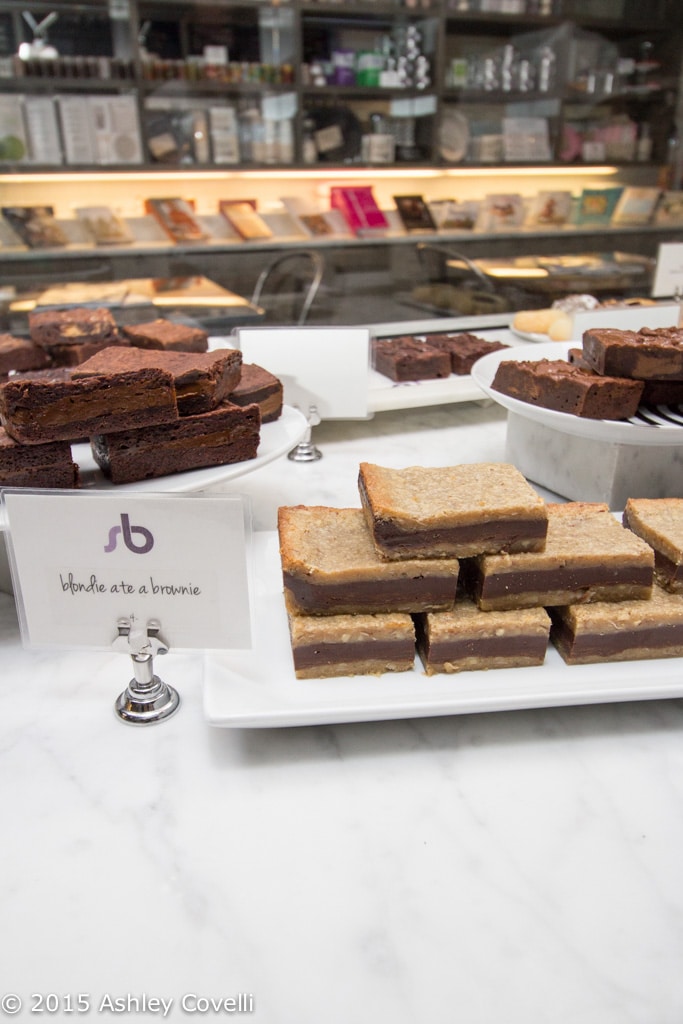 I was excited to try their take on a pumpkin spice latte, since it's made with real ingredients - no unpronounceable chemicals here! It was crazy delicious, and tasted nothing like what is sold at many chain coffee shops. It was the perfect way to welcome autumn.
I absolutely adore a good cup of coffee, and their beans are incredible. Sherry told me that she wanted to make sure that she picked a coffee for the studio that would pair well with her desserts.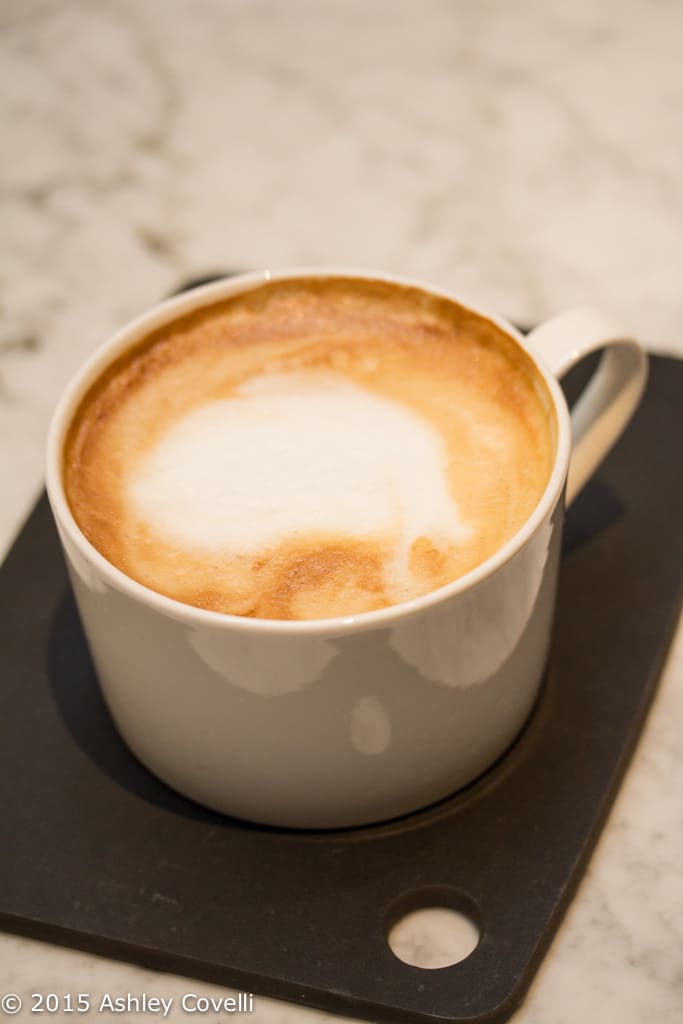 Sherry had just baked up a batch of brand new apple cakes, so I got to watch while she whipped up a glaze for them and decided on a name - she settled on Harvest Apple Bundt Cake.
I bought a few on my way home to have for dessert with my husband that night. They were absolutely delicious and incredibly tender. There was cardamom going throughout, which I loved. She really packed a ton of flavor into those little beauties!
Big Flavors: Tell me a little bit about how the studio got started.
Sherry: It started actually as a business where I was doing custom orders for private clients. So anything from just desserts for dinner parties to special occasion cakes and things like that. But I was working out of a home kitchen and I was one person, and a mom, and a wife and trying to do all those things. So I was pretty limited with what I could do and the amount of time I could give to it. Also the amount of space that I had . . . I couldn't store all of these containers and sheet pans and my oven was only so big, so if someone wanted something a little bit bigger, I couldn't even fit it in my oven! So it was pretty limiting, and it was getting to the point where I was having to turn away so much work that I said I either have to really go for it or just find something else to do.
So I started working on a business plan . . . and I just found that there was so much more that I wanted to do, besides just the custom piece of it. I started thinking about it — do I want to just take a space where I have a decent sized kitchen but it's still just me and I have a place where I can meet with clients and turn out the orders? And the ideas for all of these different platforms kept on growing. But it takes time to launch them all, which has been frustrating, obviously but also exciting that we're in a position to start launching them.
Big Flavors: How did you get into the culinary world?
Sherry: Honestly, as a teenager, if you would have said, "you're gonna pursue something in the culinary world", [laughs] I would have said, "I doubt that very much". Not because I didn't like it, but I guess it wasn't my passion then. I didn't really know. I had always had stomach aches as a kid, but I've always loved dessert. I used to bake with my mom as a kid and I have great memories of that, but I don't have that romantic story about how I used to bake with my grandma or anything.
So in college, I had to take some electives, and I ended up taking a nutrition class and I was fascinated. I was like, WOW! I had no idea. That just unlocked a lot for me. So I became really interested in understanding - I think partly because of my own digestive issues. I just started really learning more about the science of food and became so interested in that.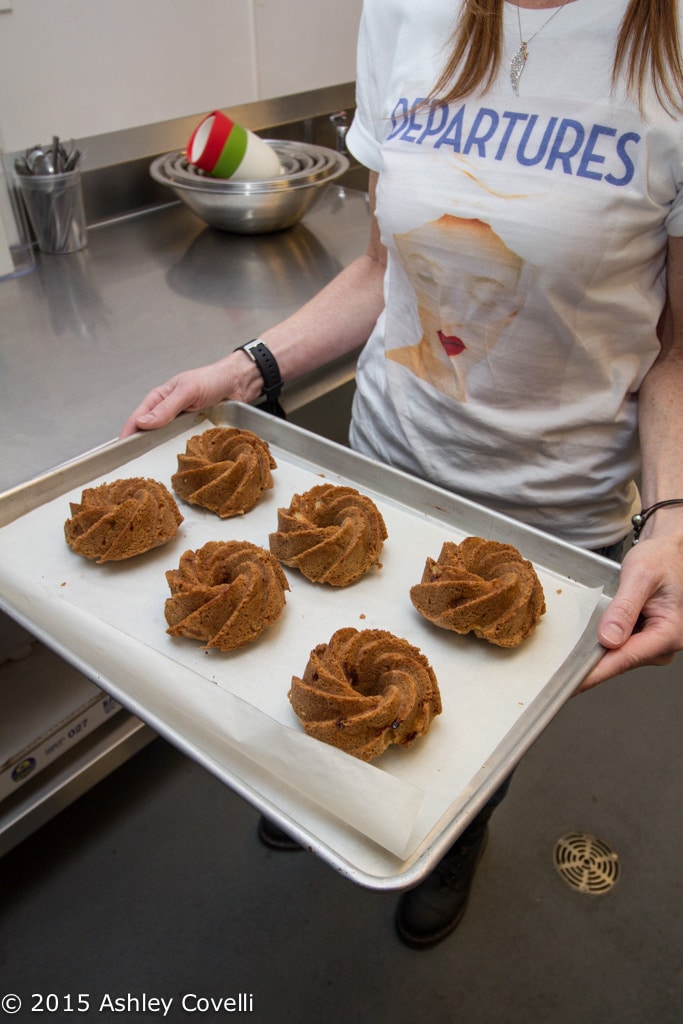 Big Flavors: What were you studying in college?
Sherry: I started out as a business major . . . and then the first semester of sophomore year I had economics, computer science and calculus all in one semester, and I was just like, "no - this is NOT for me. This is just the beginning and I am not gonna be into this".
So I went and spoke to my advisor and looked at other things . . . the plan was that I was going to major in communications and structure a program that would allow me to pursue different avenues. So I was an art & design minor and like a credit short of being a theater minor. I spent a semester at NYU studying film and sound production and it was great. It was kind of like a Renaissance for me.
I graduated and worked in broadcasting and production for a little while, but in my free time I was teaching myself to cook. I was drawn toward baking - I feel like people are kind of born inherently cooks or bakers. You're either really meticulous and precise, or you're like, "I can't be bothered with all that measuring, I just want to throw it together!". So I was really more into the baking and I got to the point with it where I really wanted to understand the science. I wanted to know why these things happened.
It's not like cooking where you're taking all of these ingredients and at the end of the dish, you're still seeing that you have peas and carrots and protein and you can still pretty much see and taste everything. With baking, you mix all of these things together in one form and it comes out a completely different form! And it's like, I want to understand how that happens. What could I change, and how could I make it my own and how could I write recipes?
And I just got to the point with self-teaching where I wanted to take it a step farther. So I was living in Washington, D.C. at the time and I enrolled in a program at L'Academie de Cuisine in Bethesda. They did sort of an abbreviated program, and I was pregnant at the time, and it was a good way to see if I liked this. And I loved it! And then we moved back to New York and I went back to school, so I went to FCI for pastry. It was really great for me because I knew exactly what I wanted to get out of school, really what I wanted to learn. It was really good for me.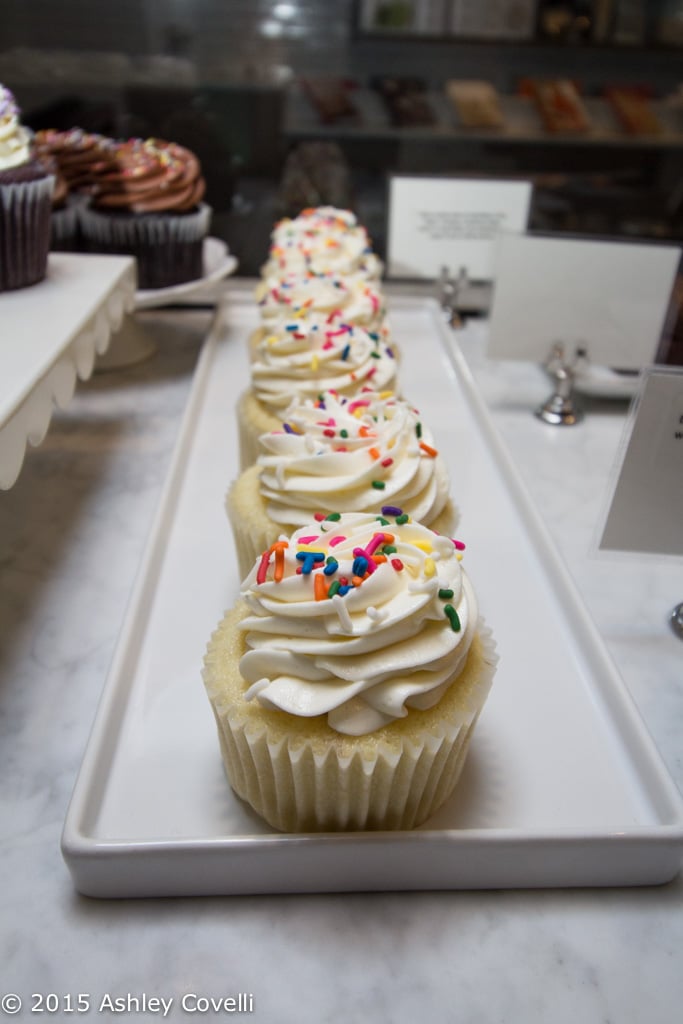 When I came out of school, I thought I was going to check out the wedding cake business. That really interested me because I could use my creative side and I really liked being able to work on that kind of detail.
I was fortunate enough that Ron Ben-Israel was one of our guest instructors at FCI . . . so I had lined up with him to work there after graduation. I was super psyched . . . I took the holidays off and went on a ski trip up to Canada with my family and I had a snowboarding accident and broke both my wrists. So instead of going to work with Ron, I was in intensive physical therapy and rehab for 6 months, which was crazy.
And the reason I'm telling you all this is because we moved out to the suburbs and I was like, "Now what do I do? Where am I and how do I pursue this career in pastry?". As I was looking around and trying to figure out what I was going to do - with a young kid - my daughter was 4 at that time - it's not like I can just go get a job in some restaurant and work 14 hour days. That doesn't really work for me and it wasn't what I wanted to do anyway. So I started thinking I didn't want to lose any skills. So I was baking as much as I could, and I started realizing how much I liked recipe development and working on that, so I started building this battery of recipes. And that's when I had this whole idea of taking on as much work as I could from friends which rolled into that custom order business . . . so I had this whole portfolio of recipes and a core group of clients, and I thought, "I have a business here!"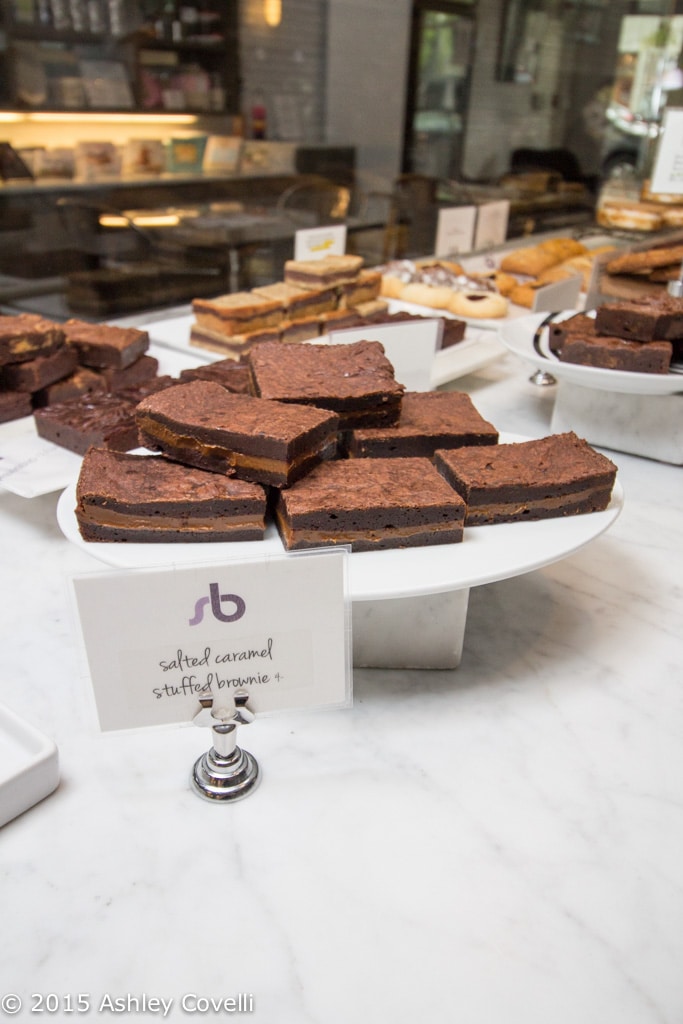 Big Flavors: How do you get inspiration for your recipes?
Sherry: I tend to watch trends really carefully because I think it's hugely important. I don't follow all of them, and sometimes I find that I'll even be ahead of them, which is my favorite thing. I do a ton of reading, and really, it could come from anywhere.
Even our giant s'more came from one day rolling out the graham cracker dough and looking at our homemade marshmallows and going, "wouldn't it be funny if we just made a giant s'more? And I was waiting for everyone to tell me I was out of my mind, but they just looked at me and said, "can we?" and I was like, "YEAH!! Let's do it!" So I never know when something is gonna just come into my head.
And it's also seasonally, like what fruits are out there. We get so excited when strawberries come up and we can do our roasted strawberry ice cream, things like that.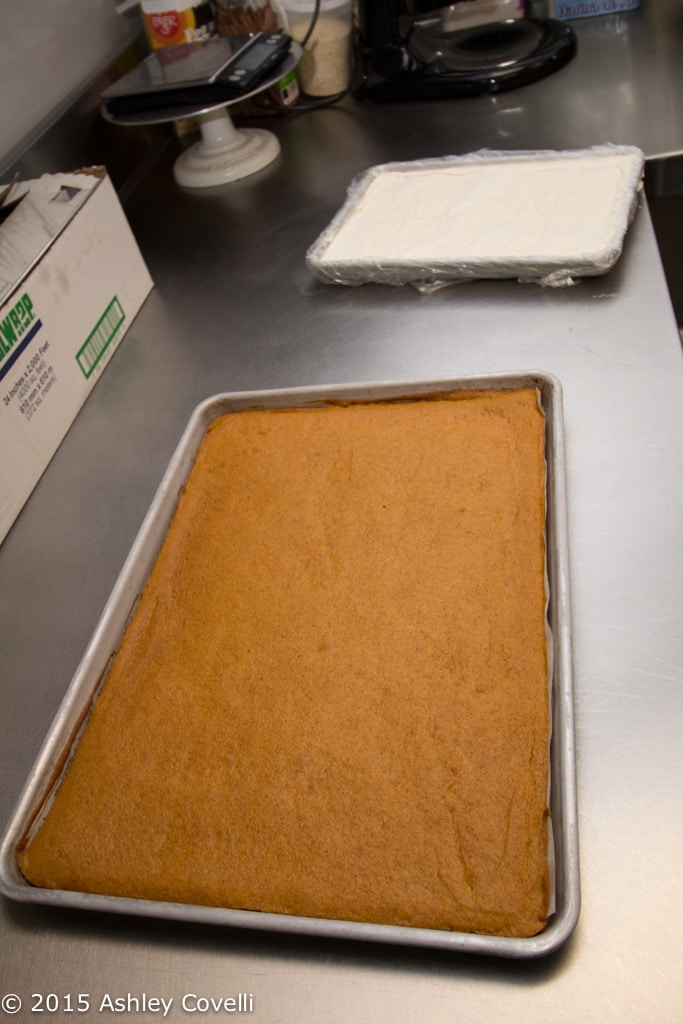 Big Flavors: What's your favorite dessert?
Sherry: I'm a total cookie monster, I'll be honest. Like, at least one monster cookie a day, oftentimes two. I cannot live without cookies. I'm definitely a chocolate person, but I love everything that we do or I wouldn't do it. And I'm always interested in trying new things.
Big Flavors: What's a flavor combination that doesn't sound like it would work together but totally does?
Sherry: We did an ice cream sandwich this summer - Fluffernutter ice cream on banana bread - marshmallow, peanut butter and banana - not that you've never heard of that combination before, but to do an ice cream sandwich on banana bread, that was different.
I experimented with some fruit crisps over the summer . . . I did one that was strawberries seasoned with lemon thyme from my garden and then in the streusel on top I did cracked black pepper, and it was amaaaaaaazing!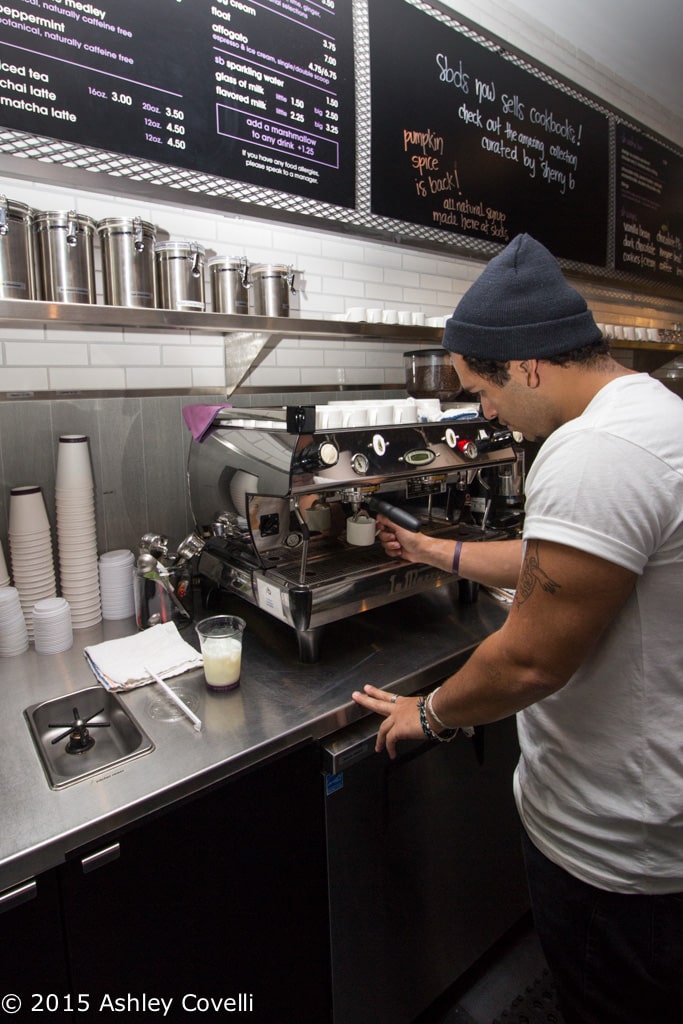 Big Flavors: What's your favorite non-dessert thing to cook?
Sherry: I find cooking so liberating because there are rules but it's not like in baking. It's more about playing . . . I love to do all kinds of appetizers and side dishes and salads. This summer, when I was entertaining, I'd do crostini 3 ways. I'd put out grilled bread and 3 different toppings and I could go straight from that to dessert.
Big Flavors: What's the last thing you cooked or baked at home?
Sherry: Last night I made a goat cheese quesadilla with an avocado mash on top. I wouldn't call it a guacamole because I didn't have that much time, but that was good. Just quick, easy.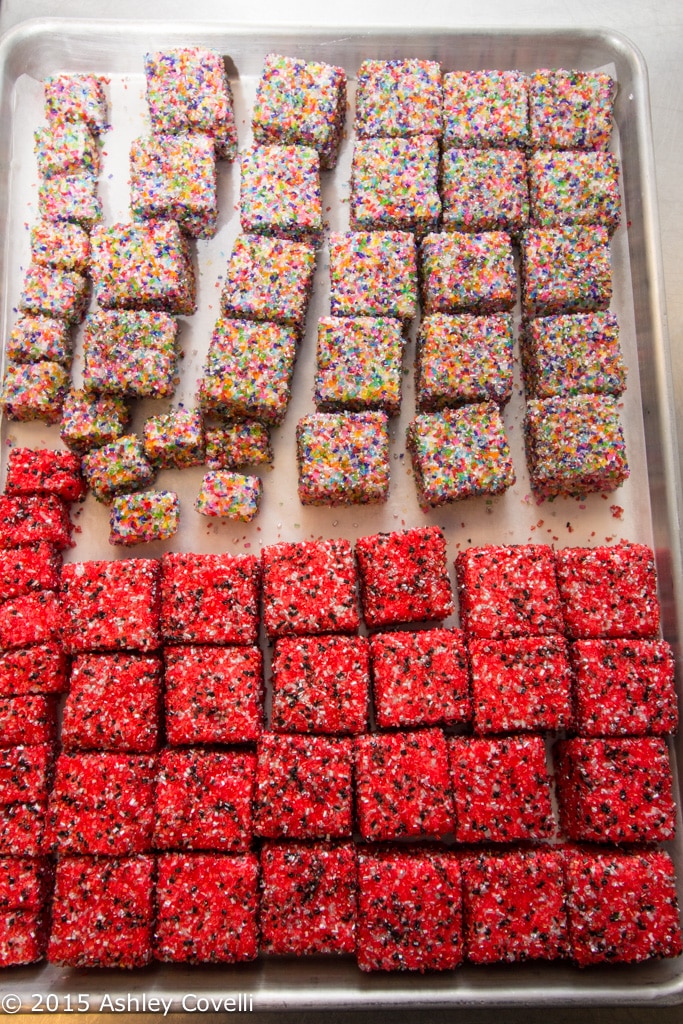 Big Flavors: Do you have any tips for home bakers to make their desserts more special?
Sherry: Take away the fear and put in the love - that would be my #1 tip. Don't be so hard on yourself.
Big Flavors: What's the biggest misconception about baking? Or what intimidates people most?
Sherry: I think that any of us, whether professional chef or home baker, has experienced a recipe - and let's blame it on the recipe - that you have these high hopes that you're gonna make this amazing dessert and then you end up with a disaster. And I think that's what makes you think it could happen again. And people also think it's very time-consuming. It's not as long or as hard as you think it is.
Big Flavors: You know how people do those holiday trays of assorted cookies - do you have any tips on how to make a good assortment?
Sherry: I would say start out with one basic dough and flavor it different ways. Like, lets say you start with a shortbread dough, which is super easy and a lot of times doesn't even have eggs in it, so that helps when people have those issues, and you could take part of it and roll it into a log and roll that log in something like crushed pistachios and slice those and bake those off. You could roll some out and cut different shapes, and some of those shapes you could half dip in chocolate and others you could coat with sprinkles or sparkling sugar and now you have like 4 different cookies.
Or, as you're mixing it up, you could split the dough and half of it you could flavor with a vanilla extract and the other half you could throw in almond or peppermint. So instead of batching so many different things, make one larger batch of one dough and just change up your flavorings. You could tint it.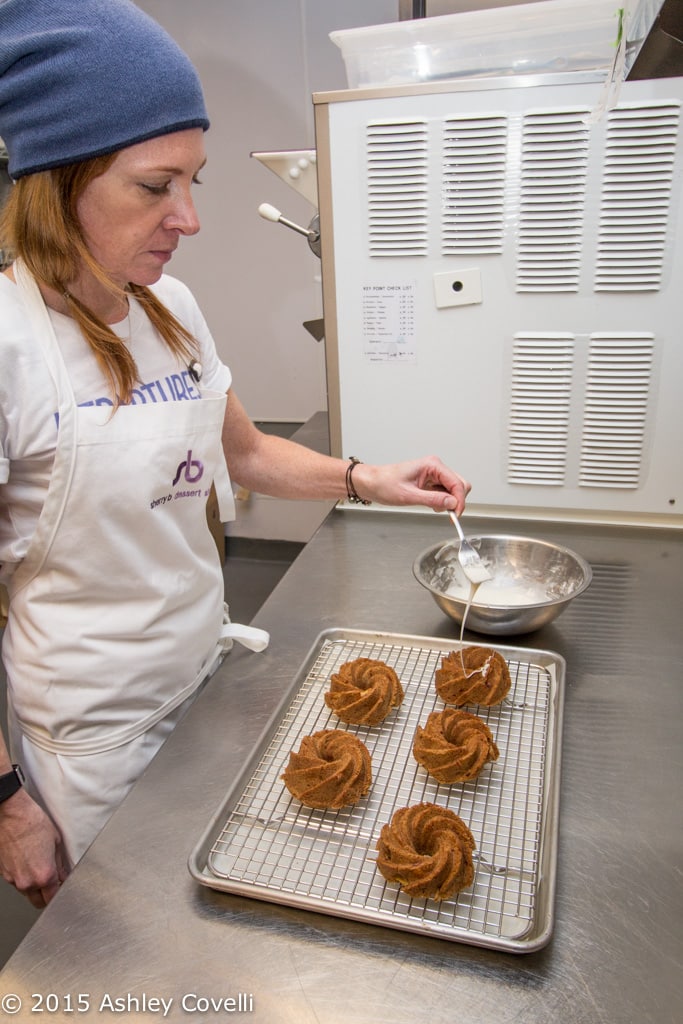 Big Flavors: What kind of desserts do you find freeze well? I'm always a little nervous that I might ruin something if I freeze it, whether it be a dough or an already cooked dessert.
Sherry: There are certain things that freeze better before they're baked and some that freeze better after. I find that things that are heavy with dairy don't freeze well, which is such a silly thing because of ice cream, obviously. Things like brownies freeze really well. I actually prefer to freeze my cookie dough before I bake it off. I like the way it works better.
Big Flavors: With leftovers, Is there a way to know what's better to keep closed out on the counter vs. in the fridge?
Sherry: I always recommend that you eat anything you buy the day of. However, realistically, I would refrigerate brownies, cupcakes, whoopee pies, things like that. Cookies - NEVER in the refrigerator. Pies I usually do refrigerate but I always reheat. And I'm much more into the toaster oven than the microwave for that. Desserts in the microwave are not… I try to avoid that.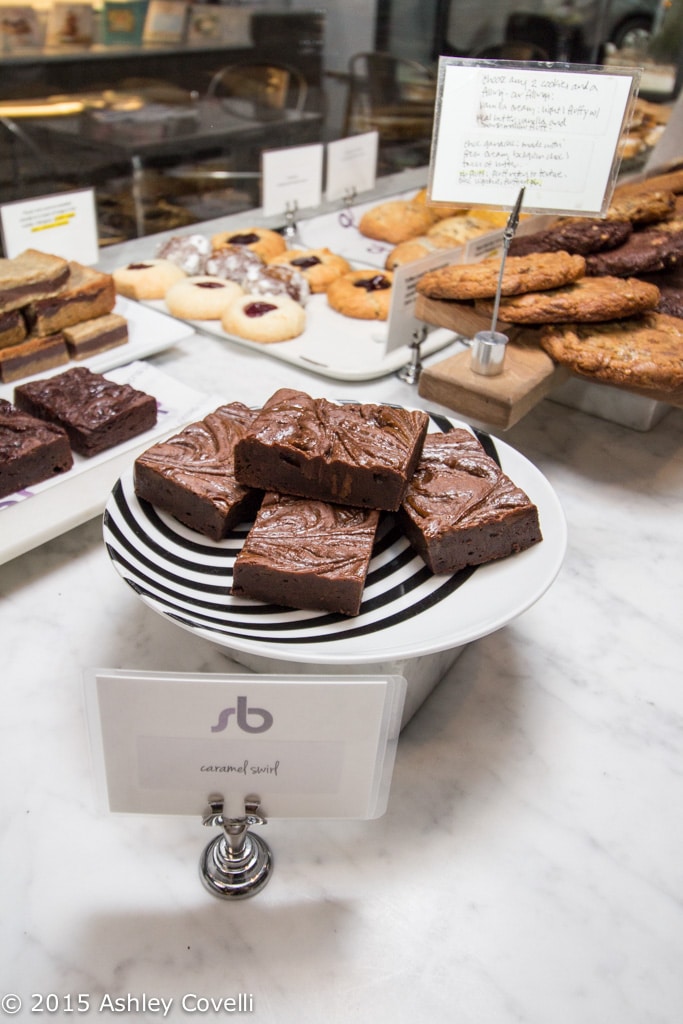 Big Flavors: What is a food or dessert trend that you're sick of?
Sherry: I was really getting tired of cupcakes for a while, I have to be honest, because they're kind of a pain to make. By the time we've baked them and cooled them and frosted them and decorated them… and packaging them is not that much fun. And expensive. So I'm kind of tired of the cupcake trend. And I'm not a huge cupcake eater, I'll be honest. I mean I taste our cupcakes frequently because I have to, but if you put a tray of sherry b stuff in front of me and said to pick one it wouldn't be a cupcake.
Big Flavors: What are 3 of your must have pantry staples?
Sherry: Mustard - I love mustard. I have like a million different kinds of mustard. A good cocoa powder and goat cheese.
Big Flavors: On cocoa powder - is there a good case for when you should vs. shouldn't use Dutch process?
Sherry: There is, however this is one of those things where you'll hear that there's a difference between natural and Dutch process. But unless you're baking a recipe that's really a more highly skilled kind of thing that was written for one or the other, you're not gonna destroy it by using one or the other. Just know your recipes. And I feel like most cookbook authors will explain if you have to use on or the other and they'll tell you why. And they'll say if you must then change this - like adjust your baking soda or something.
Big Flavors: I have half a jar of molasses sitting at home - what should I do with it? Is there anything different I could do with it?
Sherry: It would be interesting to do something like a granola. Instead of honey, use that. I would try that - it could be really interesting!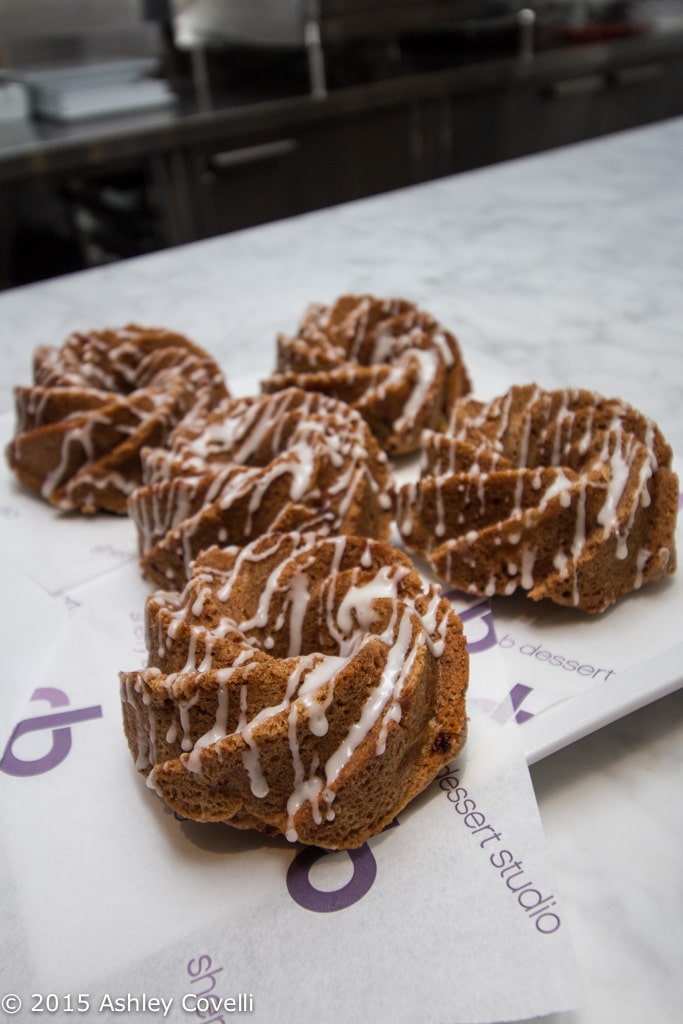 Thanks again to Chef Sherry and her team for their hospitality and for letting my readers get a peek at their decadent creations.
You can find all things sherry b on Facebook, Instagram and Twitter.
sherry b dessert studio is located at 65 King Street in Chappaqua, New York.
Stay tuned tomorrow to get the recipe for Sherry's simple, easily customizable Apple Crisp for Two and see how it turned out when I made it in my tiny kitchen!