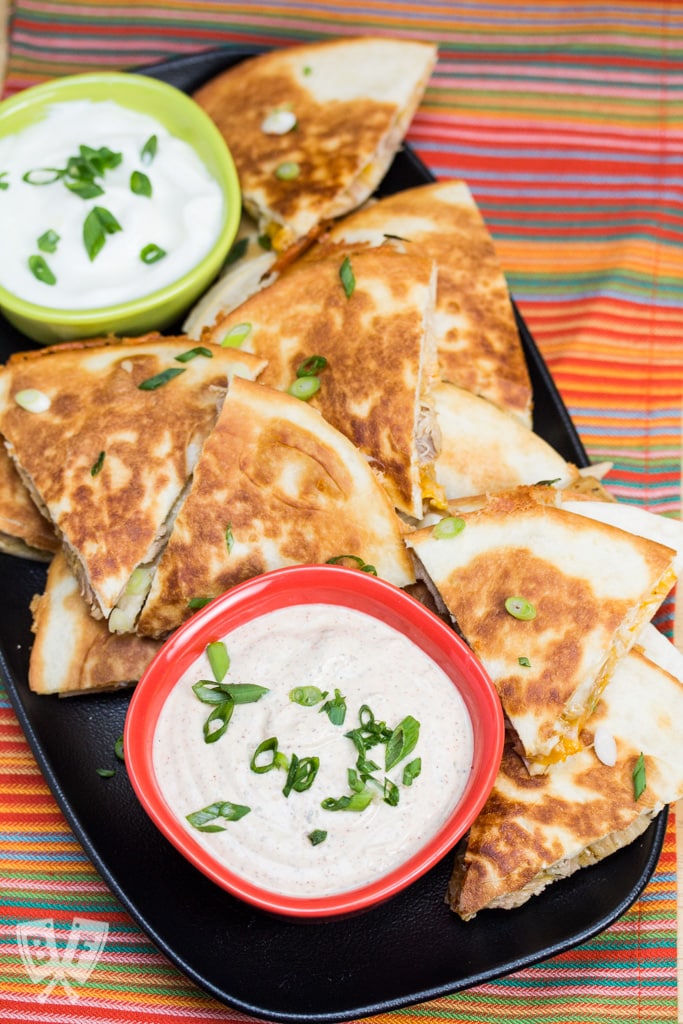 Chicken Quesadillas with Chipotle Ranch Dip
This post may contain affiliate links. Thank you for supporting the brands that keep me creative in my tiny kitchen!
This post was created in partnership with Stonyfield and Simply Organic. As always, all opinions are 100% my own. Thank you for supporting the brands that keep me creative in my tiny kitchen!
Simply seasoned chicken thighs are cooked in the Instant Pot till tender, then shredded + sandwiched between 2 types of cheese in this delicious recipe.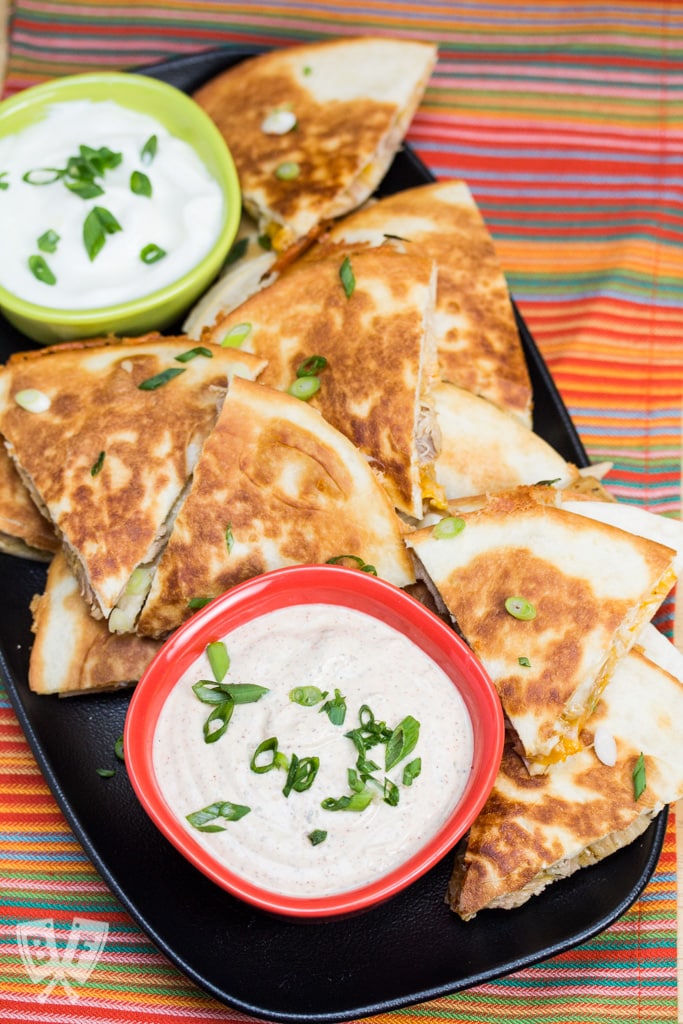 It's no secret that I'm a total Stonyfield fangirl. Yogurt has been a staple for me for as long as I can remember. And when it comes to Mexican food, my family has been using Stonyfield's plain Greek yogurt instead of sour cream for several years now. I love how rich and tangy Greek yogurt is.
So when I found out about the brand spankin' new Smooth & Creamy Double Cream Yogurt, I.Was. Stoked.
It's even richer than the whole milk Greek yogurt and not quite as tangy, which makes it a perfect whole milk, full fat substitution for sour cream and oils in cooking and baking.
And let me tell you… it's absolutely luscious!
These quesadillas were inspired by the Chipotle Ranch Dip Mix from Simply Organic. Since the Super Bowl is coming up, I thought it'd be fun to make quesadillas for a crowd.
They're perfect as an appetizer or even as a meal on their own. Far be it for me to interfere with anyone who wants an entire plate of this cheesy goodness!
I had a big pack of boneless, skinless chicken thighs in the fridge, so I seasoned them with a few spices from Simply Organic: Adobo Seasoning, Smoked Paprika, and Ground Cumin. It made for a simple, delicious seasoning blend that really amped up the flavor of the quesadillas.
I cooked the chicken in my Instant Pot (because I'm totally obsessed!), but check out my tips below if you don't have one. Either way, you can get beautifully tender chicken that's a cinch to shred.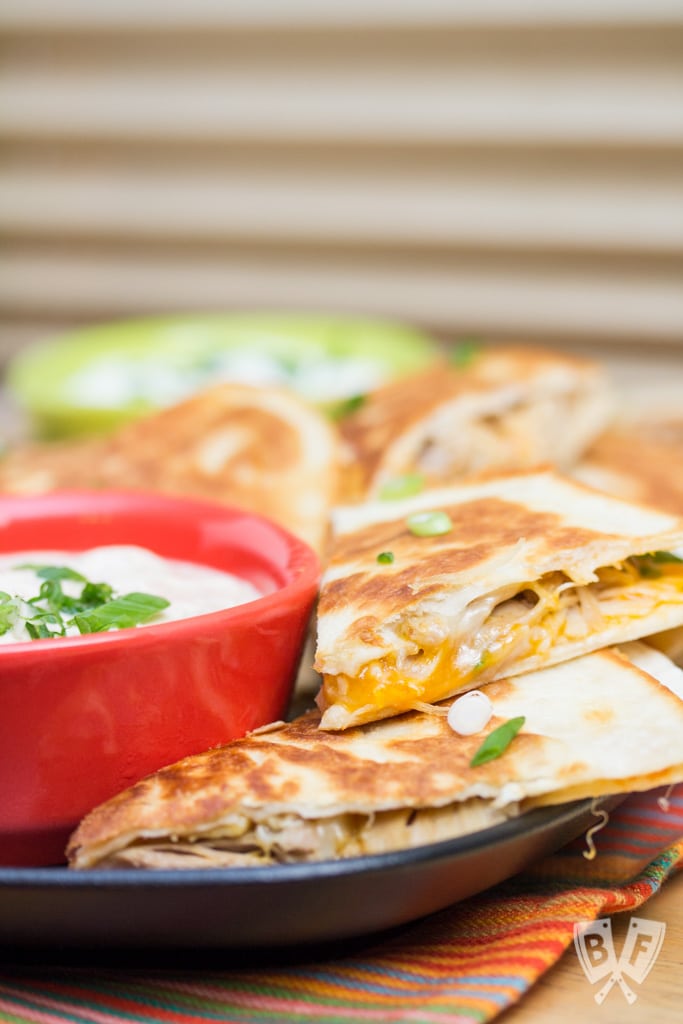 These quesadillas were a huge hit with my family!
We all enjoyed having 2 different dipping options – the Chipotle Ranch and the straight up Double Cream Yogurt. My 5-year-old ended up eating more of these quesadillas than I did! He asked for them for lunch for the next few days.
Seal of approval from the kiddo. Always a good thing.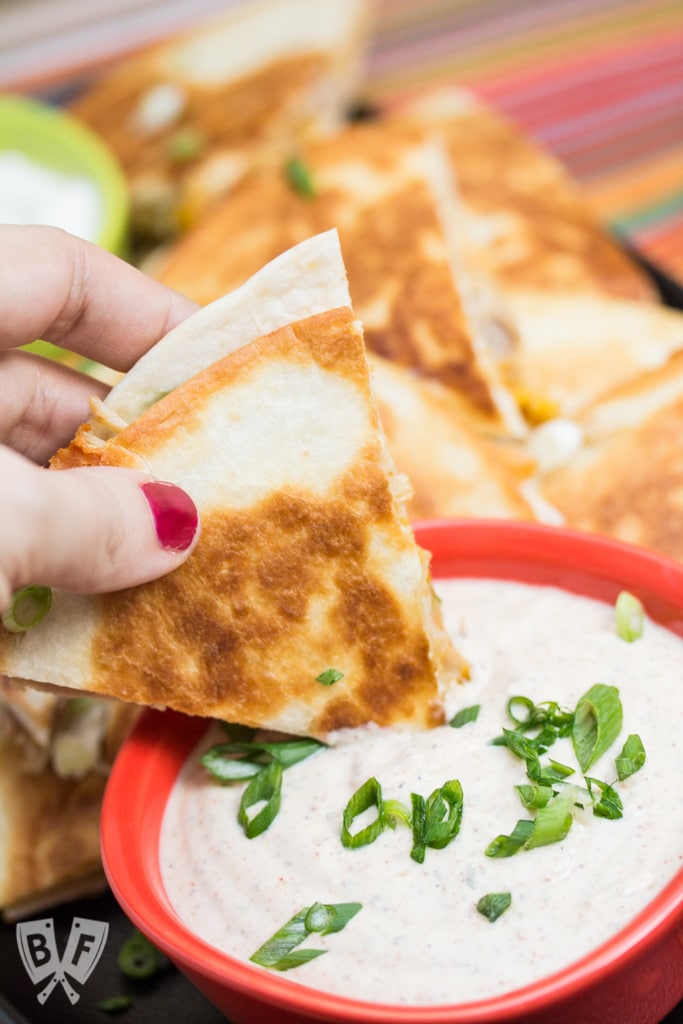 I can't believe I haven't made quesadillas more often. Once you get into the swing of assembling them, they're super easy.
Here are some tips for quesadilla success:
If you don't have an Instant Pot you can cook the chicken on the stovetop. Season and sear as directed, then add chicken stock, partially cover your pot with a lid, and let simmer until the meat is very tender, about 30-45 minutes.
It's helpful to keep the toppings about half an inch away from the outer edges of the tortilla, so there's room for melting without things spilling out into the skillet.
If flipping full tortillas proves to be too messy, you can put half the amount of ingredients onto one side of a single tortilla and fold it over to cook.
I used a mix of 2 types of cheddar cheese that I shredded in the food processor, but many types would work here. Use your favorite, and feel free to mix and match.
This recipe is easily cut in half. I like to make the full amount of chicken and save half of it for tacos and other meals throughout the week.
When reheating leftover quesadillas, popping them onto a foil-lined baking sheet in the oven for a few minutes will ensure they get crispy again. Microwaving will make them a little soggy (but they'll still be tasty!).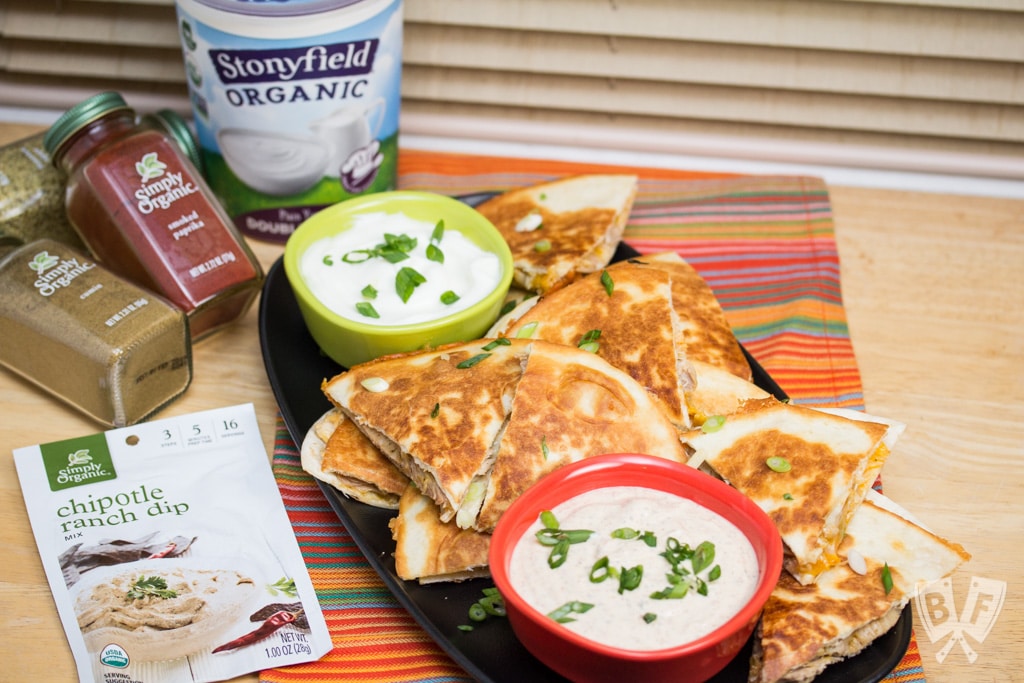 Print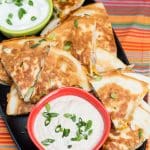 Chicken Quesadillas with Chipotle Ranch Dip
Total Time:

45 minutes

Yield:

12

Servings (3 wedges per serving)

1

x
---
---
---
---
Recipe Card powered by
Note: This post includes affiliate links for items that I genuinely enjoy. Big Flavors will receive a tiny commission from purchases made through affiliate links on this site at no added cost to you. This allows us to cover site-related expenses and helps to keep us cooking up a storm!