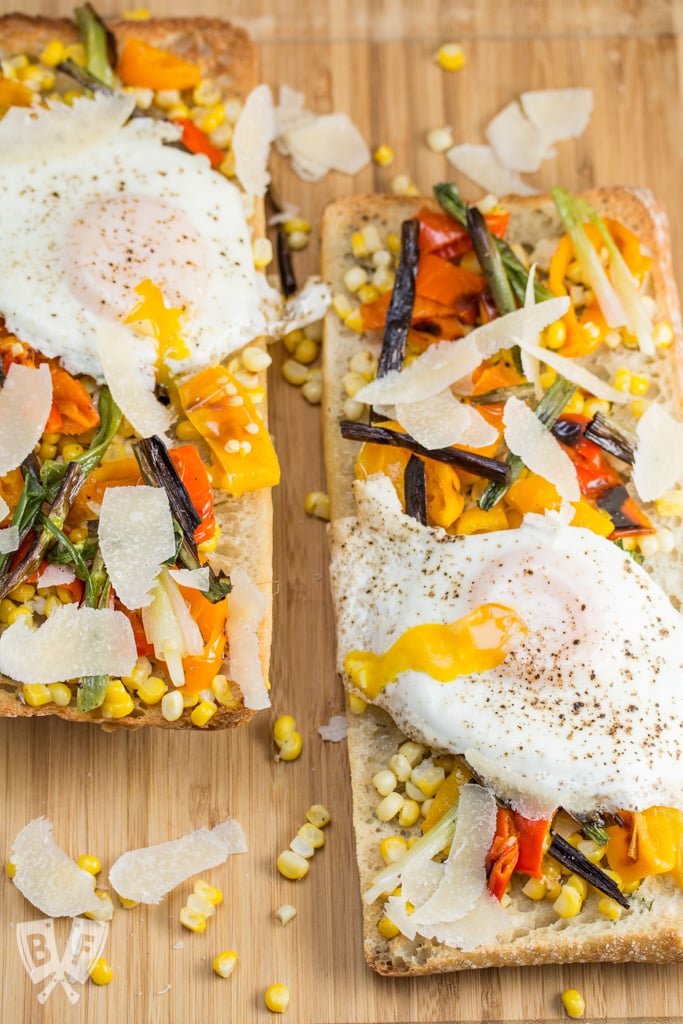 Charred Veggie Ciabatta Pizza with Crispy Fried Eggs + Parmesan
This post may contain affiliate links. Thank you for supporting the brands that keep me creative in my tiny kitchen!
Fire up your broiler for this colorful sheet pan meal!
I picked up a beautiful loaf of rosemary ciabatta and felt like pizza-fying it. At first I had a more traditional pizza in mind – something with tomato sauce and mozzarella… but then I decided to clean out my produce drawer and this happened!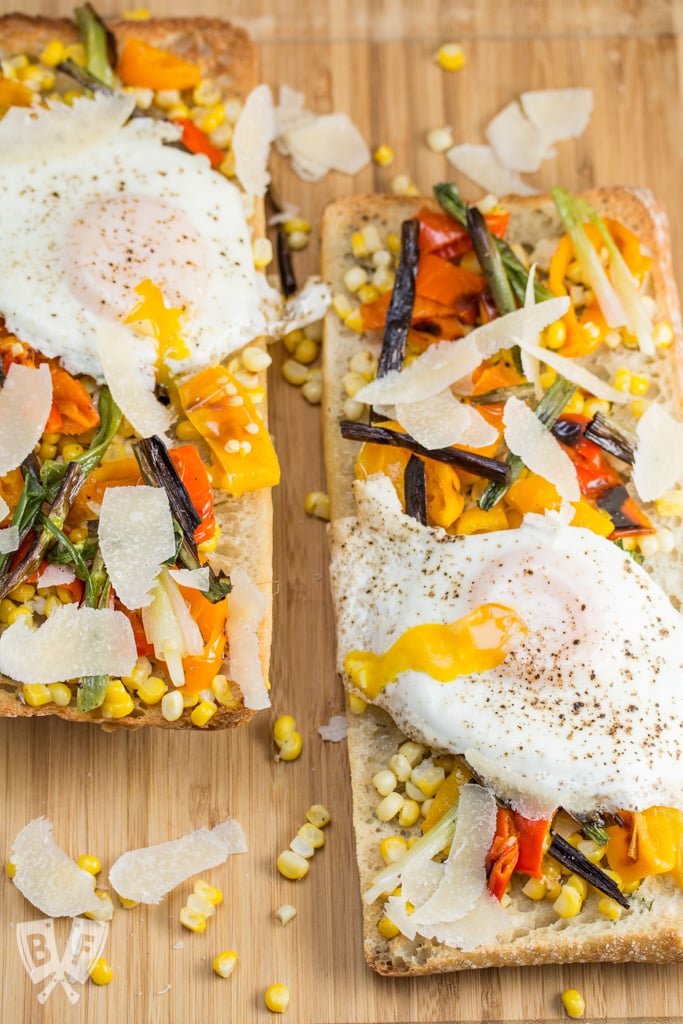 I like keeping bags of mini bell peppers in the fridge. They're so versatile and they're super easy to pop under the broiler for to add that sweet, roasted pepper punch to any meal.
I also had some corn that I wanted to use up. I actually roasted 4 ears, even though I only needed 2 here, so I'd have extra charred corn to use in other dishes later on. What can I say? I'm originally from Indiana and just loooove me some corn. And charring it under the broiler or on the grill is a great way to get more flavor out of corn that isn't quite at its ideal ripeness.
I also had a bunch of scallions that I got from my day with Mike's Organic Delivery, and I absolutely love how crispy they get when they're grilled or broiled. They may look burnt, but they're so.flipping.delicious.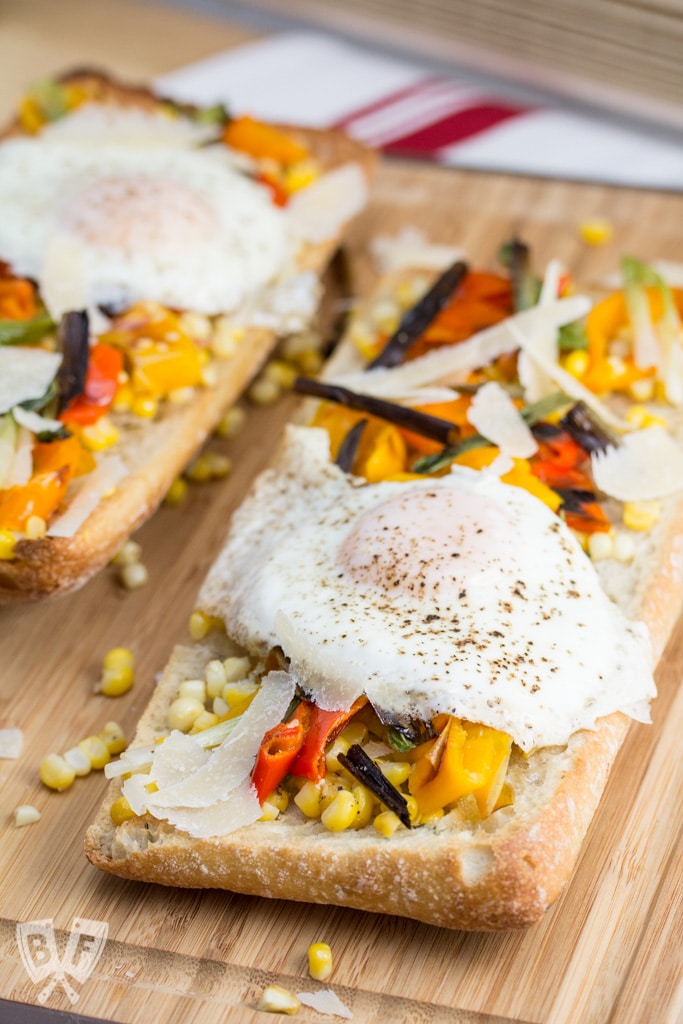 This meal was fun for several reasons. For one, I mean, just look at those colors!
Secondly, this was all prepared on one sheet pan. I didn't have to wash a bunch of pots and pans – I just cooked the everything in quick shifts while assembling.
I even had the crazy idea of frying the eggs right on the sheet pan under the broiler. I figured I didn't need to bother dirtying up a frying pan when I had a pan already in use that had a layer of oil on it, so I just cracked the eggs on it, popped it back into the oven and kept an eye on 'em until the whites were set.
And it worked out beautifully! I mean, come on, just look at those runny yolks!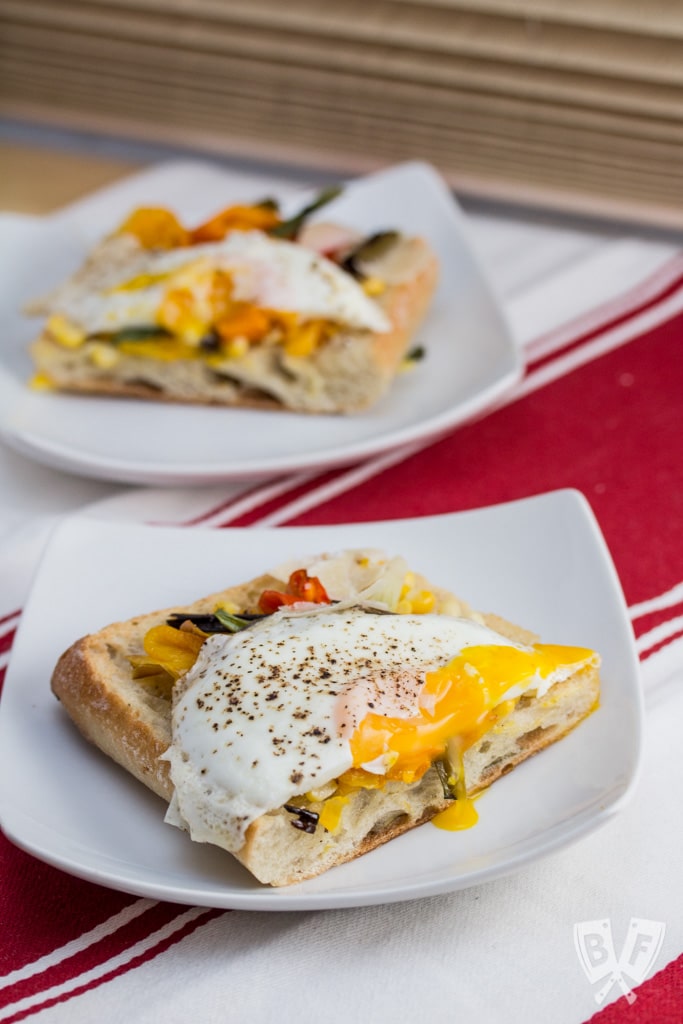 This would be a great appetizer, cut up into several smaller pieces. Just make sure that each serving gets some of that runny egg yolk action.
The salty shaved parmesan was the perfect finish for this dish. It was a bit messy to eat, but totally worth it.
Feel free to use whatever combo of veggies you have on hand. And maybe try roasting something you've never tried before!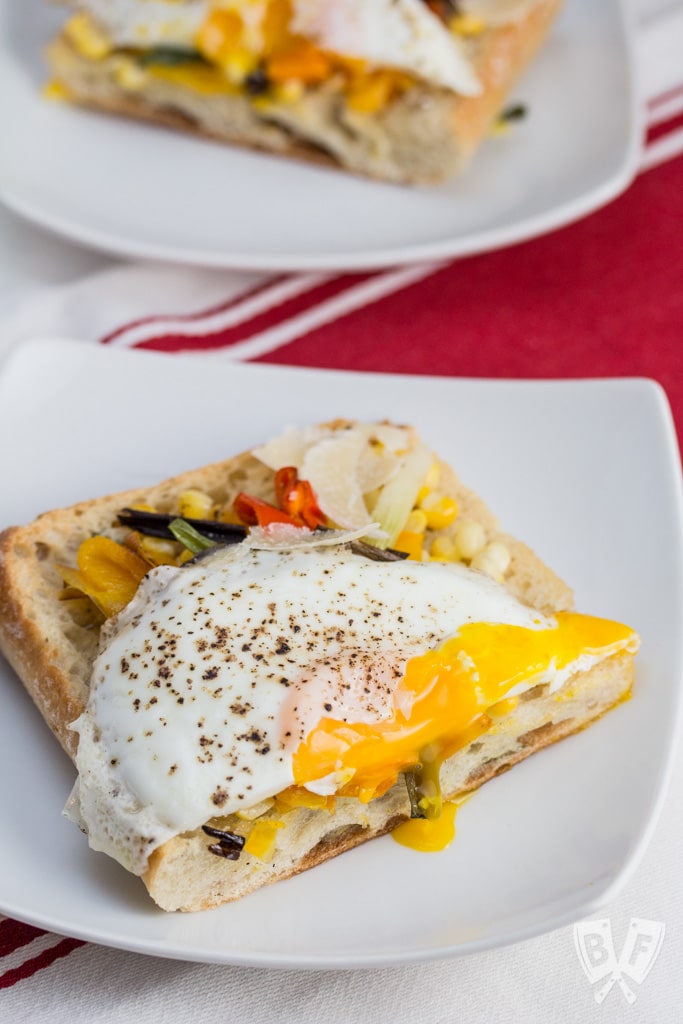 Print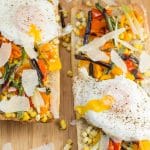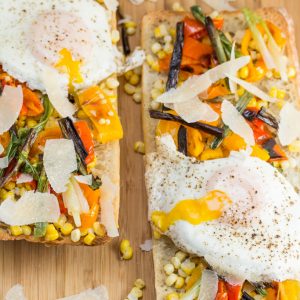 Charred Veggie Ciabatta Pizza with Crispy Fried Eggs + Parmesan
Total Time:

20 minutes

Yield:

4

Servings

1

x
---
---
---
---
Recipe Card powered by