This post may contain affiliate links, which won't change your price but will share some commission.
Learn how to make the best homemade fajita seasoning blend from pantry staples so you can have restaurant-style fajitas at home any time!
This easy, Mexican-inspired spice mix is my family's go-to when it comes to making our favorite chicken fajitas, steak fajitas, and more.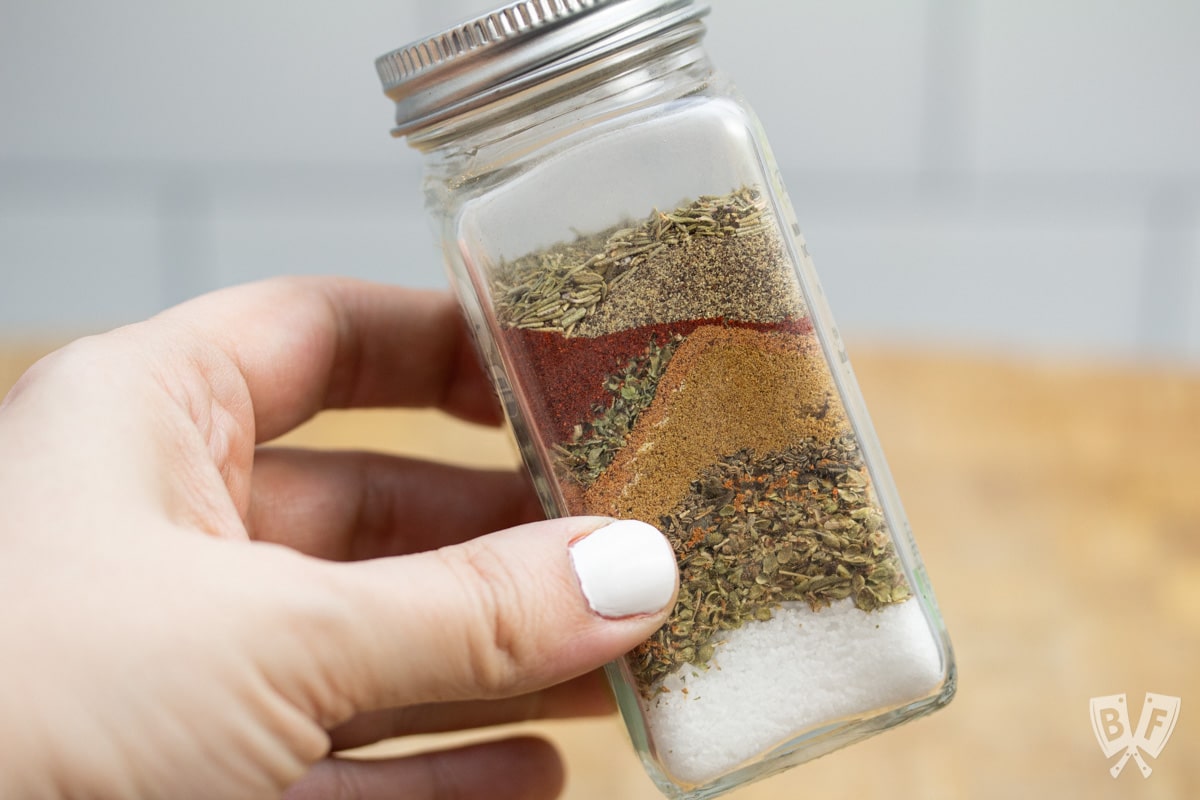 Why we love this recipe
The flavor of this spice blend is different from most other fajita mixes on the market. My family absolutely loves it! I reverse-engineered our favorite Penzeys fajita seasoning to make this copycat recipe.
Homemade seasoning blends tend to be more budget-friendly than their storebought counterparts. You can often make them with ingredients you already have on hand. Those individual packets and jars can really add up!
Being able to control the ingredients lets you customize this recipe to your family's taste. Reducing the salt, increasing the level of heat, or leaving out spices that you don't care for is easy to do!
The combination of Mexican spices in this blend is easily turned into a tasty marinade for chicken or steak fajitas. Just mix with water, olive oil, and lime juice.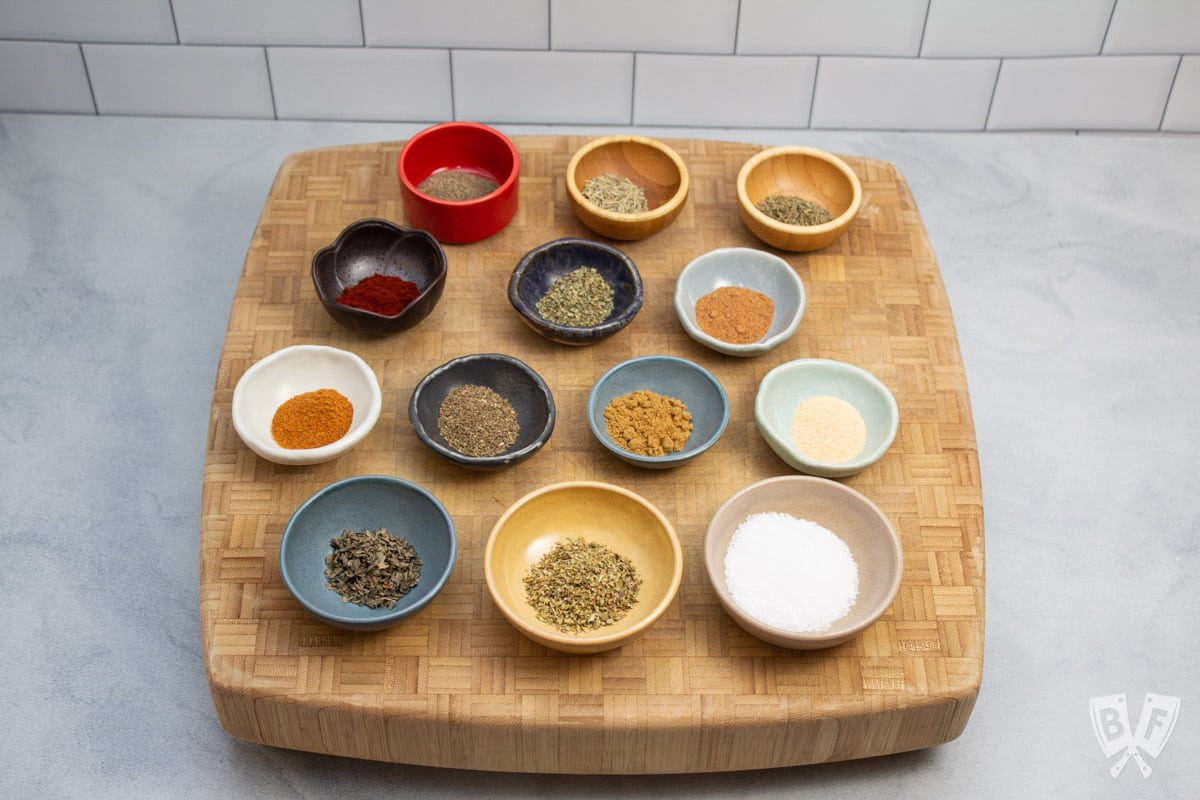 ---
Ingredients
What's in this fajita seasoning blend? It seems like a lot of ingredients, but they're all easy to find and are likely to already be hanging out in your pantry.
See recipe card below for quantities.
🧂 A Note About Salt
This recipe uses kosher salt which can be found in your grocery store located in the baking aisle.
For my cooking, I use Morton coarse kosher salt. The other popular brand is Diamond Crystal kosher salt.
There's no right or wrong kosher salt to use, but the type you use can cause big differences in your recipe results.
Due to the difference in flake size, Diamond Crystal and Morton need to be measured differently.
Morton flakes are smaller, meaning more of that salt can fit in the same measure as Diamond Crystal.
The general rule of thumb is that you should use 1.5 times the amount of Diamond Crystal as you would Morton.
So for this particular recipe, my measurement of 2 tablespoons of kosher salt should be changed to 3 tablespoons if you're using Diamond Crystal.
You can read more about the differences in salt types in this post from Taste of Home.
Looking for more homemade seasoning blends? This homemade grill seasoning recipe is super versatile! We also love using this dry brine seasoning blend for turkey and chicken, especially around the holidays.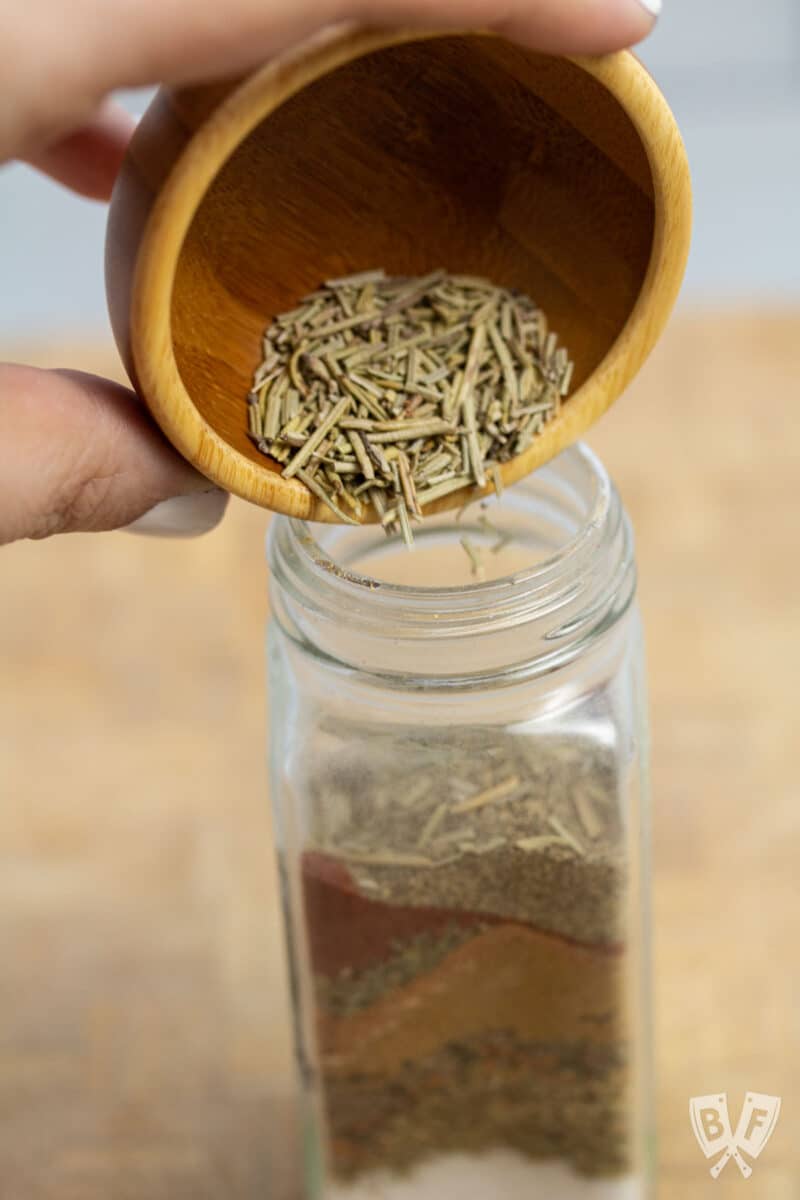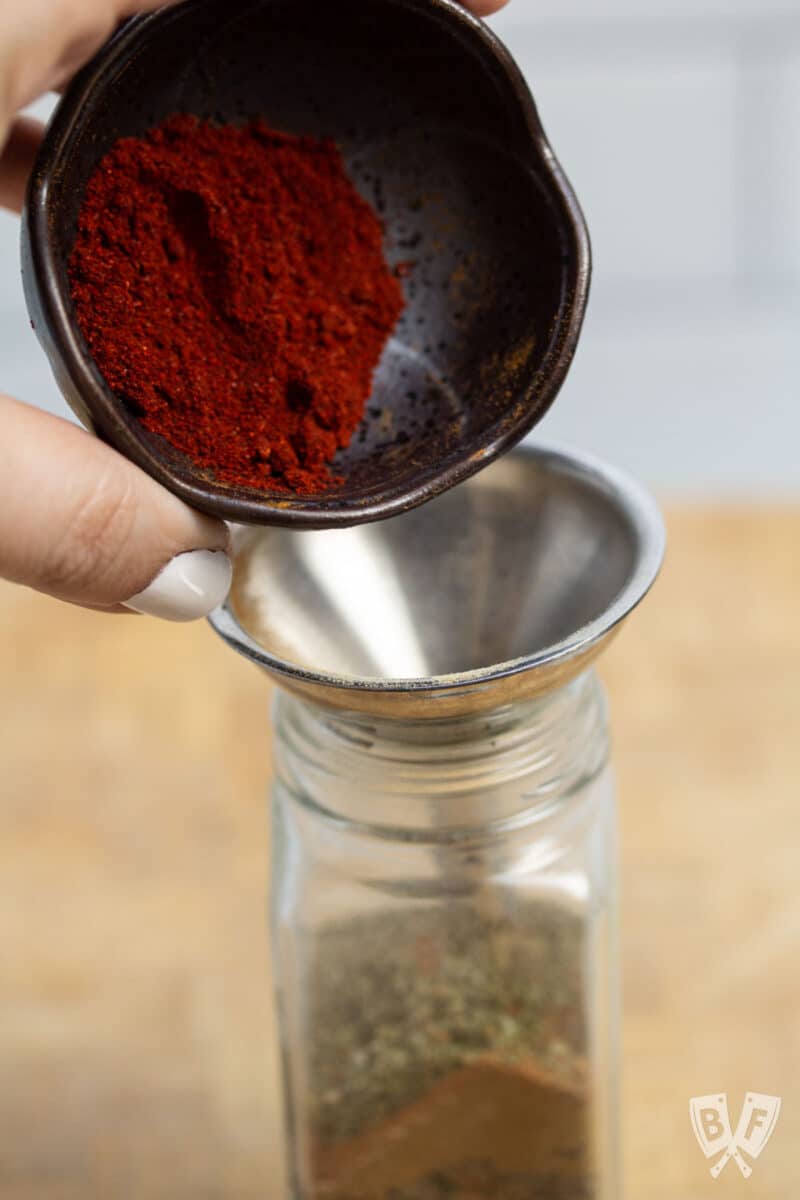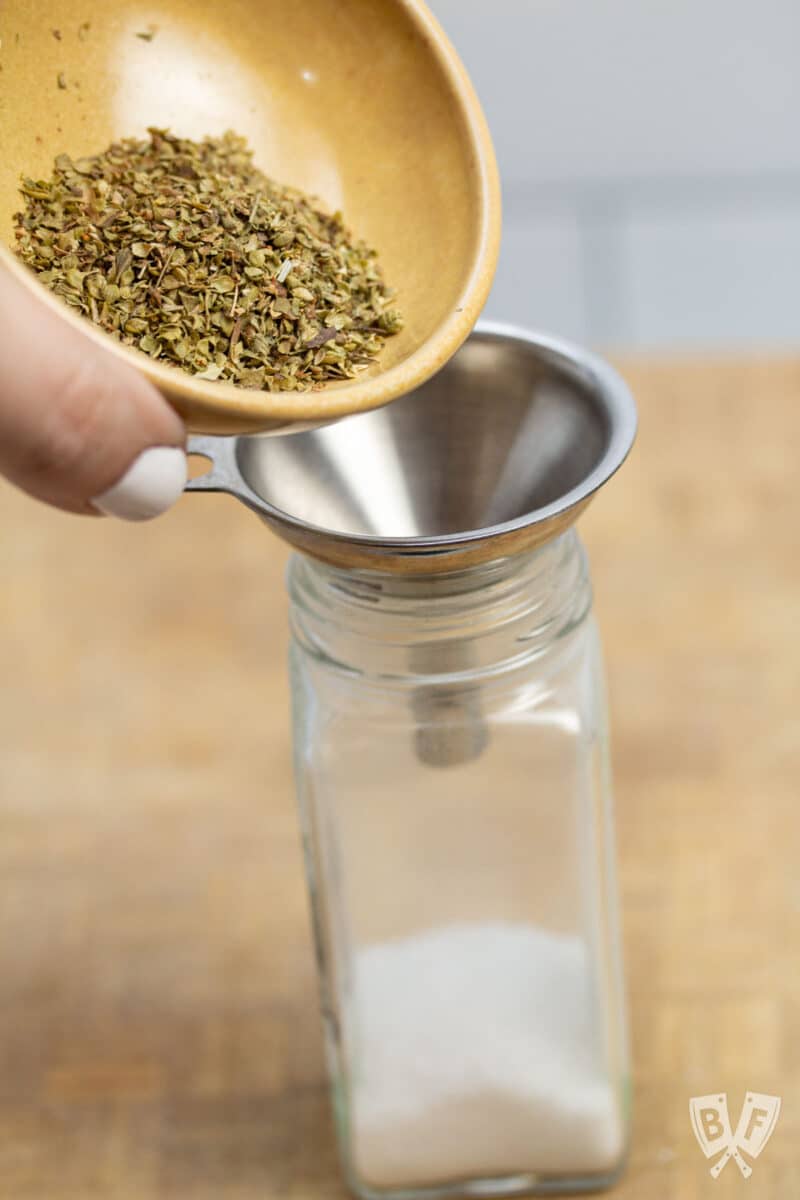 Turkish vs. Mexican oregano
There are several types of dried oregano available at most grocery stores here in the U.S. The 2 most common types are Turkish and Mexican.
Penzeys uses both Turkish and Mexican oregano in their fajita seasoning blend for a quite oregano-forward flavor punch.
I tend to use Mexican and Turkish oregano interchangeably at home, so I only included one type of oregano in the ingredients for this recipe.
If you happen to have both types, feel free to split the quantity between the two. You can read more about the differences between Mexican and Turkish oregano from Cooks Illustrated here.
How to make this recipe
This spice mix is super easy to put together. Just measure everything out, mix it together, and store it in an air-tight container.
I like to measure everything directly into a spice jar, seal it, and shake it up to combine. Easy peasy!
Once it's mixed together you'll have a jar of delicious homemade fajita seasoning at the ready for whenever your next fajita craving strikes.
And in my house, those cravings strike often!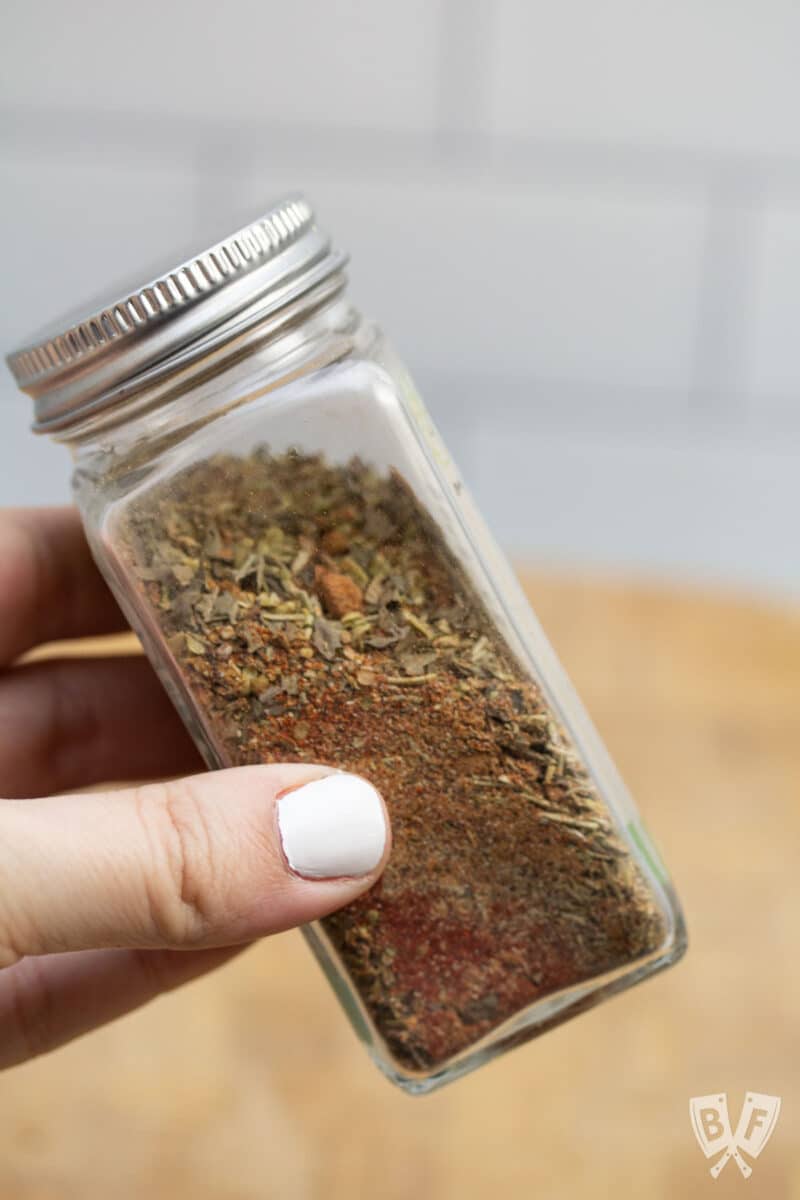 How to use fajita seasoning
This recipe makes just over 4 tablespoons of homemade fajita seasoning.
Most of the recipes I use it for (like chicken fajitas or steak fajitas) use just 1 tablespoon of this seasoning blend. That means each batch of this seasoning recipe will allow you to make fajitas 4 times!
Here's how to turn the seasoning into a homemade fajita marinade:
Mix 1 tablespoon of fajita seasoning with 2 tablespoons of water in a large zip-top bag (I like using a stasher stand-up bag) or a large food storage container.
Slice 1 pound of your protein of choice (we usually use chicken or steak) into ¼-inch thick pieces and add to the spice mixture.
Add ¼ cup olive oil and 1 tablespoon of lime juice.
Mix everything together and seal the container, removing as much air as possible. Transfer the container to the fridge to marinate for at least 30 minutes or up to 4 hours.
Marinating allows the fajita seasoning to permeate the meat before you cook it. And that means more flavor!
Check out the full recipe for my chicken fajitas or steak fajitas to get the rundown on how to cook everything to restaurant-quality perfection!
Other ways to use fajita seasoning
You don't have to use this seasoning strictly for fajitas! There are other ways to utilize this seasoning blend in your kitchen.
Sprinkle it into beans or rice for a side dish with a flavor boost.
Mix it into sour cream, plain greek yogurt, or Mexican crema for a tasty topping for your tacos, nachos, or quesadillas.
Use it as a spice rub for meat.
Sprinkle it onto grilled veggies.
Substitutions
Feel free to play with this recipe and adjust the amounts of the different spices to fit your preferences. I've included a few common substitutions below:
Low sodium - feel free to reduce (or omit) the salt as needed if sodium is a concern for your diet. Be sure to take a look at "🧂 A Note About Salt" above for more info on brands of kosher salt.
Heat-seekers - if you want to make this fajita season spicier, feel free to increase the amount of ground cayenne pepper. Another spice to consider adding is Hungarian hot paprika.
Less spicy - my family doesn't find this spice blend to be spicy. Heat tolerance is a personal matter and preference. Feel free to decrease or omit the ground cayenne pepper and/or ground black pepper as desired.
Oregano - as mentioned above, this recipe is quite oregano-forward. Feel free to reduce the amount you use if you find it to be too bold for your taste.
Dried herb substitutions - if you don't have one of the dried herbs like marjoram, basil, or rosemary in your pantry (or don't like one of them), just omit it completely. You can replace things you omit with something milder if you'd like. Dried parsley would be a good option.
Fajita seasoning vs. taco seasoning
A lot of store-bought fajita and taco seasoning blends include very similar ingredients.
The common players in most of these are ground cumin, ground paprika, garlic powder, chili powder, onion powder, dried oregano, salt, and ground black pepper.
Taco seasoning often contains cornstarch. This can help thicken the final taco filling and make it a little "saucy".
A lot of premade seasoning mixes contain sugar or other additives. The sugar can help to caramelize your ingredients while cooking.
I personally don't think sugar is necessary to use in these spice blends. If you follow one of my fajita recipes you'll learn how caramelizing onions properly can add the perfect amount of sweetness - no sugar needed!
You can season your tacos with fajita seasoning. You can season your fajitas with taco seasoning. It all comes down to personal preference. Feel free to play around and use them interchangeably if you'd like.
If you're looking for a store-bought option, Penzeys fajita seasoning is my family's favorite. We used this for the first several years that we made fajitas at home.
For store-bought taco seasonings, we like Old El Paso taco seasoning mix, Simply Organic's southwest taco, or mild taco seasoning.
Equipment and storage
Once your fajita seasoning is mixed, you can pour it into your storage container(s) of choice.
You may need to use a small metal funnel to help guide some of the spices into the jars. I found it helpful for the more finely ground ingredients.
Store your homemade seasoning blend in an airtight container (like a tightly closed spice jar) in a cool, dry place.
When choosing a storage location for your spices, it's best to keep them away from heat sources. That's why storing them next to your oven isn't recommended.
It's preferable to keep them in a dark place, or at least away from direct sunlight, to retain maximum flavor.
This blend will keep for several months, stored properly in your pantry or cabinet.
🌱 Eco-Friendly Tip
Eco-friendly tip: Hang on to empty spice jars as you use them in your kitchen. That way when you have a homemade spice blend, you already have a perfect storage container!
You can remove the label from old jars and tins and write on them with a permanent marker. Or bust out your label maker and make a pretty new label if that's more your style.
I personally have a mix of both handwritten and "properly" labeled mixes in my house.
My tiny kitchen is short on space, so I have to store my spices in a few different places.
I have a bin of spice jars above my sink. I also have an assortment of magnetic spice tins displayed on the wall in my kitchen. I keep bags of spices in buckets tucked away in a cabinet.
Use whatever works for the space you have. Here are a few recommendations if you're in the market for new spice storage options:
Recommended spice storage containers
Featured Links powered by
---
Still hungry? You may also like...
Doing some online shopping? Check out my Amazon shop page for recommendations!
---
Print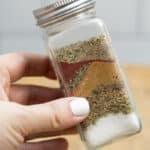 The Best Homemade Fajita Seasoning Recipe - Penzeys Copycat Spice Mix
Author:

Prep Time:

5 minutes

Cook Time:

0 minutes

Total Time:

5 minutes

Yield:

About

4 tablespoons

of seasoning

1

x

Category:

Spice Blend

Method:

No Cook

Cuisine:

Mexican
---
Description
Learn how to make the best homemade fajita seasoning blend from pantry staples so you can have restaurant-style fajitas at home any time!
---
---
Instructions
Combine all ingredients in a bowl and stir well to combine. Alternately you can put them in a spice jar, seal, and shake to mix everything together.
Store in a sealed container in a cool, dry place away from heat.
---
Equipment
---
Nutrition
Serving Size:

1 tablespoon

Calories:

26

Sugar:

0.3 g

Sodium:

1864.1 mg

Fat:

0.9 g

Saturated Fat:

0.4 g

Carbohydrates:

4.9 g

Fiber:

2.3 g

Protein:

0.9 g

Cholesterol:

0 mg
Keywords: homemade spice blend, fajita seasoning, copycat recipe
Recipe Card powered by
Check out my latest posts...
---