This post may contain affiliate links, which won't change your price but will share some commission.
Let's celebrate the New Year with a ridiculously decadent dip, shall we? And since some of us may be hungover, let's make it something rich and cheesy that can cook away in the slow cooker for a few hours.
Sound good?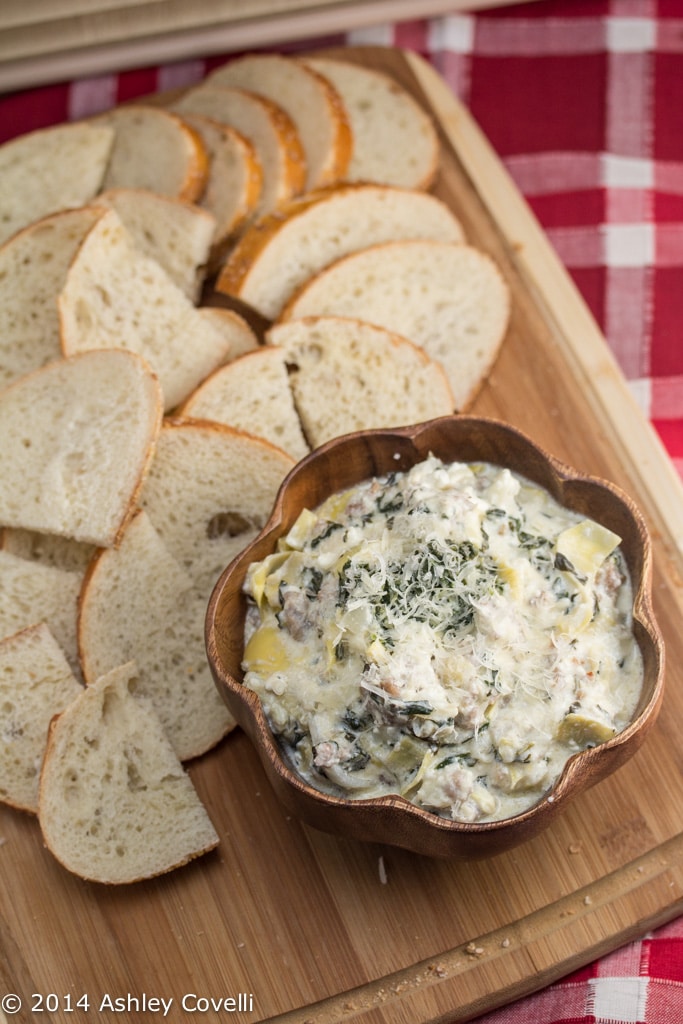 I made this dip last weekend when my friend Courtney from Running Toward Om was over for a day full of running, good food, wine and lots of laughs.
This dip has quite a few ingredients, but once it's in the slow cooker, you can just sit back, relax and enjoy the delicious smells coming from the kitchen.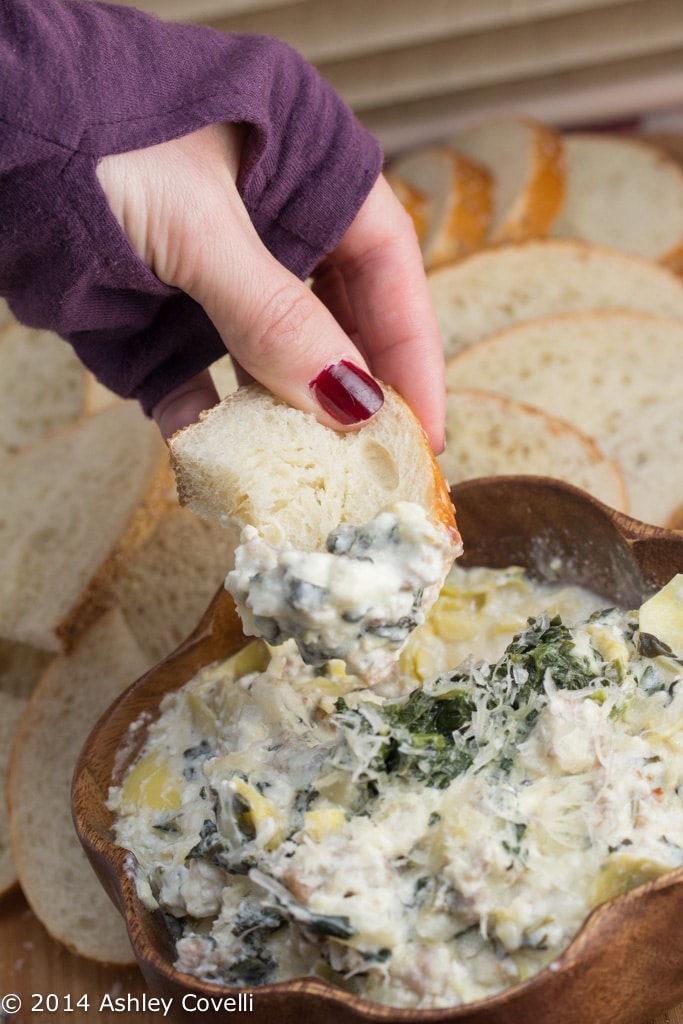 I chose this recipe because it had a few ingredients that I don't particularly care for (sweet Italian sausage, artichokes and asiago). I've managed to overcome quite a few food aversions over the years, and I figured if anyone could make me enjoy these things, it would be Morgan from Host the Toast. Seriously, have you seen her recipes? They're drop-dead gorgeous.
This dip was beautifully decadent and cheesy. It was a huge hit! We dipped some bread in it, and I dipped raw broccoli in the leftovers the next day and it was also delicious. This is perfect party food!
Slow Cooker Sausage, Spinach and Artichoke Dip
Host the Toast
PREP TIME: 10 mins
COOK TIME: 3 hours
TOTAL TIME: 3 hours 10 mins
Serves: 6
1 lb Italian sausage
1 teaspoon olive oil
2 (14 oz) canned artichoke hearts (not in vinegar!), drained and chopped
1 (10 oz) package frozen spinach, thawed and squeezed dry
8 oz plain greek yogurt
1 small onion, diced
3 cloves garlic, minced
1 ½ cups mozzarella cheese, shredded
¾ cup parmesan cheese, grated
¾ cup skim milk
¾ cup asiago cheese, shredded
⅓ cup mayo
1 tablespoon red wine vinegar
¼ teaspoon black pepper
½ teaspoon salt
1 (8 oz) package cream cheese, cubed
Remove the sausage from the casings and discard the casings. Heat the oil in a frypan over medium-high, and brown the sausage, breaking it up as it cooks. Once browned, place the sausage into your crock pot. Add the artichoke hearts, spinach, mayo, onion, garlic, parmesan, milk, asiago, mozzarella, greek yogurt, vinegar, pepper, and salt in the crock pot.
Stir well to combine and then top with the cubed cream cheese.
Cover and cook on low for 3-4 hours.
After the 3-4 hours have passed, uncover the crock pot and stir to further combine the ingredients. Let cook for an additional 15 minutes.
Top with a little extra sprinkle of parmesan and serve with bread or chips.
Big Flavors Rating: 5 Stars