This post may contain affiliate links, which won't change your price but will share some commission.
Remember that Homemade Salted Caramel Sauce that I posted yesterday? Yeah. It was for these beauties.
My husband has dubbed this the best dessert I've ever made. And I have to agree. I mean, I have made a lot of really tasty desserts so far this year (like this Nutter Butter Icebox Cake, this Cranberry Orange Trifle with Candied Walnuts or these Chewy Peanut Butter Chocolate Chip Cookies), but these apple-filled bars just take it to a whole new level.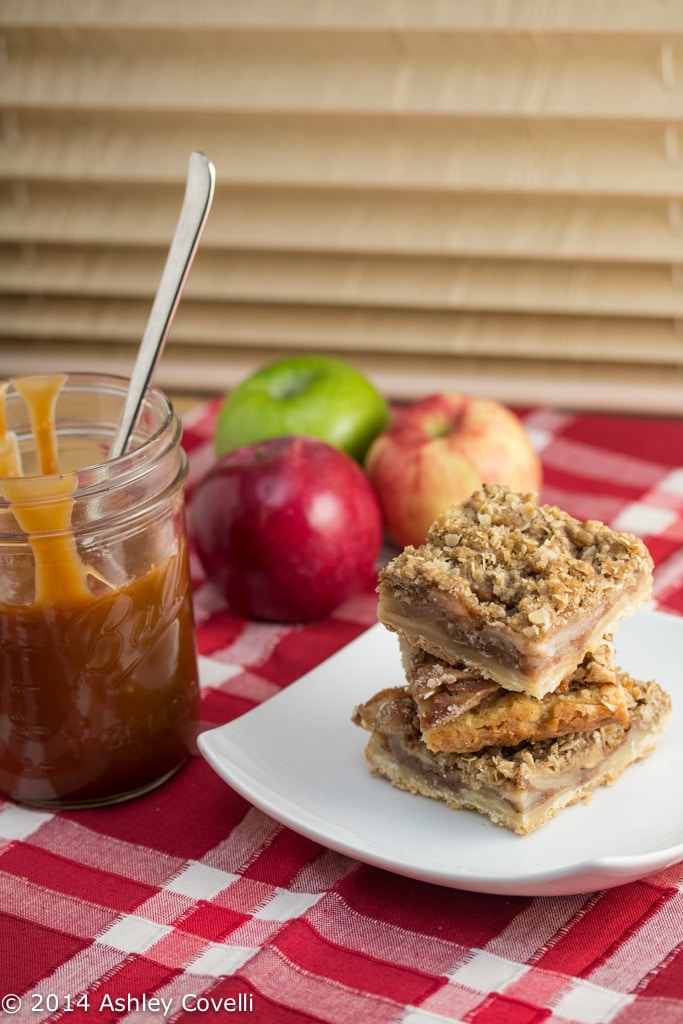 A shortbread crust is topped with a layer of spiced apples which is then topped with an oat and brown sugar streusel. It's baked, chilled, sliced and then drizzled with a little bit (or a lot!) of homemade salted caramel sauce.
Words really can't describe how delicious this dessert was. Dino has already told me there's no way I could ever outdo this one, and doesn't even want me to try for fear that he'll become a binge-eating hermit. That's not a direct quote, but also not far from what he actually said to me.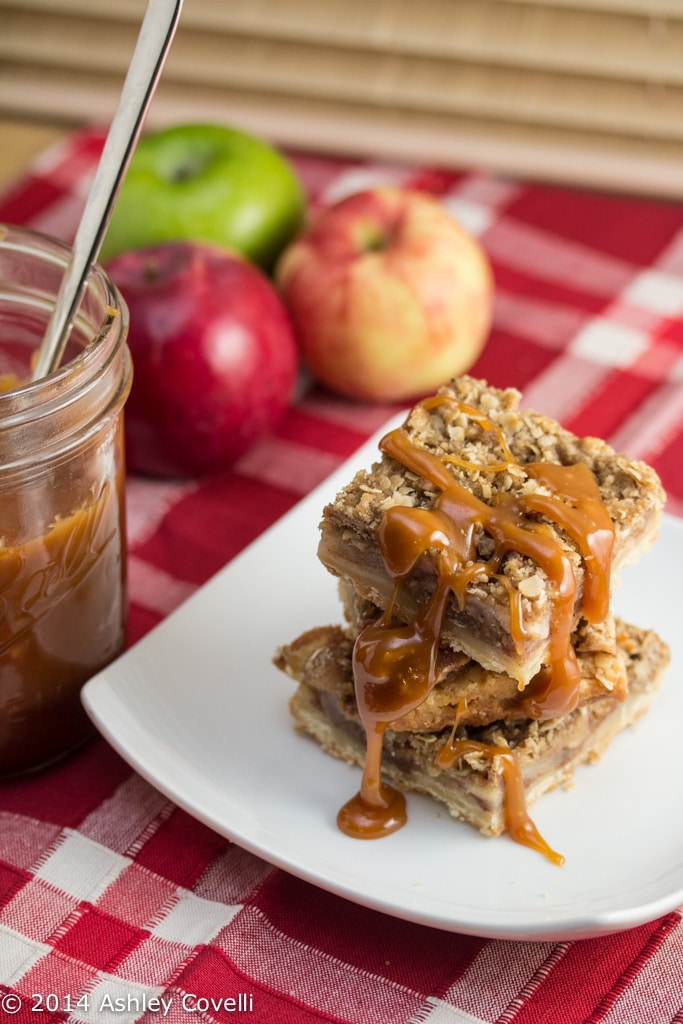 I used a mix of apples from our apple picking adventure a few days ago, and it worked out really well. I used 3 small/medium apples so I could get a nice variety of apple flavor in my bars.
And it so delivered. If you need an OMG wow dessert, I can't recommend this one highly enough.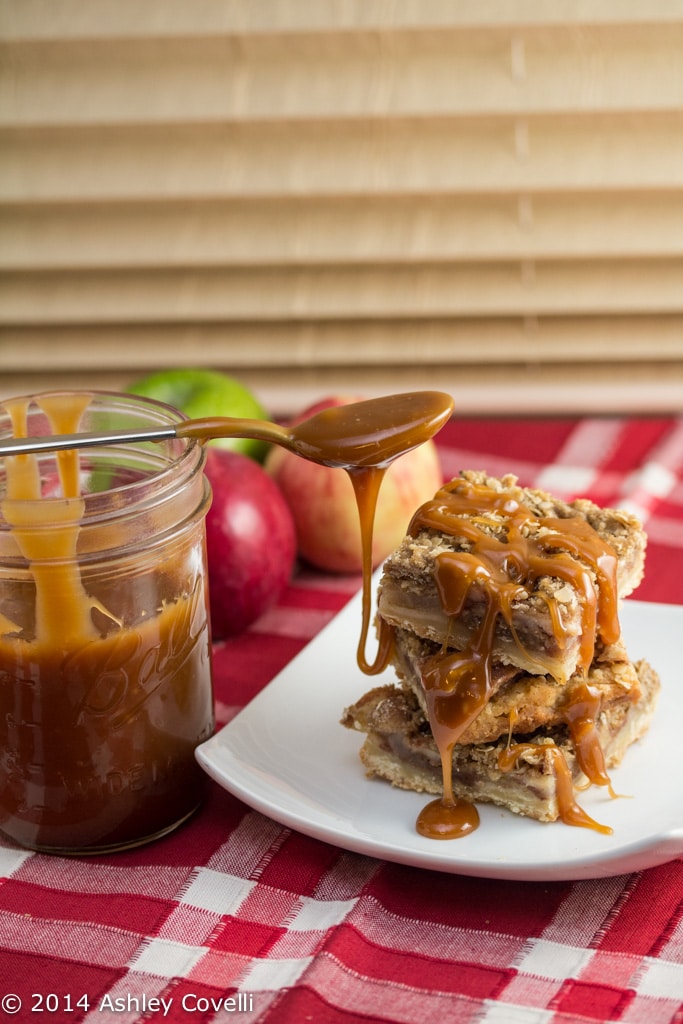 Salted Caramel Apple Pie Bars
Sally's Baking Addiction
prep time: 25 MINUTES total time: 3 HOURS, 20 MINUTES
Shortbread Crust
½ cup (115g) unsalted butter, melted
¼ cup (50g) granulated sugar
1 teaspoon vanilla extract
¼ teaspoon salt
1 cup (125g) all-purpose flour
Apple Filling
2 large apples, peeled and thinly sliced (¼ inch thick)*
2 Tablespoons all-purpose flour
2 Tablespoons granulated sugar
1 teaspoon ground cinnamon
⅛ teaspoon ground nutmeg
Streusel
½ cup (40g) old-fashioned oats
⅓ cup (70g) light or dark brown sugar
¼ teaspoon ground cinnamon
¼ cup (30g) all-purpose flour
¼ cup (60g) unsalted butter, cold and cubed
Homemade salted caramel sauce
Preheat the oven to 300F degrees. Line an 8-inch baking pan with aluminum foil, leaving an overhang on all sides. Set aside.
Make the crust: Stir the melted butter, granulated sugar, vanilla, and salt together in a medium bowl. Add the flour and stir until everything is combined. Press the mixture evenly into the prepared baking pan. Bake for 15 minutes while you prepare the filling and streusel.
Make the apple filling: Combine the sliced apples, flour, granulated sugar, cinnamon, and nutmeg together in a large bowl until all of the apples are evenly coated. Set aside.
Make the streusel: Whisk the oats, brown sugar, cinnamon, and flour together in a medium bowl. Cut in the chilled butter with a pastry blender or two knives (or even with your hands) until the mixture resembles coarse crumbs. Set aside.
Remove the crust from the oven, and turn the oven up to 350F degrees. Evenly layer the apples on top of the warm crust. It will look like there are too many apple slices, so layer them tightly and press them down to fit. Sprinkle the apple layer with streusel and bake for 30–35 minutes or until the streusel is golden brown.
Remove from the oven and allow to cool for at least 20 minutes at room temperature, then chill in the refrigerator for at least 2 hours. Lift the foil out of the pan using the overhang on the sides and cut into bars. Once cut, pour salted caramel sauce on top. These apple pie bars can be enjoyed warm or cold. The bars will stay fresh in an airtight container in the refrigerator for 3 days or frozen up to 3 months - thaw overnight in the fridge, then drizzle with salted caramel before serving.
Big Flavors Rating: 5 Stars