This post may contain affiliate links, which won't change your price but will share some commission.
This installment of Behind BF features a wine + cheese pairing class in NYC and the kickoff of Hudson Valley Restaurant Week!
Last week, I got to attend 2 fabulously delicious events that had me in pure food heaven!
If you live in the NYC area, you must try one of the cheese education classes over at Beecher's Handmade Cheeses. My friends over at Gilt City got wind of my obsession adoration of all things cheese and sent me to an evening full of delicious wine and cheese education.
I attended Perfect Pairings: Wines & the Cheeses that Love Them with my friend Jenn, and we both learned SO much!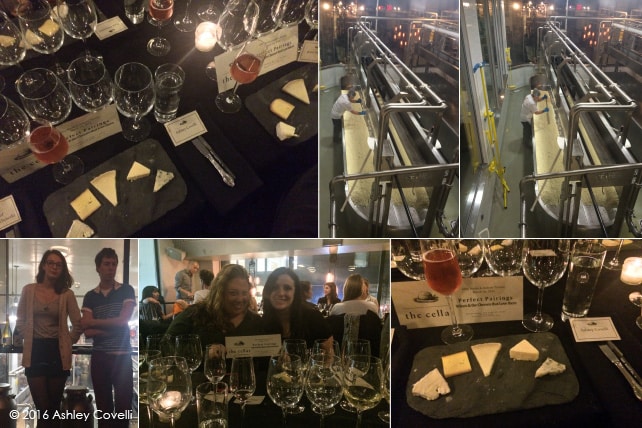 The class was held upstairs in The Cellar, and it was run by Lead Cheesemaker Andrew Torrens and Cheesemonger Abbey Meeks. Andrew recently got his level 2 Sommelier certification, so he talked all things wine while Abbey gave us the delicious details on each of the 5 cheeses.
Beecher's makes about 9 types of cheese in house, mostly based on 2 styles - Jack and Cheddar. They make various iterations of each style. I got to see part of the cheesemaking process in action as their Flagship 4 Year (NY/WA Pasteurized Cow) was going through the cheddaring process as we arrived.
The room was dark and cozy - perfect for date night (or night out with your food/wine nerd friends)!
All of the products at Beecher's are domestic - no imported wines, cheeses, meats or snacks here! It was nice to have a narrowed focus, and Abbey and Andrew did an excellent job describing all of the aspects of each variety of cheese and wine. They explained that when pairing wine and cheese, you're looking for a 1+1=3 scenario, meaning that the 2 come together and end up making more than the sum of their parts.
They also talked about raw vs. pasteurized cheeses, how the rind is formed and the differences between the types of milk used to make cheeses. They have some cheeses that are washed in a salt solution, some washed in beer, wine and even absinthe! I learned that a lot of people have an easier time digesting sheep and goat milk cheeses vs. cow milk because baby sheep and goats are similar in weight to humans at birth, so the composition of those milks are closer to human. They talked about the different fat contents and nutrients in each type of milk, too.
We learned a lot about wine and where different grapes grow, the process for making sparkling wines and the fact that the longer that grapes sit on the vine, the more sugar content they have. I also had no idea that when Champagne is made, the sugar and yeast is added to each individual bottle and it ferments there, as opposed to in a large tank. So cool!
I could go on and on about how much I loved this class, but you should check it out for yourself! They have upcoming classes on pairing Beer & Cheese, Whisky & Cheese, Wine & Cheese and also Mozzarella-Making. I highly, highly recommend checking it out!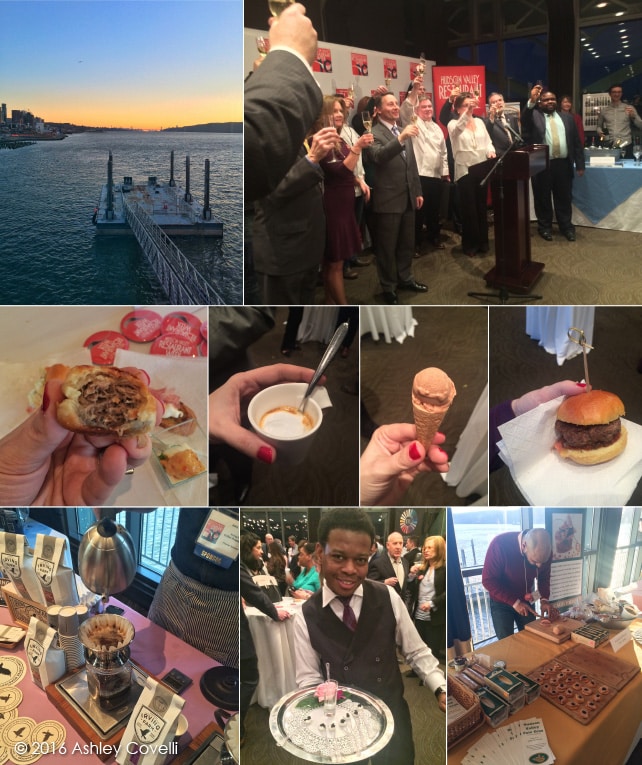 Speaking of delicious local events that you need to get to - this year is the 10th anniversary of Hudson Valley Restaurant Week! It runs March 7-20 and there are so many amazing restaurants on the roster this year! Make your reservations now so you don't miss out on this delicious dining!
I absolutely love living in the Hudson Valley. We're a short train ride from NYC, and our restaurant scene is seriously impressive. And the list just keeps on growing! I love that I can get almost any type of cuisine within a few miles of my house.
I got to attend the kickoff last week (on Leap Day!) hosted by The Valley Table over at X2O Xaviars on the Hudson in Yonkers. It was an absolutely beautiful evening, full of delicious food, local libations, farmers, artisans and purveyors of all things tasty. What a way to spend the extra day this year!
Janet Crawshaw, publisher of The Valley Table Magazine gave a little background of how HVRW got started:
"We started Hudson Valley Restaurant Week with just 70 restaurants and the goal to build the region's reputation as a culinary destination. Now, with a record 230 participating restaurants, from Yonkers to Rhinebeck, a variety of cuisines and unique settings from historic to urban chic, riverfront to mountainside, the region truly is recognized as a great food destination. That's certainly reason to toast to the 10th,"
Westchester County (where I live) has more than 120 joining in this year. Each participating restaurant offers 3-course dinners for $29.95 and lunches for $20.95. It's a really fun way to get to sample local restaurant menus at a great price. And it's a great way to bolster our local economy! Westchester County Executive Robert P. Astorino spoke at the kickoff and had this to say about the impact of HVRW:
"Westchester's food and beverage industry accounts for nearly $473 million in visitor spending, and events like this continue to help grow that number.  With Restaurant Week, The Valley Table has done an excellent job highlighting Westchester County and the entire Hudson Valley Region as the perfect destination for a quick culinary getaway."
And Peter X. Kelly, chef and owner of the renowned Xaviars Restaurant Group thanked the people who make this culinary experience a reality:
"HVRW is a celebration of everything that has made the Hudson Valley the dining destination of the Northeast.  On our 10th anniversary, I want to personally thank the growers, chefs, winemakers, breweries, spirit distillers and most of all, the residents of the Hudson Valley for making it all possible,"
The menu for the kickoff event was absolutely spectacular. I was able to get my hands on a list of everything that Chef Kelly and his team served up and am proud to report that I managed to eat (at least one of) everything on this list. It was a good thing I had a bit of a walk to get home from the train that night, because I.was.stuffed.
A Selection of Passed Foods
Duck Confit Turnover with Butternut Squash
Lobster Cappuccino with Mascarpone Foam
Spicy Rock Shrimp Tempura with Fennel Panna Cotta
Miniature Short Rib "Wellington" with Foie Gras
House Made Buratta with Prosciutto di Parma & Grilled Bread
Tiny Profiteroles' with Foie Gras
Brioche Sandwich of Citrus Cured Salmon & Cucumber Strings with Dill
Wild Mushroom Ravioli with Port Glaze, Truffle & Grated Amoretti
A Spoonful Florida Paddle Fish Caviar with Cauliflower Fondant
"Xaviars" Grilled Sliders with Aged Beef & Foie Gras Tomato & Mustard Seed Compote
Coconut Shrimp with Dijon Mustard Sauce
Porcini Crusted Veal Sweetbreads with Creamed Spinach & Sauce Perigourdine
Pate "Grand Mere" With Duck & Pistachios on Raisin Walnut Toasts
Chick Pea "Pannises" with Fig Jam & Brittany Salt
Slow Braised Berkshire Pork Shoulder with White Cheddar Grits & Mostarda
A Selection of Sushi, Sashimi & Nigiri with accompanying garnish
A Tasting of Sweets
Crème Brulee Tart
Grand Marnier Truffles
Pecan Diamonds
Milk Chocolate Éclairs
Salted Chocolate & Caramel Tart
Miniature Ice-cream Cones in Assorted Flavors
Xaviars Malomars