This post may contain affiliate links, which won't change your price but will share some commission.
This month's Supper Club event was at our house, and the theme was Tapas. We were really excited to do this one, but we didn't think about the fact that having everyone make 2+ dishes would be a lot for our tiny kitchen to handle. But we ended up doing the food in 2 waves, and it ended up working out great! Dino even got to use the new deep fryer that I got him for Christmas, and it was a big hit!
I also made white sangria, but completely forgot to take a picture of it! Looks like I'll just have to make it again...darn. 😉 I used 1.5L Pinot Grigio, 1L ginger ale, about 2c. Peachtree Schnapps, and added 2 sliced green apples and 1 sliced orange. It was fantastic!
I made these olives and they were really good. I think the ones that are leftover will just keep getting better and better over the next few days. I ran into 2 snags - I couldn't find fresh thyme (!?) and the refrigerator solidified the olive oil, so I had to bring them out onto the counter in the early afternoon today so that it would loosen up again.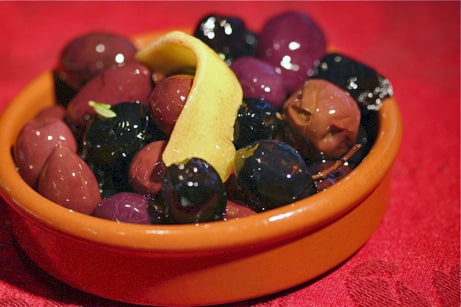 Rosemary Marinated Olives
The Food You Want to Eat - Ted Allen
yield: Makes 1 pound
Editor's note: The recipe and introductory text below are from Ted Allen's The Food You Want to Eat.
I can't have cocktail hour without great, fresh olives — and
I don't mean the rubbery, tasteless black ones from a can.
I mean the real deal: kalamatas, niçoises, gaetas, picholines— the more variety, the better. Most good supermarkets these days feature an olive bar—that is, a variety of loose olives available in bulk. And that is a very, very good thing. Some of these places include among the selection a batch of olives that have been seasoned with herbs and other flavors, too. But it's more fun to do it yourself; you can buy different kinds of olives (be sure to get different sizes and colors, which looks great in the bowl), select the flavors you like the best — say, thyme, cayenne, garlic, grapefruit zest, whatever — and you can control the spiciness. You'll have a great collection of olives for your next impromptu get together, or an excellent addition to an antipasto platter. And they're almost no work at all to make.
When you serve, remember to put out a small dish so guests have some place to put the pits.
1 lb. mixed olives
2 strips lemon zest
1 tablespoon fresh rosemary leaves
A couple of sprigs fresh thyme
1 medium garlic clove
½ cup extra-virgin olive oil
Combine the olives, lemon zest, rosemary, and thyme in an attractive jar that has a cover. Bury the garlic clove in the center, add the oil, stir, cover, and refrigerate until you need it, up to several weeks. Give the mixture another stir now and then to blend. And try other flavors: herbs such as tarragon, other citrus peels, chilis, seasoned oils—whatever you like.
MacGourmet Rating: 4 Stars
---
There's a chorizo dish that we love at one of the local tapas restaurants here, so we wanted to make one that was kind of similar for this event. Dino made it dish with some of the chorizo that we got from our friend's angus farm. The flavor of the chorizo was fantastic, and the sauce complimented it perfectly.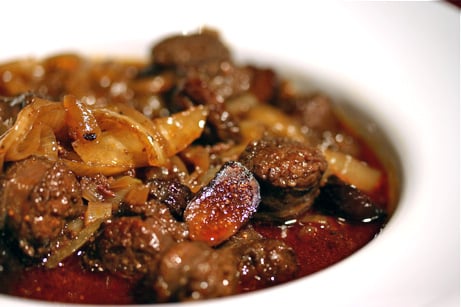 Spiced Chorizo Sausage with Figs
gourmetfoodplaza.com
This dish features an intriguing blend of spicy, sweet and sour flavors.
4 chorizo sausages (1 lb) cut into 1 inch pieces
8-10 dried figs, halved
1 small onion, halved and thinly sliced
1 tablespoon olive oil
½ cup red wine
¼ cup sugar
½ cup red wine vinegar
1 stick cinnamon
pinch ground cloves
Heat the oil in a skillet and lightly brown the chorizo. Add remaining ingredients and gently simmer 30 minutes. Note: This dish can be made in advance and preheated just before serving
MacGourmet Rating: 4 Stars
---
I made these meatballs, and they were extremely well-received! They're different from your "regular" meatballs, and the sauce is great for dunking fresh bread into - especially bread made fresh by one of our Supper Club members this morning!
NOTE: this recipe doesn't say to use an egg in the ingredient list, but it states it in the directions. You definitely need to put an egg in there!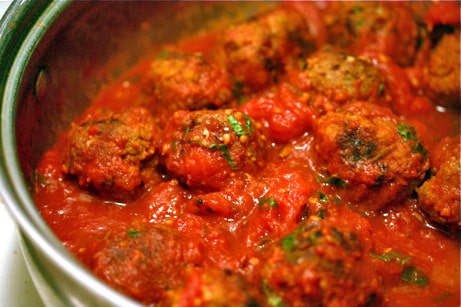 Meatballs In Tomato Sauce
spain-recipes.com
Found in most tapas bars, this traditional dish tastes best when served piping hot straight from the pan. Provide plenty of fresh bread to mop up the juicy tomato sauce.
* Serves: 4
* Difficulty: Very easy
* Preparation time: 45 minutes
2 tablespoons of olive oil
8 ounces ground beef
1 cup (2 oz) fresh white breadcrumbs
2 tablespoons grated Manchego or Parmesan cheese
1 tablespoon tomato paste
3 cloves garlic, chopped fine
2 scallions, chopped fine
2 teaspoons chopped fresh thyme
½ teaspoon turmeric
Salt and pepper, to taste
2 cups (16 oz) canned plum tomatoes, chopped
2 tablespoons red wine
2 teaspoons chopped fresh basil leaves
2 teaspoons chopped fresh rosemary
In a bowl, thoroughly mix together the beef, breadcrumbs, cheese, tomato paste, garlic, scallions, egg, thyme, turmeric, salt, and pepper. Using your hands, shape the mixture into 12 to 15 firm balls.
Heat the olive oil in a skillet over medium-high heat. Add the meatballs and cook for several minutes or until browned on all sides.
Add the tomatoes, wine, basil, and rosemary. Simmer gently for around 20 minutes, or until the meatballs are cooked. Season generously with salt and pepper and serve hot.
MacGourmet Rating: 4 Stars
---
We saw plantains at the store yesterday, so I asked Dino what he thought of making fried plantains for his second dish, and he thought it sounded great!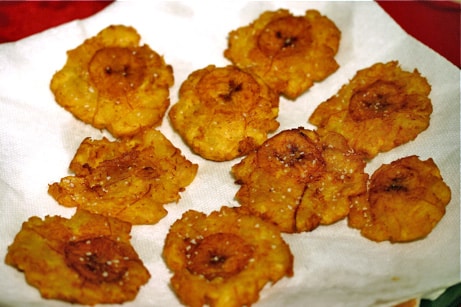 Tostones
All he did was slice them thick, deep fry them, drain them, smash them, and re-fry them. Drain them on a paper towel-lined plate and hit with some salt while they're still hot. Really yummy!
MacGourmet Rating: 4 Stars
---
Lastly, I made a shrimp dish. It was incredibly easy and probably our favorite of the dishes that we made tonight. It was insanely easy, and the juice is unbelievable for dunking. Also, it was my first time ever cooking shrimp, and I'm so proud of myself! It wasn't nearly as scary as I thought it would be, although peeling the shells off was a little gross. Hey, I'm working on trying to like seafood, and I've made some real progress in the last few weeks!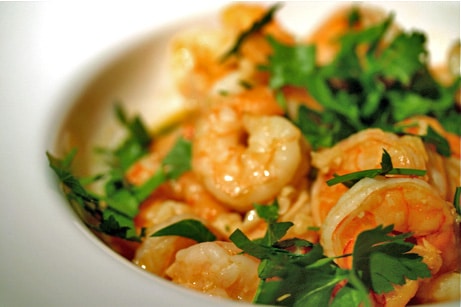 Spanish Garlic Shrimp - Gambas Al Ajillo
About.com - Lisa & Tony Sierra
One of the most common "tapas" of Spain, this dish is quick, easy and FULL of garlic flavor. Your guests will be asking for the recipe after the first bite and only you will know how simple it was to prepare.
Prep Time: 10 minutes
Cook Time: 10 minutes
1 lb. shrimp, 25 count to a pound
4 large cloves of garlic, finely minced
1 teaspoon sweet Spanish paprika
1 teaspoon red pepper flakes
2-3 ounces of cognac (you may substitute dry sherry instead)
¼ cup virgin olive oil
3 teaspoons chopped fresh parsley
1 lemon for juice
1 Baguette
This garlic shrimp recipe makes 4 servings as an appetizer.
The shrimp can be peeled first, before cooking them if you prefer. In addition, if you like larger shrimp, you may purchase shrimp with fewer count to a pound. However, 25 to a pound are about the right size for this tapa.
In a sauté pan or heavy frying pan, warm the olive oil over medium heat. Add the garlic and red pepper flakes and sauté for about one minute or until they begin to brown. Be careful not to burn the garlic!
Raise the heat to high and add the shrimp, lemon juice, sherry or cognac and paprika. Stir well, then sauté, stirring briskly until the shrimp turn pink and curl – about 3 minutes.
Remove from heat and transfer shrimp with oil and sauce to a warm plate or serve right from the pan. Season to taste with salt and freshly ground black pepper. Sprinkle with parsley.
Serve with fresh bread.
Serves 4 for appetizers. If preparing for a main course, double the recipe!
MacGourmet Rating: 4 Stars