Supper Club: Quick Southern-Style Baked Beans
This post may contain affiliate links. Thank you for supporting the brands that keep me creative in my tiny kitchen!
I saw this recipe over on The Pioneer Woman's site a while ago and just knew I'd need to make them sometime. So when this month's Supper Club came around, I knew that this was the recipe to make. We decided to have a picnic themed event, and we met up at a local park and at at picnic tables and enjoyed what will probably be one of the last warm(ish) days this year. It was great, and the beans were a hit! They may say "quick", but you still have to let them bake for 2 hours. It's so worth your time though – they're rich and sweet, and since I picked a spicy BBQ sauce (I used my favorite, Stubb's, because it's a great tasting sauce that has natural ingredients without any "junk"), it had a nice kick. This dish really held up well to traveling to a park and sitting for a while, too, which was a bonus. I'll definitely be making these again sometime, when I need a big tray-o-beans. Yum!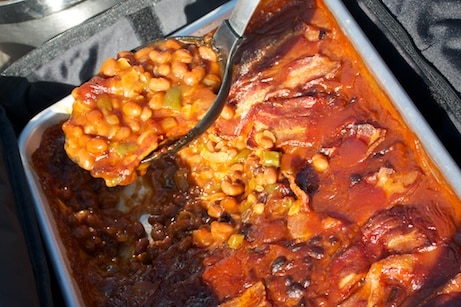 Quick Southern-Style Baked Beans
recipe by Pam Anderson (via The Pioneer Woman)
Serves up to 18
8 slices bacon, halved
1 medium onion, cut into small dice
1/2 medium green pepper, cut into small dice
3 large cans (28 ounces each) pork and beans
3/4 cup barbecue sauce
1/2 cup brown sugar
1/4 cup distilled or cider vinegar
2 teaspoons dry mustard or 2 tablespoons Dijon
Adjust oven rack to lower-middle position and heat oven to 325 degrees. Fry bacon in large, deep sauté pan skillet until bacon has partially cooked and released about 1/4 cup drippings. Remove bacon from pan and drain on paper towels. Add onions and peppers to drippings in pan and sauté until tender, about 5 minutes. Add beans and remaining ingredients bring to a simmer. (If skillet is not large enough, add beans and heat to a simmer then transfer to a large bowl and stir in remaining ingredients). Pour flavored beans into a greased 13-by 9-inch (or similar size) ovenproof pan. Top with bacon, then bake until beans are bubbly and sauce is the consistency of pancake syrup, about 2 hours. Let stand to thicken slightly and serve.
Big Flavors Rating: 5 Stars