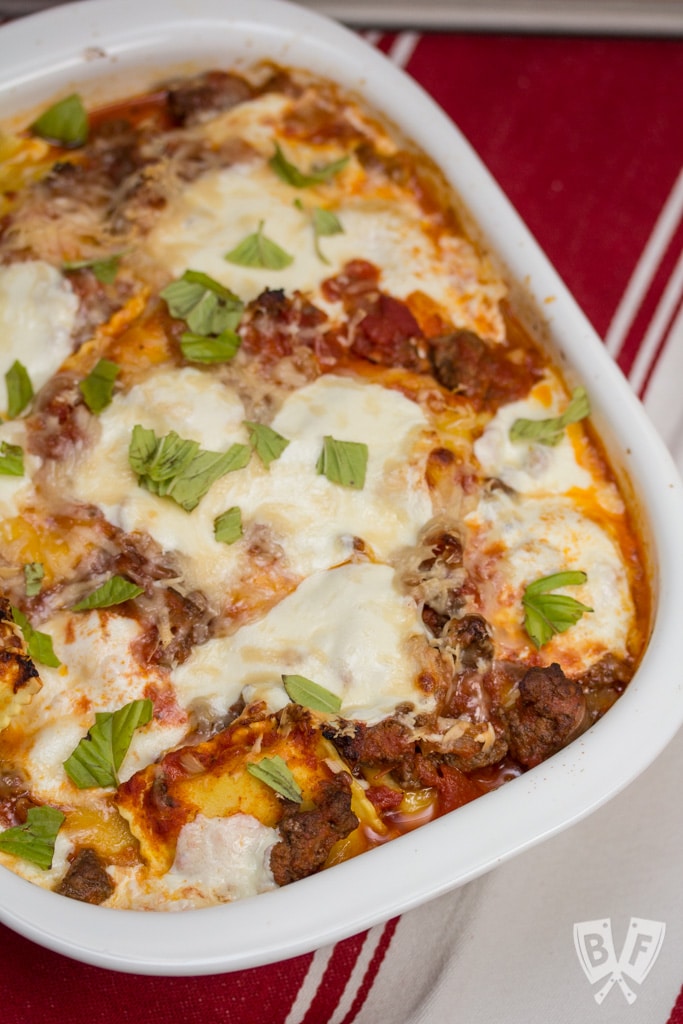 This post may contain affiliate links. Thank you for supporting the brands that keep me creative in my tiny kitchen!
Thanks to Hoboken Farms for sending over an assortment of pasta sauces for me to try out! As always, all opinions are 100% my own. Thank you for supporting the brands that keep me creative in my tiny kitchen!
An Italian classic in a fraction of the time! Refrigerated pasta + your favorite marinara team up for an easy weeknight meal.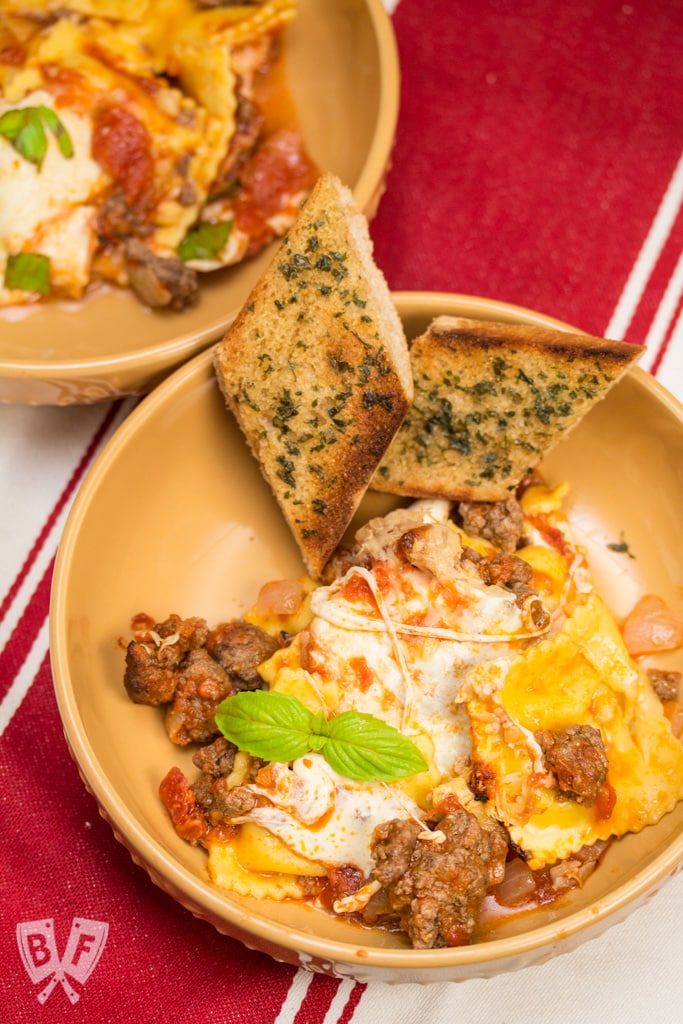 My father-in-law is from Italy, and he makes some seriously amazing lasagna, among other things. I'm working on setting up a date with him to make it together, and write up his recipe.
He spends hooooours working on his lasagna, and it's reserved for special occasions.
But what if you want lasagna on a weeknight without so much fuss?
Allow me to present my Ravioli Lasagna.
Ain't she pretty?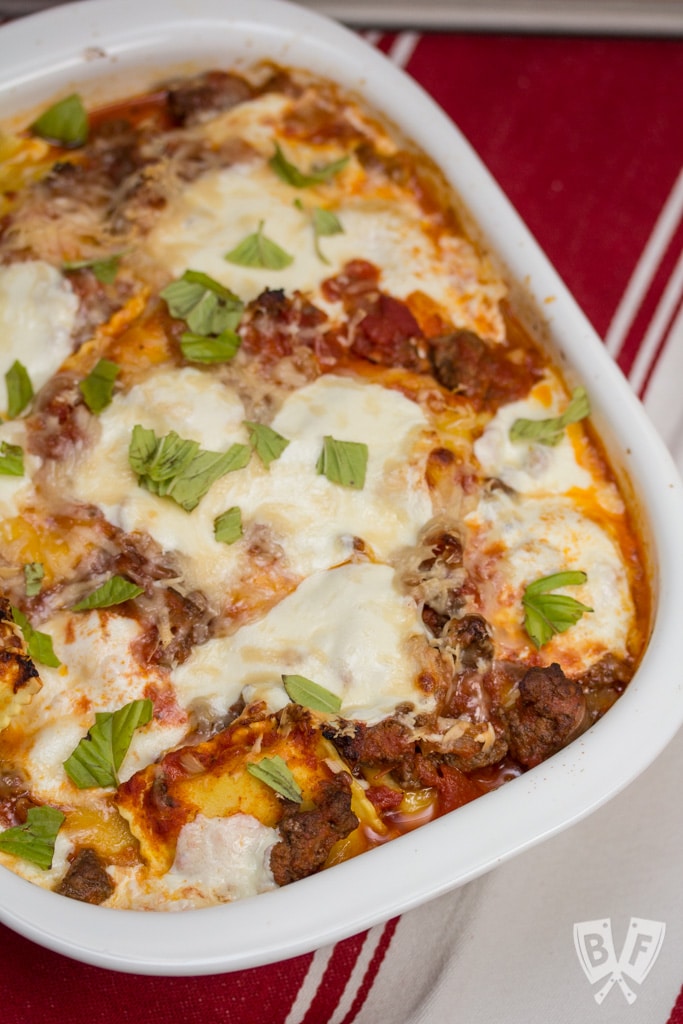 I had a few packages of refrigerated cheese ravioli that I wanted to use, along with a few packs of sliced fresh mozzarella. I didn't even realize it was sliced when I bought it, but it ended up saving me even more time!
I knew that an easy, lasagna-type meal could be mine with minimal effort, but I needed the perfect sauce to go with it.
Now, my Italian husband would argue that any jarred pasta sauce has to have things added to it. He always needs to amp sauces up before serving them.
I've tried sneaking one over on him with a sauce straight from the jar before, but he always knows.
Enter Hoboken Farms.
Let me tell you – I'm seriously impressed with their sauces! The Big Boss Vodka Sauce was a total life saver on Halloween when we needed a quick & simple meal. And the color, along with some black bean pasta made it feel extra festive.
I heated it straight from the jar and it was phenomenal. It tasted just as good as the homemade stuff that the Italian side of our family makes.
Same with the Big Red Marinara Sauce that I used for this recipe. You can taste the real tomatoes that have been simmered to make it. It's really well balanced, and worked perfectly in this lasagna.
I chose to make it a meat sauce lasagna with ground beef, but you could easily substitute ground turkey, or even leave the meat out completely (which would make this come together even more quickly).
You don't need to pre-cook the ravioli— just pop them out of the refrigerated package into the casserole dish.
A few layers of sauce, ravioli and cheese and you're good to go! You could use frozen ravioli, too, but you may need to add a few minutes of baking time to make sure they're cooked through.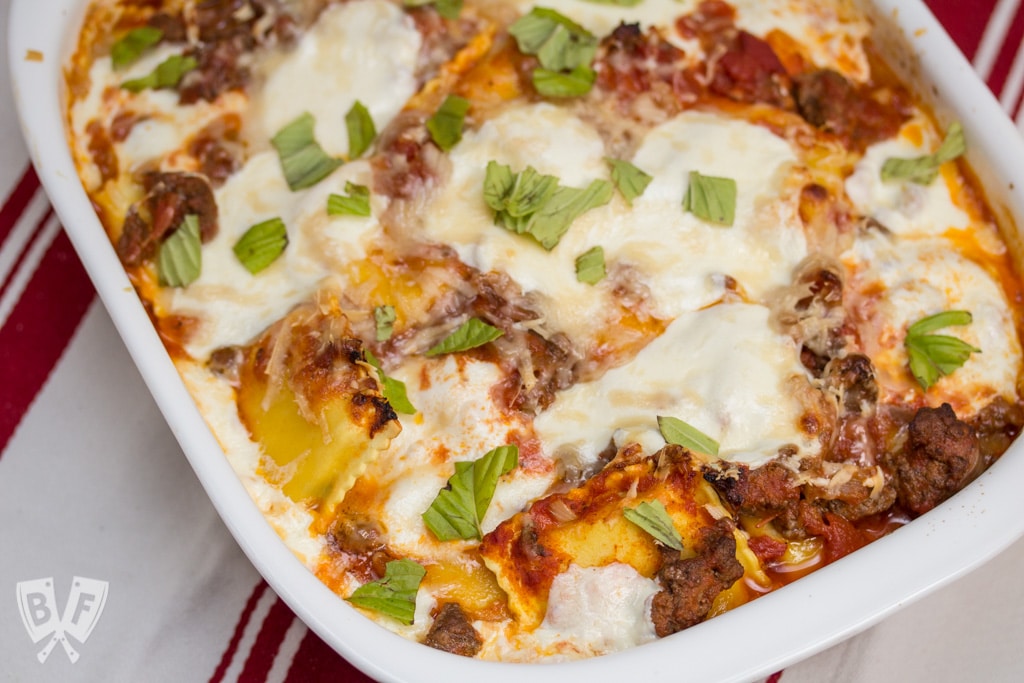 I like to set my casserole pan on a baking sheet juuuuust in case any bubbles over in the oven. You don't want sauce or cheese dripping down and burning in there. Trust me.
I served this with My Favorite Garlic Bread and it was a big hit all around. Italian husband approved!
Big time.
Print
---
---
---
---
Recipe Card powered by