Buttered Pasta with Peas, Egg and Garlic
This post may contain affiliate links, which won't change your price but will share some commission.
Looking for something that you can make a big batch of to keep in the fridge for a picky toddler? This stuff has been on heavy rotation in my house lately. Buttered pasta has always been the perfect comfort food for me – simple, tasty and inexpensive. Back in college, I often cooked up some pasta, threw in a bit of minced garlic, parmesan cheese and butter and made a meal out of it. If I had any frozen peas hanging out, I'd add them, too. I still make it for myself sometimes when I'm feeling uninspired or just want something easy to make with ingredients that I always have on hand.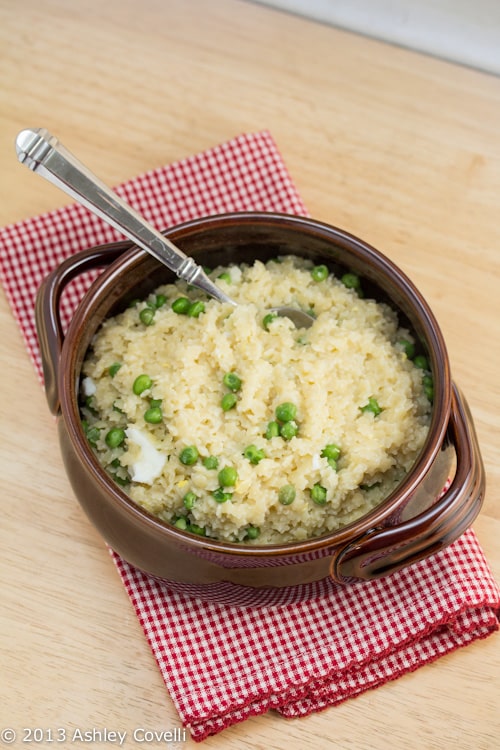 Once my son started eating solid food, I noticed that my mother-in-law was making something similar for him, but she was doing pasta and egg. How had I never thought of this before? You just drop an egg (sometimes I beat it in a small dish first) into the boiling water with the pasta and stir. It's a fantastic way to add extra protein to his diet, especially since he decides to be really picky at mealtimes occasionally now. He will almost always eat a LOT of this stuff. I'm talking more than he should be able to fit in his 17-month-old tummy. So on days like today, I make a big batch of this, put it in a giant bowl to share with him, and put the leftovers in the fridge for the week. When reheating, I usually add another teaspoon of butter to make sure the pasta doesn't dry out. He especially loves the tiny pasta shapes like these stelline and ditalini. The only drawback is that I can almost guarantee that I'll be finding little pieces of pasta all over the house for a few days afterward 😉
Buttered Pasta with Peas, Egg and Garlic
Ashley Covelli
Pasta of choice
Frozen peas
Egg, beaten if desired
Butter
Garlic Powder
Bring a large pot of salted water to a boil. Add pasta and peas and stir. Add egg and stir. Cook according until the pasta is al dente, stirring occasionally. It may take an extra minute or two since the frozen peas will lower the temperature of the water.
Drain pasta and add butter and garlic powder to taste. Stir until the butter melts and serve.
Big Flavors Rating: 4 Stars