This post may contain affiliate links, which won't change your price but will share some commission.
This was the other main dish that we made for this month's Supper Club. This was very easy to put together, and it doesn't take much time at all. Peeling the shrimp, if you buy them with the shells still on, and marinating them for 15 minutes are the longest parts. Otherwise, it comes together in a snap. This had a very nice spicy flavor, and it was one of the favorite dishes of the evening.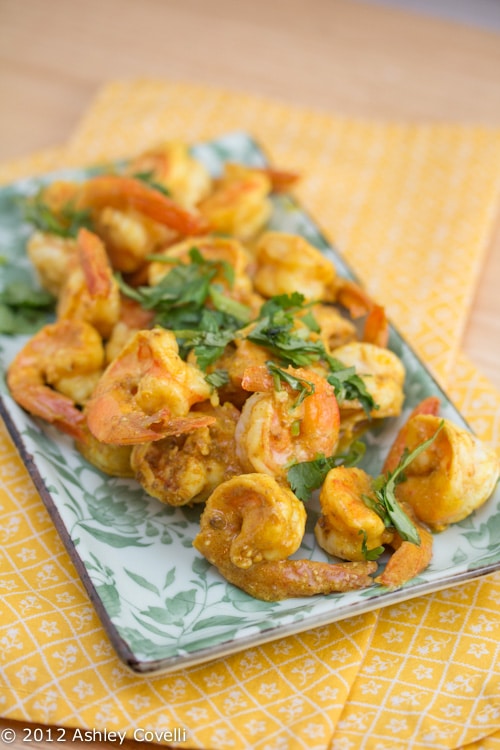 Jhinga Vindaloo (Shrimp with Cashew Nuts and Vinegar)
660 Curries: The Gateway to Indian Cooking - Raghaven Iyer
Serves 4
¼ cup distilled white vinegar
1 tablespoon coriander seeds, ground
1 teaspoon cumin seeds, ground
1 teaspoon cayenne (ground red pepper)
1 teaspoon coarse kosher or sea salt
¼ teaspoon ground turmeric
10 raw cashew nuts, ground (see Tip)
1 pound large shrimp (16 to 29 per pound), peeled and deveined but tails left on
2 tablespoons canola oil
2 tablespoons finely chopped fresh cilantro leaves and tender stems for garnishing
1. Combine the vinegar, coriander, cumin, cayenne, salt, turmeric, and cashews in a small bowl and stir to make a smooth, slightly thin paste. Pour this over the shrimp in a medium-size bowl, making sure you scrape in every spicy, acidic drop. Toss well to coat the shellfish with the marinade. Refrigerate, covered, for about 15 minutes.
2. Heat the oil in a medium-size skillet over medium-high heat. Add the shrimp, arranging them in a single layer and reserving the residual marinade in the bowl. Sear the shrimp on each side to seal in the flavors, about 1 minute per side. Pour in the residual marinade and stir once or twice. Lower the heat to medium and simmer the curry, uncovered, stirring occasionally, until the shrimp are salmon-orange, curled, and tender and the sauce is almost entirely absorbed, 3 to 5 minutes.
3. Sprinkle with the cilantro, and serve.
Tip: I grind the cashew nuts in a spice grinder. Oftentimes, a few small pieces refuse to incorporate. When that happens, I remove some of the packed cashew powder, especially around the blades, to free up more space for the remaining pieces to end up powdered.
Big Flavors Rating: 5 Stars