This post may contain affiliate links, which won't change your price but will share some commission.
This month, our Supper Club theme was Layered/Stacked. As soon as we picked the theme, I knew I wanted to make a trifle. When I was seeking out a recipe, most that I found were layers of store-bought cake, Cool Whip, candy bars, etc.
I really wanted to try something a little more homemade this month, since I've been taking it easy(ish) for the last few events.
Enter THIS beauty: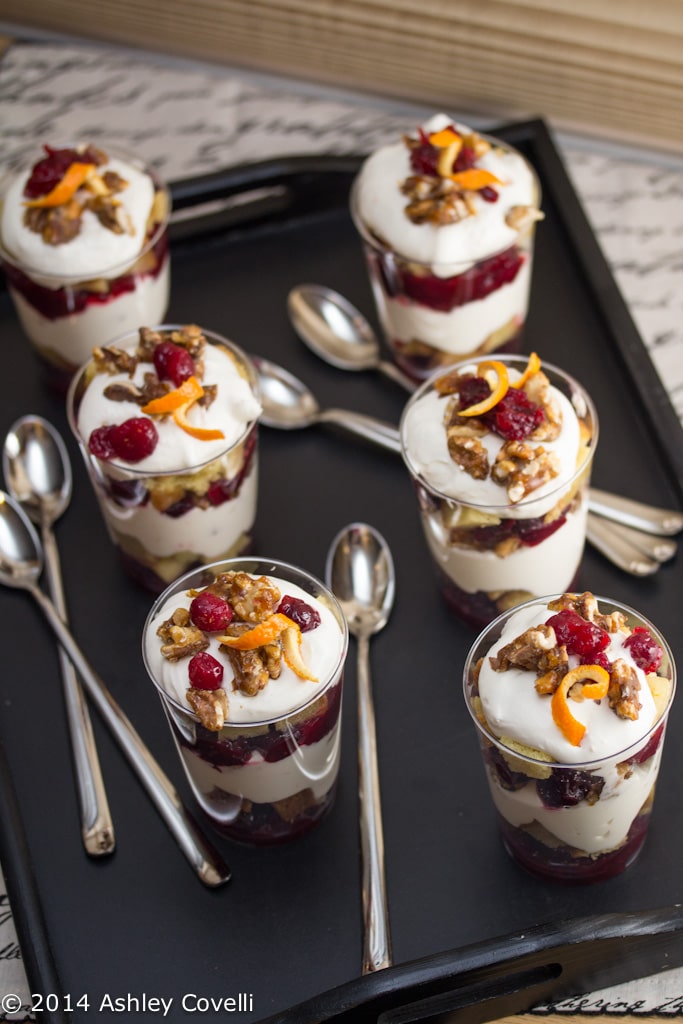 There are four components to this stunning dessert, and they're all homemade: buttermilk pound cake, cranberry compote, candied walnuts and an orange mascarpone cream.
Each component is delicious, and can  be prepared ahead of time, which makes the task of assembling the finished product a lot less intimidating.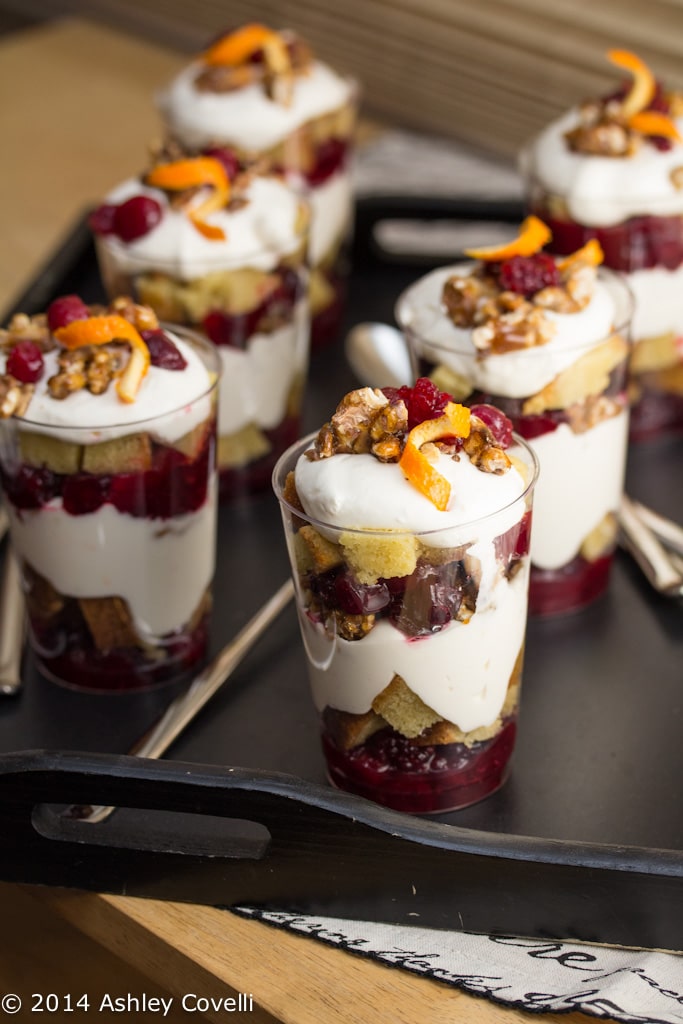 The flavors go beautifully together, and the crunchy, candied nuts on top are a perfect contrast to all of the other smooth, creamy layers. I most definitely made the "adult" version, which includes extra orange liqueur brushed over the cubes of cake. I used Triple Sec, because it's what I had on hand, and it worked out perfectly.
I did have a little trouble with my pound cake drooping in the middle after it came out of the oven. I guess it wasn't totally cooked - even though the skewer came out clean when I tested it. Good thing it was getting cut into little cubes, right? 😉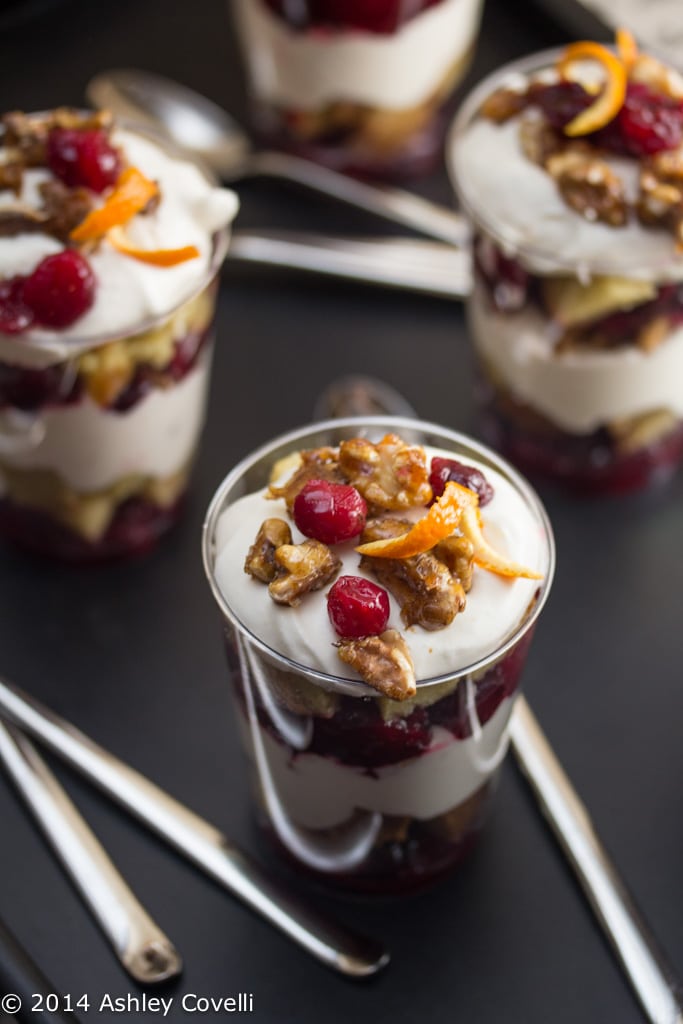 This was a HUGE hit with my Supper Club, and also for our babysitter, since I had one left over to give to her after she spent the evening watching my toddler.
This is the perfect way to end any dinner party - beautiful and impressive!
Cranberry Orange Trifle with Candied Walnuts
TasteFood
While there are several components to this trifle, each one may be prepared in advance, and each one is stand alone good, so feel free to use them on their own. Serve in a trifle bowl or individual goblets. Makes 8-10 servings.
For the buttermilk pound cake:
1 ½ cups all-purpose flour
½ teaspoon baking soda
½ teaspoon salt
1 ½ cups granulated sugar
½ cup unsalted butter, room temperature
3 large eggs, room temperature
1 teaspoon vanilla
½ cup buttermilk
Preheat oven to 325 F. (170 C.) Butter a 9-by-5 inch loaf pan. Line bottom with parchment; butter parchment. Whisk flour, baking soda and salt together in a bowl; set aside.
Beat sugar and butter in bowl of electric mixer until light and fluffy, 3 minutes. Add eggs, one at a time, beating after each addition. Stir in vanilla. Add half of the flour, then the buttermilk, then the remaining flour, mixing well to combine after each addition. Pour into loaf pan. Bake in oven until wooden skewer inserted in center comes clean, about 55 minutes. Transfer to rack and cool 10 minutes. Invert cake onto rack and cool completely. Pound cake may be prepared up to 2 days in advance. Wrap with plastic and refrigerate until use.
For the cranberry compote:
12 ounces cranberries, fresh or frozen
¾ cup granulated sugar
½ cup freshly squeezed orange juice
½ teaspoon ground cinnamon
Combine all of the ingredients in a medium saucepan over medium heat. Cook, stirring occasionally, until cranberries pop and release juices. Remove from heat and cool completely. Refrigerate, covered, for up to 4 days.
For the candied walnuts:
1 ½ cups walnut halves
½ cup sugar
½ teaspoon salt
½ teaspoon ground cinnamon
Preheat oven to 350 F. Arrange walnuts on a baking tray. Bake in oven 10 minutes. Remove from oven. Heat sugar over medium heat in a small saucepan. As soon as it begins to dissolve, stir with a wooden spoon until sugar is liquid and amber colored. Add walnuts and stir to coat. Add salt and cinnamon. Remove from heat and pour walnuts onto a baking tray lined with parchment or silpac sheet. Allow to cool completely. Break into pieces. Store at room temperature in an air-tight container for up to 1 week.
For the orange mascarpone cream:
2 cups heavy cream, chilled
8 ounces mascarpone cheese, chilled
2 tablespoons granulated sugar
1 tablespoon finely grated orange zest
1 tablespoon Gran Marnier or Cointreau
1 teaspoon vanilla extract
Combine cream and mascarpone in bowl of electric mixer. Beat until traces of whisk are visible. Add remaining ingredients and continue to beat until peaks form. Refrigerate until use. (May be made 4 hours in advance.)
Assemble the trifle:
Reserve a few whole cranberries from the compote for garnish. Pour a thin layer of cranberry compote into the bottom of the trifle dish or individual glasses. Cut the pound cake in ¾ inch cubes. Arrange a layer of pound cake over the compote. Top with a layer of cream. Sprinkle with a few of the nuts. Repeat layering process, finishing with a layer of cream and nuts. Garnish with reserved cranberries and finely grated orange zest. Serve immediately or refrigerate, covered up to 24 hours before serving.
Optional: Brush each layer of pound cake with Cointreau or Gran Marnier for an adult version of this dessert.
Big Flavors Rating: 5 Stars