This post may contain affiliate links, which won't change your price but will share some commission.
Just 3 pantry staples turn fresh okra into a deliciously golden, nutty side dish or snack. This roasted okra recipe is simple, quick, and delicious.
This post may contain affiliate links.
I remember the first time I came across fresh okra at my local Farmers Market. I had always kind of shied away from cooking with, or even eating, okra because I was afraid it would be slimy and unappetizing.
I had eaten it before, but it never came into my kitchen until that day.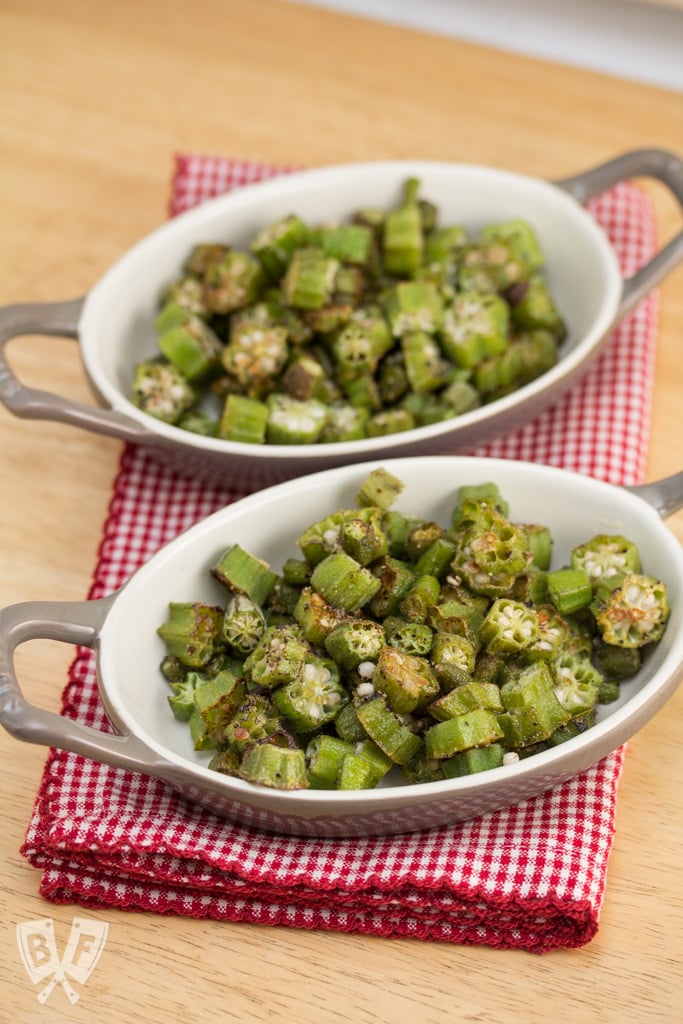 As a side note - someone commented on my okra post over on Instagram with her grandma from Baghdad's method for making sure okra doesn't get slimy - she said the key is to lay it out in the sun for 4 hours. Interesting tip! I wonder how much New York sun equals 4 hours in Baghdad? 😉
I had seen lots of okra disasters on TV cooking shows, where it turns into a slimy mess, so I did a little research online to see if I could find a method of cooking that would be less... gross.
When I saw this super simple recipe for roasted okra over on Allrecipes, I knew this was the one for me to go. The person who posted the recipe had this to say:
As a good Southern gardener, I find myself bringing in okra by the armload nearly every other day. Stewed okra is great, but for a little variety, we like to roast ours from time to time. This is so simple and easy and the okra tends to not be nearly as gummy or slimy when roasted. Chopped tomato makes a great addition when we have some handy.
Roasting is such a simple cooking method really brings out the flavor of almost any veggie. Roasted vegetables are almost always a hit in my house, so I felt pretty good about this approach.
This dish was super simple to put together, and it turned out wonderfully! The parts where the okra got nice and golden were nutty and absolutely delicious.
Don't go shy on the seasoning! I cooked up a whole container of okra and it disappeared pretty quickly. I especially liked the bit of mild heat that the freshly cracked black pepper added.
I'll definitely make this again - my family really enjoyed it! It's such an easy recipe, and it's pretty, too... like little green stars.
My other favorite way to enjoy okra is pickled. I gotta tell you - pickled okra is one of my top choices for garnishing a good Bloody Mary. I also got it as an ingredient in one of my mystery basket challenges and it added the perfect pickle-y bite to the dish. YUM!
Looking for more simple side dishes? Check out some of our favorite recipes:
Print
📖 Recipe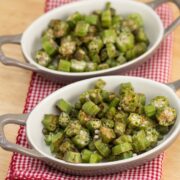 Roasted Okra
Prep Time:

5 minutes

Cook Time:

10 minutes

Total Time:

15 minutes

Yield:

3

Servings

1

x
---
---
---
---
Recipe Card powered by