This vegetarian curry was unlike anything I've made before. You cook all of the liquid out of yogurt, and the solids that remain are what gives it a tangy flavor.
This was really nice on a cold evening after a long day. It's warm and comforting, and the blend of spices (I used a fresh batch of Punjabi garam masala) was beautifully fragrant. I love making my own spice blends and pastes, and this book is full of tons of options.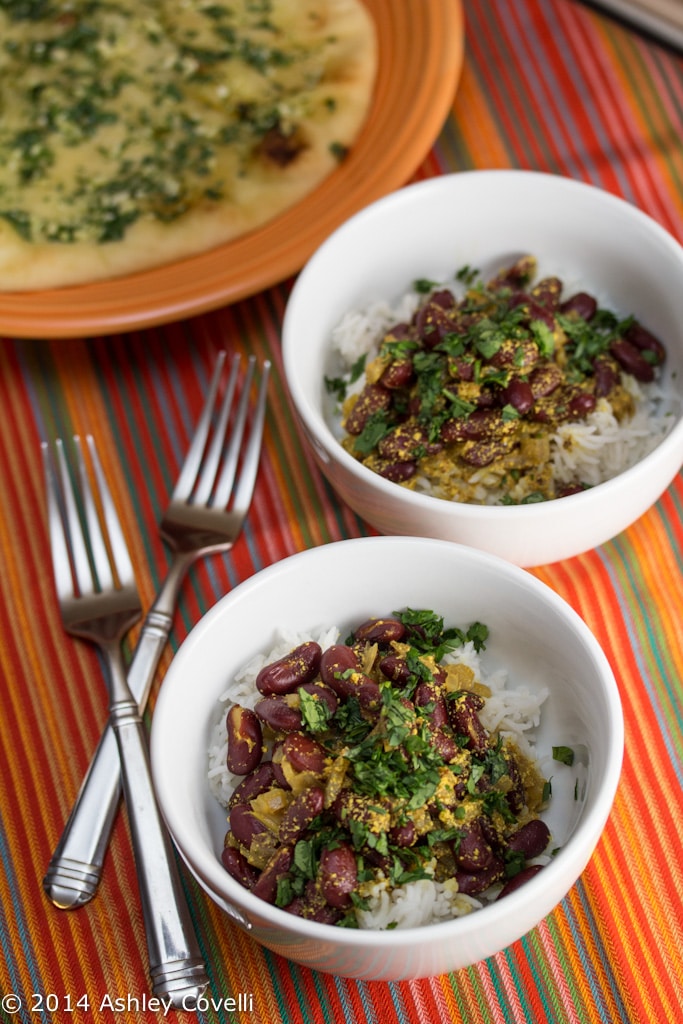 I used canned beans that I rinsed and drained, and it worked out well. If I have more time next time, I'll use dried. I've been meaning to try out cooking dried beans in the pressure cooker for quite some time now. I also used 3 white cardamom pods and 3 green. I find that the flavor of the two types is very different, and I didn't want to commit to just one.
I served this with Garlicky Cilantro Naan, which was perfect for dunking into the curry.
Kidney Beans with a Cardamom-Yogurt Sauce
660 Curries: The Gateway to Indian Cooking – Raghaven Iyer
2 tablespoons Ghee (page 21) or canola oil
1 small red onion, finely chopped
6 green or white cardamom pods
1 cup plain yogurt
½ teaspoon ground turmeric
2 cups cooked kidney beans
2 teaspoons coarse kosher or sea salt
2 teaspoons Karuvapillai podi (page 35) or Punjabi garam masala (page 25)
½ teaspoon cayenne (ground red pepper)
2 tablespoons finely chopped fresh cilantro leaves and tender stems for garnishing
1. Heat the ghee in a medium-size saucepan over medium-high heat. Add the onion and cardamom pods, and stir-fry until the onion turns light brown around the edges, 3 to 5 minutes.
2. Stir in the yogurt and continue to cook, uncovered, stirring occasionally, until the watery liquid evaporates from the yogurt and leaves behind reddish-brown curd-like pellets, 12 to 15 minutes.
3. Sprinkle in the turmeric and incorporate it into the tart sauce. Add 2 cups water and the kidney beans, salt, Karuvapillai podi, and cayenne. Bring the curry to a boil. Then lower the heat to medium and gently boil the sauce, uncovered, stirring occasionally, until it has thickened, 10 to 15 minutes.
4. Sprinkle the cilantro over the curry, and serve. (Remove the cardamom pods first, if you wish.)
Big Flavors Rating: 4 Stars