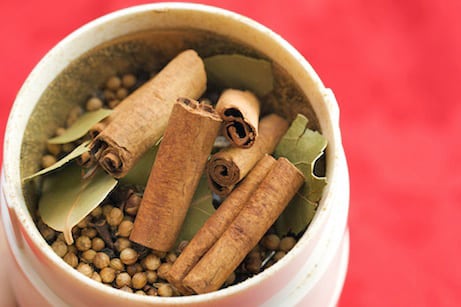 Punjabi-Style Warming Spice Blend (Punjabi Garam Masala)
This post may contain affiliate links. Thank you for supporting the brands that keep me creative in my tiny kitchen!
I made this spice blend to go use in the recipe I made tonight. It smelled fantastic! The only change I made was to use white cardamom pods instead of black since that's what I had in the kitchen.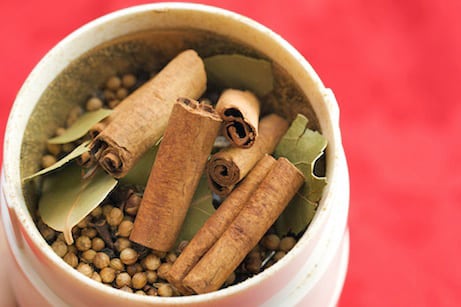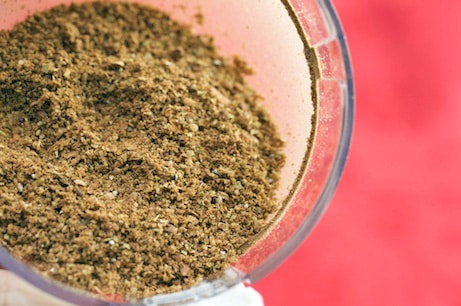 Punjabi-Style Warming Spice Blend (Punjabi Garam Masala)
660 Curries: The Gateway to Indian Cooking – Raghaven Iyer
Makes about 1/4 cup
1 tablespoon coriander seeds
1 teaspoon cumin seeds
1 teaspoon whole cloves
1/2 teaspoon black peppercorns
1/2 teaspoon cardamom seeds from black pods
3 cinnamon sticks (each 3 inches long), broken into smaller pieces
3 fresh or dried bay leaves
1. Preheat a small skillet over medium-high heat. Add all the spices and the bay leaves, and toast, shaking the skillet every few seconds, until the coriander and cumin turn reddish brown, the cloves, peppercorns, and cardamom turn ash-black, the cinnamon and bay leaves appear brittle and crinkly, and the mixture is highly fragrant, 1 to 2 minutes.
2. Immediately transfer the nutty-smelling spices to a plate to cool. (The longer they sit in the hot skillet, the more likely it is that they will burn, making them bitter and unpalatable.) Once they are cool to the touch, place them in a spice grinder or coffee grinder, and grind until the texture resembles that of finely ground black pepper. (If you don't allow the spices to cool, the ground blend will acquire unwanted moisture from the heat, making the final blend slightly "cakey.") The ground blend will be reddish brown and the aroma will be sweet and complex, very different from that of the pre-toasted and post-toasted whole spices.
3. Store in a tightly sealed container, away from excess light, heat, and humidity, for up to 2 months. (In my opinion, refrigerating the blend adversely affects its flavor.)
Note: This post includes affiliate links for items that I genuinely enjoy. Big Flavors will receive a tiny commission from purchases made through affiliate links on this site at no added cost to you. This allows us to cover site-related expenses and helps to keep us cooking up a storm!