This post may contain affiliate links, which won't change your price but will share some commission.
I finally found chia seeds a few weeks ago, and wasn't sure how I'd use them for the first time. There are so many great options out there. They are full of health benefits, and don't have to be ground up the way flax seeds to for your body to be able to absorb them. So when I came across this simple breakfast recipe that could be prepared the night before, I knew it would be the perfect way to get acquainted to chia seeds. This was super simple to assemble, and took minimal effort in the morning. Depending on what type of milk and sweetener you use, this can be a raw, vegan meal. I threw some sliced strawberries on top because it was kind of... not so pretty. I really liked the strawberry flavor with the banana, peanut butter and maple syrup, but Dino thought the strawberries were too much. I also probably put a little too much peanut butter on top. This made a very generous bowl of pudding - it was very filling. I didn't even finish all of mine, I stashed it back in the fridge for later. It was wonderful, and I'll definitely be making it again.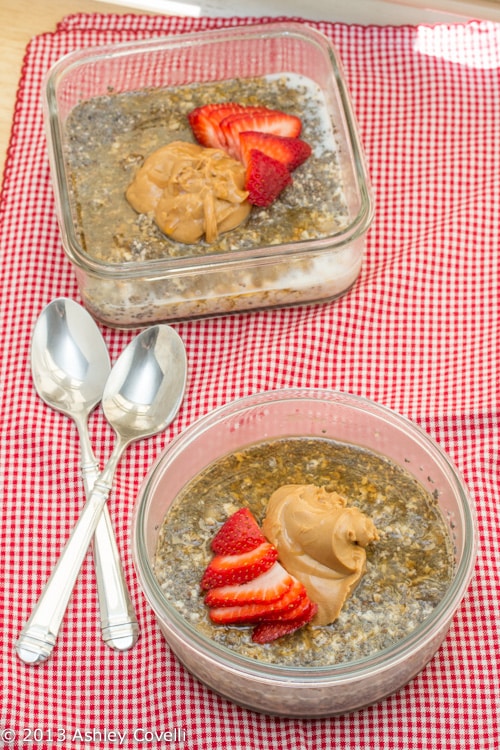 Easy Overnight Oatmeal Chia Breakfast Pudding
New Nostalgia
PM Ingredients
1 banana, mashed
⅓ cup regular oats*
⅔ cup almond milk (or regular, soy or coconut milk)
2 Tbls Chia seeds
¼ teaspoon pure vanilla extract
Mix all together in a bowl. Cover and refrigerate overnight.
AM Ingredients
peanut butter or almond butter
maple syrup, honey or agave nectar
Add to taste and serve cold. Enjoy!
*Optional: use Gluten Free
Big Flavors Rating: 5 Stars