This post may contain affiliate links, which won't change your price but will share some commission.
This installment features a Q&A with international award-winning Chef Matthew Nolot who recently opened the first farm-to-fork restaurant in my hometown of Fort Wayne, Indiana.
Growing up in the Midwest, there were farms everywhere. And while restaurant menus in and around my current home in New York have been featuring locally sourced items for quite some time now, that trend hasn't really hit back in Indiana yet.
So when I heard that a new restaurant opened up right in the heart of downtown Fort Wayne that was sourcing their ingredients from local farms, I couldn't wait to try it out on my next visit.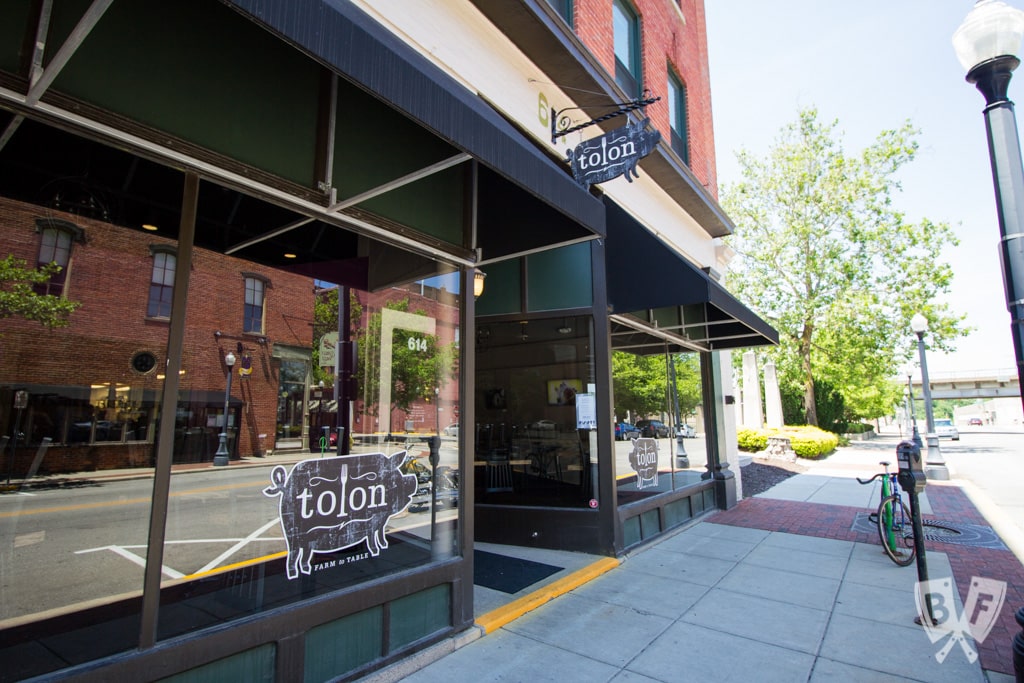 We had a beautiful dinner at Tolon – easily the best I've ever had in Fort Wayne, and most certainly on par with some of the restaurants we frequent here in New York.
The menu was thoughtful and enticing, and between the 7 adults and my 4-year-old, we pretty much ordered one of everything that evening. I mean, I couldn't pass up the deviled eggs, scallops verde or a crazy refreshing stone fruit mule.
The meal was phenomenal, and a big hit with my family. My son went to town on the sweet tea fried chicken with cornbread waffle. I even tried rabbit for the first time and was pleasantly surprised at how delicious it was. Tolon has absolutely nailed duck fat fries (served with duck egg + basil aioli and smoked salt). It wasn't gamey at all, the way it has been for me at other restaurants, and the dish was incredibly harmonious – I'd put that aioli on pretty much anything! And the salmon entrée that I ordered… wow. Just… wow.
I was excited to come back a few days later to spend some time in the kitchen with Chef Matthew Nolot getting the lowdown on how Tolon came to be as well as watch him cook up something delicious (recipe coming tomorrow!).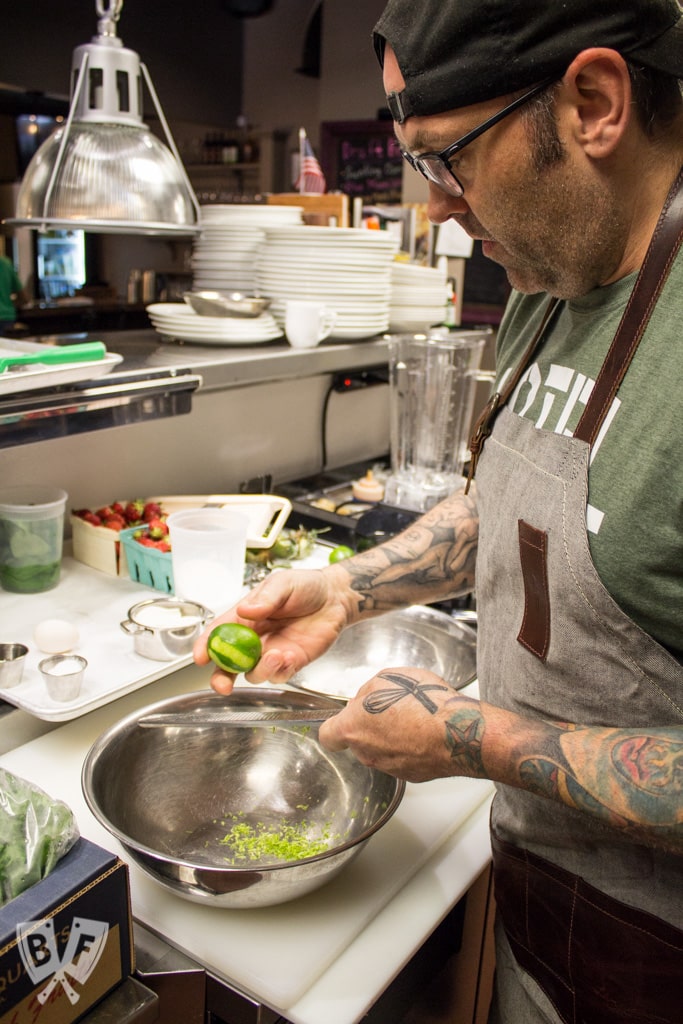 Big Flavors: How did you get into cooking?
Matthew: I started cooking because I needed a job. I needed a job because I wanted a car, and I wanted a car because I wanted a girlfriend. They all seem to go hand in hand when you're in high school – the cool kids with cars had girlfriends.
Big Flavors: Where was your first cooking job?
Matthew: It was at a place called Ernie's Steakhouse – just a small local steakhouse with just crap food. But it was a place where we made our steak seasoning, made our own fries, breaded our own onion rings…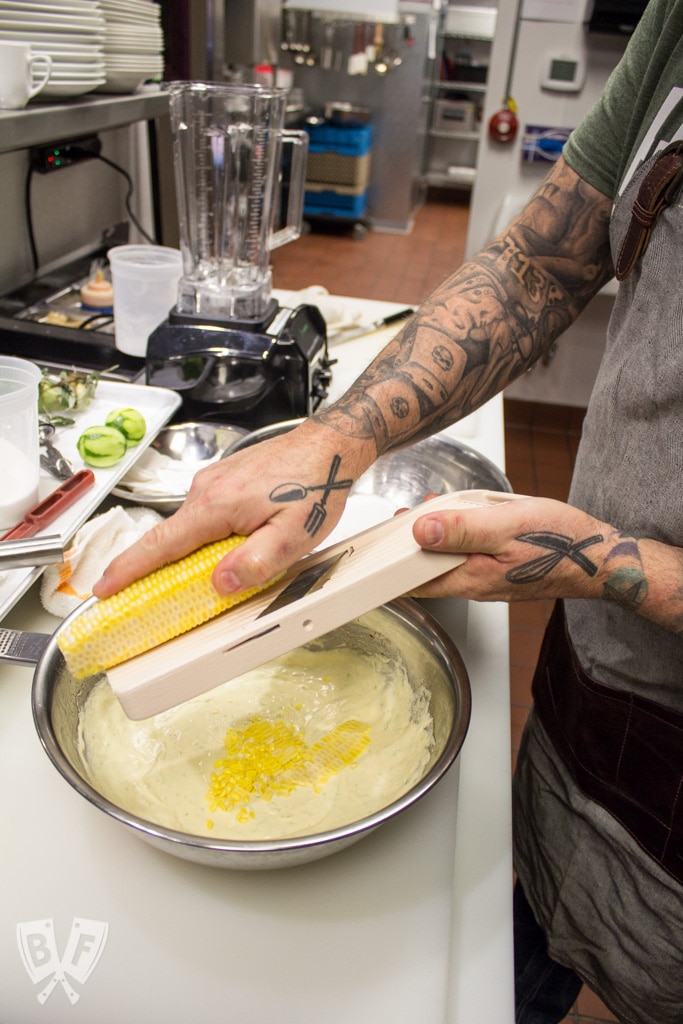 Big Flavors: Did you go to culinary school, or did you do all of your training on the job?
Matthew: All on the job learning. I challenged myself to read a lot and do a lot of stuff online. Just constantly learning.
Big Flavors: How do you get inspiration for new recipes??
Matthew: Usually just the seasons, farmers markets. I do a lot with cookbooks and magazines like Lucky Peach Magazine. But mostly the seasons when stuff comes in. That's why we opened this place – so that we could actually utilize the seasons and make the food that was coming in the season as opposed to letting the diners dictate what we had.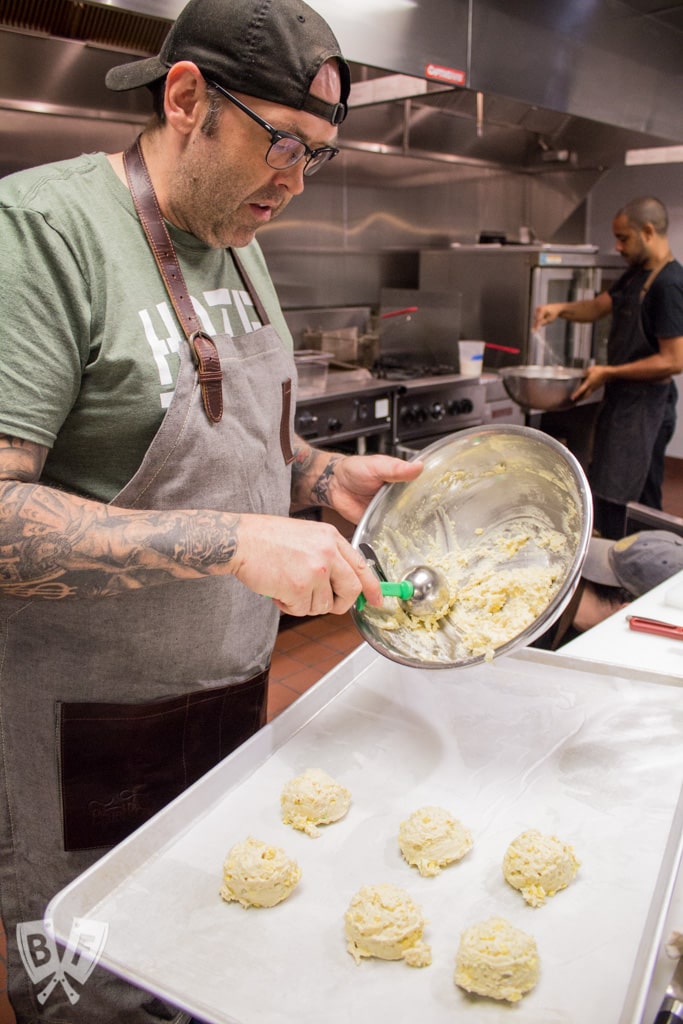 Big Flavors: And it tastes so much better when it's the season that it's supposed to be in!
Matthew: Oh yeah, absolutely!
Big Flavors: How do you pick the farmers and purveyors that you work with?
Matthew: A lot of them come to us, because they heard we were opening. We did have to do a lot of hunting before then, because we wanted to buy as much local stuff as we could, and it hadn't been done before in Fort Wayne. Nobody was really used to selling to restaurants – they weren't quite sure on the volume that restaurants needed.
We have 3 different beef purveyors now – they're all from Indiana. One of my friends has got a Wagyu cattle farm, but he only does 40 heads, and they tell us when they're gonna process. We deal with certain farms like Fischer Farms out of southern Indiana, and he'll say "we have a chicken farm right next to me…" so it's really word of mouth from the other farmers. And farmers will definitely send other farmers in. Different produce farmers in town are talking, like "you gotta go here if you want to sell stuff to them", so they're coming to us.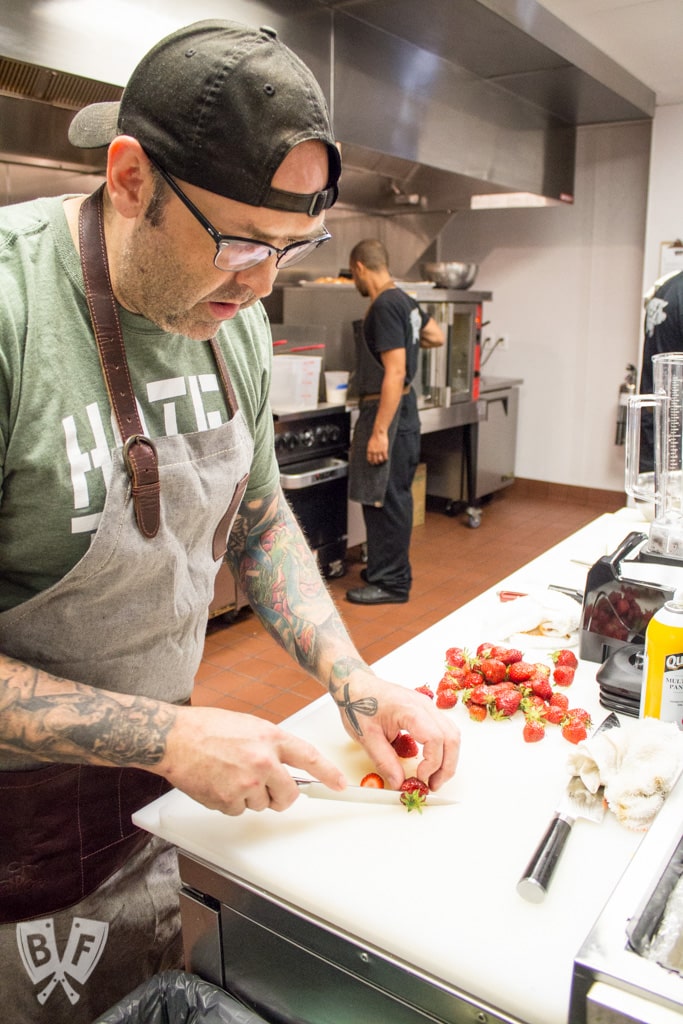 Big Flavors: Tell me about the Prince Edward Island International Shellfish Festival – your wife told me that you've won twice and you're going to defend your title for the third year in a row later this year.
Matthew: Food Network Canada does some stuff with it, but it's put on by Garland oven equipment. They invite chefs from around the world to compete in it. It's kind of filmed like Chopped, so you have 3 rounds that you go through to get to the finals. Except there's 10 chefs as opposed to 4. You get 45 minutes to do each round… they give you 5 shellfish and you have to use at least 3 in each dish. And a very limited pantry – just your basic spices and vegetables. You have to really push yourself to do something different.
Big Flavors: So you don't know until you're there what's going to be available?
Matthew: Right. It changes every year because they only use ingredients from Prince Edward Island. One year, one of the culinary instructors on the island brought in 20 pounds of chanterelle mushrooms and said, "hey, use these".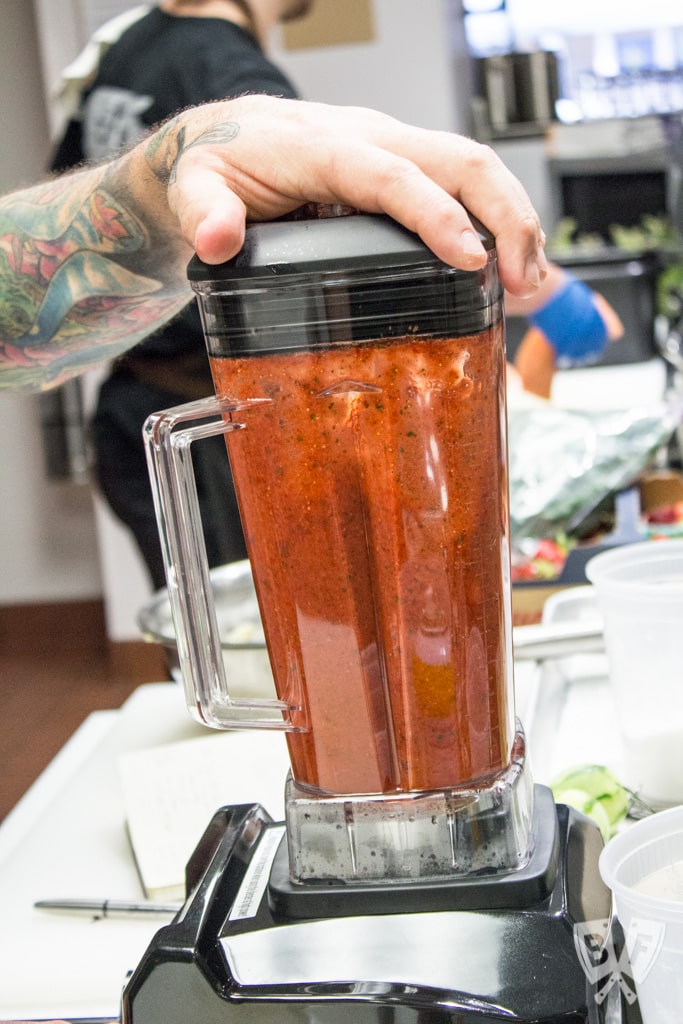 Big Flavors: So it's gonna be your third time this year, and every year you've gone, you've won?
Matthew: Yep – they only invite the winner back, and then they do 10 new chefs. I think the first year there was one from South Africa, last year it was Estonia, China…
Big Flavors: And someone from land-locked Indiana can just throw down like that!
Matthew: And I think that's what's pretty cool about it. I had a totally different take on it. They were probably so used to the same style of cooking, that when someone came up and did chicken fried lobster with crab waffles, they had never seen anything like that before.
Big Flavors: That's amazing. Probably nobody had seen anything like that before, except in your head. That's really cool.
Matthew: Right. And it was cool for the waffles – they had no leavening agents and there were no ovens available. You only get 2 burners and no stove. I aerated it with an iSi canister, so instead of a chemical leavener, I used a CO2 leavener. So I aerated it and then griddled it pretty fast so it browns and holds its shape. It was a challenge.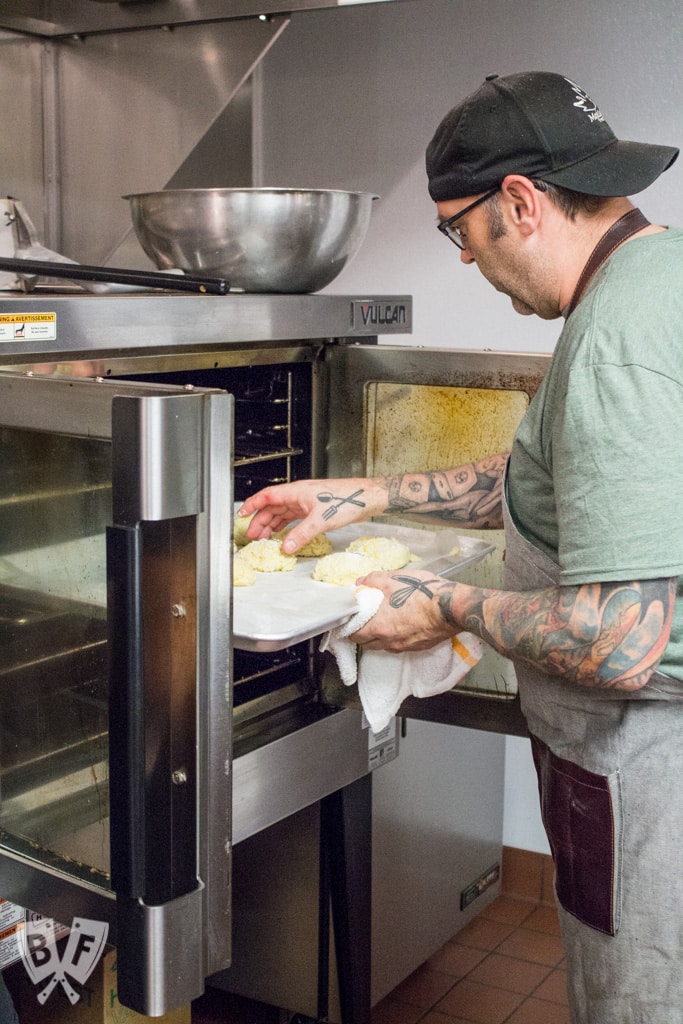 Big Flavors: What are 3 of your must-have ingredients that you always have in your home kitchen?
Matthew: Fish sauce – there's a specific brand that I love called Red Boat that I have to have because it's like 6 times as expensive and it's so good. It's like the first pressing olive oil – it's the first pressing of anchovies. I put it on everything. And usually some sort of hot sauce.
Big Flavors: Do you have any favorites?
Matthew: Crystal hot sauce is one of my favorites, out of Louisiana. It's the [quintessential] po'boy, muffuletta, oysters… it's Crystal hot sauce. And the third thing – I always have some type of vinegar. My newest kick – I'm out of my sherry vinegar phase – I'm in my champagne and white balsamic vinegar phase. I'm having a lot of fun with those.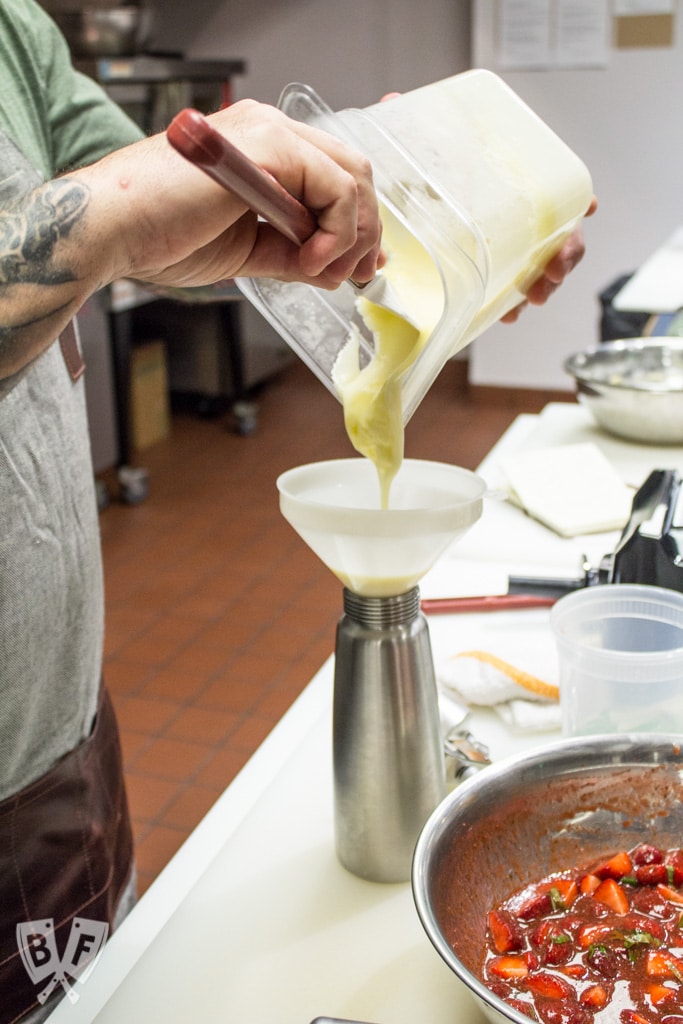 Big Flavors: What's the last thing you cooked for yourself at home?

Matthew: I don't usually cook at home because I'm always here, but the last thing I made myself, last night for dinner here before I left, was spaghetti with basil and butter. Super salty spaghetti with super rich butter and fresh basil and that's it. And it hit the spot.
Big Flavors: I'm sure – total comfort food! Do you have any tips for home cooks to make cooking less intimidating? Because I feel like a lot of people are afraid to try to cook at home – they think it's gonna be difficult.
Matthew: Stay away from baking <laughs> or else follow the recipe exactly. If you get a baking recipe, try to use one that has weights. Scaling and weights is very simple to do and it leaves out a lot of the… <pauses>
Big Flavors: …human error?
Matthew: <laughs> Exactly, because as soon as you can get rid of the human error, you're gonna be a lot better off. And actually, I've wanted to convert our kitchen to all weights on everything, I just haven't done it. I know my staff would hate me for about a month, but they say after that it's a lot easier, a lot less dishes to clean. You just zero the scale.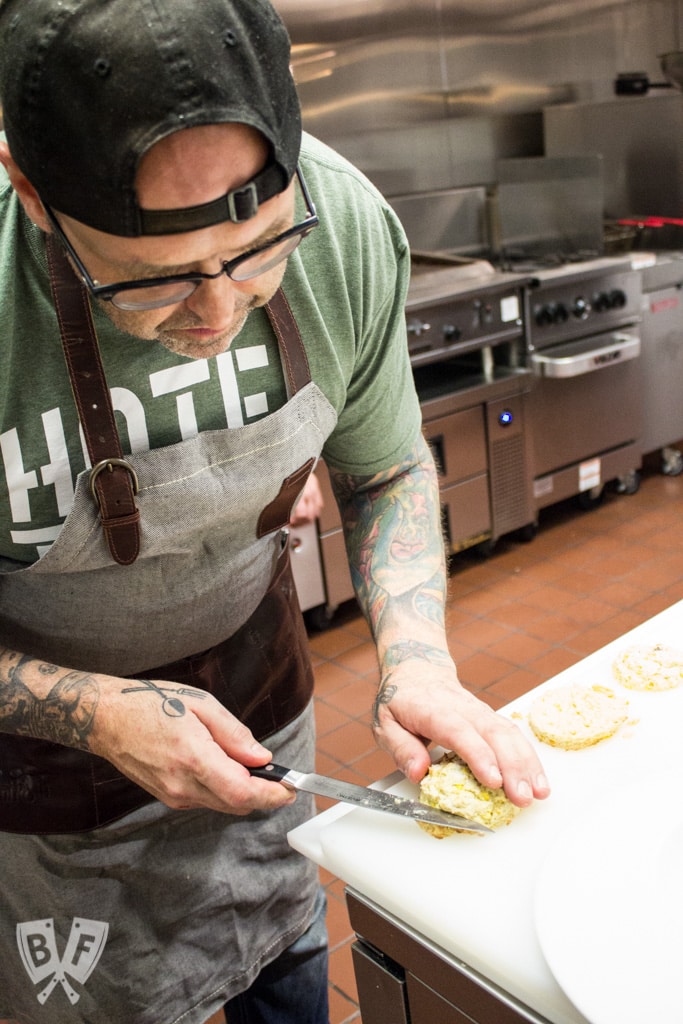 Big Flavors: Are you gonna have a website?
Matthew: Yeah, we're working on it. We just took a bunch of pictures Monday for the website. It's expensive… we had a small opening budget… I did the floors myself in here, we did a lot of work. We built the back bar ourselves.
Big Flavors: My brother was saying you have local distillery stuff here?
Matthew: Yeah. Lots of. All from Ohio, Indiana, some in Michigan. We have Freshwater rum from Lake Michigan. We have vodkas, gins, bourbons all from Indiana and Ohio. We really wanted to take it to the next level. If I can find it locally, I'll buy it. From our sorghum syrup, maple syrup, honey, eggs, black-eyed peas, lettuces, all the protein except for the seafood is from Indiana.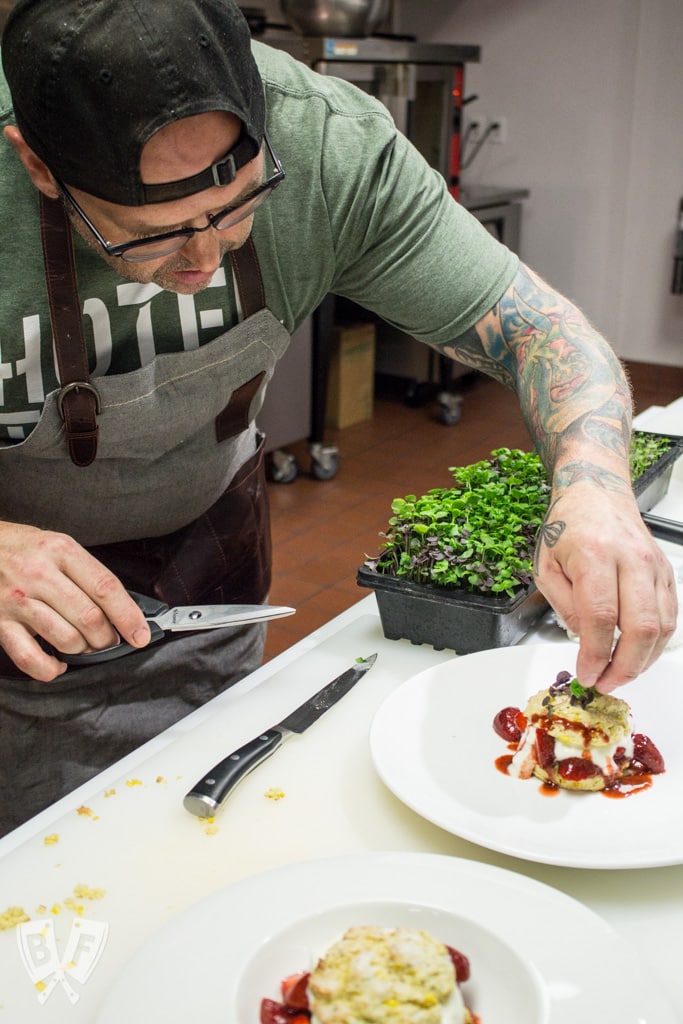 Big Flavors: What do you hope to see happening in the food scene here in Fort Wayne in the coming years?
Matthew: I think we're really catching up with where Chicago was… 15 years ago, maybe. <laughs> I mean, we're not in the Charlie Trotter stage of him coming and starting the Chicago area, but we're getting there. I mean, right now the hipster food… I've been called that – the one hit wonder of hipster food… every hipster dish imaginable is on my menu.
But I think that's the trend for us right here. Just something offbeat, where it's kind of mundane for bigger cities, but we haven't really been able to have that style of cooking or food here yet. Nobody's been doing bone marrow or pork belly or pork rinds. Nobody's done that here in town. That's the kind of stuff we eat when we're off, and I didn't wanna travel to Chicago to do it. So we really thought there was a market to do that kind of stuff.
Big Flavors: Are you hoping to see more things like this, that aren't direct competition?
Matthew: Yeah, actually I love the competition. I think it pushes us to be better. And as long as we can do a better job, that makes us stand out better. And plus, it seems like every really busy or successful restaurant is in the middle of some other ones. They're not alone… there are some exceptions, but it seems like the most successful ones are in groups, they feed off of each other. It gives you more of a reason to come downtown if there's more restaurants down here.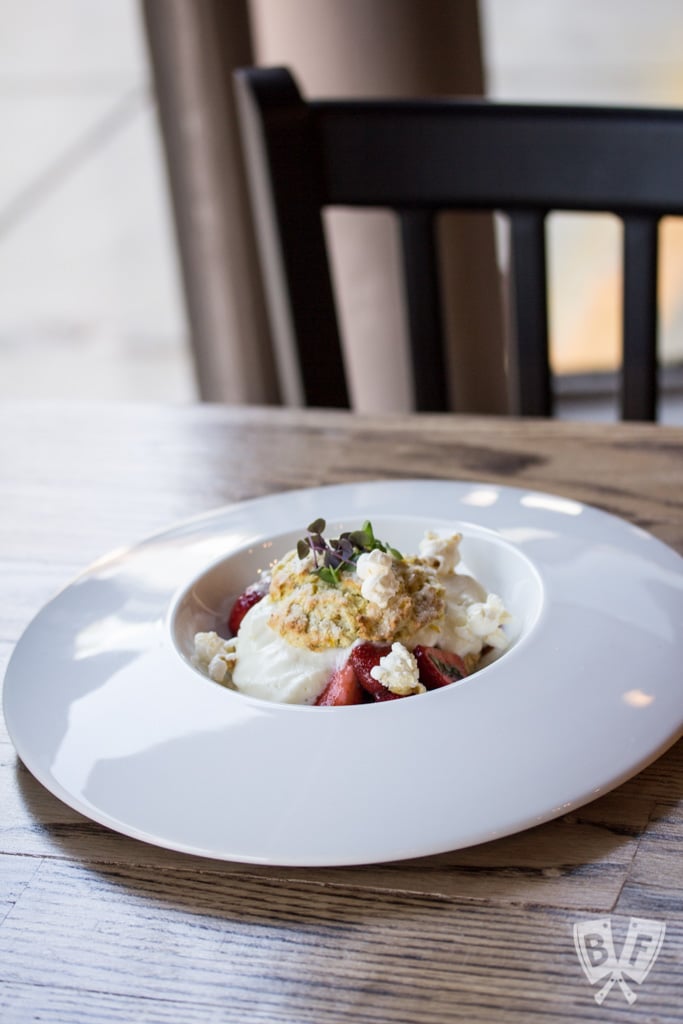 Big Flavors: Yeah – it's been super impressive, not that I was ever in the downtown part of Fort Wayne that often so I don't know what it was like before, but now when we come to visit, there are restaurants and coffee shops, and there seems to be a lot of good stuff around now.
Matthew: It's just the last couple of years, it's all starting to spring up.
Big Flavors: It's exciting!
Matthew: Yeah, and we really wanted to do an urban space. We had opportunities to put this restaurant in a strip center, but we just didn't want that feel. We wanted an urban feel with a parking lot that you had to kind of walk a block from. People ride their bikes here. We wanted that.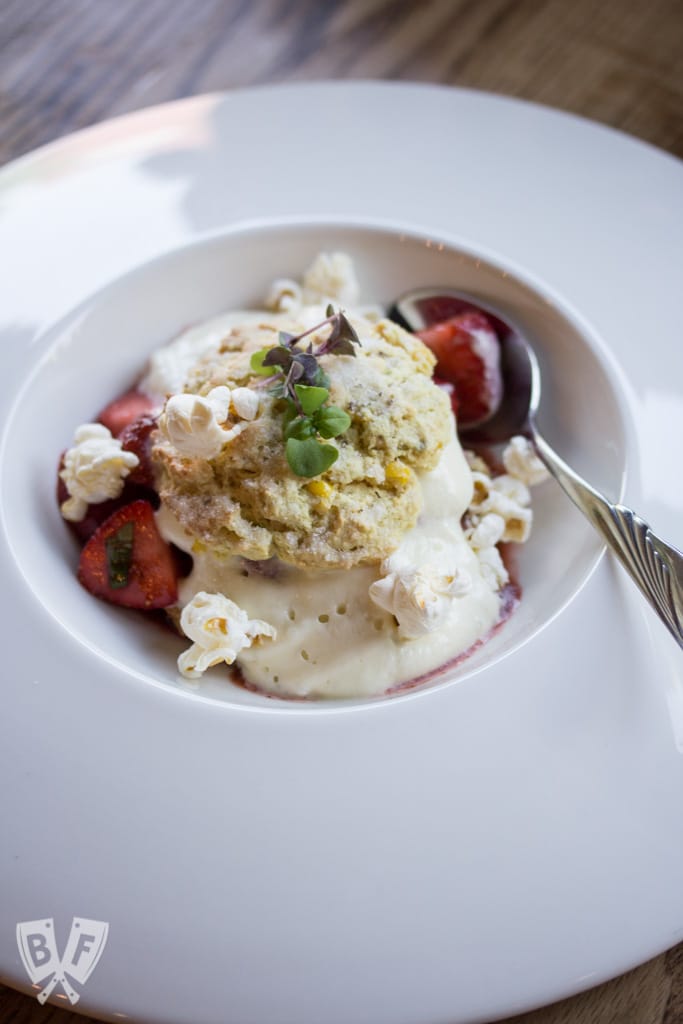 Thanks again owners Matthew and Nicky Nolot and their team for their hospitality and for letting my readers get a peek at into their incredible culinary creations.
You can find all things Tolon on Facebook, Instagram and Twitter. Website coming soon (I'll add an updated link once it's live).
Tolon is located at 614 S Harrison Street in Fort Wayne, Indiana.
Stay tuned tomorrow to get the recipe for Chef Matthew's knock-your-socks-off dessert (Strawberry Basil Shortcake / Corn-Lime & Ricotta Biscuits / Buttered Popcorn Whipped Cream) and see how it turned out when I made it in my tiny kitchen! Spoiler alert: it was absolutely incredible!
UPDATE: You can find part 2 here!