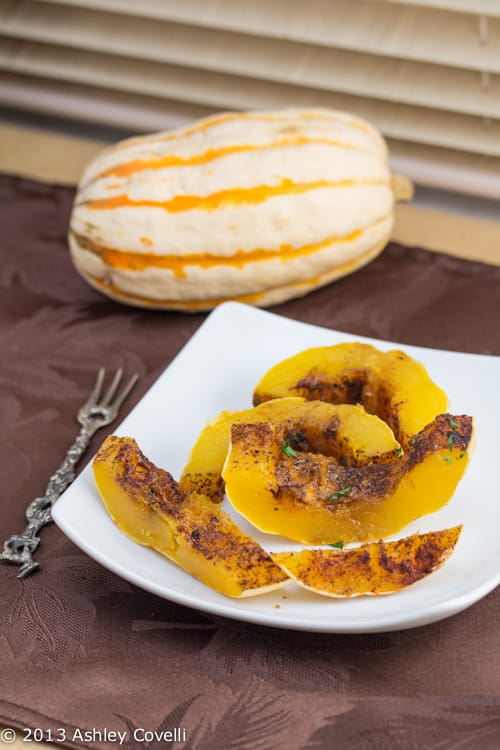 Sweet and Spicy Baked Delicata Squash #12WksWinterSquash
This post may contain affiliate links. Thank you for supporting the brands that keep me creative in my tiny kitchen!
Have you tried delicata squash? When I saw these striped beauties at the Farmers Market, I just couldn't resist picking up a couple. This variety of squash is wonderful, because you can eat the skin! Delicata has a wonderfully creamy texture, and the flavor is mild enough to take on any spice combination you can dream up. This recipe is really simple to put together, and was a hit at our dinner table. Sweet and spicy is one of my favorite flavor combinations. I served this on the side of these Crispy Lemon-Herb Turkey Cutlets.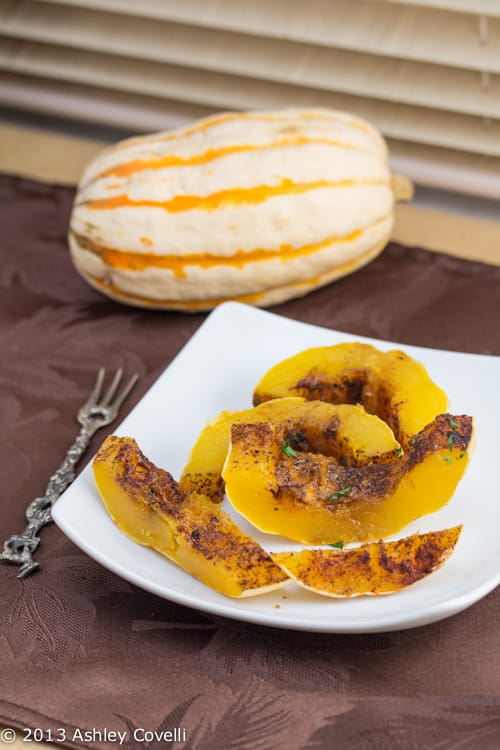 If you're looking for other ways to enjoy winter squash, check out the 12 Weeks of Winter Squash roundup below. We'll be sharing the winter squash love every week from now through January. Enjoy!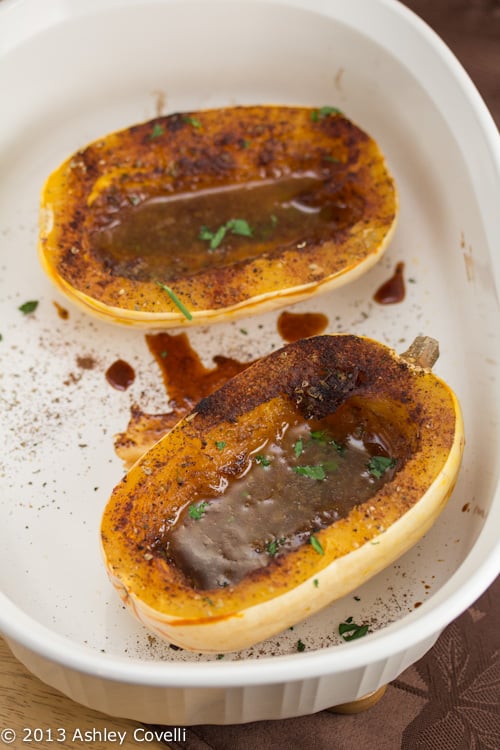 Sweet and Spicy Baked Delicata Squash
Ashley Covelli
1 delicata squash, scrubbed clean
1/4 teaspoon ground cinnamon
1/4 teaspoon chili powder
1/4 teaspoon ground cumin
1/4 teaspoon dried oregano
2 tablespoons butter (or butter substitute, if vegan)
2 tablespoons honey (or maple syrup, if vegan)
Parsley, chopped, for garnish (optional)
Preheat oven to 375°F. Spray the bottom of a baking dish with cooking spray. Cut the squash in half lengthwise and scrape out the seeds. Place the squash halves in the baking dish, cut side up. Sprinkle each half with cinnamon, chili powder, cumin and oregano (1/8 teaspoon on each half). Put a tablespoon of butter into each squash half and drizzle some honey over each half.
Cover the baking dish with aluminum foil and bake until the squash is fork tender (around 45 minutes, depending on the size of your squash). Carefully remove foil and take squash out of the pan. Slice to serve. Enjoy!
Big Flavors Rating: 4 Stars
---
This linky list is now closed.