This post may contain affiliate links, which won't change your price but will share some commission.
This month's Supper Club theme was Cuisine Grab Bag. Last time around, we each wrote down a cuisine on a piece of paper, put it in a bag, and then everyone drew one to prepare. Dino drew the one that I wrote: Turkish. Things have been a little hectic lately, so I picked out this recipe. It was phenomenal! The Greek yogurt gave it a nice tanginess - kind of like sourdough. These need 3 hours to rise, plus another 15 minutes after they are formed into the flat breads, so plan accordingly. We made 6 pieces out of the batch instead of 4, and they were nice and big. This was a big hit - even with the bread maker of the bunch! We will definitely be making these again. I already have ideas for things that we could do with batches of these beauties!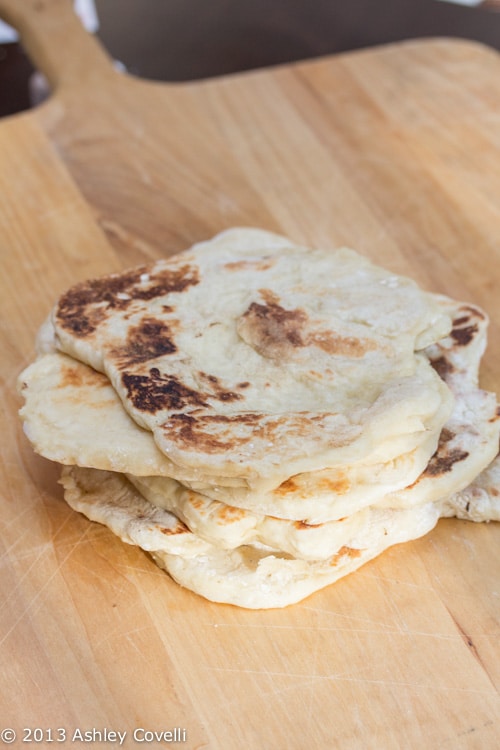 Bazlama (Turkish Flat Bread)
Allrecipes - sharwna
"Bazlama is a simple and delicious village bread that I learned to prepare after moving to Turkey. Normally it is cooked in an outdoor oven but it works just as well on the stove top. It's best served warm."
Makes 4 flatbreads
1 (.25 ounce) package active dry yeast
1 tablespoon white sugar
1 tablespoon salt
1 ½ cups warm water (110 degrees F/45 degrees C)
½ cup Greek-style yogurt
4 cups all-purpose flour
1. Dissolve the yeast, sugar, and salt in the warm water. Add the water and yogurt to the flour and mix well. The dough will be soft but not sticky. Turn the dough out onto a lightly floured surface and shape it into a ball. Cover the dough with a damp cloth and allow it to rise at room temperature for 3 hours.
2. Cut the dough into four portions. Shape the dough into rounds and flatten each round as though you're making pizza dough. Cover the rounds with a damp cloth and let the dough rest for 15 minutes.
3. Heat a cast iron skillet or griddle over medium-high heat. Place one dough round in the skillet and bake until brown spots appear on the bottom, about 1 minute. Flip the bread and bake for an additional minute. Remove the bread and wrap it in a clean kitchen towel to keep warm.
4. Repeat with the remaining dough rounds. Store any leftover flatbreads in an airtight container.
Note: If you can't find Greek-style yogurt (suzme), use regular yogurt and reduce the water in the recipe to 1 ¼ cups.
Big Flavors Rating: 5 Stars