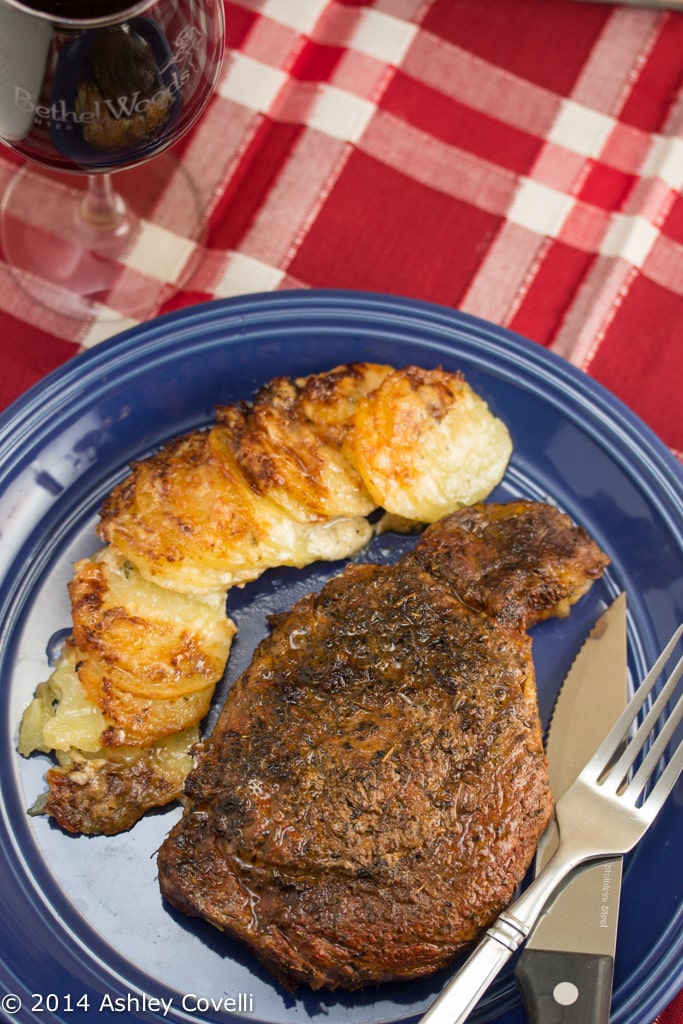 This post may contain affiliate links. Thank you for supporting the brands that keep me creative in my tiny kitchen!
My husband is always up for a challenge when it comes to quality steak and a cast iron skillet.
So when I presented him with 2 giant steaks from the Farmers Market and asked him to cook 'em up to go with the Hasselback Potato Gratin that I was making for dinner, he was totally on board.
He was practically Ron Swanson giddy over the whole thing.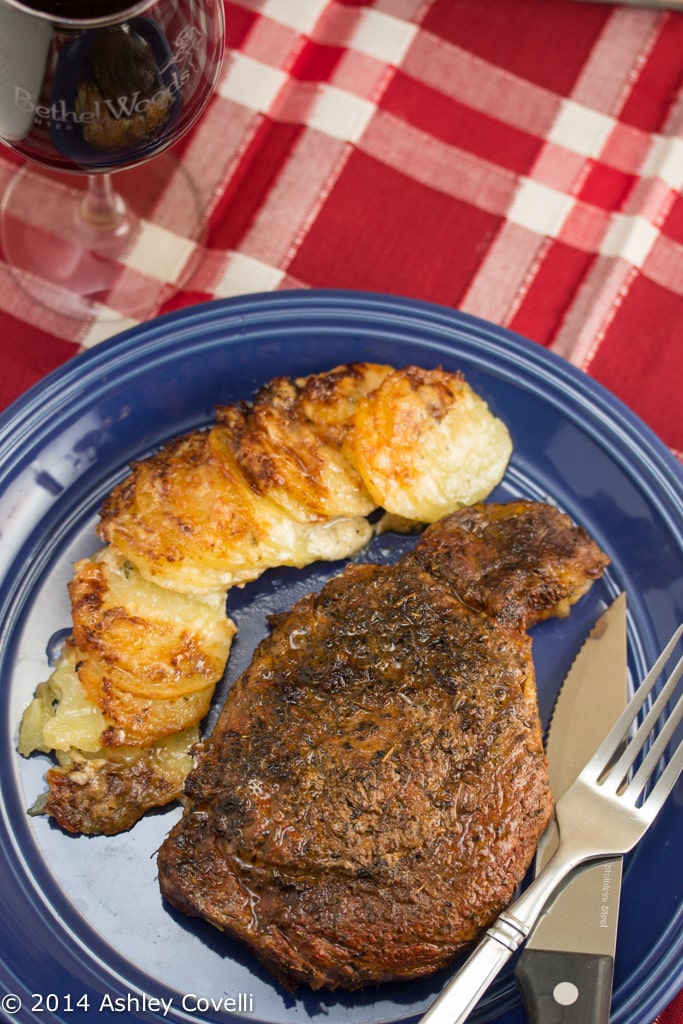 This method of cooking steak is the closest you can get to having a steakhouse in your own home. Searing it quickly in the cast iron skillet and then finishing it off in a low oven ensures that your steak gets that beautiful crust on the outside without overcooking.
This would be an impressive main course for Valentine's Day for sure! Serve it with a nice glass of wine and a chocolatey dessert for a supremely romantic evening.
Steakhouse Style Steak
Big Flavors from a Tiny Kitchen – Dino Covelli (Inspired by Tim Ferris)
Serves 2
2 (1-inch thick) steaks such as Delmonico, preferably organic, grass-fed
1 tablespoon grapeseed oil
Kosher salt
Freshly cracked black pepper
Optional seasonings: dried rosemary, garlic powder or steak seasoning blend
4-6 sprigs fresh rosemary
2-4 tablespoons unsalted butter
Special equipment: Cast iron skillet
If time permits, put the steaks in the freezer unwrapped for 45 minutes. This helps to dry them out a bit before cooking.
Preheat oven to 250°F. Heat a cast iron skillet over medium-high heat.
Dry the steaks with paper towels and season generously kosher salt. Add freshly cracked black pepper and other seasoning to taste (we used Spices and Tease Special Red Meat).
Add grapeseed oil to the skillet. When the oil starts to smoke, carefully drop the steaks in, flipping after about 60 seconds (or when the pan side is browned). Repeat on the other side until browned (about another 60 seconds). Remove the steaks to a plate.
Lay the rosemary sprigs on the bottom of the skillet to create a bed for the steaks. You want to create a barrier so that the skillet doesn't directly touch the steak to prevent overcooking it while it's in the oven. Place steaks on top of the sprigs and put the skillet into the preheated oven.
After 5 minutes, check the temperature of the steaks. Place 1-2 tablespoons of butter on top of each steak and return to the oven until it reaches desired degree of doneness (internal temperature of 135°F is medium rare). It took about 10 minutes in the oven for ours to reach medium rare.
Remove steaks from oven and set them on a plate to rest for 10 minutes. Pour the pan drippings over the steaks and serve.
Enjoy!
Big Flavors Rating: 5 Stars