This post may contain affiliate links, which won't change your price but will share some commission.
Want to make a fantastically luxurious, decadent side dish full of lots of cheese and cream? Then this gratin is exactly what the doctor ordered.
Well, not the doctor that would be checking your cholesterol or anything (see the aforementioned cheese and cream).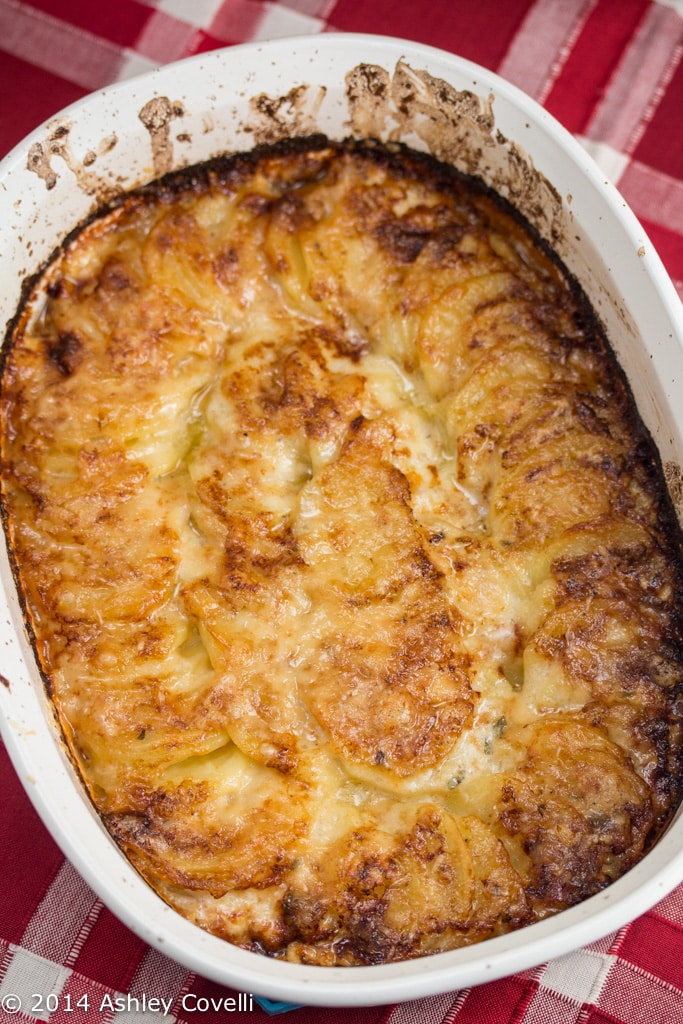 Thin slices of potato are tossed with 2 cheeses, cream, garlic and fresh thyme, arranged in a dish and baked till bubbly and golden brown on top.
And those browned bits? Absolutely heavenly!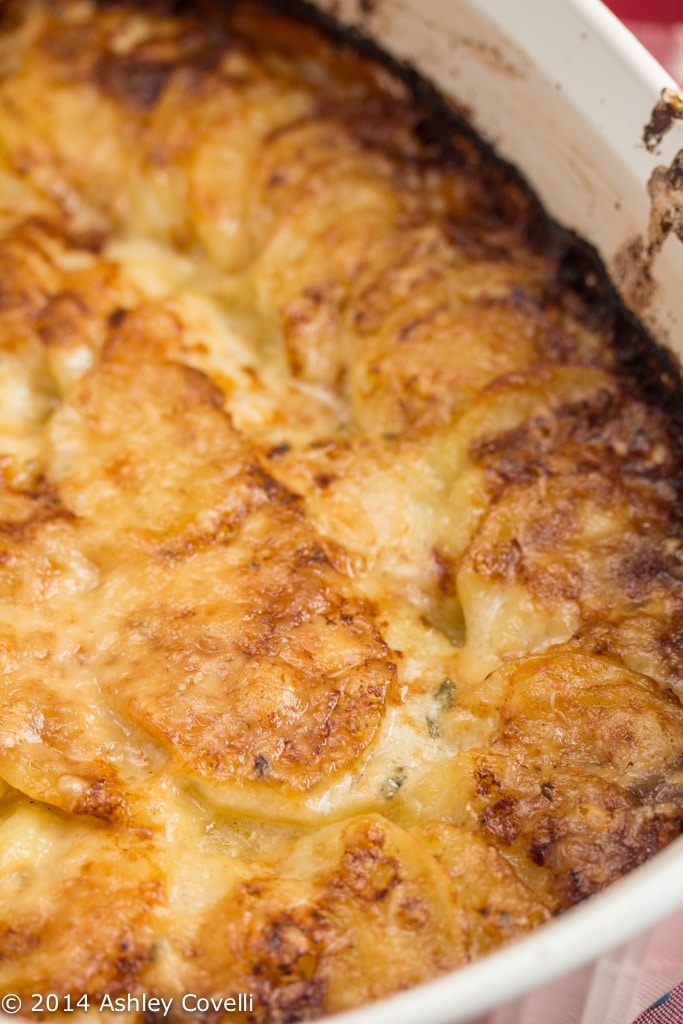 I think I should have stacked my potatoes a little snugger so this would have made a bit more. Me and Dino took out over half of this gratin in one sitting, and that's with 2 massive steaks, too. True story.
The only thing I had an issue with was that my cheese mixture was really thick, so it was hard to "pour" some over the potatoes to make it come halfway up the sides. I just kind of spread some around, and then after the initial 30 minute bake time, I ended up using a turkey baster to remove some of the excess grease. I may have grated the cheese too fine, causing it to thicken.
At any rate, this dish is beyond delicious, and I can't recommend it highly enough! It would be perfect at any holiday dinner table!
Oh, and speaking of grating - there are still a few days left to enter my Kitchen IQ & Stonyfield Giveaway. I've been loving this grater!
Hasselback Potato Gratin
Serious Eats
Note: because of variation in the shape of potatoes, the amount of potato that will fit into a single casserole dish varies. Longer, thinner potatoes will fill a dish more than shorter, rounder potatoes. When purchasing potatoes, buy a few extra in order to fill the dish if necessary. Depending on exact shape and size of potatoes and casserole dish, you may not need all of the cream mixture.
YIELD: Serves 4 to 6
ACTIVE TIME: 15 minutes
TOTAL TIME: 1 hour 45 minutes
SPECIAL EQUIPMENT:
2 quart oval or rectangular baking dish
3 ounces finely grated Gruyère or comté cheese
2 ounces finely grated Parmigiano-reggiano
2 cups heavy cream
2 medium cloves garlic, minced
1 tablespoon fresh thyme leaves, roughly chopped
Kosher salt and freshly ground black pepper
3 to 3 ½ pounds russet potatoes, peeled and sliced ⅛th-inch thick on a mandoline slicer (5 to 6 medium, see note above)
2 tablespoons unsalted butter
1. Adjust oven rack to middle position and preheat oven to 400°F. Combine cheeses in a large bowl. Transfer ⅓ of cheese mixture to a separate bowl and set aside. Add cream, garlic, and thyme to cheese mixture. Season generously with salt and pepper. Add potato slices and toss with hands until every slice is coated with cream mixture, making sure to separate any slices that are sticking together to get the cream mixture in between them.
2. Grease a 2-quart casserole dish with butter. Pick up a handful of potatoes, organizing them into a neat stack, and lay them in the casserole dish with their edges aligned vertically. Continue placing potatoes in casserole, working around the perimeter and into the center until all potatoes have been added. Potatoes should be very tightly packed. If necessary, slice additional potato, coat with cream mixture, and add to casserole (see note above). Pour excess cream/cheese mixture evenly over potatoes until the mixture comes half way up the sides of the casserole. You may not need all excess liquid (see note above).
3. Cover tightly with foil and transfer to oven. Bake for 30 minutes. Remove foil and continue baking until top is pale golden brown, about 30 minutes longer. Carefully remove from oven, sprinkle with remaining cheese, and return to oven. Bake until deep golden brown and crisp on top, about 30 minutes longer. Remove from oven, let rest for a few minutes, and serve.
Big Flavors Rating: 5 Stars