This post may contain affiliate links, which won't change your price but will share some commission.
I made this cookie dough on Star Wars Day, but didn't end up getting around to actually baking them until Cinco de Mayo. So... May the Fifth Be With You. Anyway. I noticed that there were 2 errors in this recipe - it didn't mention that you need to use softened butter, and it directed you to use the sugar in 2 different places, which wasn't correct. So I fixed that below. These cookies are nice and crispy, and the apricot filling goes really well with the spiced cookies. I used a small crescent moon-shaped cookie cutter that I had to make the cuts in the doors, which was great for a few reasons. First of all, the cut out pieces of dough were the perfect size to snack on bake up separately for my toddler. Secondly, I tried the other method and it was a big hassle and didn't look very cool. So it's not completely authentic to the movie, but I needed to save a little sanity here, people. It was a long weekend - we have been doing some remodeling around the house, and I just wanted to get these cookies baked in close proximity to this nerd holiday 😉 Also, note that I doubled the filling quantities because the original amounts were really skimpy. It made a lot more cookies for me than what the original recipe stated (which was 20), so it was definitely necessary.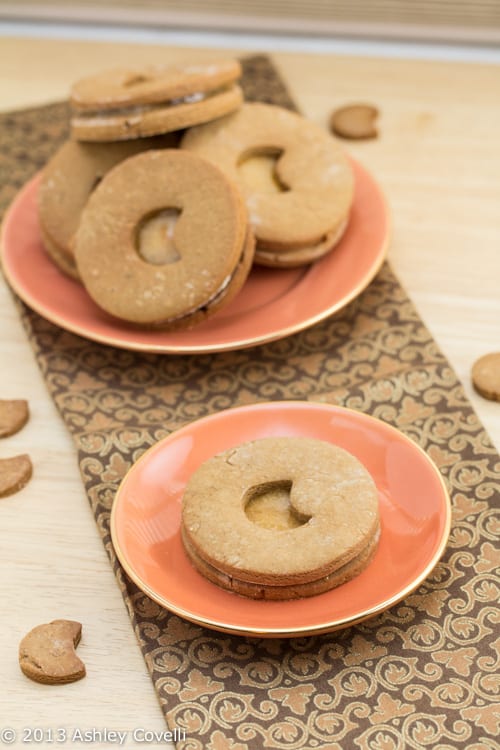 Qui-Gon Jinn-Ger Snaps
Adapted from starwars.com
According to Qui-Gon himself, these cookies are an energizing nibble - the perfect pick-me-up for those times when you aren't busy battling destroyer droids or outrunning assault ships. Find this recipe and more in The Star Wars Cookbook II from Chronicle Books.
4 cups flour
1 tablespoon ginger
1 teaspoon cinnamon
1 teaspoon nutmeg
1 teaspoon salt
½ teaspoon baking soda
2 sticks butter, softened
⅔ cup brown sugar
2 large eggs
⅔ cup molasses
½ cup apricot jam
4 tablespoons powdered sugar
In a large bowl, mix the flour, spices, salt and baking soda together.
In a separate bowl, beat the butter and sugar with a mixer until light and fluffy. Add the eggs and beat until creamy.
Add half the dry mixture to the butter mixture and beat until well blended. Pour in the molasses and beat until well mixed.
Scrape down the sides of the mixer bowl, adding the remaining dry mixture and mix until well combined.
Wrap the dough in plastic wrap and chill for at least 1 hour.
Preheat oven to 350°F. Line two cookie sheets with parchment paper.
On a floured surface, roll out the dough ¼ inch thick with a rolling pin.
Cut the cookies into rounds with cookie cutters. To make the door that Qui-Gon cuts through with his lightsaber, use the largest round cutters and, with a knife, cut small crescent shapes out of the center of half of the cookies.
Bake for 12 to 15 minutes for softer cookies, 20 minutes for crispy ones. Remove from oven to cool.
While the cookies are baking, whisk the apricot jam and powdered sugar together until smooth.
After the cookies have cooled, spread ½ to 1 teaspoon of the apricot filling on half of the cookies, placing another cookie on top to make a sandwich. Place the cookie with the crescent on top. Makes about 30 small cookie sandwiches.
Big Flavors Rating: 4 Stars