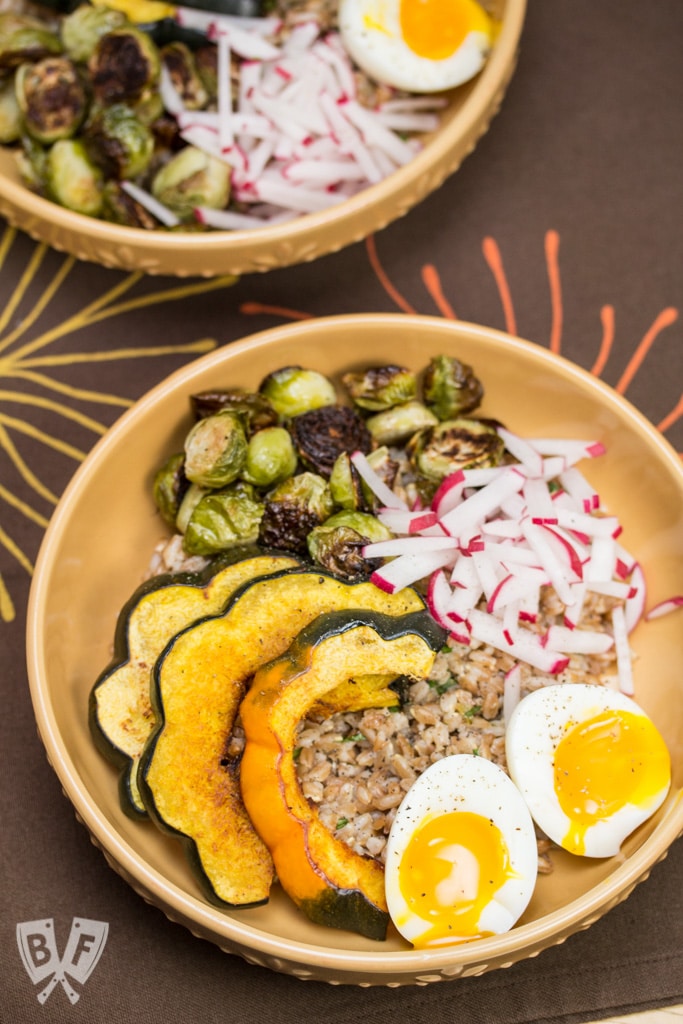 Toasted Farro Grain Bowls with Roasted Winter Veggies
This post may contain affiliate links. Thank you for supporting the brands that keep me creative in my tiny kitchen!
This post was created in partnership with Mambo Sprouts and Village Harvest. As always, all opinions are 100% my own. Thank you for supporting the brands that keep me creative in my tiny kitchen!
Chase away the winter blues with this hearty, veggie-packed grain bowl. Top it with a runny egg for the ultimate comfort food upgrade!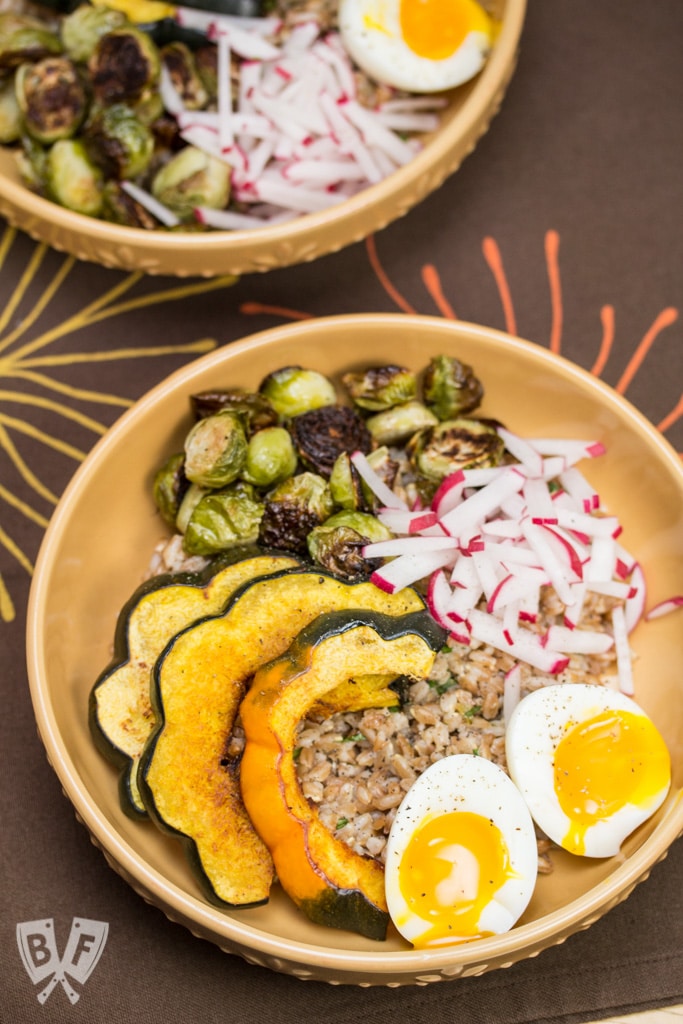 Grain bowls. Do you enjoy them? I love how they act as a blank slate for any number of toppings. Plus, they're a really wonderful way to clean out your produce drawer! They're usually good served cold, warm, OR at room temperature. Talk about versatility!
And I love trying to find colorful combinations to top 'em.
For this particular grain bowl, I chose to use one of my very favorite grains – farro. Its high fiber content makes it heart healthy (which is perfect in February since it's Heart Health Month!) and is good for digestion.
I like the chewy texture – it has a nice bite to that and holds up well to vinaigrettes and overnight stays in the refrigerator.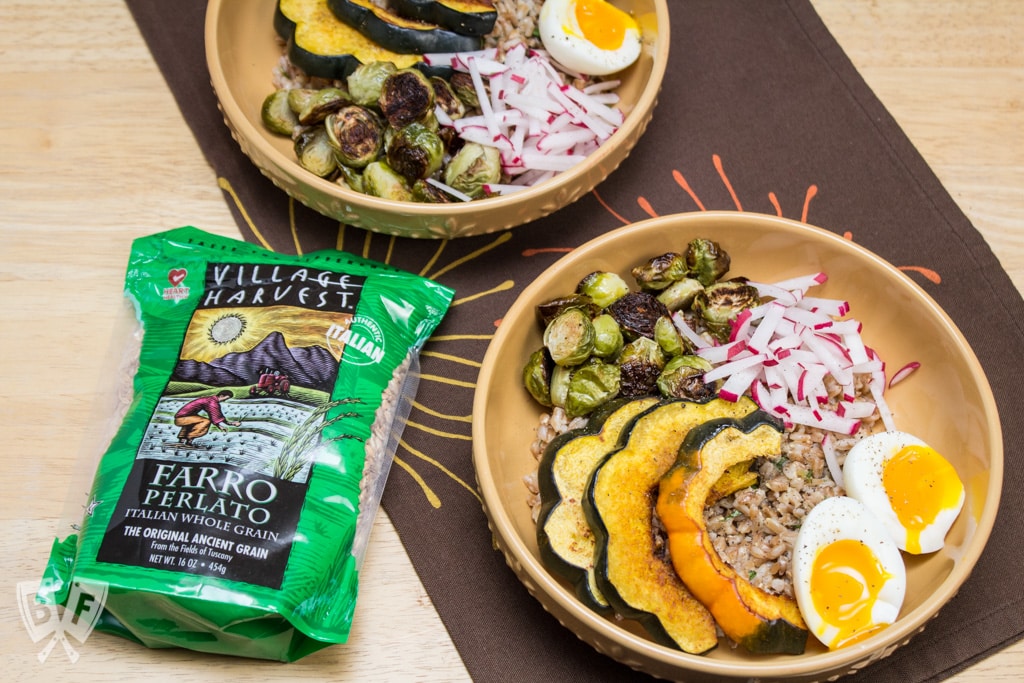 Let's talk squash. What's your favorite variety? I tend to lean toward butternut or spaghetti squash, but I'm trying to be more adventurous lately.
For some reason, I always thought of acorn squash as kind of… boring. I'm not sure why, but it just never really stood out to me until recently. I picked up this beauty from the grocery store and thought that slicing it and roasting it would be the perfect way to utilize it.
I mean… just look at those scalloped edges! Ain't she pretty??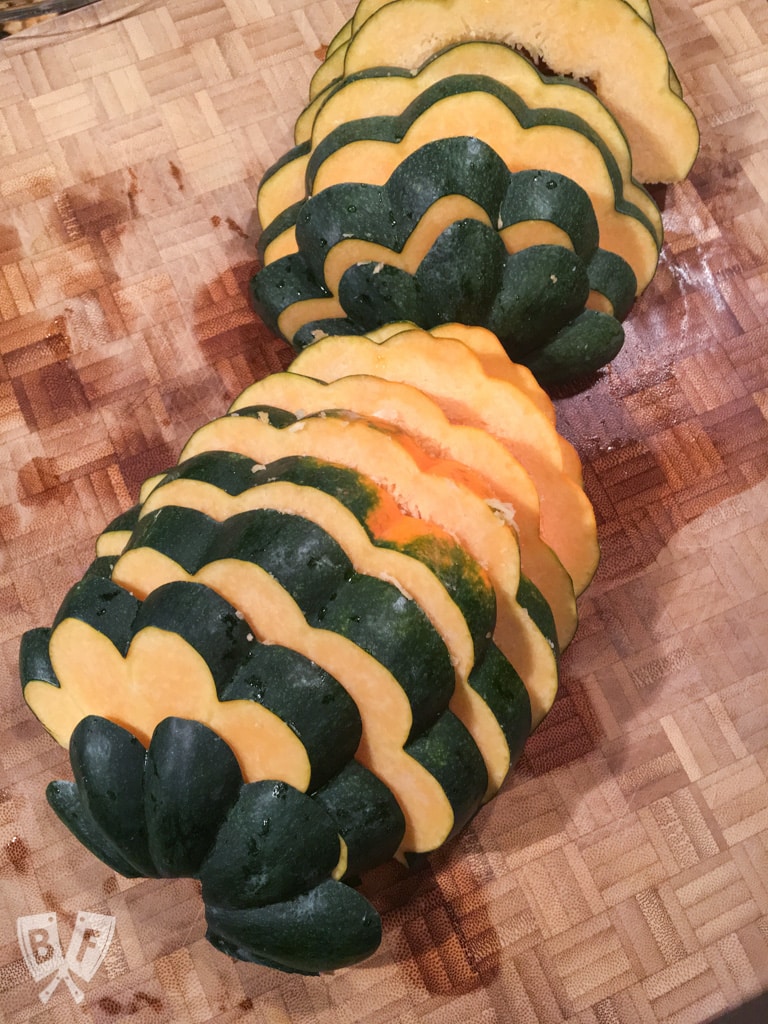 Another thing that I didn't realize until fairly recently is that you can eat the skin of a lot of varieties of squash. It tastes great in this dish!
Building a grain bowl can seem intimidating, but it doesn't have to be! For this one, I picked 2 veggies to roast – acorn squash and Brussels sprouts. I put each of them on their own sheet pan, drizzled them with oil, and seasoned them with salt and pepper.
They went into the oven and roasted away while I prepared the farro, vinaigrette and toppings.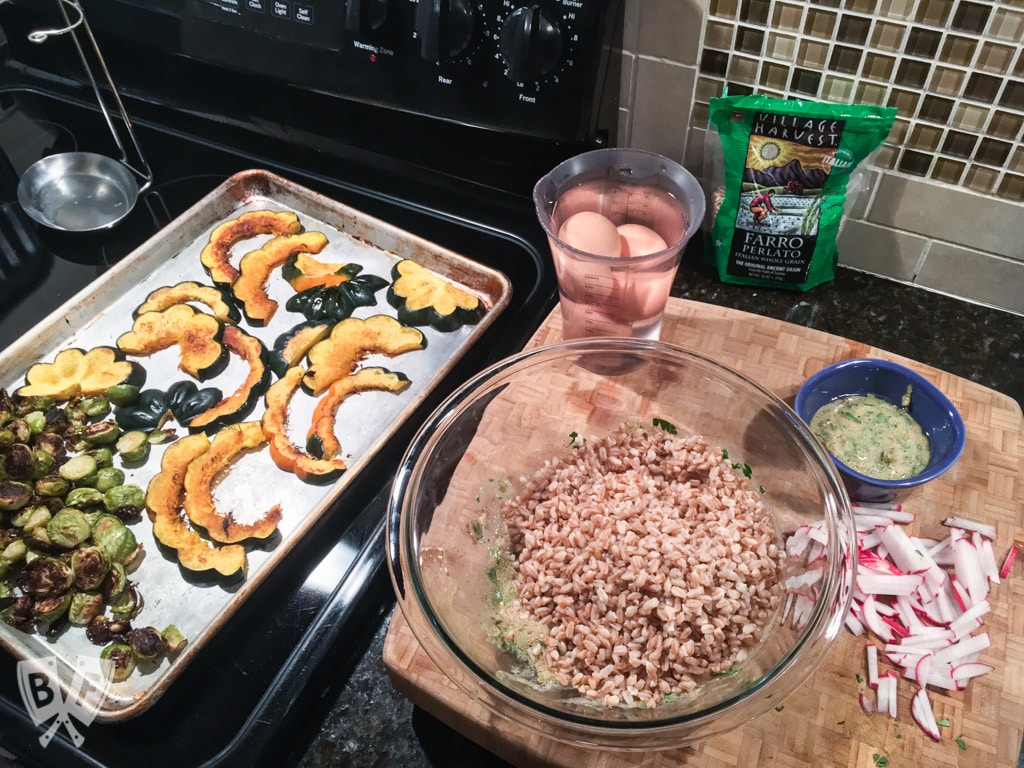 I've been a bit obsessed with making hard and soft boiled eggs in my Instant Pot lately, and these grain bowls were just screaming for eggs! I love that I can make them in advance, refrigerate them, and they're ready whenever I need to #putaneggonit.
Any type of egg that you prefer would work here – a fried egg would be lovely, and hard boiled would also work. I just really loved how the runny yolk of the soft boiled egg mixed with the rest of the ingredients as I was eating this dish.
It made it extra luscious, and I was all.about.it.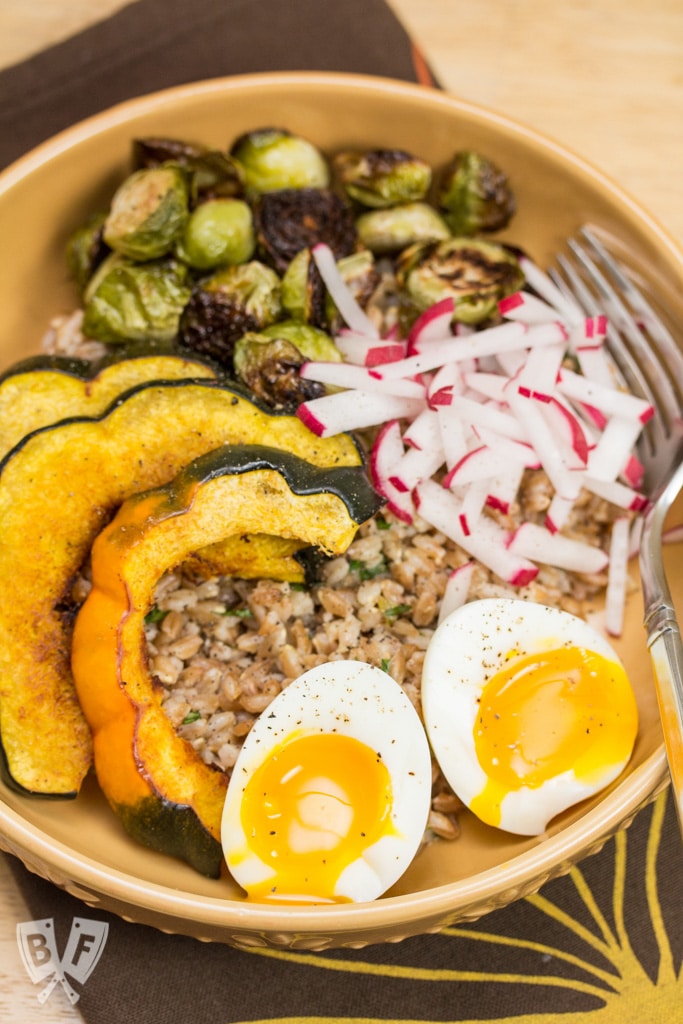 The most important rule of any grain bowl is to just have fun with it. You can take the time to pile the ingredients separately or just mix 'em all in. Whatever works for you – it'll be tasty any way you choose!
My friends at Village Harvest want to help you get more grains in your life! Check out their product locator to find their farro & other grains near you!
And be sure to click here to snag your coupon for $1.00 off any package of Village Harvest Farro or Arborio now through February 28, 2017.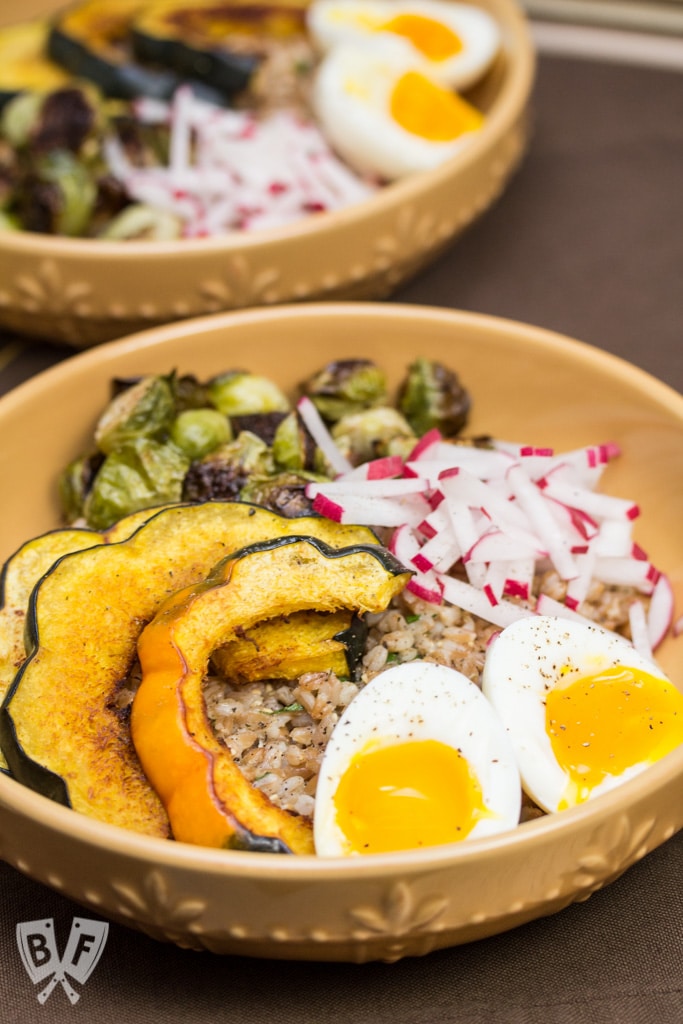 What's in your perfect grain bowl? I'd love to hear about it in the comments section below!
Print
Toasted Farro Grain Bowls with Roasted Winter Veggies
Prep Time:

15 minutes

Cook Time:

25 minutes

Total Time:

40 minutes

Yield:

4

Servings

1

x
---
---
---
---
Recipe Card powered by
Note: This post includes affiliate links for items that I genuinely enjoy. Big Flavors will receive a tiny commission from purchases made through affiliate links on this site at no added cost to you. This allows us to cover site-related expenses and helps to keep us cooking up a storm!