This post may contain affiliate links, which won't change your price but will share some commission.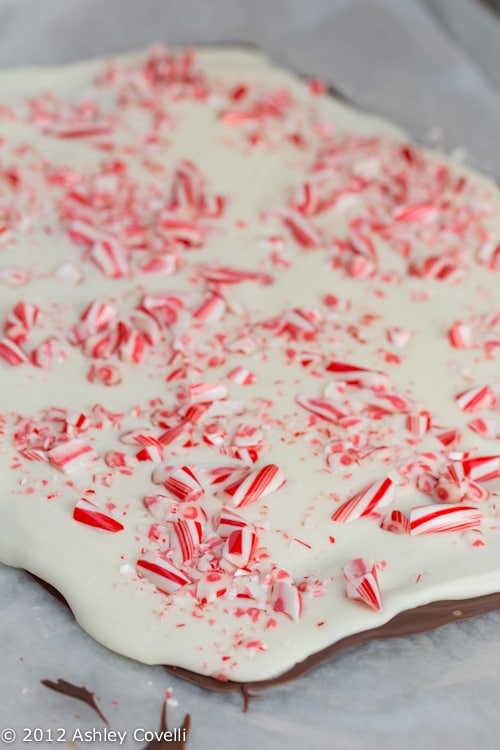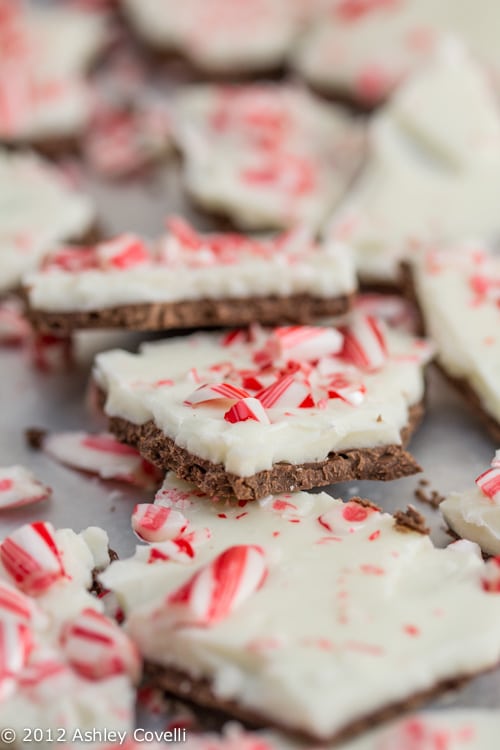 I love peppermint bark, but I've never made it before. It seemed pretty easy, so I bought a few items from the store and put this together. It turned out awesome - rich and creamy and refreshingly minty. I didn't bother with a double boiler - just heating it in the microwave, stirring every 30 seconds. Perfection!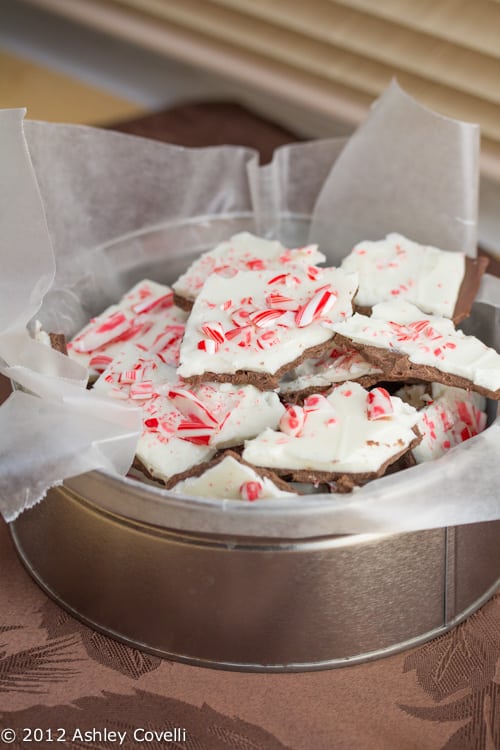 Peppermint Bark
Ashley Covelli
1 bag chocolate chips
1 bag white chocolate chips
1 ½t peppermint extract, divided
5 candy canes or a handful of peppermint candies
Line a baking sheet with wax paper or parchment. In a large microwave safe bowl (I used a 4 cup measuring cup), microwave the chocolate chips for 30 seconds, stir, and microwave for another 30 seconds. Repeat, stirring in between each trip to the microwave, until all of the chocolate is melted and smooth. Stir in ¾t peppermint extract. Pour the chocolate onto prepared pan and smooth it out into a thin layer with an offset spatula. Pop the tray into the freezer until the chocolate is set (about 30 minutes).
Unwrap the candy canes or peppermint candies and place them in a zip-top bag. Smash them with a meat tenderizer, rolling pin or heavy pan until they have broken into nice chunks. Pour the contents of the bag into a sieve and shake to remove the super fine dust.
Repeat the melting process with the white chocolate chips. Add the remaining ¾t peppermint extract and stir to combine. Pour the white chocolate on top of the hardened chocolate, spreading with an offset spatula. Immediately sprinkle the candy pieces on top, and press down on them slightly to make sure they adhere. Pop the tray back into the freezer until set.
Once the chocolate is firm, remove the tray and let the bark come to room temperature. Break the sheet into chunks and enjoy!
Big Flavors Rating: 5 Stars