This post may contain affiliate links, which won't change your price but will share some commission.
I have a rhubarb plant over at my in-laws' house. I named her Ruby. I tried transplanting part of Ruby over at my house a few years back, but it didn't work out so well.
Moment of silence.
But the rest of Ruby is thriving, and this pie is what I decided to do with the first harvest of the season.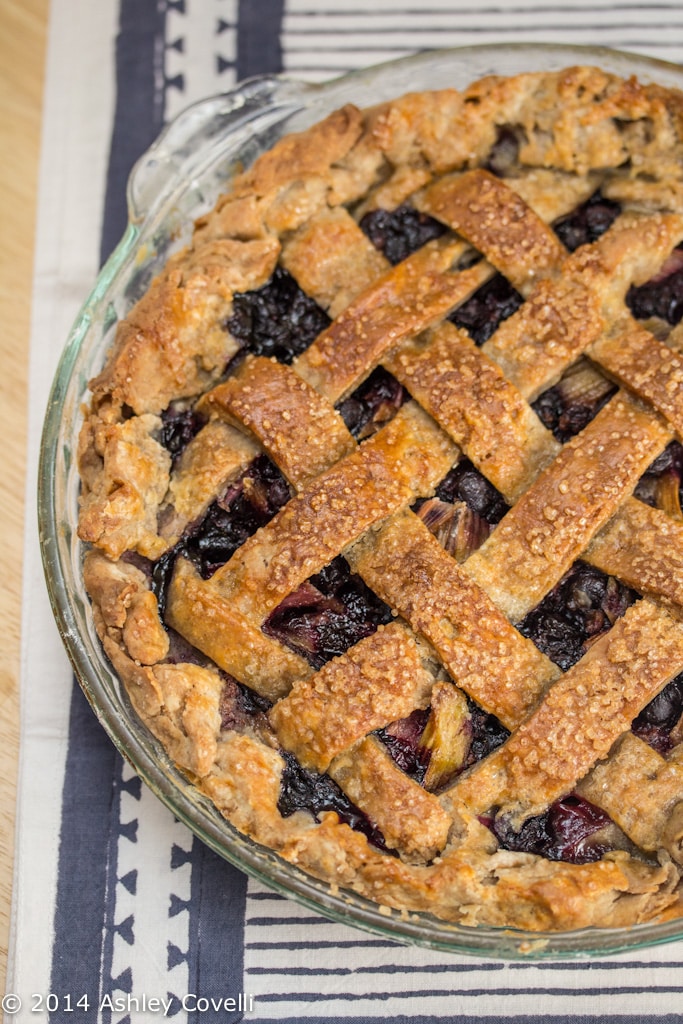 It's always tough for me to make something other than my beloved Rhubarb Custard Pie when I have a batch of rhubarb at the ready.
But this time, I decided to take the method of letting it sit in sugar till it gets watery and then mixed it with fresh blueberries, cornstarch to thicken it up while it baked, and a little cinnamon and nutmeg.
Heavenly.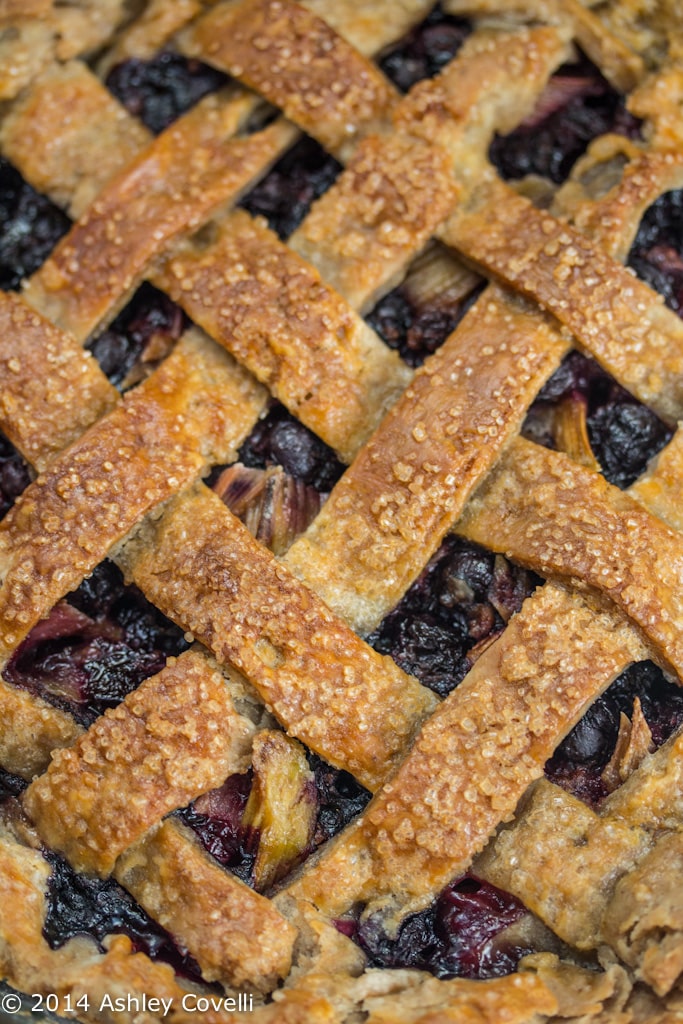 I had a few discs of whole wheat pie crust in the freezer, and I thought it would be fun to do a lattice for the top of this beauty. There's a wonderful tutorial for making a lattice over on The Kitchn - check it out if you have any questions on how to do it.
You could also cover the pie with another solid piece of rolled out dough with just a few vents cut, or even some decorative cutouts. There are a gazillion ways to prettify it.
Maybe even a gazillion and one.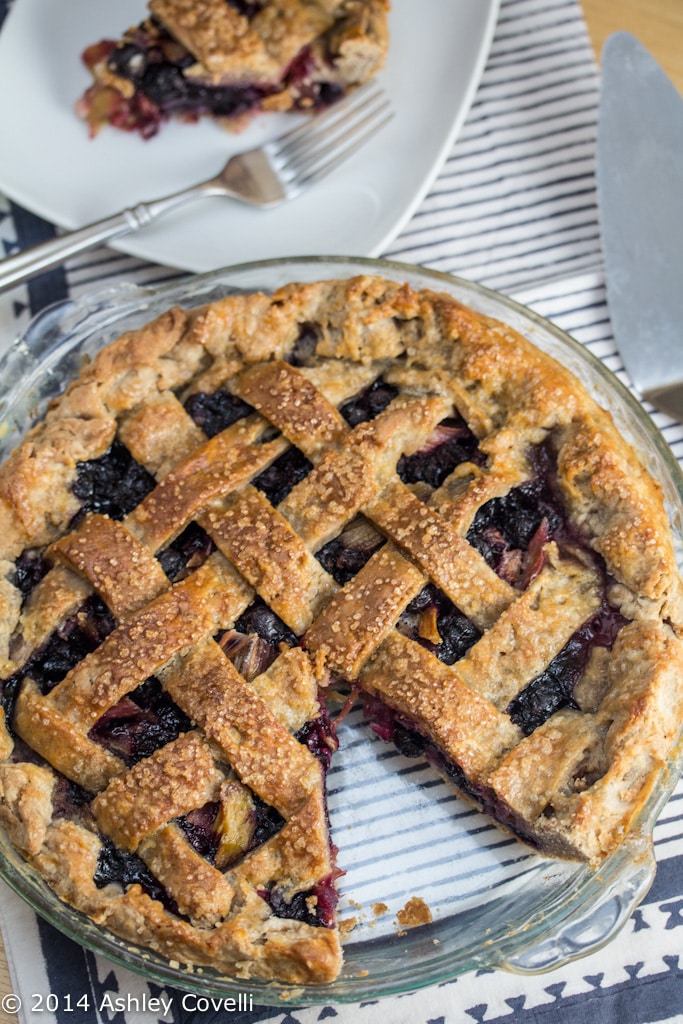 This pie was a big hit. It was sweet and a little tart, and the combination of rhubarb and berries just screamed summertime. Definitely a great way to end (or start!) the day.
Blueberry-Rhubarb Pie
Big Flavors from a Tiny Kitchen - Ashley Covelli
2 cups rhubarb, sliced
¾ cup granulated sugar
2 cups fresh blueberries
⅓ cup cornstarch
½ teaspoon salt
¼ teaspoon ground cinnamon
¼ teaspoon freshly grated nutmeg
2 discs prepared pie crust dough, store-bought or homemade (I used this Whole Wheat Crust recipe)
1 tablespoon cold butter, cut into small pieces
1 egg, beaten
1 tablespoon raw sugar
In a bowl, mix rhubarb with granulated sugar and let sit until watery, stirring occasionally (will take at least 45 minutes - mine sat out for over an hour). Stir in blueberries, cornstarch, salt, cinnamon and nutmeg and mix well.
Preheat oven to 425°F.
Line a deep dish pie plate with one of the discs of dough, leaving an overhang. Pour blueberry-rhubarb mixture into the prepared pie plate and spread out evenly. Dot the top of the fruit with butter and top with the second pie crust (either rolled out solid or cut into ¾-inch wide strips to form a lattice). Crimp edges to join the top and bottom crusts. If using a solid top crust, cut a few steam vents in with a sharp knife.
Place pie plate on a baking sheet. Brush top of pie crust with a thin layer of the beaten egg, and sprinkle raw sugar over top. Cover edges of the crust with aluminum foil and bake for 15 minutes.
Lower the heat to 350°F and bake another 35 minutes. Remove foil from edge of crust and bake a final 15 minutes, or until the edges are brown and the fruit is thick and bubbly.
Remove from oven and cool pie completely on a cooling rack before slicing. Enjoy!
Big Flavors Rating: 4 Stars