This post may contain affiliate links, which won't change your price but will share some commission.
A friend of mine came over with her daughter for a morning play date last week, and I wanted to have something for us to snack on. She's a personal trainer who's smack dab in the middle of a 30-day Paleo challenge.
So, in the middle of a hectic morning, I made a batch of this caramelized cauliflower goodness. It was a HUGE hit! Apparently she had been craving popcorn like mad lately, and this totally hit the spot.
Don't be afraid to let your cauliflower get nice and brown - I could have even let it go a little longer than this. The brownest bits were the tastiest. I think it'll be fun to try spicing this up next time with some herbs/spices. Yum!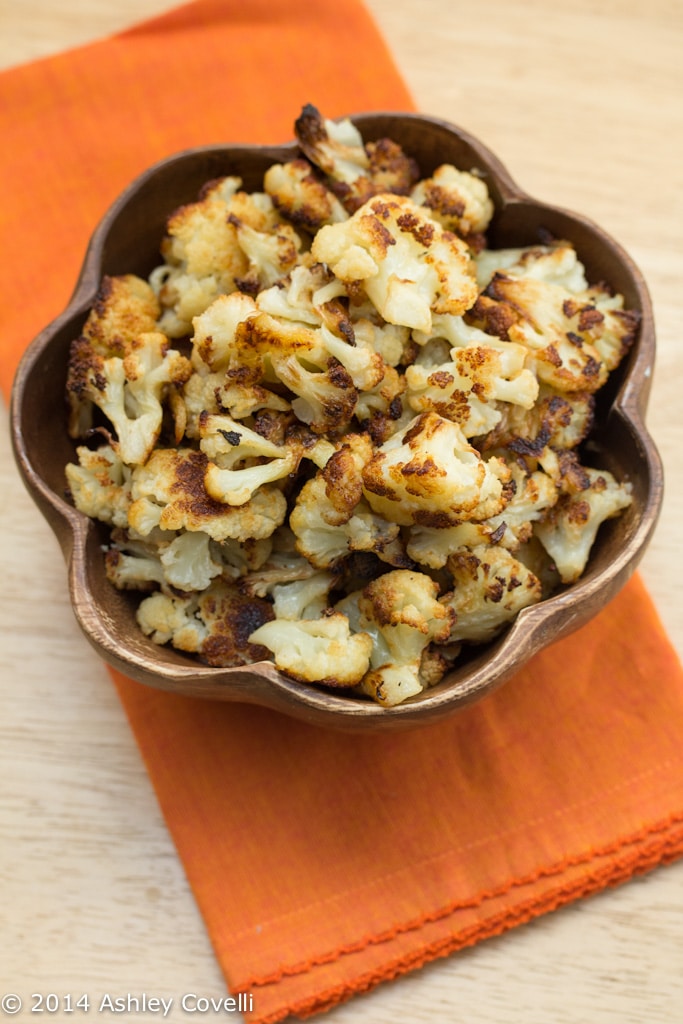 I haven't done a lot of Paleo recipes intentionally, but she's already challenged me to bring more to my blog. Stay tuned!
Cauliflower Popcorn - Roasted Cauliflower
Food.com - Julesong
1 head cauliflower or 1 head equal amount of pre-cut commercially prepped cauliflower
4 tablespoons olive oil
1 teaspoon salt, to taste
Preheat oven to 425 degrees.
Trim the head of cauliflower, discarding the core and thick stems; cut florets into pieces about the size of ping-pong balls.
In a large bowl, combine the olive oil and salt, whisk, then add the cauliflower pieces and toss thoroughly.
Line a baking sheet with parchment for easy cleanup (you can skip that, if you don't have any) then spread the cauliflower pieces on the sheet and roast for 1 hour, turning 3 or 4 times, until most of each piece has turned golden brown. (The browner the cauliflower pieces turn, the more caramelization occurs and the sweeter they'll taste).
Serve immediately and enjoy!
Big Flavors Rating: 4 Stars