This post may contain affiliate links, which won't change your price but will share some commission.
Every December, my Supper Club goes out to a nice dinner instead of cooking a 6 (or more!) course meal and eating at one of our houses. We all bring homemade cookies/candies and do a swap. We've had lots of delicious hits over the past 7 years, and this year was no exception.
The first homemade goodie that we brought to this year's swap was this beyond decadent cookie recipe. This is something that my friend Becky over at Hudson + Daughter has made several times, and I've been lucky enough to binge indulge in over at her house several times. As soon as I took my first bite, I was asking her for the recipe. I'm surprised she could hear me through the mouthful of cookies 😉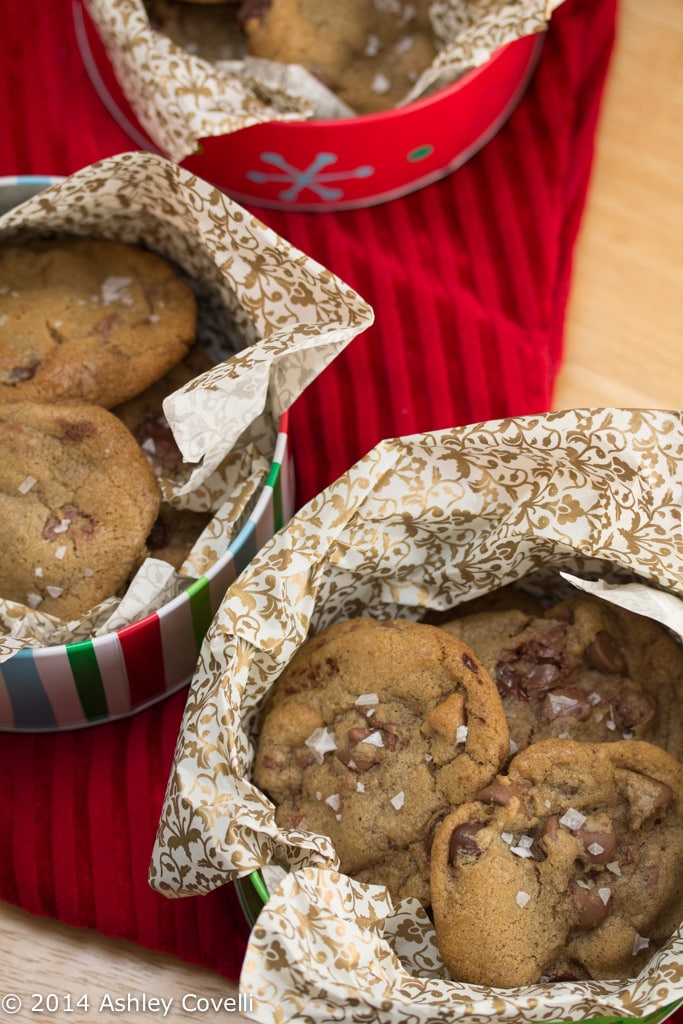 Let me start by saying that these cookies are fairly labor intensive. You have to make brown butter, make cookie dough with said brown butter, let that batter chill for a few hours, stuff cookies with Nutella, bake, salt and cool… it takes a while. But it is oh so very worth it!
I used Ghirardelli baking chips, which are larger than standard sized chocolate chips, so stuffing the cookies with Nutella was extremely difficult. The dough kept breaking apart by the chips and it was hard to keep it all contained. But I wasn't going to NOT stuff, them, so I ended up flattening the dough into little cups, adding a small bit of Nutella to the middle and sealing them up. It was tricky, but they turned out great. Next time (yes, there will totally be a next time!) I'll use regular chips.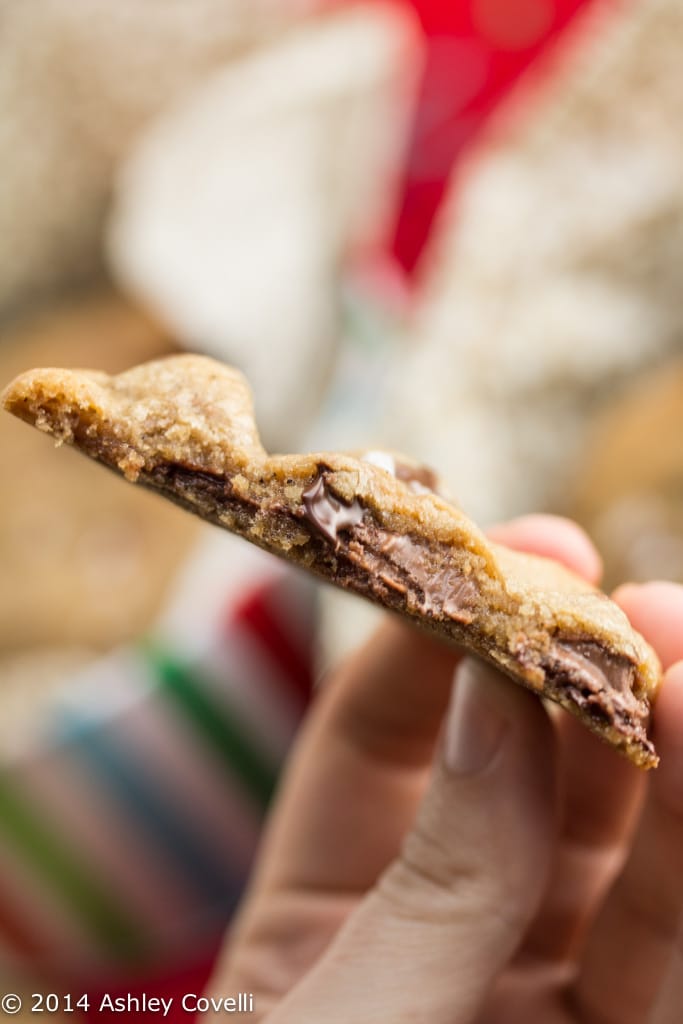 The mix of several types of chocolate and Nutella with a dusting of flake salt on top with a brown butter backdrop makes these cookies outrageously decadent. They're soft and chewy and beyond addictive. I like popping leftovers in the microwave for 5-10 seconds before devouring. Yum!
Nutella-Stuffed Brown Butter + Sea Salt Chocolate Chip Cookies
Ambitious Kitchen
Prep time
2 hours
Cook time
10 mins
Total time
2 hours 10 mins
Nutella is stuffed between a hazelnut brown butter flavor enhanced chocolate chip cookie then sprinkled with sea salt.
Recipe type: Cookies
Serves: 2 dozen cookies
2 ¼ cup all-purpose flour
1 ¼ teaspoons baking soda
¼ teaspoon of salt
2 sticks (1 cup) unsalted butter
1 ¼ cup packed dark brown sugar
¼ cup granulated sugar
1 large egg plus 1 egg yolk
1 ½ teaspoons vanilla extract
1 tablespoon plain greek yogurt
¾ cup semi-sweet chocolate chips
½ cup milk chocolate chips
½ cup dark chocolate chips
1 jar of Nutella, chilled in refrigerator
Coarse sea salt for sprinkling
Whisk together the flour, baking soda, and salt in a bowl and set aside. Melt butter in a saucepan over medium heat. The butter will begin to foam. Make sure you whisk consistently during this process. After a couple of minutes, the butter will begin to brown on the bottom of the saucepan; continue to whisk and remove from heat as soon as the butter begins to brown and give off a nutty aroma. Immediately transfer the butter to a bowl to prevent burning. Set aside to cool for a few minutes.
With an electric mixer, mix the butter and sugars until thoroughly blended. Beat in the egg, yolk, vanilla, and yogurt until combined. Add the dry ingredients slowly and beat on low-speed just until combined. Gently fold in all of the chocolate chips.
Chill your dough for 2 hours in the refrigerator, or place in freezer for 30 minutes if you are super eager, although I cannot promise the same results if you do this.
Preheat the oven to 350 degrees F. Once dough is chilled measure about 1 ½ tablespoons of dough and roll into a ball. Flatten the dough ball very thinly into the palm of your hand. Place 1 teaspoon of chilled Nutella in the middle and fold dough around it; gently roll into a ball -- it doesn't have to be perfectly rolled! Make sure that the Nutella is not seeping out of the dough. Add more dough if necessary. Place dough balls on cookie sheet, 2 inches apart and flatten with your hand VERY gently. (Really only the tops need to be flattened a bit!)
Bake the cookies 9-11 minutes or until the edges of the cookies begin to turn golden brown. They will look a bit underdone in the middle, but will continue to cook once out of the oven. Cool the cookies on the sheets at least 2 minutes. Sprinkle with a little sea salt. Remove the cooled cookies from the baking sheets after a few minutes and transfer to a wire rack to cool completely. Repeat with remaining dough.
If dough is hard once chilled, place out to thaw for 20-30 minutes or until you can work with it.
Big Flavors Rating: 5 Stars