This post may contain affiliate links, which won't change your price but will share some commission.
Some friends of ours recently had a baby boy, and I'm taking our son over after nap time so we can hang out and talk about the awesomely insane world of parenting. And what new parents need most is some food that they don't have to prepare!
I didn't have a whole lot of time to prepare things like I did for some other friends a few months ago, but I wanted to bring a few things anyway: a limited edition beer from our (and their!) favorite local brewery that we found last week in Ocean City, MD, some truffled goat cheese that just so happens to have my birthday (which I share with the new mama) as the sell by date, maybe the rest of the Salmon Mousse that I made the other day, crackers, and these fabulous cookies.
I made them a while back for World Nutella Day, and they were so easy and delicious that I knew I'd be making them again and again. And I usually have all the ingredients on hand, so I can make them on a whim.
I like keeping them in the fridge, especially when it's the middle of summer, so they don't get too melty. Plus, the cold cookies are nice on a hot day. Cheers to the new parents!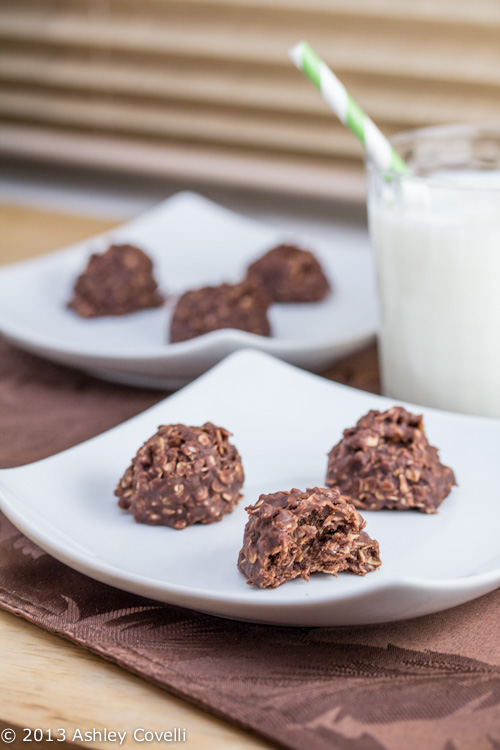 Nutella No Bake Cookies
The Vintage Mixer
Makes 2 dozen
3 tablespoons butter
½ cup granulated sugar
¼ cup milk
1 tablespoon unsweetened cocoa powder
¼ cup peanut butter
¾ cup Nutella hazelnut spread
2 cups rolled oats*
In a medium to large saucepan, melt the butter over medium to medium-low heat. Add the sugar, milk, and cocoa powder and mix until combined. Stir in the peanut butter and Nutella until melted, followed by the oats. Remove from stove. Continue mixing until all of the ingredients are incorporated.
Working quickly, use a small ice cream scoop to shape balls of dough and place them on a parchment-lined sheet pan. Refrigerate for thirty minutes until firm. Store in an airtight container.
*Optional: use Gluten Free
Big Flavors Rating: 5 Stars