This post may contain affiliate links, which won't change your price but will share some commission.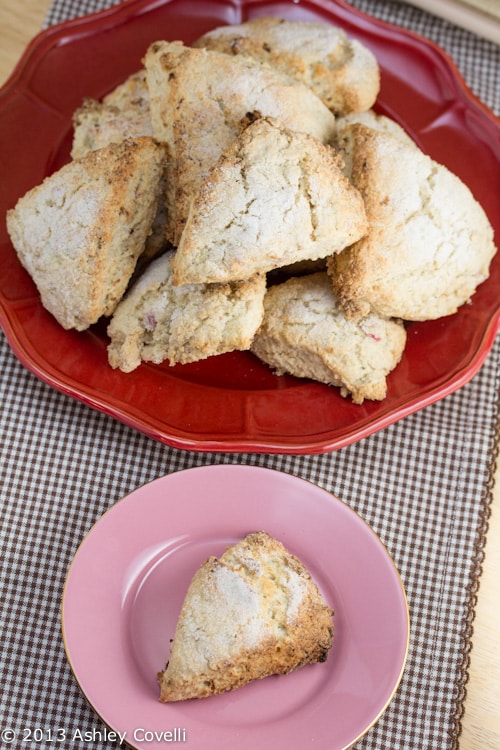 To use up the remainder of my stash-o-rhubarb, I made scones. At a ridiculous hour. And then sat down with my husband, who made cappuccinos to go with them, and watched cartoons while devouring several. That's love. These scones are wonderfully fluffy, flecked with vanilla bean and rhubarb, and are just down right delicious. It makes a bunch, too, which is dangerous fantastic. I was almost out of vanilla sugar, but I had vanilla beans and granulated sugar, so I made a batch in the food processor before I got to work on the scones. We really loved them, and I'm sure they won't last long on this rainy weekend!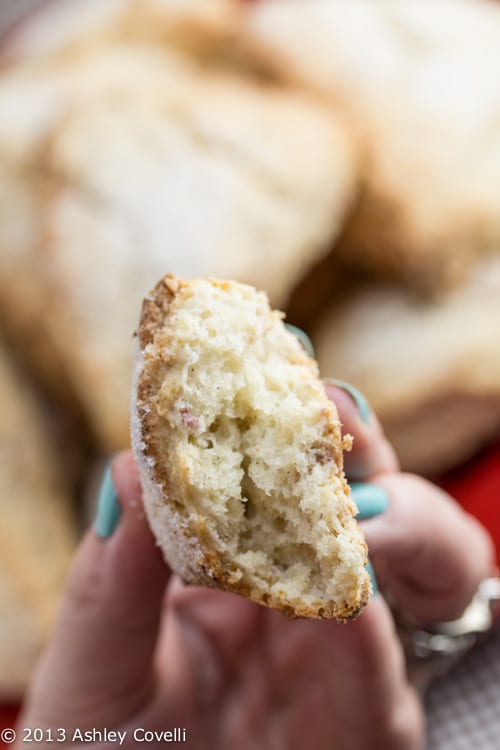 Naughty Rhubarb Scones
Food52 - Midge
Author Notes: My mom, who churned out many a tasty scone in her day, wasn't so hot on the idea of rhubarb in scones, "too tart, honey." Boy was she ever wrong. Rhubarb's tang is the perfect foil for the super rich scone (I subbed heavy cream for the milk and upped the salt in my mom's recipe, hence the naughty). You almost don't need jam, but if you went that route, strawberry would be a natural, and clotted cream for the full-on naughty experience.
Makes 12-16 scones
3 stalks rhubarb
2 ½ cups flour
1 tablespoon baking powder
½ teaspoon salt
8 tablespoons unsalted butter
½ cup vanilla sugar
⅔--¾ cups heavy cream
1. Preheat oven to 425.
2. Slice rhubarb stalks ¼ " thick. Toss with 3 tablespoons of the sugar.
3. Sift flour, baking powder and salt together in large bowl or bowl of food processor.
4. Cut butter into flour mixture by hand (or whiz with food processor) until butter is the size of small peas.
5. Blend in ¼ cup of the sugar. Blend in sliced rhubarb. (If using the food processor, just pulse -- you want the slices left mostly intact.)
6. Blend in cream until a soft dough forms. (note: you may need to add more than ⅔ cup depending on the weather,etc.)
7. Transfer dough to floured surface and divide in half. To make triangular scones, flatten into 6-inch disks and cut each circle into 6-8 scones. Sprinkle with remaining sugar.
8. Arrange on ungreased cookie sheet and bake about 20 minutes or until reddish-brown on top.
Big Flavors : 5 Stars