This post may contain affiliate links, which won't change your price but will share some commission.
This post has been compensated as part of my ongoing partnership with Mountain Rose Herbs and may contain affiliate links. As always, all opinions are 100% my own.
This Mediterranean Farro Salad is packed with fresh herbs and veggies and tossed with a bright citrus vinaigrette. Paired with simply spiced beef patties, it makes for a beautifully easy, healthy weeknight meal.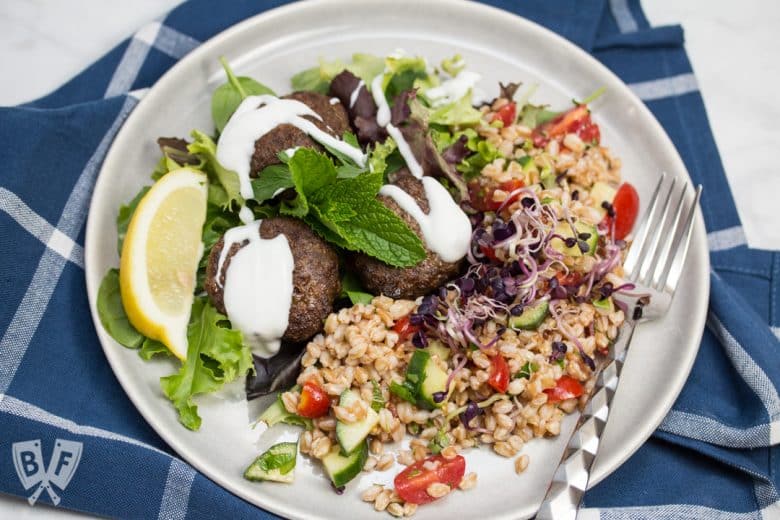 Earlier this year, I had the pleasure of learning about Mountain Rose Herbs at an eco-wellness conference that I attended out in California. At first glance, I thought it was just another essential oil company.
But after sitting around the hotel firepit late at night chatting about the brand with fellow food-lover and homebrewer extraordinaire, Kiley, I realized that Mountain Rose Herbs also has a TON of incredible products (salts, oils, seasoning blends, teas, etc.) that are perfect for the kitchen.
And I couldn't be more excited to share them with you!
Using Smoked Salt in Recipes
One of the most interesting ingredients I've seen in the last few years is smoked salt. I first used smoked salt when I made Tolon's Strawberry Basil Shortcake and quickly fell in love with the way that a little bit of smoked salt can really enhance the flavor of a dish.
This Kiawe Smoked Sea Salt is a really flavorful smoked salt option. It's made from pure Hawaiian sea salt that is slowly cold smoked over Kiawe wood chips. According to the Mountain Rose Herbs website:
The smoke from this naturalized mesquite tree creates a distinctively sweet smoky flavor that makes a tasty addition to seafood and poultry dishes. Try some in your next brine, or add it to your favorite vegetable dish or salad. The Kiawe tree is unique to the Hawaiian islands, and has naturalized over time from mesquite trees that were brought over in the early 1800's.
For this recipe, I used some of the Kiawe Smoked Sea Salt in the ground beef patty mixture. I didn't feel like firing up the grill, but I still wanted that smoky flavor that comes from grilling. It really added a deep flavor to the meat with very little effort!
They also have a Smoked Sea Salt that is an all natural, solar evaporated salt that is gathered from the Pacific Ocean off the coast of California. It's then slowly smoked over Pacific Red Alder wood for a deep, rich flavor.
Smoked salts are a great way to add real smoked flavor to dishes without that lingering "charcoal smoke" aftertaste.
When using smoked salt in dishes, start off with a small amount. You don't want to overpower the other flavors in your dish. Both salt and smoke are powerful flavors, so you don't want to go overboard. You can always add more salt, but you can't take it away!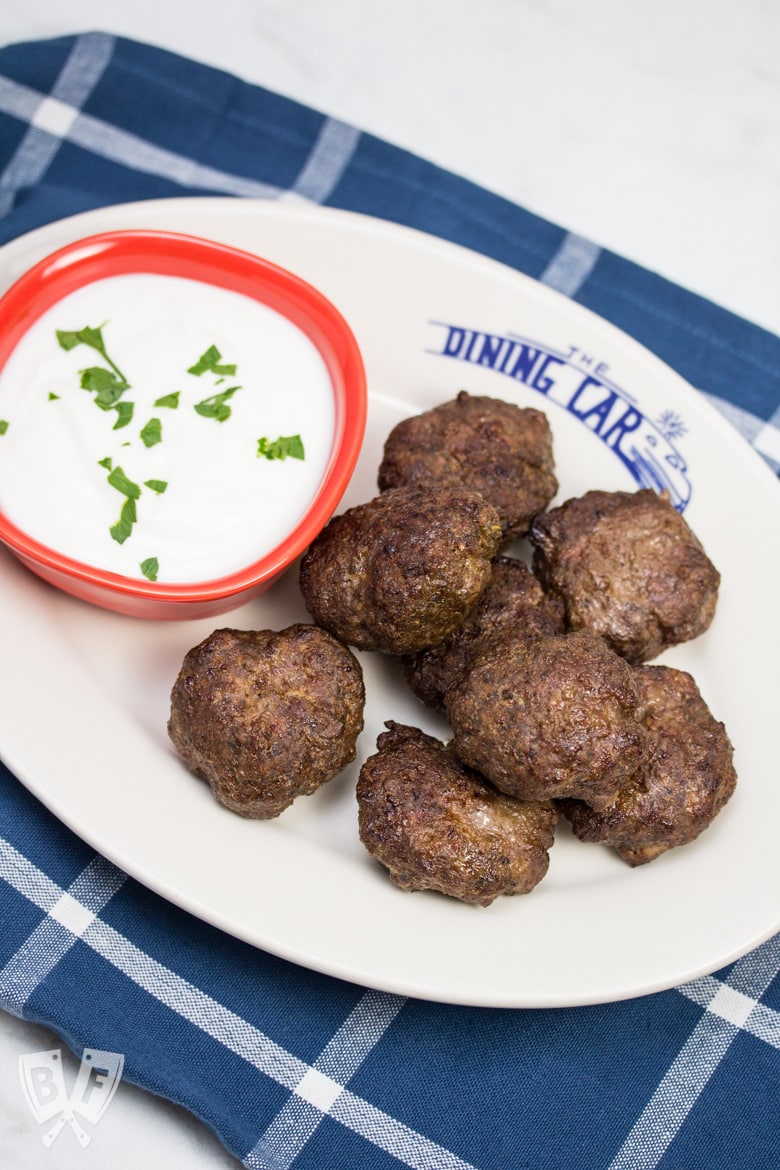 These spiced beef patties are super simple to make. Just a quick mix of ground beef, dried spices, the aforementioned smoked salt, and an egg. I like adding an egg to dishes like this to help keep the meat from drying out while it cooks.
When mixing the meat, your hands are the best tool for the job! Just try to incorporate everything and shape them gently, so you don't overwork the meat and end up with tough patties.
Since I knew I was going to be serving this meat with a big ol' grain salad, I decided to shape them into little mini meat patties - kind of like a hybrid between a meatball and a hamburger. They'd actually make great sliders, too!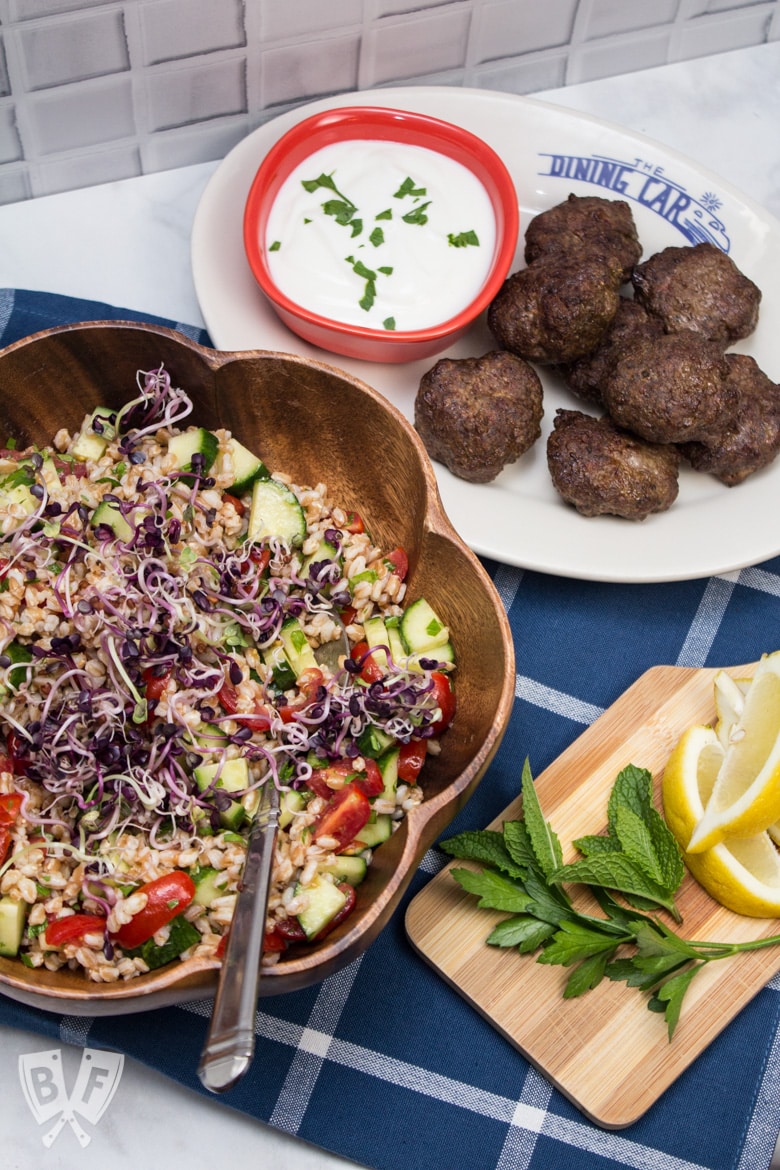 Farro is one of my favorite ingredients to work with. I tend to go the cold route when using farro, but it's great warm as well. Farro is a chewy grain that holds up really well in salads. I often make a batch of this Farro, Avocado, Cucumber, and Cherry Tomato Salad with Feta and have it on hand for leftovers and lunches throughout the week.
Using Pumpkin Seed Oil in Recipes
For this Mediterranean farro salad, I used pumpkin seed oil as the base of my vinaigrette. Pumpkin seed oil has a rich, nutty flavor that works really well with the bright flavor of the lemon juice in the vinaigrette.
This pumpkin seed oil is cold-pressed from raw pumpkin seeds. It should only be used in its raw form, as heat destroys the health benefits of the oil. Mountain Rose Herbs says:
Known affectionately as green gold, our certified organic pumpkin seed oil is one of the most nutritional oils available, and is an excellent source of essential fatty acids, vitamins, and sterols. It contains Omega-3 and Omega-6 fatty acids... Pumpkin seed oil also contains vitamins A and C, zinc, and other trace minerals and vitamins.
Heat-sensitive oils like this are perfect for salad dressings and vinaigrettes, smoothies, or as a finishing oil - drizzled over your dish just before serving. I think it'd be great drizzled over some freshly made hummus that has been garnished with pepitas.
Due to its delicate nature, it's best to store pumpkin seed oil in the fridge. A cool, dark place is also OK, but it may not last as long without refrigeration.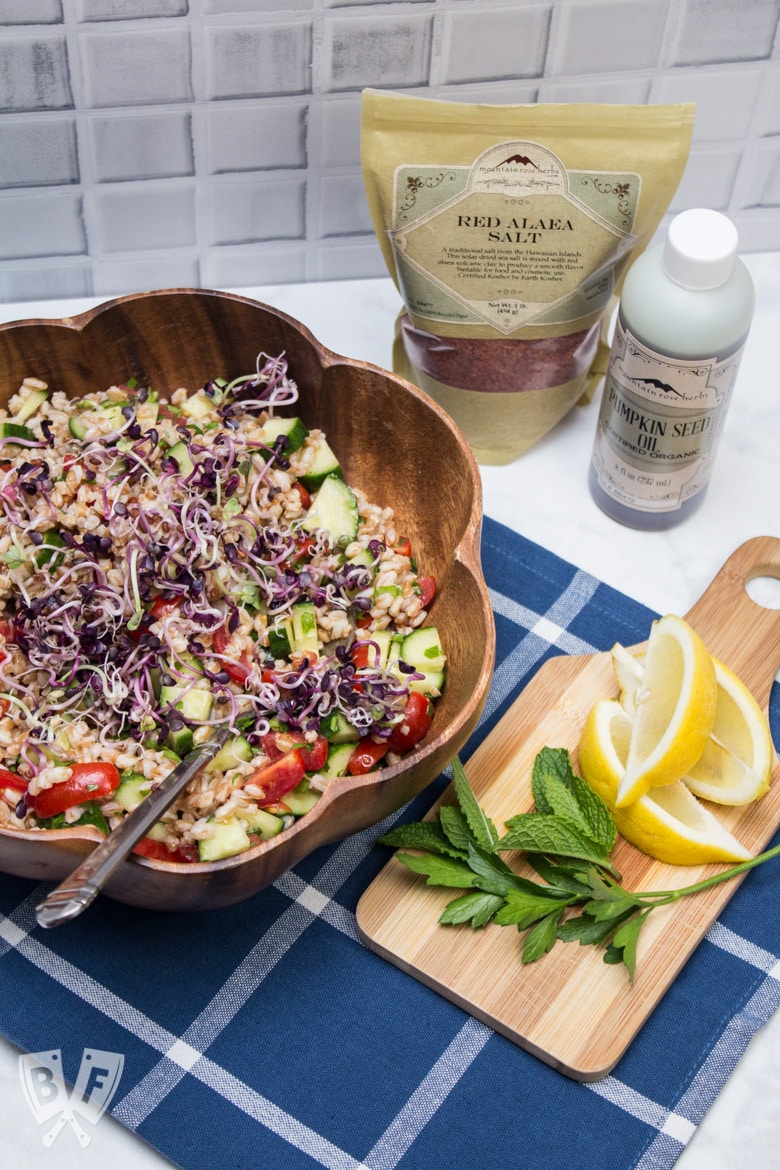 Using Red Alaea Salt in Recipes
The other type of salt that I used in this recipe is this gorgeously vibrant Red Alaea salt.
I hadn't heard of Alaea salt before, so I turned to Wikipedia for some further information:
Alaea salt, sometimes referred to as Hawaiian salt, is an unrefined sea salt that has been mixed with an iron oxide rich volcanic clay called 'alaea', which gives the seasoning its characteristic brick red color . It is part of Native Hawaiian cuisine and is used in traditional dishes such as kalua pig, poke, and pipikaula (Hawaiian jerky). It was also traditionally used to cleanse, purify and bless tools, canoes, homes and temples.
Red Alaea salt is used for both food and cosmetic purposes. For culinary purposes, you'll find that Red Alea salt has a mellow flavor, making it very versatile.
It would add a gorgeous pop of color sprinkled on top of homemade truffles or ice cream. In fact, I may go sprinkle some on top of the remaining Black Forest Popsicles I have hanging out in my freezer!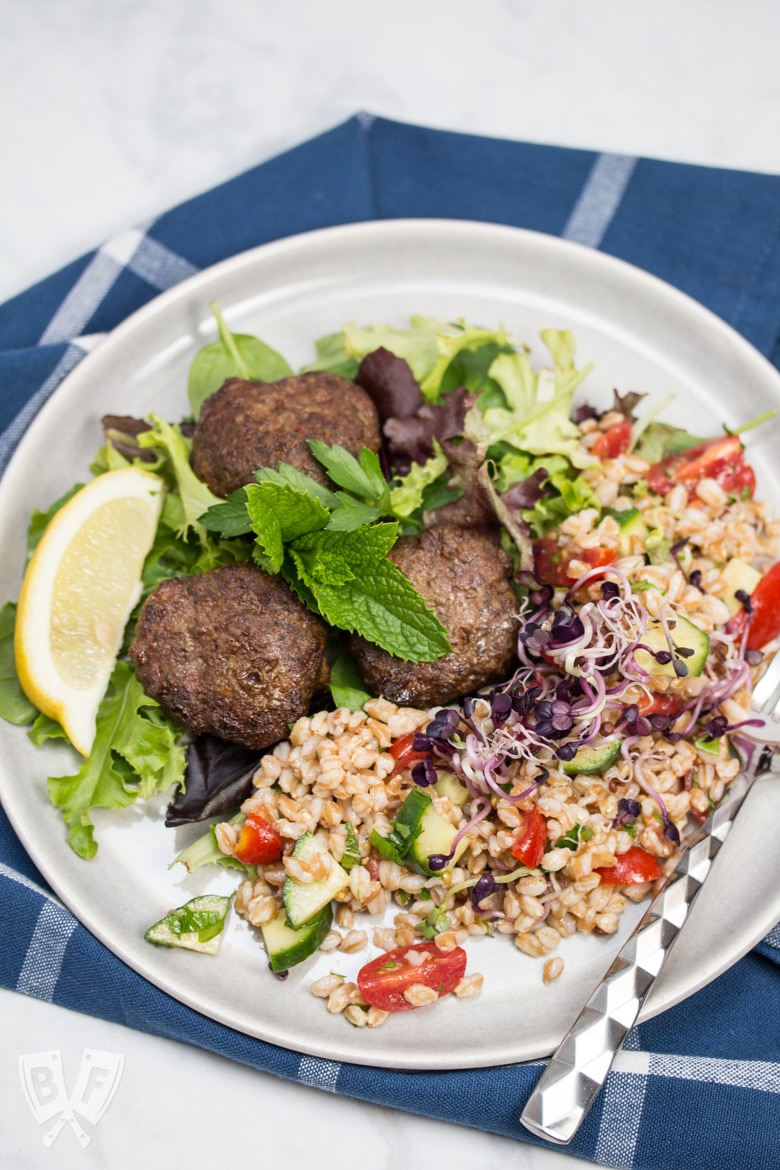 A quick note about sprouting seeds
I topped my Mediterranean farro salad with some homegrown radish sprouts. Mountain Rose Herbs has an entire section of their site dedicated to different types of organic sprouting seeds! They also have all the tools you need to be able to grow them in your own home.
I learned a ton about sprouts, and I'm excited to share my findings with you. They don't take much maintenance, and they're a super fresh, tasty, and nutrient-dense way to enjoy indoor growing.
I have a post in the works that's going to help you choose the best method for growing your own sprouts at home. I had a lot of fun experimenting with the different growing methods and different types of sprouting seeds.
My 6-year-old son has been super into sprouts now - he even requests them in his lunchbox! The broccoli sprouts are his favorite, and my husband is still firmly on Team Alfalfa Sprouts.
I've enjoyed all the ones I've tried so far. I just love that they're so quick and easy to grow and that they're SO much more affordable than buying them from the health food store.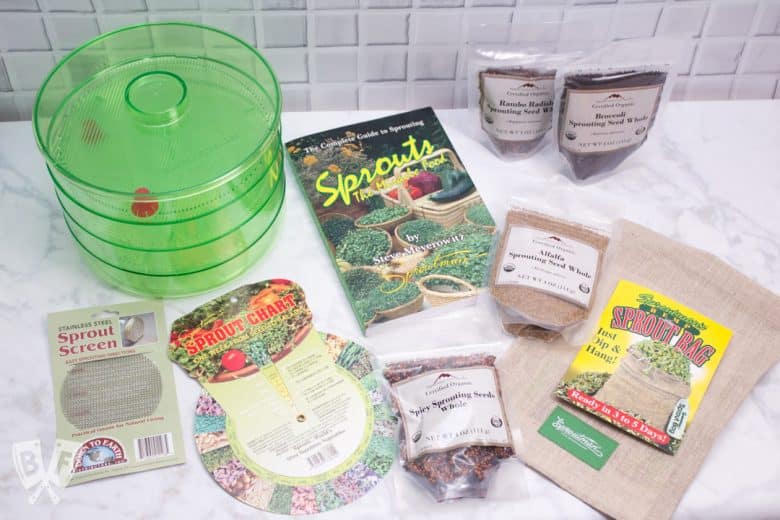 So stay tuned for more on sprouting, but just know that for this recipe, sprouts of any sort make a great topping.
I went with radish sprouts here because I like fresh radishes in with my Mediterannean dishes. The radish sprouts added that spicy flair without having actual pieces of radish in there.
You can get a sneak peek of our sprouting adventures if you head over to my Instagram profile and look at the highlighted "Sprouting" story that's pinned to my profile page.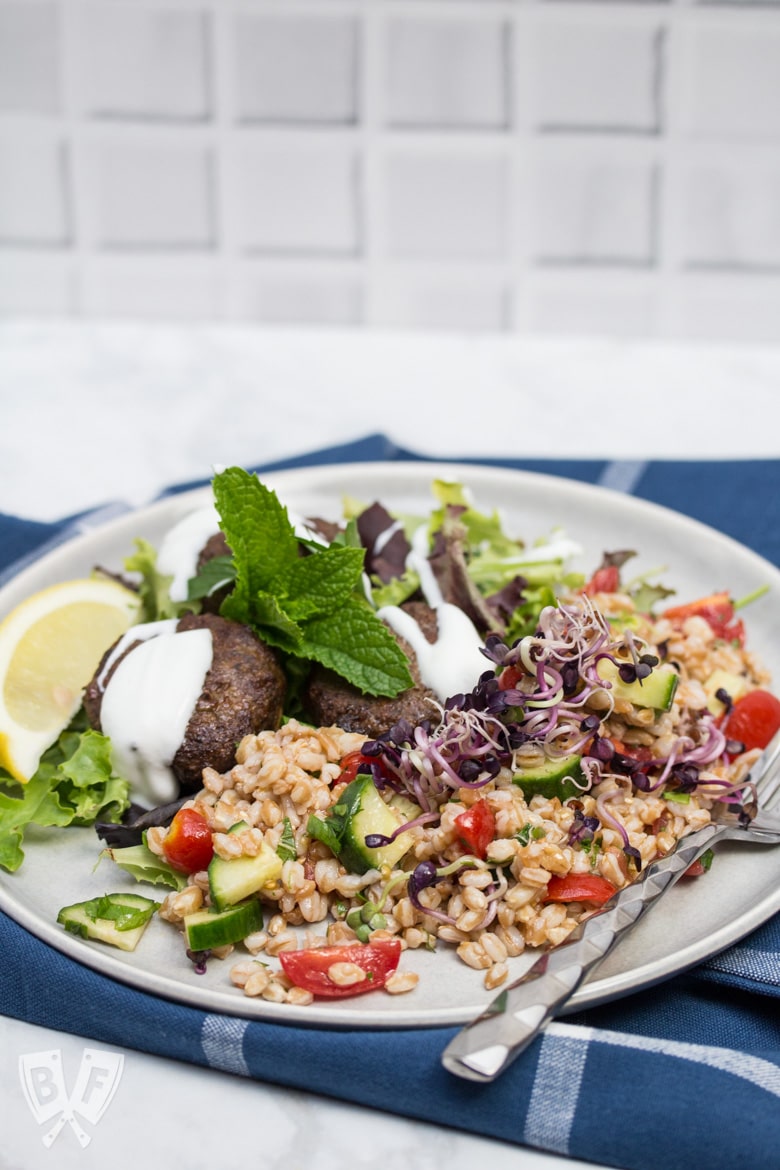 This Mediterranean farro salad would make a great standalone meal. You could even top it with an avocado or a hard-boiled egg for a little extra protein, or add some chickpeas or cannellini beans.
Feel free to use any mix of raw vegetables that you have on hand. This salad would also work well with roasted veggies that you have leftover. Roasted fennel, carrot, sweet potato, and onion would be fantastic with the farro and vinaigrette.
I just love a versatile recipe. It's all about options, right?
Looking for more of our favorite salads? Check out these 5-star recipes:
Recipe for Mediterranean Farro Salad with Spiced Beef Patties
Print
📖 Recipe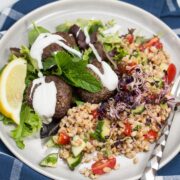 Mediterranean Farro Salad with Spiced Beef Patties
Author:

Prep Time:

15 minutes

Cook Time:

35 minutes

Total Time:

50 minutes

Yield:

4

Servings

1

x

Category:

Salad

Method:

Stovetop, Broiler

Cuisine:

Mediterranean
---
Description
Mediterranean Farro Salad is packed with fresh herbs and veggies, tossed with a bright citrus vinaigrette and paired with simply spiced beef patties.
---
1 cup farro
For Meat Patties:
For Salad:
2 tablespoons

pumpkin seed oil

2 tablespoons

freshly squeezed lemon juice (about

½

lemon, cut the rest into wedges)

2 tablespoons

chopped fresh mint

2 tablespoons

chopped fresh parsley

1

English cucumber, chopped

1 cup

grape tomatoes, quartered

½ teaspoon

Red Alaea salt
For Serving:
Salad greens
Plain yogurt
Fresh sprouts (I used radish sprouts)
---
Instructions
Place farro in a medium saucepan and cover with water by 2 inches. Bring to boil, cover, and reduce heat to low. Simmer, covered, for 30 minutes, then rinse with cold water and drain well.
For the meat patties: While farro is cooking, preheat broiler to high. Spray a broiler-safe baking sheet with oil or non-stick spray.
In a medium bowl, add beef, marjoram, oregano, onion, paprika, garlic, Kiawe smoked sea salt, pepper, and egg. Gently mix together using your hands, being careful not to overwork. Divide the meat into 8 equal portions and form into patties. Transfer to prepared baking sheet and broil for 8 minutes, flip, then broil for an additional 5-8 minutes, or until cooked to your desired degree of doneness.
For the salad: In a large bowl, whisk together pumpkin seed oil, lemon juice, mint, and parsley. Add cucumbers, tomatoes, cooled farro, and Red Alea salt and toss to combine. Taste for seasoning and add more salt if needed.
To serve: On each plate, place a pile of salad greens topped with 2-3 beef patties, and drizzle with yogurt. Pile some farro salad on the plate next to the meat, and top with sprouts. Garnish with lemon wedges and enjoy!
---
Notes
If there's a lot of fat coming out of your patties, drain it off the baking sheet before flipping. This will help the outsides to get a better crust on them while they finish cooking.
Nutrition
Serving Size:
Calories:

346

Sugar:

1.8 g

Sodium:

533.3 mg

Fat:

26 g

Saturated Fat:

9.3 g

Carbohydrates:

4.8 g

Fiber:

1.4 g

Protein:

23 g

Cholesterol:

126.7 mg
Keywords: farro salad, smoked salt, pumpkin seed oil
Recipe Card powered by