This post may contain affiliate links, which won't change your price but will share some commission.
We were in the mood for something light and healthy for dinner tonight, so I made another batch of one of our favorite dishes - Farro, Avocado, Cucumber, and Cherry Tomato Salad. I love adding crumbled feta to the top of this (which obviously makes it non-vegan). It's light yet satisfying, and we really love it!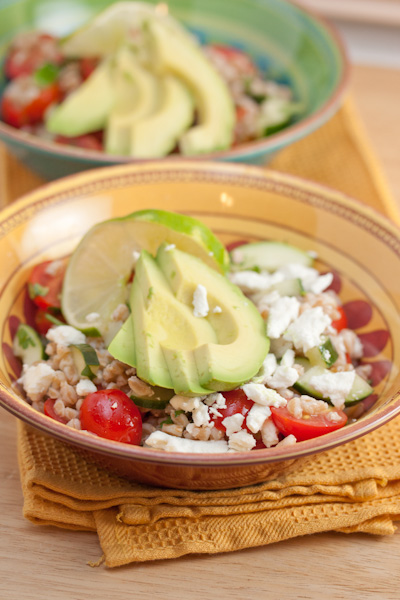 Farro, Avocado, Cucumber, and Cherry Tomato Salad
Cooking Light July 2008
Farro is a whole grain with a pleasantly chewy texture. Look for it at specialty markets and gourmet grocers or health food stores. With crunchy cucumber, sweet cherry tomatoes, and buttery avocado, this dish makes a refreshing lunch. Pair it with a simple starter soup and whole-grain crackers for dinner.
1 cup uncooked farro or spelt
4 teaspoons extravirgin olive oil
¼ teaspoon fresh grated lime rind
1 tablespoon fresh lime juice
1 tablespoon white wine vinegar
¾ teaspoon salt
½ teaspoon black pepper
2 cups red, orange, and yellow cherry tomatoes, halved
1 ¾ cups chopped seeded English cucumber (about 1 small)
¼ cup fresh cilantro leaves
¾ cup sliced peeled avocado (about 1 small)
1. Place farro in a large saucepan; cover with water to 2 inches above farro. Bring to a boil. Cover, reduce heat, and simmer 30 minutes. Drain and rinse with cold water; drain well.
2. Combine oil, rind, juice, vinegar, salt, and pepper in a large bowl; stir with a whisk. Add farro, tomatoes, cucumber, and cilantro; toss gently to coat. Place about 1 cup farro mixture on each of 5 plates; garnish evenly with avocado. Serve immediately.
Yield
5 servings
Nutritional notes:
CALORIES 208(36% from fat); FAT 8.3g (sat 1.1g,mono 4.8g,poly 1g); IRON 2.1mg; CHOLESTEROL 0.0mg; CALCIUM 16mg; CARBOHYDRATE 33.4g; SODIUM 363mg; PROTEIN 5.6g; FIBER 6.1g
Big Flavors Rating: 5 Stars