This post may contain affiliate links, which won't change your price but will share some commission.
When I was little, I didn't really eat much ground beef, so I'd always complain when my mom made meatloaf. Well, things have changed so I asked her how she made her meatloaf. Let's just say I was really missing out all those years! It's super easy and really tasty. It stays really moist, and the dark bits around the edges of the loaf are wonderful! Sorry I ever doubted you, mom!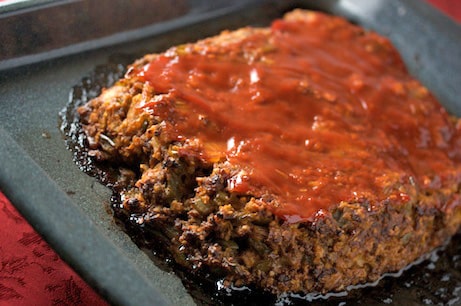 Meatloaf
Adapted from Mom
1-½ to 2 lb. ground beef
1 cup oatmeal
1 egg
1 cup ketchup, plus extra for topping
1 small onion, diced
1 green pepper, diced
salt and fresh ground pepper, to taste
olive oil
Sauté the onion and green pepper in olive oil. Mix remaining ingredients in a large bowl and form into a loaf on a baking sheet (a loaf pan will keep too much grease in the meat). Spread some ketchup on top of it and bake at 350 for about an hour.
Big Flavors Rating: 5 Stars